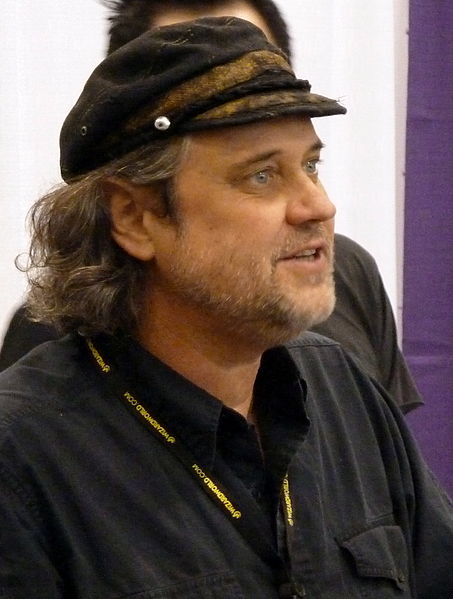 Lance Guest
Birth name:
Lance R. Guest
Born:
July 21, 1960
Age:
62
Birthplace:
Saratoga, California, U.S.
Popularity:

Please login to contact Lance Guest...
Biography
Lance R. Guest (born July 21, 1960) is an American film and television actor, best known for his starring role in 1984's The Last Starfighter.
Guest developed a serious interest in acting in the ninth grade while attending Saratoga High School, and he majored in theater while attending UCLA. He has starred in many theatrical films, including his role as Jimmy alongside actress
Jamie Lee Curtis
in
Halloween II
, and also starred in
Neil Simon's I Ought to Be in Pictures
. His most notable role was in the 1984 science fiction film
The Last Starfighter
as Alex Rogan, and as Beta, a robot sent to replace Alex while he was in space. In 1987, he starred in
Jaws: The Revenge
as Michael Brody. In 2000, Guest played Cosmo Cola in
Stepsister from Planet Weird
. In 2001, he played Hugo Archibald in
The Jennie Project
. Also that year, he appeared in
Mach 2
.
His starring television roles included Lou Grant from 1981-1982 and Knots Landing in 1991. He has guest starred on St. Elsewhere, The Wonder Years, Party of Five, JAG, NYPD Blue, The X-Files, Becker, Life Goes On, House and Jericho.
Guest has starred on Broadway as Johnny Cash in the musical Million Dollar Quartet, a fictionalized depiction of the only time Carl Perkins, Jerry Lee Lewis, Johnny Cash and Elvis Presley ever recorded music as a group.
Read more...
Filmography
Films
Year
Title
Role
Notes
1981
Halloween II
Jimmy
1982
I Ought to Be in Pictures
Gordon
1984
The Last Starfighter
Alex Rogan / Beta Alex
Just the Way You Are
Jack the Answering Service Guy
1985
Waiting to Act
Body Snatcher Guy
1987
Jaws: The Revenge
Michael Brody
1988
The Wizard of Loneliness
John T.
1997
Plan B
Jack Sadler
2001
Mach 2
Keith Dorman
2007
Shadowbox
Morell - Shadow Man
Short
2008
The Least of These
Mark Roberts
2009
21 and a Wake-Up
Dr. Oscar Kimber
2014
Late Phases
James Griffin
2017
Traces
Nelson
Television
Year
Title
Role
Notes
1981
Dallas
Student
1 Episode: The Mark of Cain
Why Us?
Hugh Whitaker
TV Short
Please Don't Hit Me, Mom
Michael Reynolds
TV film
1981-82
Lou Grant
Lance Reinecke / Mark
7 Episodes
1982-83
St. Elsewhere
Orderly Sean Rooney
4 Episodes: Down's Syndrome, Legionnaires: Part 1 & 2, Hearts
1982-85
ABC Afterschool Special
Tim / Doug Henshaw
2 Episodes: One Too Many, Between Two Loves
1983
Confessions of a Married Man
Arthur
TV film
1984
American Playhouse
Orson Ziegler
1 Episode: The Roommate
1985
My Father, My Rival
Scott
TV film
1988
Favorite Son
David Ross
1 Episode: Part One
1991
Knots Landing
Steve Brewer
13 Episodes
1992
The Wonder Years
Mike Detweiller
1 Episode: Politics as Usual
Life Goes On
Michael Romanov
6 Episodes
1993
Hart to Hart Returns
Peter McDowell
TV film
1995
All-American Girl
Leon
1 Episode: Venus de Margaret
The X-Files
Kyle Lang
1 Episode: Fearful Symmetry
1995-96
Party of Five
Mr. Allen Peck
2 Episodes: Dearly Beloved, Unfair Advantage
1997
The Burning Zone
Russ Johnson
1 Episode: Critical Mass
1999
Becker
Dr. Harvey Cohen
1 Episode: Saving Harvey Cohen
Thanks
John the Blacksmith
1 Episode: Marriage
2000
Then Came You
Tom
1 Episode: Then Came a Wedding
Stepsister from Planet Weird
Cosmo Cola
TV film
2001
The Jennie Project
Hugo Archibald
TV film
JAG
Cmdr. Stacy Loftness
2 Episodes: Adrift: Part 1 & 2
Bitter Winter
TV film
2004
NYPD Blue
Mercy Hawks
1 Episode: Traylor Trash
2006
House
Lewis Bardach
1 Episode: Safe
2007
Alibi
Peterson
TV film
2008
Jericho
Alex Utley
1 Episode: Condor
Flu Bird Horror
Garrett
TV film
2010
Late Show with David Letterman
Johnny Cash
1 Episode: Evangeline Lilly/Sam Rockwell/Million Dollar Quartet/Aaron Kelly
Late Night with Jimmy Fallon
Johnny Cash
1 Episode: No. 2.104
2012
All-American New Year's Eve 2013
Johnny Cash
TV film
2014
Christmas Eve, 1914
John Gilliam
TV film
[ Source: Wikipedia ]