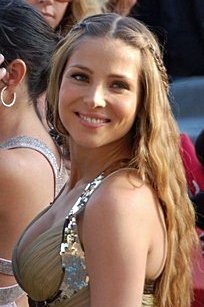 Elsa Pataky
Birth name:
Elsa Lafuente Medianu
Born:
July 18, 1976
Age:
46
Birthplace:
Madrid, Spain
Popularity:

Please login to contact Elsa Pataky...
Biography
Elsa Lafuente Medianu (born 18 July 1976),[1] known professionally as Elsa Pataky, is a Spanish model, actress, and film producer. Pataky is known for her role as Elena Neves in The Fast and the Furious franchise. She has appeared in the films Snakes on a Plane (2006), Giallo (2009) and Give 'Em Hell, Malone (2009). She also starred in the Spanish film Di Di Hollywood in 2010.
Pataky was born Elsa Lafuente Medianu in Madrid, Spain,[1] the daughter of José Francisco Lafuente, a Spanish biochemist, and Cristina Medianu Pataky, a publicist of Romanian and Hungarian ancestry.[2][3] She has a younger half-brother: Cristian Prieto Medianu, a cinematographic director. She uses the name 'Elsa Pataky' from her maternal grandmother: Rosa Pataky.
Pataky attended the Universidad CEU San Pablo,[4] studying journalism and taking acting classes. In addition to Spanish and Romanian, she is fluent in English, Italian, Portuguese, and French.[5]
Read more...
Career
Pataky at a presentation for Time Force watches in December 2007
Pataky was a member of the Madrid theatre company Teatro Cámara de Ángel Gutiérrez. Eventually, she left school when she was cast in the television series Al salir de clase.[2] Some of her subsequent films were co-productions with the UK and France, which introduced her to working in English and French. She was in the cast of the television series Queen of Swords (2000) as Señora Vera Hidalgo, trophy wife of Gaspar Hidalgo and mistress of Captain Grisham, credited in the opening titles but appearing in only 14 of the 22 episodes. She also had a recurring role in the television series Los Serrano, playing teacher Raquel, who fell in love with her student Marcos (Fran Perea).
Pataky has appeared in over 10 Spanish films and co-starred in the French film Iznogoud (2004). She was also on the cover of August 2006 issue of Maxim. She was cast in 2009 in the Mexican series Mujeres Asesinas as Paula Moncada in the episode "Ana y Paula, Ultrajadas". She also starred in the action noir film Give 'Em Hell, Malone and Dario Argento's Giallo.
Pataky became the female face for the first collection of Time Force's jewelry line Ultimate Jewel, opposite football star Cristiano Ronaldo.[6] She played Officer Elena Neves in the movie Fast Five, with Dwayne Johnson as her partner, Luke Hobbs. MTV Networks' NextMovie.com named her one of the Breakout Stars to Watch for in 2011.[7] Pataky was a stand in for Natalie Portman in the post end credit scene in Thor: The Dark World.[8]
She reprised her role as Elena Neves in Fast & Furious 6 (2013), Furious 7 (2015), and The Fate of the Furious (2017), the respective sixth, seventh, and eighth installments of The Fast and the Furious film series.[9]
Personal life
She started dating American actor Adrien Brody in 2006.[10] For Pataky's 31st birthday in July 2007, Brody purchased her a 19th-century estate in New York. Pataky and Brody were featured at their New York home in a 35-page spread for HELLO! magazine in October 2008.[11] The pair broke up in 2009.[12]
She then started dating Australian actor Chris Hemsworth in early 2010, after meeting through their mutual representatives. Pataky and Hemsworth married over the Christmas holidays in 2010.[13] They have 3 children: a daughter born in May 2012, and twin sons born in March 2014.[14][15][16]
In September 2012, Pataky won €310,000 in Spain's Supreme Court against publishing group Ediciones Zeta. In March 2007, Interviu magazine, owned by the Zeta, published topless photos of Pataky that had been taken with a long lens while Pataky was changing clothes during a photoshoot for Elle magazine. The Zeta group said it would appeal the decision.[17]
Filmography
Film
Year
Title
Role
Notes
1997
Solo en la buhardilla
Chica revista
Short film
2000
The Art of Dying
Candela
[18]
Tatawo
Blanqui
[18]
Less Is More
Diana
[18]
2001
Don't Tempt Me
Waitress in Hell
Twelfth Night
Marta Cuspineda
[18]
2002
Peor imposible ¿qué puede fallar?
Fátima
[18]
2003
Beyond Re-Animator
Laura Olney
El furgón
Nina
[18]
Atraco a las 3... y media
Katya
[18]
2004
Romasanta: The Werewolf Hunt
Barbara
Tiovivo c. 1950
Balbina
2005
Iznogoud
Prehti-Ouhman
Arquitectura efímera deconstruida
Vídeo 'Retorciendo palabras'
Direct-to-video
Ninette
Alajandra 'Ninette'
2006
Snakes on a Plane
Maria
2007
Manual of Love 2
Cecilia
2008
Máncora
Ximena Saavedra
[18]
Skate or Die
Dany
Santos
Laura Luna
[18]
2009
Giallo
Celine
Give 'Em Hell, Malone
Evelyn
2010
Mr. Nice
Ilza Kadegis
Di Di Hollywood
Di Di
2011
La importancia de llamarse Enesto
Short film
Fast Five
Elena Neves
Where the Road Meets the Sun
Michelle
[19]
Snowflake, the White Gorilla
Bruja del Norte
aka Copito de nieve[18]
2013
All Things to All Men
Sophia Peters
Fast & Furious 6
Elena Neves
The Wine of Summer
Veronica
Also producer
Thor: The Dark World
Jane Foster
Uncredited cameo: Stand-in for Natalie Portman
2015
Furious 7
Elena Neves
2017
The Fate of the Furious
Elena Neves
[20]
2017
Thor Ragnarok
Sakaaran Nurse
Uncredited cameo
2018
12 Strong
Jean Nelson
Television
Year
Title
Role
Notes
1997
Al salir de clase
Raquel Alonso
192 episodes
1998
Tio Willy
1 episode
La vida en el aire
13 episodes
2000
Hospital Central
Maribel
2 episodes
Queen of Swords
Vera Hidalgo
14 episodes
2002
Clara
TV movie
Paraíso
Luisa
Episode: "El cebo"
2003
7 vidas
Cristina
Episode: "La jaula de las locas"
Los Serrano
Raquel Albaladejo
11 episodes
2005
Films to Keep You Awake: The Christmas Tale
Ekran
TV movie[21]
2009
Mujeres asesinas
Paula Moncada
Episode: "Ana y Paula, ultrajadas"
[ Source: Wikipedia ]