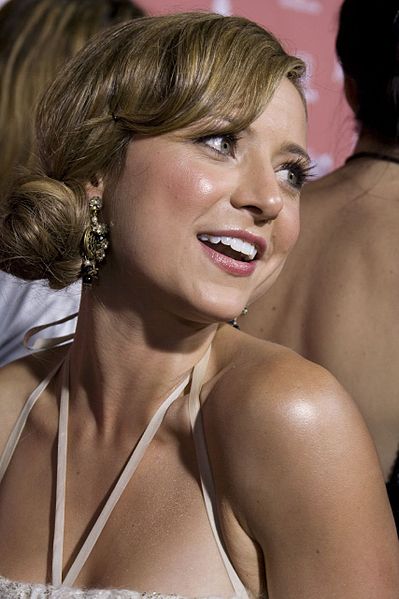 Christine Lakin
Birth name:
Christine Helen Lakin
Born:
January 25, 1979
Age:
44
Birthplace:
Dallas, Texas, U.S.
Popularity:

Please login to contact Christine Lakin...
Biography
Christine Helen Lakin (born January 25, 1979) is an American actress. She is best known for her role as Alicia "Al" Lambert on the 1990s ABC/CBS sitcom Step by Step. She also played Joan of Arc on Showtime's Reefer Madness, was the sidekick on Craig Kilborn's 2010 Fox talk show The Kilborn File, and provides the voice of Joyce Kinney in Family Guy.
Lakin was born in Dallas, Texas, the daughter of Karen (née Niedwick) and James Daley Lakin, and raised in Roswell, Georgia. She graduated from UCLA with a B.A. in Communication. Her ancestry is Belarusian-Jewish, English, Irish, German, Polish, and Czech.[
citation needed
]
Read more...
Career
Lakin got her start acting in commercials, before landing her first major role as Young Rose in the American Civil War drama The Rose and the Jackal. That movie aired in 1990, one year before she was cast as Al Lambert, the tomboyish daughter, on Step by Step. After Step by Step was cancelled in 1998, she continued to appear in television movies, such as Showtime's Reefer Madness and 2005's Who's Your Daddy?. In 2006 she was a regular cast member in MTV's Wild 'n Out, an improv comedy show similar in structure to Whose Line Is It Anyway? She also appeared in a commercial called "But He Has Bud Light" that aired during Super Bowl XLI, in which her male companion wants to pick up a hitchhiker who has Bud Light beer in one hand and an axe in the other.[1]
In 2008, she starred alongside Paris Hilton in the movie The Hottie and the Nottie, requiring extensive makeup to make her appear ugly. The film met dismal reviews in the US.[2][3] In 2010, she became Craig Kilborn's sidekick (his "Huckleberry Friend" - a reference to his "favorite movie", Breakfast at Tiffany's) on The Kilborn File on select Fox stations.[4] She was a judge on the YouTube competition Internet Icon alongside Ryan Higa on the YouTube channel, YOMYOMF, and she also is the creator of Worst Audition Ever, a live evening of comedy.[5] Beginning in 2013 she has also been narrating audiobook adaptations.[6] She also voiced the character Jane from The Walking Dead: Season Two video game. She is also the voice of news anchor Joyce Kinney in the animated sitcom Family Guy.
In March 2016, she was named to the cast of the cable network series Hollywood Darlings with fellow 1990s' child stars Jodie Sweetin and Beverley Mitchell.[7]
Radio and podcast appearances
Lakin appeared on Ken Reid's TV Guidance Counselor podcast on March 11, 2016.
Lakin appeared on With Special Guest Lauren Lapkus on May 12, 2017.
Lakin appeared on "Drinkin' Bros Podcast" on April 8, 2018.
Awards and nominations
She was nominated in 1993 for a Young Artist Award for Best Young Actress Starring in a Television Series and in 1994 for another Young Artist Award for Outstanding Youth Ensemble in a Television Series shared with Josh Byrne, Christopher Castile, Brandon Call, Staci Keanan and Angela Watson - both for Step by Step (1991). She also won a Golden Raspberry Award for Worst Screen Couple with Paris Hilton in The Hottie and the Nottie.
LA Weekly Theater Awards
2009: Won the award for Female Comedy Performance for the Havok Theatre Company production of Dog Sees God: Confessions of a Teenage Blockhead[8]
Ovation Awards
2012: Nominated for Featured Actress in a Musical for the role of Julia in the Troubadour Theater Company production of Two Gentlemen of Chicago[9]
Personal life
Lakin married actor Brandon Breault in October 2014. In November 2015, the couple announced that they were expecting their first child.[10] Their daughter, Georgia James, was born on March 6, 2016.[11] She gave birth to their second child son, Baylor B. Breault, on September 10, 2018.
Filmography
Film
Year
Title
Role
Notes
2000
Finding Kelly
Kelly Harrington
Boltneck
Macy
Whatever It Takes
Sloane
2001
Buck Naked Arson
Becca
2002
Getting Out
Natasha
Short film
2003
Going Down
Jamie
2004
Who's Your Daddy?
Kate Reeves
Video
Blue Demon
Katie
Video
2005
In Memory of My Father
Christine
Suits on the Loose
Danielle
2006
The Cutting Edge: Going for the Gold
Luanne King
Video
2007
Georgia Rule
Grace Cunningham
Dark Mirror
Tammy
The Game Plan
Nichole
2008
The Hottie and the Nottie
June Phigg
Chronic Town
Kelly
Patsy
Patsy
Red Canyon
Regina
2009
Race to Witch Mountain
Sunday
Super Capers: The Origins of Ed and the Missing Bullion
Red
Buttf**keer
Skyler
Short film
2010
Valentine's Day
Heather
Elektra Luxx
Venus Azucar
Caught in Crossfire
Tracy
Life's a Beach
Rebecca
Alpha and Omega
Reba (voice)
You Again
Taylor
Screwball: The Ted Whitfield Story
Kiki Hamilton
Just Married
Claire
Short film
Darnell Dawkins: Mouth Guitar Legend
Wilimina Stansbury
2011
Dead Space: Aftermath
Leslie Pallas
New Year's Eve
Waitress Alyssa
2012
Jewtopia
Helen O'Connell
Parental Guidance
Helen
2013
The Frankenstein Theory
Annie
2014
Veronica Mars
Susan Knight
Small Town Santa
Lucy
Somebody's Mother
Maggie
Short film
2015
Bethlehem
Connie Talbot
Announced
The Leisure Class
Carla
HBO's Project Greenlight season 4 film
2016
Mother's Day
The Hostess
Television
Year
Title
Role
Notes
1990
The Rose and the Jackal
Little Rose
TV film
1991-1998
Step by Step
Alicia "Al" Lambert
Main role (160 episodes)
1998
7th Heaven
Cassandra
Episode: "Let's Talk About Sex"
1999
3rd Rock from the Sun
Michelle
Episode: "Dick Solomon of the Indiana Solomons"
Promised Land
Dawn Sterling
Episode: "In the Money"
2000
Odd Man Out
Gwen
Episode: "My Life as a Dog"
Seven Days
Karen
Episode: "Witch Way to Prom"
Opposite Sex
Lisa
2 episodes
Lost in Oz
Jade
Unsold TV pilot
2001
Ruling Class
Sara Olszewski
TV film
2002
Boston Public
Cindy
Episode: "Chapter 42"
Touched by an Angel
Ashlee
Episode: "Two Sides to Every Angel"
2004
Combustion
Carmen
TV film
Rodney
Ms. Preston
Episode: "Teacher"
2005
Reefer Madness
Joan of Arc
TV film
Dirty Famous
Tanya Bremer
Veronica Mars
Susan Knight
Episode: "Mars vs. Mars"
Nick Cannon Presents: Wild 'N Out
Herself
2006
Mystery Woman: At First Sight
Francie McPhillips
TV film
Sons & Daughters
Sydney
2 episodes
One on One
Erin
Episode: "I Love L.A.: Part 1"
2007
The Loop
Leeza
Episode: "Stride"
2008
CSI: Crime Scene Investigation
Margo Delphi
Episode: "The Theory of Everything"
Wainy Days
Nan
Episode: "Nan and Lucy"
Valentine
Kate Providence
Main role (8 episodes)
2009
Bones
Vanessa Newcomb
Episode: "The Bones That Foam"
Rita Rocks
Stephanie
Recurring role (4 episodes)
2010
Family Guy
Joyce Kinney (voice)
Recurring role (23 episodes)
The Iceman Chronicles
Barbie Pedderson
TV series
NCIS
Rachel Wells
Episode: "Double Identity"
2011
Hellcats
Kelly
2 episodes
Melissa & Joey
Jackie
4 episodes
2012
Stevie TV
Taylor Armstrong / Mackenzie's Mom
Episodes: "1.1", "1.2"
Lovin' Lakin
Christine Lakin
TV miniseries
CSI: NY
Courtney Jensen
Episode: "The Real McCoy"
2013
Police Guys
Christine Lakin
TV film
2014
Female Moments
Maude
Episode: "Stuck"
TripTank
Claire / Christine (voice)
Episodes: "Roy & Ben's Day Off", "Candy Van Finger Bang", "XXX Overload"
Clarence
Sumo's Mom (voice)
Minor role (4 episodes)
Acting Dead
Snotty Casting Director
2 episodes
2016
Modern Family
Lisa Delaney
Episode: "Playdates"
2017-present
Hollywood Darlings
Herself
Main role
Video games
Year
Title
Role
2010
Medal of Honor
Gunfighter 1-1
2011
Might & Magic Heroes VI
Irina
Uncharted: Golden Abyss
Marisa Chase
2012
Family Guy: Back to the Multiverse
Joyce Kinney
2013
The Walking Dead: Season Two
Jane
2014
WildStar
Mordesh Female, Lowborn Female
2016
Tom Clancy's Rainbow Six Siege
Valkyrie
The Walking Dead: A New Frontier
Jane
Star Wars: The Old Republic - Knights of the Eternal Throne
Additional Voices
2017
Mass Effect: Andromeda
Pelessaria 'Peebee' B'Sayle
Theatre
Title
Role
Oedipus the King, Mama!
Antigone
Heathers
Heather Duke
Big, the Musical
Choreographer
As U2 Like It
Alice 2: Through the Looking Glass
Zanna Don't!
Dog Sees God
Tricia
Happy Days: A Family Musical
Joanie
Alice in One-Hit Wonderland
Alice
The Break Up Notebook: The Lesbian Musical
Casey / Sheila
Ann E. Wrecksick
Olivia Whorebucks
Wrong Turn at Lungfish
Anita / Nurse
Sneaux
Darla / Sissy
Silence! The Musical
Clarice Starling
Audiobook narrations
Book
Author
The Royal We
Heather Cocks and Jessica Morgan
Unmarked
Kami Garcia
Glory O'Brien's History of the Future
A.S. King
Broken Monsters
Lauren Beukes
The Coldest Girl in Coldtown
Holly Black
Parasite
Mira Grant
Symbiont
Chimera
Cheater. Faker. Troublemaker.
Jenny Rosen
[ Source: Wikipedia ]