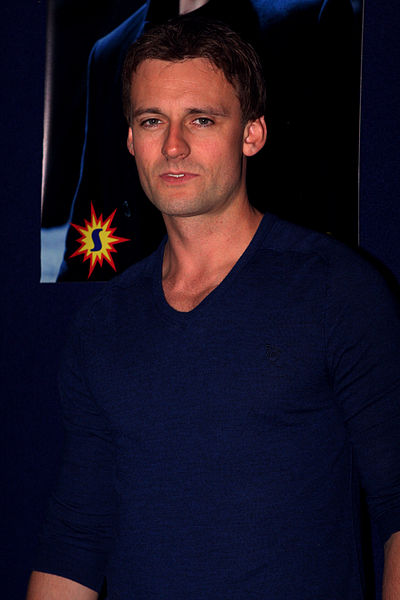 Callum Blue
Birth name:
Daniel James Callum Blue
Born:
August 19, 1977
Age:
44
Birthplace:
London, England
Popularity:

Please login to contact Callum Blue...
Biography
Daniel James Callum Blue (born 19 August 1977),[1], known professionally as Callum Blue, is an English actor. Best known for his roles on the Showtime series Dead Like Me and The Tudors, as well as his roles as Zod in the American television series Smallville, Alex in the British television series The Secret Diary of a Call Girl alongside Billie Piper, and Andrew Jacoby in the film The Princess Diaries 2 alongside Anne Hathaway.
Read more...
Filmography
Film
Year
Title
Role
Notes
2001
Young Blades
Aramis
2001
In Love and War
Eric Newby
Television film
2003
Devil's Gate
Rafe
2004
The Princess Diaries 2: Royal Engagement
Andrew Jacoby, Duke of Kenilworth
2006
Caffeine
Charlie
2007
Young People Fucking
Ken
2009
Dead Like Me: Life After Death
Mason
Direct-to-video
2009
Red Sands
Gregory Wilcox
2009
Little Fish, Strange Pond
Sweet Stephen
2009
A Christmas Carol
Caroline's husband
2011
Super Tanker
Adam
Television film
2011
Colombiana
Richard
2013
Fractured
Dylan/Jaron
2013
And Now a Word From Our Sponsor
Lucas Foster
2013
Criticized
Detective Jack Donaldson
2014
Saul: The Journey to Damascus
Addai
2015
Dartmoor Killing
Chris
2015
The Red Dress
Rainer
Television film
"The charnel house"
Alex
2017
Love Blossoms
Stefan Loxley
2018
Goodnight Death
Charles
Short film
Television
Year
Title
Role
Notes
1999
The Bill
Carl Wink
Episode: "Millennium"
2000
Doctors
Denny
Episode: "Clear View"
2000
Casualty
Paul Hughes
Episode: "Sympathy for the Devil"
2001
Where the Heart Is
Clem Jones
Episode: "Pound of Flesh"
2001
Shades
Nick MacIntyre
Miniseries; episode 6
2002
As If
Mark
3 episodes
2003-2004
Dead Like Me
Mason
Main cast; 29 episodes
2005
Grey's Anatomy
Viper
Episode: "Winning a Battle, Losing the War"
2005-2006
Related
Bob Spencer
Main cast; 18 episodes
2007
The Tudors
Sir Anthony Knivert
Main cast (season 1); 8 episodes
2008
Dirt
Graham Duncan
Episode: "What Is This Thing Called"
2008
Secret Diary of a Call Girl
Alex
Main cast (series 2); 7 episodes
2009-2011
Smallville
Major/General Zod
Main cast (season 9); guest star (season 10);
13 episodes
2009
The Sarah Jane Adventures
Lord Marchwood
2 episodes
2010
Sanctuary
Edward Forsythe
3 episodes
2011
Zen
Carlo Fagioli
Miniseries; episode: "Ratking"
2013
Royal Pains
Milos Kuester Ratenicz
4 episodes
2015
Proof
Peter Van Owen
Main cast
2018
Ransom
George Harris
Episode: "Alters"
Web

| Year | Title | Role | Notes |
| --- | --- | --- | --- |
| 2012 | Book Club | Jack | Main cast; 9 episodes |
[ Source: Wikipedia ]