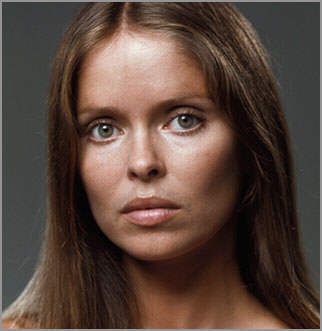 Barbara Bach
Birth name:
Barbara Goldbach
Born:
August 27, 1947
Age:
74
Birthplace:
Queens, New York City, U.S.
Popularity:

Please login to contact Barbara Bach...
Biography
Barbara Bach, Lady Starkey, formerly Countess Gregorini di Savignano di Romagna, (born Barbara Goldbach; August 27, 1947) is an American actress and model who played the Bond girl Anya Amasova in the James Bond film The Spy Who Loved Me (1977) as well as the spy Maritza Petrović in Force 10 from Navarone (1978). She has been married to Ringo Starr since April 1981.
Bach was born in Rosedale, Queens, and grew up in Jackson Heights, the daughter of Marjorie (1921-1997) and Howard I. Goldbach (1922-2001), a policeman. Her mother was Irish Catholic, while her father was Jewish (from a family from Germany, Austria, and Romania).[1] She graduated from the all-girl Dominican Commercial High School in Jamaica, Queens, New York in 1964.[2] A year later, in 1965, she shortened her name to Bach and began a highly successful career as a model posing for catalogs and fashion magazines. She is fluent in Italian and has a working knowledge of French and Spanish.[3]
Read more...
Career
Bach was one the most sought-after faces in the '60s, working with the Eileen Ford Agency in New York, appearing on catalogs and the front covers of several international fashion magazines such as Seventeen (1965 and 1966), Vogue USA (July 1966) photographed by Richard Avedon, ELLE France (1966), Gioia Italy (1967-1970), and Figurino Brazil (1970).[citation needed]
Her acting career started in Italy, where she played Nausicaa in L'Odissea in 1968, an eight-hour long TV adaptation of Homer's famous epic poem The Odyssey, directed by Franco Rossi and produced by Dino de Laurentiis.
In 1972, Bach co-starred with two other Bond girls, Claudine Auger and Barbara Bouchet, in the mystery Black Belly of the Tarantula (a giallo film) and had small roles in other Italian films.[citation needed]
In 1977, Bach portrayed the Russian spy Anya Amasova in the James Bond film The Spy Who Loved Me. Bach remarked after the film that Bond is "a chauvinist pig who uses girls to shield him against bullets."[4] The following year she appeared in the movie Force 10 from Navarone. She lost a role to actress Shelley Hack when she auditioned for season four of the television series Charlie's Angels.[5] During an interview with Johnny Carson on May 9, 1979, she said that she lost the audition for Charlie's Angels because they felt she was too sophisticated in attitude and look, and thought that she was not American, even though she was born in Rosedale, Queens, and grew up in Jackson Heights, Queens, in New York City. They asked her manager if she could play an American.[3] Bach has 28 films to her credit. She was featured in a pictorial in Playboy in June 1977. She also had a cameo in a September 1987 special issue on the Bond girls.[citation needed]
Charity work
In 1991, Bach co-founded the Self Help Addiction Recovery Program (SHARP) with Pattie Boyd, the former wife of George Harrison and Eric Clapton,[6] both of whom assisted in the venture.[citation needed] Bach and Ringo Starr created The Lotus Foundation, a charity with many sub-charities.
Personal life
Bach met Italian businessman Count Augusto Gregorini on a flight to Rome in 1966. They were married in 1966 and moved to Italy where they had a daughter, singer-songwriter Francesca Gregorini (born August 7, 1968) and a son Gianni (born in 1972). In 1975, Bach separated from Gregorini and moved back to the United States with her two children.[citation needed] She married Ringo Starr on 27 April 1981, after meeting him on the set of the film Caveman.[7]
According to the International Vegetarian Union, Bach and husband Ringo Starr practice vegetarianism.[8]
Filmography
Year
Title
Role
1968
L'Odissea (a.k.a. The Adventures of Ulysses)
Nausicaa
1971
Mio padre Monsignore
Chiara
La Tarantola dal ventre nero (a.k.a. Black Belly of the Tarantula)
Jenny
La Corta notte delle bambole di vetro (a.k.a. Paralyzed/Short Night of Glass Dolls)
Mira Svoboda
Un peu de soleil dans l'eau froide (a.k.a. A Few Hours of Sunlight/A Little Sun in Cold Water)
Héloïse/Elvire
1972
I Predatori si muovono all'alba
Helen
1973
Paolo il caldo (a.k.a. The Sensual Man/The Sensuous Sicilian)
Anna
Il maschio ruspante
Rema
L' Ultima chance (a.k.a. Stateline Motel / Last Chance / Motel of Fear)
Emily
1974
Il Cittadino si ribella (a.k.a. Street Law/The Citizen Rebels)
Barbara
1975
Il Lupo dei mari (a.k.a. Legend of the Sea Wolf/Larsen, Wolf of the Seven Seas)
Maud Brewster
1977
Ecco noi per esempio
Ludovica
The Spy Who Loved Me
Anya Amasova
1978
Force 10 from Navarone
Maritza Petrovich
1979
L' Isola degli uomini pesce (a.k.a. Island of the Fishmen/Screamers)
Amanda Marvin
L' Umanoide (a.k.a. The Humanoid)
Lady Agatha
Jaguar Lives
Anna Thompson
Il Fiume del grande caimano (a.k.a. Alligators/The Big Alligator River/The Great Alligator)
Alice Brandt
1980
Up the Academy
Bliss
1981
Caveman
Lana
The Unseen
Jennifer Fast
1982
The Cooler (11 min. short)
1983
Princess Daisy
Vanessa Valerian
1984
Give My Regards to Broad Street
Journalist
1986
To the North of Katmandu
[ Source: Wikipedia ]