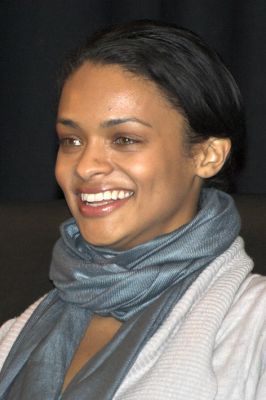 Kandyse McClure
Born:
March 22, 1980
Age:
43
Birthplace:
Durban, South Africa
Popularity:

Please login to contact Kandyse McClure...
Biography
Kandyse McClure (born 22 March 1980)[1] is a South African-born Canadian actress.[2] She has played Anastasia Dualla on the Sci Fi Channel's television program Battlestar Galactica, and Dr. Clementine Chasseur on the Netflix original series Hemlock Grove.[3]
She was born Candice McClure[4] in Durban, South Africa.[5] She is of Cape Coloured descent.
McClure graduated from West Vancouver Secondary School in 1998.[citation needed]
Read more...
Acting career
McClure's first television appearance was a lead role with Lou Diamond Phillips in the 1999 telefilm In a Class of His Own that was followed by the Fox Family teen drama Higher Ground (together with Jewel Staite, Hayden Christensen, and A.J. Cook) and the NBC Saturday-morning series Just Deal, both of which premiered in 2000. The year 2000 was also the time period when McClure played a recurring role in the Canadian drama television series Da Vinci's Inquest.[6]
In 2002, McClure portrayed the recurring character of Elizabeth Munroe on Showtime's Jeremiah, alongside Luke Perry and Malcolm-Jamal Warner.[6] Also in that year, the actress played the role of Sue Snell in the telefilm remake of Stephen King's novel Carrie.[7]
From 2003 to 2009, McClure played the character of Anastasia "Dee" Dualla on the Sci Fi Channel series Battlestar Galactica. McClure's character, a Petty Officer Second Class in the Colonial Fleet, was not featured in the original 1978 series, but was initially an analogue of Sarah Rush's original series character Flight Corporal Rigel. McClure was a regular cast member of the series until January 2009.[8]
McClure at the Japan Expo 2009 in Paris, France
McClure then appeared in a 2009 television adaptation of King's Children of the Corn[9] and the Carl Bessai feature film from the same year Cole.[10] In 2010 the television series Persons Unknown, in which McClure co-starred, premiered,[11] but the series was not renewed for a second season after it was initially picked up by NBC.[12]
In 2011 McClure played the girlfriend of Stuart Davis in the independent short film Just Be Yourself, a comedy about a desperate man who is offered a job to "just be himself."[13][14] McClure then joined Davis again in 2011 to co-host the second season of the late-night HDNet program Sex, God, Rock 'n' Roll.[15] In 2012 McClure joined the cast of Netflix original series Hemlock Grove (premiered in January 2013[9])[16] and completed the feature film Broken Kingdom (alongside Rachael Leigh Cook).[9][unreliable source?] McClure has also appeared in other television programs, such as Whistler, Andromeda, Jake 2.0, Smallville, and Reaper.[6]
On 2 February 2016 Heritage Canada featured Viola Desmond in the 82nd Heritage Minute,[17] to mark the beginning of Black History Month. The video was filmed on location in High River, Alberta in June 2015. It features Kandyse McClure as Viola Desmond.[18] Civil rights activist Viola Desmond, often described as the Rosa Parks of Canada, was an entrepreneur who challenged segregation in Nova Scotia in the 1940s.
Personal life
As of 2013, McClure continues to work with the non-profit organization CARE Canada to address poverty in the world's developing regions.[9] As of 2013[update], McClure resides in Vancouver, British Columbia.[9]
McClure is married to musician Cylenz.[19][dead link]
Filmography
Film
McClure at Battlestar Starfury in London, December 2008
| Year | Title | Role | Notes |
| --- | --- | --- | --- |
| 2000 | Romeo Must Die | Store Clerk | |
| 2001 | See Spot Run | Attractive Woman | |
| 2008 | Barbie in A Christmas Carol | Catherine (voice) | Video |
| 2009 | Cole | Serafina | |
| 2009 | Children of the Corn | Vicky Stanton | |
| 2010 | Barbie: A Fashion Fairytale | Grace (voice) | Video |
| 2010 | Mother's Day | Gina Jackson | |
| 2012 | Broken Kingdom | Jessica | |
| 2015 | Careful What You Wish For | Angie Alvarez | |
| 2015 | Seventh Son | Sarikin | |
| 2018 | Sew the Winter to My Skin | | |
Television
| Year | Title | Role | Notes |
| --- | --- | --- | --- |
| 1999 | In a Class of His Own | Brandy | TV film |
| 2000 | 2gether | Danielle | TV film |
| 2000 | The Spiral Staircase | Monica | TV film |
| 2000 | Higher Ground | Katherine Ann 'Kat' Cabot | Main role (22 episodes) |
| 2000 | Level 9 | Megan | Episode: "Ten Little Hackers" |
| 2000 | Da Vinci's Inquest | Lily | Episode: "It's a Bad Corner" |
| 2001 | Passion and Prejudice | Tamara | TV film |
| 2001 | Return to Cabin by the Lake | Jade | TV film |
| 2001 | The Outer Limits | Brianna Lake | Episode: "Abduction" |
| 2001 | Just Deal | Kim | Episode: "Low Fidelity, "Painted Love", "The Perfect Mix" |
| 2002 | Framed | | TV film |
| 2002 | Carrie | Sue Snell | TV film |
| 2002 | Mysterious Ways | Julie | Episode: "A Man of God" |
| 2002 | Dark Angel | Annie Fisher | Episodes: "Hello, Goodbye", "Dawg Day Afternoon" |
| 2002 | L.A. Law: The Movie | Yvonne | TV film |
| 2002 | Jeremiah | Elizabeth | Recurring role (7 episodes) |
| 2003 | The Twilight Zone | Gwen | Episode: "Fair Warning" |
| 2003 | Black Sash | | Episode: "Jump Start" |
| 2003 | Hollywood Wives: The New Generation | Saffron | TV film |
| 2003 | Battlestar Galactica | Anastasia "Dee" Dualla | TV miniseries |
| 2003 | Jake 2.0 | Anna | Episode: "The Prince and the Revolution" |
| 2003-05 | Da Vinci's Inquest | Marla | Recurring role (15 episodes) |
| 2004 | Andromeda | Zara | Episode: "The Others" |
| 2004-09 | Battlestar Galactica | Anastasia "Dee" Dualla | Main role (54 episodes) |
| 2005 | Smallville | Harmony | Episode: "Spirit" |
| 2006 | Whistler | Lisa | Recurring role (6 episodes) |
| 2006 | Santa Baby | Donna Louise Campbell | TV film |
| 2007 | Sanctuary | Meg | Episode: "1.1" |
| 2007 | Battlestar Galactica: Razor | Anastasia "Dee" Dualla | TV film |
| 2008 | Reaper | Cassidy | Episodes: "Coming to Grips", "Greg, Schmeg", "The Leak" |
| 2008 | Sanctuary | Meg | Episodes: "Sanctuary for All: Parts 1 & 2", "Fata Morgana" |
| 2010 | The Client List | Laura | TV film |
| 2010 | Persons Unknown | Erika Taylor | Recurring role (9 episodes) |
| 2012 | Sex, God, Rock 'n Roll with Stuart Davis | | Episode: "Spirituality and Religion" |
| 2012 | Just Be Yourself | Glenda | TV film |
| 2012 | Republic of Doyle | Sabrina McCarthy | Episode: "One Angry Jake" |
| 2012 | Aladdin and the Death Lamp | Shifa | TV film |
| 2012 | Alphas | Agnes Walker | Episode: "The Devil Will Drag You Under" |
| 2012-13 | Arctic Air | Shontal | Recurring role (4 episodes) |
| 2013 | Hemlock Grove | Dr. Clementine Chasseur | Recurring role |
| 2013 | Haven | Carrie Benson | Episode: "Lay Me Down" |
| 2016 | Supernatural | Sherriff Tyson | Season 11 Episode 19: "The Chitters" |
| 2017 | Ghost Wars | Dr. Landis Barker | Main |
| 2017 | The Good Doctor | Celez | Season 1 Episode 6: "Not Fake" |
Awards and nominations
Leo Awards, Nomination Best Supporting Actress, 2002, Carrie
Peabody Awards, Peabody Award for Excellence in Television, 2005, Battlestar Galactica R&D TV in Association with NBC Universal Television Studio, Sci Fi Channel
[ Source: Wikipedia ]