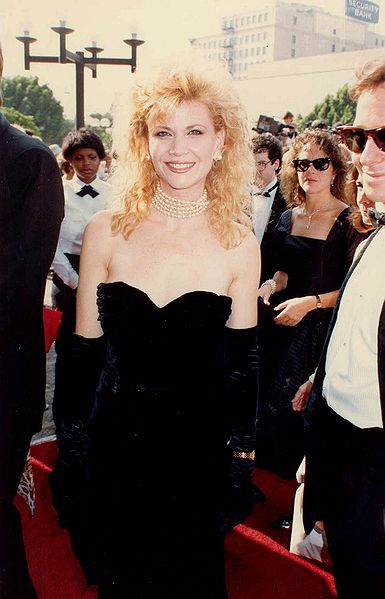 Markie Post
Born:
November 4, 1950
Age:
73
Birthplace:
Palo Alto, California, U.S.
Popularity:

Please login to contact Markie Post...
Biography
Marjorie Armstrong "Markie" Post (born November 4, 1950)[1] is an American actress, known for her roles as bail bondswoman Terri Michaels in The Fall Guy on ABC from 1982 to 1985, as public defender Christine Sullivan on the NBC sitcom Night Court from 1985 to 1992, and as Georgie Anne Lahti Hartman on the CBS sitcom Hearts Afire from 1992 to 1995.
Born in Palo Alto, California, Post is the daughter of scientist Richard F. Post and Marylee Post, a poet.[2] The middle child, she and her two siblings were raised in Stanford and Walnut Creek,[3] and attended Las Lomas High School where she was a cheerleader. She attended Lewis & Clark College in Oregon, and briefly Pomona College in California, before returning to earn her bachelor of arts degree from Lewis & Clark.[3]
Read more...
Career
Prior to acting, Post worked on several game shows. She began her career with the production crew of the Tom Kennedy version of Split Second. She also served as associate producer of Alex Trebek's Double Dare and as a card dealer on the NBC Jim Perry version of Card Sharks. Post often was a celebrity player on various game shows, including Pyramid and Password.
Her early acting credits include the pilot episode of Simon & Simon "Details at Eleven" in 1981, two episodes of The A-Team as two different characters in the 1983 episode "The Only Church in Town" and the 1984 episode "Hot Styles" and The Love Boat respectively. She appeared in the science fiction series Buck Rogers in the 25th Century and as Diane Chambers' best friend in the sitcom Cheers, before eventually becoming a regular on the ABC action drama The Fall Guy.[4] After The Fall Guy, she played Christine Sullivan on the 1980s television comedy series Night Court from the third season until the show's end.[5] She played Georgie Anne Lahti Hartman on the comedy series Hearts Afire, co-starring John Ritter.[6][7] Post has also had regularly recurring guest star roles on The District and on Scrubs as the mother of Dr. Elliot Reid.[7]
Film credits include There's Something About Mary (1998), in which she played the mother of Cameron Diaz's character.[8] She played a call girl and dominatrix in the 1988 TV movie Tricks of the Trade opposite Cindy Williams, and a singer in Glitz with Jimmy Smits, based on a novel by Elmore Leonard.[9] She also had a starring role in NBC's 1995 movie Visitors in the Night.[10] She appeared as reporter Christine Merriweather in the 2007 improvisational comedy film (released in 2017) Cook Off!. She appeared in the 30 Rock episode "The One with the Cast of Night Court" playing herself when she, Harry Anderson, and Charles Robinson staged a mock reunion of the Night Court cast.[11]
Post was the voice of June Darby on the computer animated robot superhero TV series Transformers: Prime. Since 2014, Post has appeared as a recurring character, "Bunny", on Chicago P.D.
Personal life
Post is married to actor and writer Michael A. Ross, and has two daughters.[12] She was previously married to Stephen Knox, whom she met at Lewis and Clark College.[3]
Filmography
Film
| Year | Title | Role | Notes |
| --- | --- | --- | --- |
| 1981 | Gangster Wars | Chris Brennan | film debut |
| 1998 | Behind the Zipper with Magda | Sheila Jensen | short film |
| 1998 | There's Something About Mary | Mary's Mom | |
| 2007 | Cook Off! | Christine Merriweather | released in 2017 |
| 2014 | Muffin Top: A Love Story | Linda | |
| 2017 | Sweet Sweet Summertime | Lila Burns | |
| 2017 | Camp Cool Kids | Euginia | |
| 2017 | Keep the Gaslight Burning | Mrs. Maxwell | Short Film |
| 2017 | Four Christmases and a Wedding | Anna Taylor | |
Television
Year
Title
Role
Notes
1979
CHIPs
Roberta
television debut

Episode: "Rally 'Round the Bank"

1979
Barnaby Jones
Linda Woods
Episode: "Master of Deception"
1979
The Incredible Hulk
Pamela Norris
Episode: "The Confession"
1979
The Lazarus Syndrome
Lauren Place
Episode: "A Brutal Assault"
1979
Buck Rogers in the 25th Century
Joella Cameron
2 episodes
1979
Hart to Hart
Sandy
Episode: "Cop Out"
1980
B.J. and the Bear
Valerie Wood
Episode: "Siege"
1980
House Calls
Linda
Episode: "A Slight Case of Quarantine"
1980
Eight Is Enough
Kerry
Episode: "The Commitment"
1980
Semi-Tough
Barbara Jane Bookman
4 episodes
1981
The Gangster Chronicles
Chris Brennan
Television Miniseries

13 episodes

1981
The Greatest American Hero
Deborah Dante
Episode: "The Two-Hundred-Mile-an-Hour Fast Ball"
1981
Simon & Simon
Carolyn Perry
Episode: "Details at Eleven"
1981
McClain's Law
unknown
"Requiem for a Narc"
1982
Code Red
unknown
Episode: "Wildfire"
1982
Massarati and the Brain
Julie Ramsdell
Television Movie
1982
Not Just Another Affair
Jan Thacker
Television Movie
1982-1983
The Love Boat
Doris Holden/Dee Dee/Donna Baker
2 episodes
1982-1985
The Fall Guy
Terri Michaels
series regular; 64 episodes
1983
Six Pack
Sally Leadbetter
Television Movie
1983
Matt Houston
Courtney Garner
Episode: "A Novel Way to Die"
1983
Cheers
Heather Landon
Episode: "Just Three Friends"
1983
Match Game
Herself
5 episodes
1983
Go
Herself
5 episodes
1983-1984
Fantasy Island
Amy Marshall/Doreen Murphy
2 episodes
1983-1984
The A-Team
Rina/Leslie Becktall/Sister Teresa
2 episodes
1983-1988
The $10,000 Pyramid
Herself
recurring role; 80 episodes
1984
Glitter
Barbara Nelson
Episode: "Pilot"
1984
Scene of the Crime
Courtney Hollander
Episode: "Pilot"
1984
Body Language
Herself
5 episodes
1984-1985
Hotel
Anne Crowley/Jill Stanton
2 episodes
1984-1992
Night Court
Christine Sullivan
series regular; 159 episodes
1985
The $25,000 Pyramid
Herself
5 episodes
1985-1987
Super Password
Herself
recurring role; 20 episodes
1986
Triplecross
Delia Langtree
Television Movie
1988
Glitz
Linda Moon
Television Movie
1988
Tricks of the Trade
Marla
Television Movie
1988
Blackout
Herself
5 episodes
1991
Stranger at My Door
Sharon Dancey
Television Movie
1992-1995
Hearts Afire
Gegorie Anne Lahti Hartman
series regular; 54 episodes
1993
Beyond Suspicion
Joyce
Television Movie
1994
Someone She Knows
Laurie Philips
Television Movie
1995
VR.5
Alexis Miller
Episode: "The Many Faces of Alex"
1995
Visitors of the Night
Judith English
Television Movie
1996
Chasing the Dragon
Gwen Kessler
Television Movie
1996
Dave's World
Lisa McCauley
Episode: "Falling"
1997
Dog's Best Friend
Horse
Television Movie

voice role

1997
Survival on the Mountain
Amy Hoffman
Television Movie
1998
I've Been Waiting for You
Rosemary Zoltanne
Television Movie
1999-2000
Odd Man Out
Julia Whitney
series regular; 13 episodes
2000
Twice in a Lifetime
Nancy Waldron/Peggy McIntrye
Episode: "It's a Hard Knock Life"
2000
Hollywood Squares
Herself
5 episodes
2001
Till Dad Do Us Part
Virginia Corbett
Television Movie
2001
Late Boomers
unknown
Television Movie
2002-2006
Scrubs
Lily Reid
3 episodes
2003-2004
The District
Audrey Livingston/Simone Fairgate/Audrey Livermore
2 episodes
2006
Ghost Whisperer
Diana Lassiter
Episode: "The Woman of His Dreams"
2007
Holiday in Handcuffs
Mom Chandler
Television Movie
2008
30 Rock
Herself
Episode: "The One with the Cast of Night Court"
2010
Backyard Wedding
Aunt Addie
Television Movie
2010-2013
Transformers Prime
June Darby
series regular; 15 episodes

voice role

2011
Man Up
Linda
Episode: "Acceptance"
2013
Back in the Game
Dotty
Episode: "Play Hard or Go Home"
2013
Christmas on the Bayou
Lilly
Television Movie
2014
Rack and Ruin
Betsy
5 episodes
2014-2017
Chicago P.D.
Barbara "Bunny" Fletcher
recurring role; 18 episodes
2015
Rack and Ruin Web Series
Betsy
Television Movie
2017
The Joneses Unplugged
Tawney
Television Movie
2018
Santa Clarita Diet
Becky
Episode: "Coyote in Yoga Pants"
Awards and nominations
Behind the Voice Actors awards
2013 Best Vocal Ensemble in a Television Series - Action/Drama (Transformers Prime) - Nominated[13]
CableACE awards
1994 Children's Program Special - 6 and Young (Presidential Inaugural Celebration for Children) - WON[14]
TV Land awards
2007 Lady You Love to Watch Fight for Her Life in a Movie of the Week - Nominated[15]
[ Source: Wikipedia ]