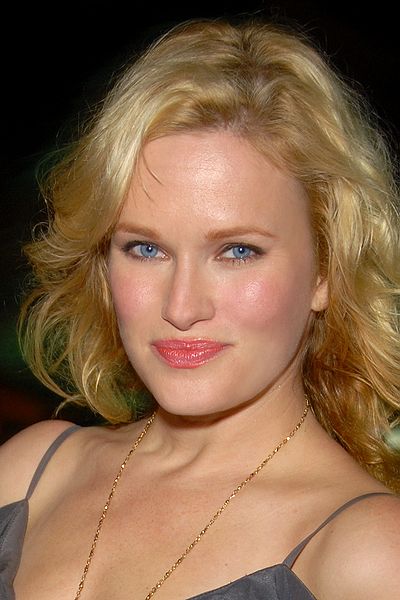 Nicholle Tom
Born:
March 23, 1978
Age:
45
Birthplace:
Hinsdale, Illinois, U.S.
Popularity:

Please login to contact Nicholle Tom...
Biography
Nicholle Marie Tom (born March 23, 1978) is an American actress.
Tom is best known for her roles as Ryce Newton in Beethoven (1992), Beethoven's 2nd (1993), Beethoven (1994-1995), and as Maggie Sheffield on The Nanny. She is also known for voicing Supergirl in the DC Animated Universe.
Tom was born in Hinsdale, Illinois, to Charles and Marie Tom. She has a twin brother,
David Tom
, best known for his role as Billy Abbott on
The Young and the Restless
, and an older sister,
Heather Tom
, who is best known for her role as Victoria Newman on
The Young and the Restless
, and Katie Spencer on
The Bold and The Beautiful
.
Read more...
Career
In 1992, Tom played the small role of Scott Scanlon's sister, Sue, on Beverly Hills, 90210. In 1992 and 1993, she played Ryce Newton in the successful family movies Beethoven and Beethoven's 2nd. She did not appear in the subsequent sequels, as she had grown out of her specific role, although she did reprise her role as the voice of Ryce in the cartoon spinoff.
From 1993 to 1999, she played the role of Mr. Sheffield's eldest daughter, Maggie Sheffield in The Nanny.
From 1998 to 2006, she provided the voice for Supergirl in the DC Animated Universe.
In 2000, she played Sarah Bryann in the Fox Family television film, Ice Angel, and played Tracy in Panic. In 2001, she portrayed a teen reporter, Cassie, in The Princess Diaries.
In 2006, she co-starred in the Independent Film Channel (IFC) original The Minor Accomplishments of Jackie Woodman as Tara, an underling at a film production company. Tom played a small role in "Loose Ends", the September 20, 2007 episode of Burn Notice.[1]
In March 2008, she starred in the Lifetime movie, Her Only Child, that premiered on March 22, 2008. She guest-starred alongside brother David, who played her character's brother in "Damaged", the April 2, 2008, episode of Criminal Minds. She guest-starred on the May 4, 2008, episode of Cold Case.
Filmography
Film
| Year | Title | Role | Notes |
| --- | --- | --- | --- |
| 1992 | Beethoven | Ryce Newton | |
| 1993 | Beethoven's 2nd | Ryce Newton | |
| 1994 | Season of Change | Sally Mae Parker | |
| 1996 | What Kind of Mother Are You? | Kelly Jameson | |
| 1999 | The Sterling Chase | Alexis | |
| 2000 | Urban Chaos Theory | The Girl | Short film |
| 2000 | Panic | Tracy | |
| 2000 | Rave | Sadie | |
| 2001 | Robbie's Brother | Andrea | |
| 2001 | The Princess Diaries | Teen Reporter Cassie | |
| 2003 | A mi amor mi dulce | Chickpea | Short film |
| 2004 | The Book of Ruth | Ruth | |
| 2005 | In Memory of My Father | Nicole | |
| 2006 | Bottoms Up | Penny Dhue | |
| 2006 | The Strange Case of Dr. Jekyll and Mr. Hyde | Carla Hodgkiss | |
| 2010 | My Family's Secret | Lara Darcie | |
| 2011 | Just Like Her | Ashley Marston | Short film |
| 2012 | Hang Loose | Nikki | |
| 2014 | Mi corazón | Becca | Short film |
| 2014 | Private Number | Katherine Lane | |
| 2014 | 3's a Couple | Michelle | Post-production |
| 2015 | Satan's Return | Katie | Post-production |
| 2017 | The Sterling Chase | Alexis | |
| 2018 | F the Prom | Principal Statszill | |
Television
| Year | Title | Role | Notes |
| --- | --- | --- | --- |
| 1990 | Jim Henson Presents Mother Goose Stories | | TV series |
| 1991 | The Fresh Prince of Bel-Air | Zoey | Episode: "The Butler Did It" |
| 1992 | Beverly Hills, 90210 | Sue Scanlon | Episodes: "Song of Myself", "Highwire", "Home and Away", "A Presumption of Innocence" |
| 1993 | Bloodlines: Murder in the Family | Jacy Woodman | TV film |
| 1993-1999 | The Nanny | Margaret 'Maggie' Sheffield | Regular role (141 episodes) |
| 1994 | Beethoven | Ryce Newton (voice) | Main role (13 episodes) |
| 1996 | For My Daughter's Honor | Amy Dustin | TV film |
| 1997 | Unwed Father | Melanie Crane | TV film |
| 1998 | Welcome to Paradox | Delphi B. | Episode: "The Girl Who Was Plugged In" |
| 1998 | The New Batman Adventures | Kara Kent / Supergirl (voice) | Episode: "Girls' Nite Out" |
| 1998-2000 | Superman: The Animated Series | Kara Kent / Supergirl (voice) | Recurring role (5 episodes) |
| 2000 | Ice Angel | Sarah Bryann | TV film |
| 2003 | Strong Medicine | Cherie / Sharon / Sharona | Episode: "Love and Let Die" |
| 2004 | The Book of Ruth | Ruth | TV film |
| 2004-2006 | Justice League Unlimited | Supergirl / Various (voice) | Recurring role (7 episodes) |
| 2006 | Windfall | Elisa | Episodes: "Pilot", "The Getaway", "There and Gone Again" |
| 2006-2007 | The Minor Accomplishments of Jackie Woodman | Tara Wentzel | (16 episodes) |
| 2007 | The Wedding Bells | Laine Hill | Episodes: "For Whom the Bell Tolls", "Party Cloudy, with a Chance of Disaster" |
| 2007 | Burn Notice | Melissa Fontenau | Episode: "Loose Ends, Part 1" |
| 2008 | Her Only Child | Lily Stanler | TV film |
| 2008 | Criminal Minds | Connie Galen | Episode: "Damaged" |
| 2008 | Cold Case | Priscilla Chapin | Episode: "Ghost of My Child" |
| 2009 | The Mentalist | Marilyn Monroe | Episode: "A Dozen Red Roses" |
| 2009 | Without a Trace | Molly Samson | Episode: "Labyrinths" |
| 2009 | Mental | Melissa Ranier | Episode: "A Beautiful Delusion" |
| 2009 | Something Evil Comes | Romy Webster | TV film |
| 2010 | Castle | Cindy Mann | Episode: "The Late Shaft" |
| 2011 | I Met a Producer and Moved to L.A. | Emily | TV film |
| 2013 | Fatal Performance | Dana Tilly | TV film |
| 2013 | Masters of Sex | Maureen[2] | Episodes: "Race to Space", "Standard Deviation" |
| 2014 | About a Boy | Debby | Episode: "About a Christmas Card" |
| 2015 | Stalker | Zoe Parsons | Episode: "My Hero" |
| 2015 | Gotham | Miriam Loeb | Episode: "Everyone Has a Cobblepot" |
| 2015 | Survivor's Remorse | Hazel-Fay | Episode: "Homebound" |
| 2016 | I Didn't Kill My Sister | Heather | TV film |
Awards and nominations
Young Artist Awards
Year
Nominated work
Category
Result
Ref.
1993
Beethoven
Best Young Actress Starring in a Motion Picture
Nominated
[3]
1994
The Nanny
Youth Actress Leading Role in a Television Series
Nominated
[4]
Outstanding Youth Ensemble in a Television Series
Nominated
[4]
1995
Beethoven's 2nd
Best Performance by a Youth Ensemble in a Motion Picture
Nominated
[5]
The Nanny
Best Performance by a Youth Ensemble in a Television Series
Nominated
[5]
1996
Best Performance by a Young Actress - TV Comedy Series
Nominated
[6]
1999
Welcome to Paradox
Best Performance in a TV Drama Series - Guest Starring Young Actress
Nominated
[7]
Young Star Awards
| Year | Nominated work | Category | Result | Ref. |
| --- | --- | --- | --- | --- |
| 1995 | The Nanny | Best Performance by a Young Actress in a Comedy TV Series | Nominated | [8] |
| 1997 | My Daughter's Horror | Best Performance by a Young Actress in a Made For TV Movie | Nominated | [9] |
[ Source: Wikipedia ]