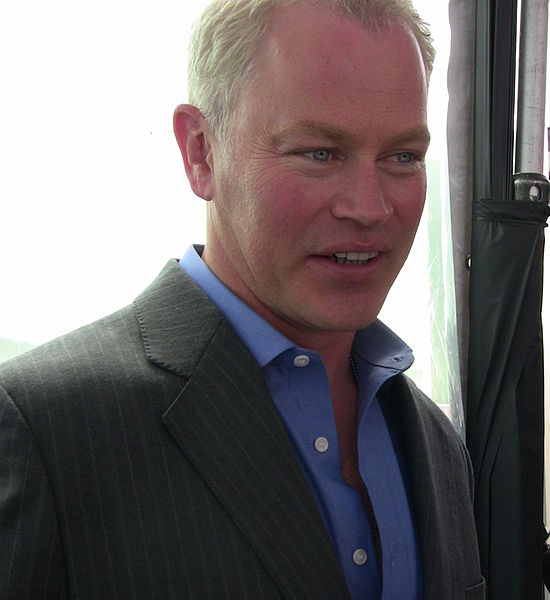 Neal McDonough
Birth name:
Neal P. McDonough
Born:
February 13, 1966
Age:
57
Birthplace:
Dorchester, Massachusetts, U.S.
Popularity:

Please login to contact Neal McDonough...
Biography
Neal P. McDonough[1] (born February 13, 1966) is an American actor and voice actor, known for his portrayal of Lieutenant Lynn "Buck" Compton in the HBO miniseries Band of Brothers (2001), Deputy District Attorney David McNorris on Boomtown (2002-2003), Sean Cahill on Suits, Robert Quarles on Justified, William Parker in Mob City, and Dave Williams on ABC's Desperate Housewives (2008-2009). He also appeared in films such as Star Trek: First Contact, Minority Report, Walking Tall, The Guardian, Flags of Our Fathers, Red 2, The Marine 3: Homefront, Traitor, The Hitcher, Paul Blart: Mall Cop 2, Proud Mary, and as Dum Dum Dugan in various Marvel Cinematic Universe films and TV series. He appeared as Damien Darhk on Arrow, and in Legends of Tomorrow, as well as voicing a variety of comic superheroes and villains in a number of animated films and video games.
McDonough was born in Dorchester, Massachusetts, the son of Catherine (née Bushe) and Frank McDonough, motel owners who emigrated from Ireland, with his mother coming from County Tipperary and his father from County Galway.[2][3] McDonough grew up in Barnstable, Massachusetts and was raised Roman Catholic.[4] His childhood nickname was "Headster", which McDonough says originated in his brothers' teasing him about the size of his head.[5] He graduated from Barnstable High School, and attended Syracuse University, where he was initiated and became a member of the Sigma Chi Fraternity and graduated with a Bachelor of Fine Arts degree in 1988. He had obtained several college scholarships to play baseball, but he decided to go to Syracuse as he thought it had the best theater department.[6]
Read more...
Career
McDonough in 2015
In 1991, McDonough won the Best Actor Dramalogue for "Away Alone". McDonough has made many television and film appearances since then, including Band of Brothers, Boomtown, Star Trek: First Contact, Minority Report and The Hitcher. McDonough played Dave Williams on the fifth season of Desperate Housewives.[7] He also starred in the lead role on 2004 medical drama Medical Investigation for its one full season.
McDonough was set to star in the ABC dramedy Scoundrels,[8] but was fired for refusing to act in sex scenes, citing his family and Catholic faith as basis for his decision.[9][10]
McDonough portrays Jesus in "The Truth & Life Dramatized Audio New Testament Bible," a 22-hour, celebrity-voiced, fully dramatized audio New Testament which uses the Catholic edition of the revised standard version of the Bible.[11]
In 2011, McDonough appeared as Marvel comic book character Dum Dum Dugan in Captain America: The First Avenger. McDonough also voiced the character in the 2011 movie tie-in video game, Captain America: Super Soldier. He reprised his role in the 2013 short film, Agent Carter possibly reprising the role in future projects.[citation needed] He made a cameo appearance in the first episode of the second season of Agents of S.H.I.E.L.D.. He also appeared in an episode of Agent Carter.
In 2012, McDonough had a recurring role in the third season of FX's Justified as Robert Quarles, a sadistic, carpetbagging mobster from Detroit.[12] He was later cast as Police Chief Parker in Frank Darabont's TNT pilot Mob City.[13]
During the 2014 Winter Olympics opening ceremony on NBC, McDonough was featured in a high-profile and frequently aired Poolside commercial for the Cadillac ELR hybrid electric car.[14]
In 2015, McDonough was cast as DC Comics villain Damien Darhk on the fourth season of Arrow.[15]
Personal life
In 2003 McDonough married Ruvé Robertson, a South African model whom McDonough met in the United Kingdom while filming Band of Brothers.[16] The couple have five children, Morgan "Little Buck"[17] Patrick (born November 2005), Catherine Maggie (born May 14, 2007), London Jane (born January 11, 2010), Clover Elizabeth (born August 15, 2011),[18][19] and James Hamilton (born March 31, 2014).[20]
Filmography
Film
Year
Title
Role
Notes
1994
Angels in the Outfield
Whit Bass
1996
Star Trek: First Contact
Lieutenant Hawk
1997
Fire Down Below
Truck driver at the truck stop
1999
A Perfect Little Man
Billy Morrisson
Ravenous
Reich
2002
Minority Report
Officer Gordon 'Fletch' Fletcher
2003
Timeline
Frank Gordon
They Call Him Sasquatch
Ned Dwyer
2004
Walking Tall
Jay Hamilton
2006
The Guardian
Chief Petty Officer Jack Skinner
The Last Time
Hurly
Flags of Our Fathers
Capt Dave Severance
2007
Forever Strong
Coach Richard Penning
The Hitcher
Lt Esteridge
Machine
Jack Ford
I Know Who Killed Me
Daniel Fleming
2008
88 Minutes
Jon Forster
Traitor
Max Archer
2009
Street Fighter: The Legend of Chun-Li
M. Bison
2010
DC Showcase: Green Arrow
Green Arrow
Voice
Short film
2011
Little Birds
Hogan
Ticking Clock
James Keene
Captain America: The First Avenger
Dum Dum Dugan
2012
The Philly Kid
L.A. Jim
2013
Company of Heroes
Lieutenant Joe Conti
The Marine 3: Homefront
Jonah Pope
Red 2
Jack Horton
Marvel One-Shot: Agent Carter
Dum Dum Dugan
Short film
2014
Bad Country
Kiersey
Batman: Assault on Arkham
Deadshot / Floyd Lawton
Voice
Falcon Rising
Manny Ridley
2015
Paul Blart: Mall Cop 2
Vincent Sofel
2016
Greater
Marty Burlsworth
2017
1922
Harlan Cotterie
2018
Proud Mary
Walter
Game Over, Man!
Conrad Drothers
2019
Sonic the Hedgehog
Post-production
Television
Year
Title
Role
Notes
1991
China Beach
Lurch
Episode: "Hello Goodbye"
Quantum Leap
Chucky
Episode: "Play Ball"
Babe Ruth
Lou Gehrig
TV movie
1995
JAG
Second Lieutenant Jay Williams
Episode "Desert Son"
White Dwarf
Dr. Driscoll Rampart III
TV movie
Iron Man
Firebrand
Voice
Episode: "Fire and Rain"
1996
NYPD Blue
Jerry Selness
Episode: "He's Not Guilty, He's My Brother"
1996-97
The Incredible Hulk
Bruce Banner
Voice
21 episodes
1998
Diagnosis: Murder
Ross Canin
2 episodes
1999
Martial Law
Kyle Strode
4 episodes
Balloon Farm
Sheriff
Television film
Just Shoot Me!
Craig
Episode: "Shaking Private Trainer"
Profiler
Christoper Langston
Episode: "To Serve and Protect"
2001
Band of Brothers
First Lieutenant Lynn "Buck" Compton
8 episodes
2002
The X-Files
Agent Comer
2 episodes
2002-03
Boomtown
Los Angeles deputy district attorney David McNorris
24 episodes
2004-05
Medical Investigation
Dr. Stephen Connor
20 episodes
2007
Traveler
Secretary of Homeland Security, Jack Freed
6 episodes
Tin Man
Wyatt Cain (Tin Man)
3 episodes
2008-09
Desperate Housewives
Dave Williams
24 episodes (Season 5)
2010
Terriers
Ford / Tom Cutshaw
2 episodes
2011
Law & Order: Criminal Intent
Monsignor McTeal
Episode: "The Consoler"
2012
Justified
Robert Quarles
13 episodes
CSI: NY
Senator Gordon Hamilton
Episode: "Unspoken"
Perception
Fredrick James Dafoe
Episode: "Cipher"
2013
CSI: Crime Scene Investigation
Tommy Barnes
Episode: "Sheltered"
Mob City
William Parker
6 episodes
2014-16
Suits
Sean Cahill
15 episodes
2014
Agents of S.H.I.E.L.D.
Dum Dum Dugan
Episode: "Shadows"
2015
Agent Carter
Episode: "The Iron Ceiling"
Public Morals
Rusty Patton
9 episodes
2015-16
Arrow
Damien Darhk
recurring season 4; guest season 5 (credited as special appearance by)
2015
The Flash
guest season 2 (credited as special appearance by)
2016-present
DC's Legends of Tomorrow
recurring seasons 2-present, guest season 1 (credited as special appearance by)
2017
Rogue
Casey Oaks
5 episodes
Survivor's Remorse
Brian
Episode: "Repercussions"
2019
Project Blue Book
General James Harding
Yellowstone
Malcolm Beck
recurring season 2[21]
Video games
Year
Title
Role
Notes
2005
The Incredible Hulk: Ultimate Destruction
Bruce Banner
Voice
2009
Rogue Warrior
Admiral Travis Payton
2011
Captain America: Super Soldier
Dum Dum Dugan
2013
Injustice: Gods Among Us
The Flash
Nightwing (Damian Wayne)
2015
Skylanders: SuperChargers
Astroblast
Voice[22]
2015
Call of Duty: Black Ops III
Jack Vincent
Voice and likeness
Internet
| Year | Title | Role | Notes |
| --- | --- | --- | --- |
| 2015 | If Angels In The Outfield Happened For Real (30 For 30 Parody) | Whit Bass | CollegeHumor sketch |
Awards and nominations
Year
Award
Award category
Title of work
Result
1999
Atlantic City Film Festival
Best Actor (Jury Award)
A Perfect Little Man
Won
2003
Online Film & Television Association Award[23]
Best Supporting Actor in a Drama Series
Boomtown
Nominated
Television Critics Association Award
Individual Achievement in Drama
Satellite Award
Best Supporting Actor in a Television Series - Drama
Won
2008
Screen Actors Guild Award
Outstanding Performance by an Ensemble in a Comedy Series
Desperate Housewives
Nominated
2012
Critics' Choice Television Award
Best Supporting Actor in a Drama Series
Justified
Satellite Award
Best Supporting Actor in a Series, Miniseries or Television Film
Won
Charities
Neal McDonough supports the following charitable causes: AIDS, Underprivileged Children, Children.
[ Source: Wikipedia ]