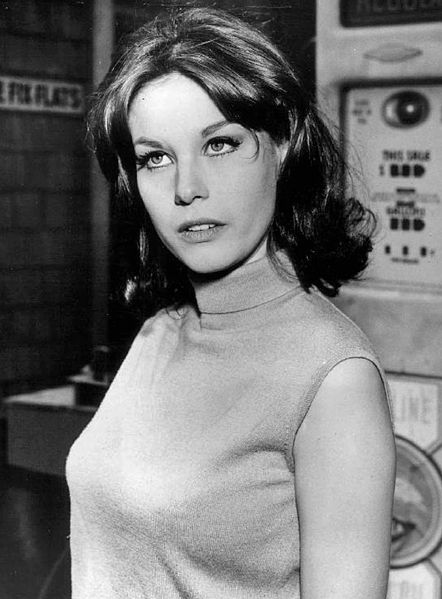 Lana Wood
Birth name:
Svetlana Gurdin
Born:
March 1, 1946
Age:
77
Birthplace:
Santa Monica, California, U.S.
Popularity:

Please login to contact Lana Wood...
Biography
Lana Wood (born Svetlana Gurdin; March 1, 1946)[2] is an American actress[3] and film producer.[4] She is best known for her role as Plenty O'Toole in the James Bond film Diamonds Are Forever (1971). Her elder sister was film star Natalie Wood.
Wood was born Svetlana Gurdin[2] to Russian immigrant parents, Nikolai Stephanovich Zakharenko (1912-1980) and Maria Stepanovna Zakharenko (née Zudilova, 1912-1996). They had each left Russia as child refugees with their parents following the Russian Civil War, and they grew up far from their homeland. Her father's family left Vladivostok after her grandfather, a chocolate-factory worker who joined the anti-Bolshevik civilian forces, was killed in a street fight in 1918; they settled in Vancouver, British Columbia, at their relatives, then moved to San Francisco. Lana's maternal grandfather owned soap and candle factories in Barnaul; he also left Russia with his family in 1918 after his eldest son was killed by the Red Army, and settled in a Russian community in Harbin, China.[5] Maria married there, and in 1928 had a daughter, Olga Tatulova, with her first husband[6] who died in May 2015.[7]
When Nikolai and Maria married, she brought her daughter Olga to the household. The couple had two daughters together; the first was Natalia, known as "Natasha", the Russian diminutive. The family settled in Santa Monica, California, near Hollywood, and changed their surname to Gurdin. Svetlana, known as "Lana", was born there.
Her parents changed the surname of her elder sister, Natalie to "Wood", after she started her acting career as a child. She was named after Wood's director Irving Pichel's friend Sam Wood.[8]
When Lana made her film debut in The Searchers (1956), her mother was asked under what last name Lana should be credited. Maria agreed to use "Wood" for Lana, building on Natalie's recognized work.
Read more...
Career
In her early career, Wood usually played in films in which Natalie appeared. Starting in the 1960s, her own career took off. After appearing on the short-lived drama series The Long, Hot Summer, she landed the role of Sandy Webber on the soap series Peyton Place. She played the role from 1966-67. In 1970, Wood was approached by Hugh Hefner and asked to pose for Playboy to which she agreed. The Playboy pictures appeared in the April 1971 issue, along with Wood's poetry. She was cast as a Bond girl, Plenty O'Toole, in the James Bond film, Diamonds Are Forever (1971).
Wood has more than 20 other films and over 300 television series to her credit, including The Fugitive, Bonanza, Mission: Impossible, Police Story, Starsky & Hutch, Nero Wolfe, Fantasy Island, and Capitol. After appearing in the horror film Satan's Mistress (1982), she retired from acting, concentrating on her career as a producer, but she has since returned to acting in a number of low-budget films since 2008. Lana is a character in the Steve Alten book Meg: Hell's Aquarium (2009). Wood wrote a memoir, Natalie, A Memoir by Her Sister (1984).
Personal life
Wood with her sister Natalie Wood in 1956
Wood has been married five times:
Jack Wrather Jr. - (m. 1962; annulled when she was 16 years old)
Karl Brent - (m. 1965-1966; divorced)
Stephen Oliver - (m. 1967; divorced)
Richard Smedley - (m. 1973-1975; divorced); one child, Evan (August 11, 1974 - July 18, 2017), by whom she has three grandchildren.[9]
Allan Balter (m. 1978-81)
TV and filmography
The Searchers - (1956), Debbie Edwards (younger)
Have Gun - Will Travel - (1958), Becky Coldwell ("The Teacher")
The Real McCoys - (1958), Marilyn Harwick ("The New Neighbors")
Five Finger Exercise - (1962), Mary
The Fool Killer - (1965), Alice
The Girls on the Beach - (1965), Bonnie
The Long, Hot Summer - (TV) (1965-1966), Eula Harker
Peyton Place - (TV) (1966-1967), Sandy Webber - unknown episodes
The Wild Wild West - (TV series) (1967), Vixen O'Shaughnessy ("The Night of the Firebrand")
Bonanza - (TV series) (1967), Dana Dawson ("The Gentle Ones")
For Singles Only - (1968), Helen Todd
Scream Free! - (1969), Karen
Laugh In (1969)
The Wild Wild West - (TV series) (1969), Averi Trent ("The Night of the Plague")
Black Water Gold - (TV) (1970), Eagan Ryan
The Over-the-Hill Gang Rides Again - (TV) (1970), Katie Flavin
O'Hara, U.S. Treasury - (TV) (1971), Fran Harper
Diamonds Are Forever - (1971), Plenty O'Toole
Justin Morgan Had a Horse - (1972), Kathleen
A Place Called Today - (1972), Carolyn Schneider
Police Story - (1973), June
QB VII - (TV miniseries) (1974), Sue Scanlon
Who Is the Black Dahlia? - (TV) (1975), Boarder
Nightmare in Badham County - (TV) (1976), Smitty
Corey: For the People - (TV) (1977), Janet Hanley
Speedtrap - (1977) New Blossom
Grayeagle - (1977) Beth Colter
A Question of Guilt - (TV) (1978), Elizabeth Carson
Captain America - (TV) (1979), Yolanda
Captain America II: Death Too Soon - (TV) (1979), Yolanda
Born to Be Sold - (1981) (TV) (assistant to executive producer)
Satan's Mistress - (1982), Lisa
Murder Me, Murder You - (TV) (1983) - associate producer
Capitol - (TV series) (1983), Fran Burke - unknown episodes
The Mystery of Natalie Wood - (TV) (2004) - co-producer
Wild Michigan - (2008), Opal
The Book of Ruth: Journey of Faith - (2009), Tani
Last Wish - (short) (2010), Helen
When Happy Met Froggie - (documentary) (2011), herself
Deadly Possessions - (2016), herself
Subconscious Reality - (2016), Implicit
Bibliography
Wood, Lana (1984). Natalie Wood: A Memoir by Her Sister. New York: G.P. Putnam's Sons. ISBN 0-399-12903-0.
Finstad, Suzanne (2002). Natasha: The Biography of Natalie Wood. New York: Three Rivers Press. ISBN 978-0609809570.
[ Source: Wikipedia ]