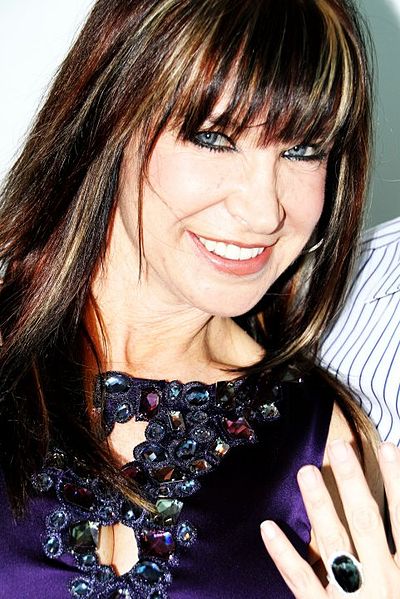 Cynthia Rothrock
Born:
March 8, 1957
Age:
66
Popularity:

Please login to contact Cynthia Rothrock...
Biography
Cynthia Ann Christine Rothrock (born March 8, 1957) is an American martial artist and actress specializing in martial arts films. Rothrock holds black belt rankings in seven styles of martial arts and was a high level competitor in martial arts before becoming an actress.
On March 8, 1957, Rothrock was born in Wilmington, Delaware. Rothrock grew up in Scranton, Penn. at 13, Rothrock started taking martial art lessons.[1]
Read more...
Career
Martial arts
Rothrock was five-time World Champion in forms and weapons between 1981 and 1985.[2] These categories are not combat-oriented, being displays of fluidity of movement rather than fighting, and are not segregated into male and female categories but fully open to both sexes.[3][4]
She took first place in forms 32 times and first place in weapons 12 times in her first 38 tournaments, including competing in "Men's Forms" three out of four times as there was no Women's Division. She was "Grand Master" of five tournaments and came in first place in 4 out of 5 fighting events.[5]
She holds seven black belts and sashes in multiple Far Eastern martial disciplines, including Tang Soo Do, Taekwondo (Korean), Eagle Claw (Chinese), Wushu, Northern Shaolin, Ng Ying Kungfu (Chinese: 五形功夫) and Pai Lum Tao Kung Fu.[6][7] She received her 6th degree black belt in Tang Soo Do Moo Duk Kwan in 2006. She was tested by Grand Master Robert Kovaleski, 9th Dan and chair of the I.T.M.A., and was later promoted by him to 7th degree black belt in 2011 and 8th degree black belt in 2015.[8] She is a martial arts instructor and her favorite weapons are the hook swords.[9]
In 1983, Rothrock was inducted into the Black Belt Magazine Hall of Fame as "Female Competitor of the Year".[6] She was the first woman to appear on the cover of a martial arts magazine, and in 1986 co-authored a book with George Chung titled, Advanced Dynamic Kicks.[10][11] In 2014, she was honored with the Legacy Award at the Urban Action Showcase & Expo at HBO[12]
Acting
In 1983, while Rothrock was on Ernie Reyes' West Coast Demonstration Team, she was discovered by Golden Harvest in Los Angeles, California. It was two years (1985) later that she made her first martial arts movie for them, Yes, Madam (also known as Police Assassins or In the Line of Duty Part 2) which also starred Michelle Yeoh. It proved to be a box office success. She ended up staying in Hong Kong until 1988 doing seven films there.[6][13]
Rothrock became one of the few western performers to achieve genuine stardom in the local Hong Kong film industry before achieving success in their own country. She was credited as 羅芙洛 ("Fu Lok Law" or "Foo Lok Law") in many Hong Kong movies.[14] Producer Pierre David initiated Rothrock's move to the American turf. David offered her a co-starring role with Chad McQueen in Martial Law, Rothrock's first U.S. production. For the next ten years, she led a successful career in B-grade action movies. Her films include China O'Brien and China O'Brien 2, Guardian Angel, Honor & Glory, No Retreat, No Surrender 2 and Prince of the Sun amongst a roster of thirty films.[15][16]
Rothrock appeared as Bertha Jo in the 1997 television film The Dukes of Hazzard: Reunion. She was an inspiration for the video game character Sonya Blade from the Mortal Kombat series and lent her voice on the animated series Eek the Cat.[11]
She made an appearance in the television series Hercules: The Legendary Journeys, playing Hera's second Enforcer in the 1996 episode "Not Fade Away".
After starring in the 2004 film Xtreme Fighter (a.k.a. Sci-Fighter), where she played Sally Kirk / The White Dragon, she retired from acting to teach private martial arts lessons at her martial arts studio in Studio City, California.[17]
She returned to acting in 2012 with a role in the family film Santa's Summer House.[18]
In 2014, she starred in the action movie Mercenaries, alongside Kristanna Loken, Brigitte Nielsen, Vivica A. Fox and Zoë Bell.[19]
Radio and podcast appearances
Rothrock appeared on Ken Reid's TV Guidance Counselor podcast on March 16, 2016.
Personal life
At the age of 21, Rothrock married her kung fu instructor Ernest Rothrock. She has one daughter, Skylar Sophia Rothrock.[citation needed] She currently works as a martial arts teacher,[20] and co-owns a martial arts studio in Studio City, California as part of the Z Ultimate Self Defense Studios chain of martial arts studios.[21]
Filmography
1985 - 24 Hours to Midnight
1985 - Defend Yourself / Sybervision
1985 - Yes, Madam
1986 - Millionaire's Express (Shanghai Express)
1986 - Righting Wrongs (a.k.a. Above the Law)
1987 - Fight to Win (a.k.a. Dangerous Passages a.k.a. Eyes of the Dragon)
1987 - No Retreat, No Surrender 2 (a.k.a. No Retreat, No Surrender II: Raging Thunder) from Europa Filmes and Penthouse Film International with associated the TV Bandeirantes in DVD with Universal Studios
1987 - Magic Crystal
1988 - The Inspector Wears Skirts (a.k.a. Top Squad)
1988 - Righting Wrongs II: Blonde Fury
1988 - China O'Brien
1988 - China O'Brien II
1989 - Triple Cross (a.k.a. Angel of Fury)
1989 - Martial Law
1989 - Prince of the Sun
1990 - Deadliest Art: Best of the Martial Arts Films
1990 - Free Fighter
1990 - Fast Getaway
1990 - Martial Law 2: Undercover
1990 - Lady Dragon
1990 - Tiger Claws
1990 - Rage and Honor
1991 - Rage and Honor 2
1991 - Lady Dragon 2
1992 - Honor and Glory
1992 - Rage and Honor 3
1992 - City Cops (Beyond the Law)
1993 - Irresistible Force
1993 - Guardian Angel
1994 - Undefeatable
1994 - Bloody Mary Killer
1994 - Fast Getaway 2
1994 - Guardian Angel
1995 - Tiger Claws 2
1996 - Hercules: The Legendary Journeys (TV) (Not Fade Away) as Enforcer II
1996 - Sworn to Justice (formerly Blond Justice)
1996 - Checkmate
1996 - Eye for an Eye
1996 - The Encyclopedia of Martial Arts-Martial Combat
1997 - The Hostage
1997 - Night Vision
1997 - The Dukes of Hazzard: Reunion!
1997 - American Tigers
1999 - Tiger Claws 3
2000 - Manhattan Chase
2001 - Redemption
2002 - Outside the Law
2003 - Bala Perdida
2004 - Xtreme Fighter (a.k.a. Sci-Fighter)
2012 - Santa's Summer House
2013 - Badass Showdown
2014 - Mercenaries
2014 - Rogue Space: The Adventures of Saber Raine
2015 - The Martial Arts Kid
2016 - Showdown in Manila
2017 - Death Fighter
[ Source: Wikipedia ]