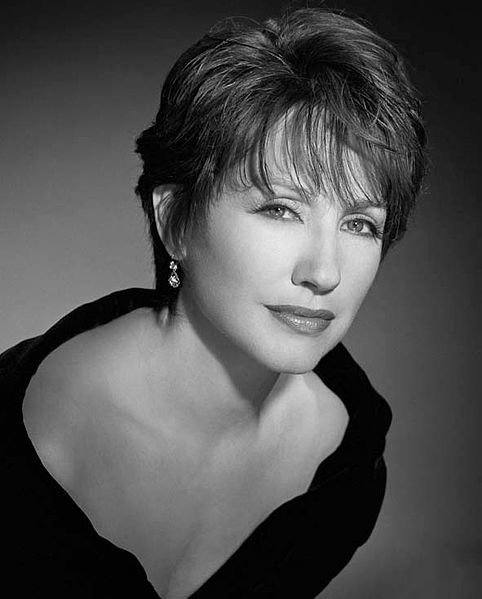 Nathalie Baye
Birth name:
Nathalie Marie Andrée Baye
Born:
July 6, 1948
Age:
74
Birthplace:
Mainneville, France
Popularity:

Please login to contact Nathalie Baye...
Biography
Nathalie Marie Andrée Baye[1] (born 6 July 1948) is a French film, television and stage actress. She began her career in 1970 and has appeared in more than 80 films. A ten-time César Award nominee, her four wins were for Every Man for Himself (1980), Strange Affair (1981), La Balance (1982), and The Young Lieutenant (2005). In 2009, she was made a Chevalier of the Legion of Honour. Her other films include Day for Night (1973), Catch Me If You Can (2002), Tell No One (2006) and The Assistant (2015).
Baye was born in Mainneville, Eure, Normandy, to Claude Baye and Denise Coustet, two painters.[2] At 14 she joined a school of dance in Monaco. Three years later she went to the United States. On returning to France she continued with dance but also registered for the Simon Course and was admitted to the Conservatoire, from where she graduated in 1972 with a second prize in comedy, dramatic comedy and foreign theatre.
Read more...
Career
Her second cinema appearance was in Two People (1973) directed by Robert Wise. She became more widely known as the script girl in La Nuit américaine (Day for Night) by François Truffaut. Throughout the 1970s she played the good girlfriend or nice provincial girl in film and television.
In 1981, she won her first César, for best supporting artist in Sauve qui peut (la vie) by Jean-Luc Godard. There then followed Le Retour de Martin Guerre (The Return of Martin Guerre, 1982) and La Balance (also 1982).
Baye won two more Césars (Best Supporting Female for Une étrange affaire (A Strange Affair), and Best Actress in 1982 for La Balance). Her four-year relationship with Johnny Hallyday made them a celebrity couple and their daughter Laura is now actress Laura Smet.
After changing her image by playing a streetwalker in La Balance, she widened her scope with more obscure characters in J'ai épousé une ombre and En toute innocence. In 1986, she returned to the theatre with an interpretation of Adriana Monti.
In 1999, she was voted Best Supporting Actress at Venice Film Festival for Une liaison pornographique and in 2000 starred in the award-winning film Vénus Beauté (Institut) by Tonie Marshall
She has worked with Claude Chabrol and Steven Spielberg.
Filmography
Year
Title
Role
Director
Notes
1970
Au théâtre ce soir
Martine Legrand
Pierre Sabbagh
Episode Les Croulants se portent bien
1972
Two People
uncredited
Robert Wise
1973
L'Inconnu
Youri
TV film
1973
Day for Night
Joelle
François Truffaut
1974
The Mouth Agape
Nathalie
Maurice Pialat
1974
La Gifle
Christine
Claude Pinoteau
1975
Un jour, la fête
Julie
Pierre Sisser
1975
Cinéma 16
Fabienne
Alain Boudet
Episode Esquisse d'une jeune femme sans dessus-dessous
1976
The Last Woman
The girl with cherries
Marco Ferreri
1976
Le Plein de super
Charlotte
Alain Cavalier
1976
Le Voyage de noces
Sophie
Nadine Trintignant
1976
Mado
Catherine
Claude Sautet
1977
The Man Who Loved Women
Martine Desdoits
François Truffaut
1977
Monsieur Papa
Janine
Philippe Monnier
1977
Solemn Communion
Jeanne Vanderberghe
René Féret
1977
Les Cinq Dernières Minutes
Gisèle
Guy Séligmann
Episode Une si jolie petite cure
1978
Mon premier amour
Fabienne
Élie Chouraqui
1978
The Green Room
Cécilia Mandel
François Truffaut
1978
Sacré farceur
Marianne
Jacques Rouland
TV film
1979
Every Man for Himself
Denise Rimbaud
Jean-Luc Godard
1979
La Mémoire courte
Judith Mesnil
Eduardo de Gregorio
1979
Madame Sourdis
Adèle Sourdis
Caroline Huppert
TV film
1980
Je vais craquer
Brigitte Ozendron
François Leterrier
1980
A Week's Vacation
Laurence Cuers
Bertrand Tavernier
1980
La Provinciale
Christine
Claude Goretta
1981
Strange Affair
Nina Coline
Pierre Granier-Deferre
1981
Beau-père
Charlotte
Bertrand Blier
1981
L'Ombre rouge
Anna
Jean-Louis Comolli
1982
The Return of Martin Guerre
Bertrande de Rols
Daniel Vigne
1982
La Balance
Nicole Danet
Bob Swaim
1983
J'ai épousé une ombre
Hélène
Robin Davis
1984
Our Story
Donatienne Pouget / Marie-Thérèse Chatelard / Geneviève Avranches
Bertrand Blier
1984
Rive droite, rive gauche
Sacha
Philippe Labro
1985
Détective
Françoise Chenal
Jean-Luc Godard
1985
Honeymoon
Cécile Carline
Patrick Jamain
1985
Le Neveu de Beethoven (fr)
Leonore
Paul Morrissey
1987
De guerre lasse (fr)
Alice Mangin
Robert Enrico
1987
En toute innocence
Catherine
Alain Jessua
1989
Massacre Play
Bella
Damiano Damiani
1990
The Man Inside
Christine
Bobby Roth
1990
C'est la vie
Lena
Diane Kurys
1990
Every Other Weekend
Camille Valmont
Nicole Garcia
1990
Le Pinceau à lèvres
Elle
Bruno Chiche
Short film
1992
The Voice
Lorraine
Pierre Granier-Deferre
1992
The Timekeeper
Madame de Pompadour
Jeff Blyth
1993
Mensonge
Emma
François Margolin
1993
Les Contes sauvages
Narrator
Gérald Calderon
Jean-Charles Cuttoli
Uncredited
1993
And the Band Played On
Françoise Barré-Sinoussi
Roger Spottiswoode
TV film
1994
La Machine
Marie Lacroix
François Dupeyron
1994
François Truffaut : Portraits volés
Herself
Serge Toubiana
Michel Pascal
Documentary film
1995
La Mère
The mother
Caroline Bottaro
Short film
1996
Enfants de salaud
Sophie
Tonie Marshall
1997
Food of Love
Michele
Stephen Poliakoff
1997
Paparazzi
Nicole
Alain Berberian
1998
Si je t'aime, prends garde à toi
Muriel
Jeanne Labrune
1999
Venus Beauty Institute
Angèle
Tonie Marshall
1999
Une liaison pornographique
she
Frédéric Fonteyne
2000
To Matthieu
Claire
Xavier Beauvois
2000
Ça ira mieux demain
Sophie
Jeanne Labrune
2001
Absolutely Fabulous
Patsy
Gabriel Aghion
2001
Barnie et ses petites contrariétés
Lucie Barnich
Bruno Chiche
2002
L'Enfant des lumières
Diane
Daniel Vigne
TV film
2002
Catch Me If You Can
Paula Abagnale
Steven Spielberg
2002
The Flower of Evil
Anne Charpin-Vasseur
Claude Chabrol
2003
Feelings
Carole
Noémie Lvovsky
2003
France Boutique
Sofia
Tonie Marshall
2004
Une vie à t'attendre
Jeanne
Thierry Klifa
2005
L'Un reste, l'autre part
Fanny
Claude Berri
2005
The Young Lieutenant
Caroline Vaudieu
Xavier Beauvois
2006
French California
Maguy
Jacques Fieschi
2006
Tell No One
Elisabeth Feldman
Guillaume Canet
2006
The Ant Bully
The Queen Ant
John A. Davis
French voice
2006
Mon fils à moi
The mother
Martial Fougeron
2007
Michou d'Auber
Gisèle
Thomas Gilou
2007
Acteur
Camille Degas
Jocelyn Quivrin
Short film
2007
The Price to Pay
Odile Ménard
Alexandra Leclère
2008
A French Gigolo
Judith
Josiane Balasko
2008
Passe-passe
Irène Montier-Duval
Tonie Marshall
2008
Les Bureaux de Dieu
Anne
Claire Simon
2008
Marie-Octobre
Marie-Hélène Dumoulin / Marie-Octobre
Josée Dayan
TV film
2009
Face
Nathalie
Tsai Ming-liang
2010
Ensemble, c'est trop
Marie-France
Léa Fazer
2010
H.H. - Hitler à Hollywood
Herself
Frédéric Sojcher
2010
De vrais mensonges
Maddy
Pierre Salvadori
2010
Small World
Elisabeth Senn
Bruno Chiche
2011
Bye Bye
Cécile
Édouard Deluc
Short film
2011
Dormir debout
Véronique
Jean-Luc Perréard
Short film
2011
Je voulais vous dire
Romain Delange
Short film
2011
Le Premier Rôle
Nathalie
Mathieu Hippeau
Short film
2011
À l'abri
The woman
Jérémie Lippmann
Short film
2012
Spin
Anne Visage
Frédéric Tellier
TV series
2012
Laurence Anyways
Julienne Alia
Xavier Dolan
2013
Queens of the Ring
Colette
Jean-Marc Rudnicki
2014
Lou! Journal infime
Lou's grandmother
Julien Neel
2014
L'Affaire SK1
Frédérique Pons
Frédéric Tellier
2015
The Assistant
Marie-France
Christophe Ali
Nicolas Bonilauri
2015
Prejudice
Mother
Antoine Cuypers
2015
Call My Agent !
Herself
Cédric Klapisch
TV Series (1 Episode)
2016
It's Only the End of the World
Martine
Xavier Dolan
Moka
Marlène
Frédéric Mermoud
2017
Alibi.com
Madame Martin
Philippe Lacheau
Les Gardiennes
Xavier Beauvois
Awards and nominations
Nathalie Baye in 1994
List of awards and nominations

| Year | Title of work | Award | Category | Result |
| --- | --- | --- | --- | --- |
| 1981 | Every Man for Himself | César Award | Best Supporting Actress | Won |
| 1981 | A Week's Vacation | César Award | Best Actress | Nominated |
| 1982 | Strange Affair | César Award | Best Supporting Actress | Won |
| 1983 | La Balance | César Award | Best Actress | Won |
| 1984 | J'ai épousé une ombre | César Award | Best Actress | Nominated |
| 1991 | Un week-end sur deux | César Award | Best Actress | Nominated |
| 1999 | Une liaison pornographique | Venice International Film Festival | Volpi Cup | Won |
| 1999 | Une liaison pornographique | European Film Award | Best Actress | Nominated |
| 2000 | Venus Beauty Institute | César Award | Best Actress | Nominated |
| 2000 | Venus Beauty Institute | Seattle International Film Festival | Best Actress | Won |
| 2004 | Les Sentiments | César Award | Best Actress | Nominated |
| 2006 | The Young Lieutenant | César Award | Best Actress | Won |
| 2006 | The Young Lieutenant | European Film Award | Best Actress | Nominated |
| 2006 | The Young Lieutenant | Globes de Cristal Award | Best Actress | Won |
| 2006 | Mon fils à moi | San Sebastián International Film Festival | Best Actress | Won |
| 2009 | A French Gigolo | Globes de Cristal Award | Best Actress | Nominated |
| 2009 | — | Legion of Honour | Chevalier of the legion of Honour | Honored |
| 2012 | — | Magritte Award | Honorary Margritte Award | Honored |
| 2017 | It's Only the End of the World | Canadian Screen Awards | Best Performance by an Actress in a Supporting Role | Nominated |
| 2017 | It's Only the End of the World | César Award | Best Supporting Actress | Nominated |
| 2017 | It's Only the End of the World | Riviera International Film Festival | Best Actress | Nominated |
[ Source: Wikipedia ]