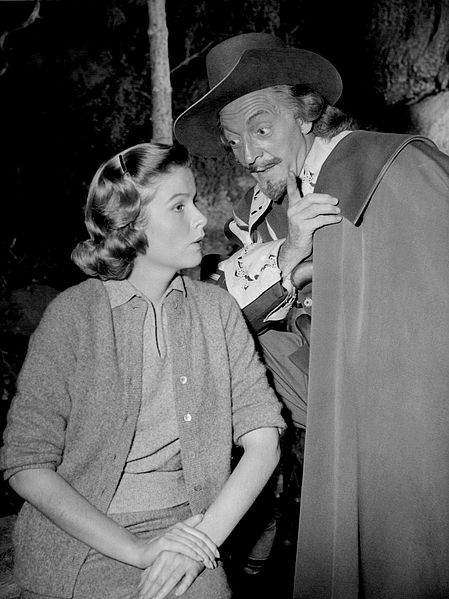 Nancy Olson
Birth name:
Nancy Ann Olson
Born:
July 14, 1928
Age:
94
Birthplace:
Milwaukee, Wisconsin, U.S.
Popularity:

Please login to contact Nancy Olson...
Biography
Nancy Ann Olson (born July 14, 1928)[1] is an American actress. She received an Academy Award nomination for Best Supporting Actress for her portrayal of Betty Schaefer in Sunset Boulevard (1950). She co-starred with William Holden in four films, and also later appeared in Disney's The Absent-Minded Professor (1961) and its sequel, Son of Flubber (1963), as well as the disaster film Airport 1975 (1974).
Olson has been virtually retired from acting since the early 1980s, although she has made a few rare returns, most recently in 2014.
With Everett Sloane in the musical television adaptation of
High Tor
on
Ford Star Jubilee
(1956) Olson was born in Milwaukee, Wisconsin, the daughter of Evelyn Bertha (née Bergstrom),[2] who was of Swedish descent, and Henry John Olson, who was a physician.[1] She has a brother, David.
Read more...
Career
Olson was signed to a film contract by Paramount Pictures in 1948, and, after a few supporting roles, producers began to consider her for more prominent parts. She was up for the role of Delilah in Cecil B. DeMille's film Samson and Delilah (1949), for which Olson later said she was not suited. She was passed over in favor of Hedy Lamarr. Her first big role came in Canadian Pacific (also 1949) with Randolph Scott, then Billy Wilder cast her for his upcoming project. In Sunset Boulevard (1950), she played Betty Schaefer, for which she gained an Academy Award nomination for Best Supporting Actress. Her pairing with William Holden was considered a success, and she appeared with him in three other films (Union Station, Force of Arms, and Submarine Command, the second and third released the following year), but none repeated their success in Sunset Boulevard. Other film credits include Big Jim McLain (1952), So Big (1953), Battle Cry (1955), and Dumbbells (2014).
Olson made several appearances in films for the Walt Disney studio. The Absent-Minded Professor (1961) and Son of Flubber (1963) paired her with Fred MacMurray and were popular with movie-goers. She also appeared alongside Hayley Mills in Pollyanna (1960) and Dean Jones in Snowball Express (1972). Olson then moved to New York City where she appeared on Broadway.
Throughout the 1960s and 1970s, she did guest roles on television. Olson guest-starred on the Television series The Big Valley playing the mother of Ron Howard in the December 1, 1965, episode entitled Night of the Wolf. Olson is the only female guest starring on The Big Valley to ever marry the character Nick Barkley. Olson has been retired since the mid-1980s, although she made a brief, uncredited appearance in Flubber, the 1997 remake of The Absent-Minded Professor.
Personal life
In 1950, Olson became the third wife of lyricist Alan Jay Lerner. They had two daughters, Liza and Jennifer.[3] They divorced in 1957.
In 1962, she married long-time Capitol Records executive Alan W. Livingston, best known for creating Bozo the Clown and for signing Frank Sinatra and other singers to Capitol. He died in 2009; they had one son, Christopher.[3] Olson is a registered Democrat, and over the years, she has made several monetary donations to the party under her married name.[4]
Filmography
Film
| Notes | Title | Role | Notes |
| --- | --- | --- | --- |
| 1949 | Canadian Pacific | Cecille Gautier | |
| 1950 | Sunset Boulevard | Betty Schaefer | |
| 1950 | Union Station | Joyce Willecombe | |
| 1950 | Mr. Music | Katherine Holbrook | |
| 1951 | Force of Arms | Lt. Eleanor MacKay | |
| 1951 | Submarine Command | Carol | |
| 1952 | Big Jim McLain | Nancy Vallon | |
| 1953 | So Big | Dallas O'Mara | |
| 1954 | The Boy from Oklahoma | Katie Brannigan | |
| 1955 | Battle Cry | Mrs. Pat Rogers | |
| 1960 | Pollyanna | Nancy Furman | |
| 1961 | The Absent-Minded Professor | Betsy Carlisle | |
| 1963 | Son of Flubber | Elizabeth "Betsy" Brainard | |
| 1969 | Smith! | Norah Smith | |
| 1972 | Snowball Express | Sue Baxter | |
| 1974 | Airport 1975 | Mrs. Abbott | |
| 1982 | Making Love | Christine | |
| 1987 | Sparky's Magic Piano | (voice) | Video |
| 1997 | Flubber | Ford Secretary | |
| 2014 | Dumbbells | Bianca Cummings | |
Television
| Year | Title | Role | Notes |
| --- | --- | --- | --- |
| 1954 | Ford Theatre | Kitty O'Dare | Episode: "For the Love of Kitty" |
| 1954 | Lux Video Theatre | Lisa | Episode: "Spent in Silence" |
| 1954 | The Best of Broadway | Gwen Cavendish | Episode: "The Royal Family" |
| 1955 | Producers' Showcase | Peggy Day | Episode: "The Women" |
| 1956 | Ford Star Jubilee | Judith | Episode: "High Tor" |
| 1958 | The United States Steel Hour | Joyce Richmond | Episode: "Second Chance" |
| 1958 | General Electric Theater | Judith Gay | Episode: "The Last Rodeo" |
| 1959 | Alfred Hitchcock Presents | Jan Manning | Episode: "Total Loss" |
| 1960 | Startime | Peggy Thomas | Episode: "The Greatest Man Alive" |
| 1961 | Alcoa Premiere | Amber Baring | Episode: "Family Outing" |
| 1963 | Channing | Mrs. Landon | Episode: "Collision Course" |
| 1965 | The Big Valley | Julia Jenkins | Episode: "Night of the Wolf" |
| 1971 | The Name of the Game | Ann Latham | Episode: "Beware of the Watchdog" |
| 1972 | Gunsmoke | Henrietta Donavan | Episode: "Yankton" |
| 1972 | Police Surgeon | Judge | Episode: "Death Holds the Scale" |
| 1973 | Love Story | Mrs. Ross | Episode: "Mirabelle's Summer" |
| 1974 | Banacek | Louise Merrick | Episode: "Now You See Me, Now You Don't" |
| 1975 | The Streets of San Francisco | Jeannie Morris | Episode: "Web of Lies" |
| 1976 | Kingston: Confidential | Jessica Frazier | TV series |
| 1977 | Barnaby Jones | Thelma Thompson | Episode: "Testament of Power" |
| 1984 | Paper Dolls | Marjorie Harper | Main role (13 episodes) |
| 2010 | Big Love | Katherine | Episode: "Strange Bedfellows" |
[ Source: Wikipedia ]