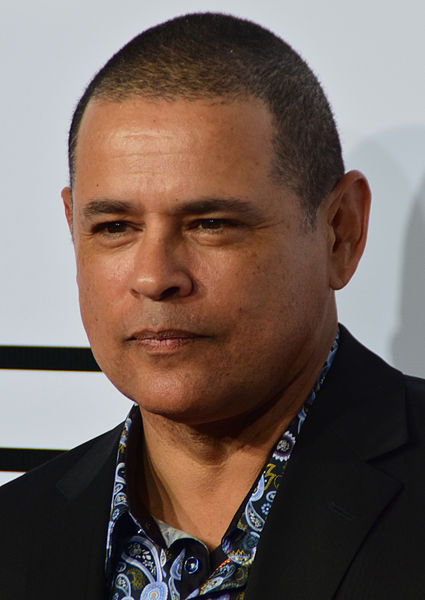 Raymond Cruz
Born:
July 9, 1961
Age:
61
Birthplace:
Los Angeles, California, U.S.
Popularity:

Please login to contact Raymond Cruz...
Biography
Raymond Cruz (born July 9, 1961) is an American actor, best known for his starring role as Detective Julio Sanchez in the series The Closer and his recurring role as the drug lord Tuco Salamanca in the crime drama Breaking Bad and its spin-off Better Call Saul. He also starred on the series Major Crimes, a spinoff of The Closer, reprising the role of Sanchez.[1]
Cruz attended East Los Angeles College. Of Mexican descent, he grew up in a neighborhood that regularly saw gang activity, a reality he brings to his roles, particularly as Sanchez and a range of gang-affiliated characters.[2] [3]
Cruz has said that becoming interested in American literature early in life helped him avoid joining such gangs himself.[4]
Read more...
Career
His film roles include Ding Chavez in Clear and Present Danger, Hector in "Out For Justice", Tom Berenger's second-in-command Joey Six in The Substitute, U.S. Marine Sergeant Rojas in The Rock, as Jesus in From Dusk Till Dawn 2: Texas Blood Money, USM Private Vincent DiStephano in Alien: Resurrection, and Ramirez in Under Siege. He appeared as Chuey, a gang member from the Vatos Locos, in the gang film Blood In Blood Out. In 2005, he played Chino in Havoc. He appeared in Gremlins 2: The New Batch, credited as "The Messenger," and in Training Day as a gang member named Sniper. He played a Los Angeles firefighter in Collateral Damage. He had guest roles in the Star Trek: Deep Space Nine episode "The Siege of AR-558", the X-Files episode "El Mundo Gira", and the second season of 24. He also made an appearance as the father of a murdered girl in CSI. He played a short-lived but well-known role as Tuco Salamanca, a sadistic and sociopathic meth dealer in Breaking Bad in 2008 and 2009. He later reprised the role of Tuco in the Breaking Bad spin-off, Better Call Saul. He had a recurring role as Paco on My Name Is Earl, and as Alejandro Perez on Nip/Tuck.
Filmography
Film
Year
Title
Role
Notes
1987
Maid to Order
Sam
1988
Twice Dead
Gang member
1989
I Know My First Name is Steven
Punk
1990
Gremlins 2: The New Batch
Messenger
1990
Cold Dog Soup
Gang member
1991
Prison Stories: Women on the Inside
Montoya
Television film
1991
Dead Again
Store clerk
1991
Out for Justice
Hector
1991
Perfect Crimes
Diego
Television film
1992
Man Trouble
Balco
1992
Nails
Paco Sanchez
Television film
1992
Judgement
Cyclone
1992
Under Siege
Ramirez
1993
Blood In Blood Out
Chuy
1993
When the Party's Over
Mario
1994
Dead Badge
Tomas Gomez
1994
Clear and Present Danger
Ding Chavez
1994
Dragstrip Girl
Doogie
Television film
1995
Operation Dumbo Drop
Staff Sergeant Adams
Uncredited
1996
The Substitute
Joey Six
1996
The Rock
Sergeant Rojas
Uncredited
1996
Up Close and Personal
Fernando Buttanda
1996
Broken Arrow
USAF Lieutenant Colonel
Uncredited
1997
Last Stand at Saber River
Manuel
Television film
1997
Alien: Resurrection
Private Vincent DiStephano
1998
Playing Patti
1999
From Dusk Till Dawn 2: Texas Blood Money
Jesus
1999
The Last Marshal
T-Boy
2000
Blood Money
Gutierrez
Television film
2001
Training Day
Sniper
2002
Collateral Damage
Junior
2004
Just Hustle
Spanish Professor
2004
My Name is Modesty
Raphael Garcia
2005
Havoc
Chino
2005
Brothers in Arms
Reverend
2006
10 Tricks
Sal
2015
Cleveland Abduction
Ariel Castro
Television film
2019
The Curse of La Llorona
Television
Year
Title
Role
Notes
1988
Beauty and the Beast
Hal
Episode: "Down to a Sunless Sea"
1988
Cagney and Lacey
Alonzo
Episode: "Land of the Free"
1988
CBS Schoolbreak Special
Angel Perez
Episode: "Gangs"
1988
Vietnam War Story
Diaz
Episode: "Separated"
1988
Knots Landing
Van Driver, Young Man
2 episodes
1989
A Nightmare on Drug Street
Felipe
Short Film
1990
Hunter
Tomas Delgado
Episode: "La Familia"
1990
Freddy's Nightmares
Johnny 'Mac' McFarland
Episode: "Life Sentence"
1990
Matlock
Alien Worker
Episode: "The Cookie Monster"
1990
Lifestories
Episode: "Frank Brody"
1990
China Beach
Lopez
Episode: "One Small Step"
1993
Murder, She Wrote
José "Joseph" Galvan
Episode: "Double Jeopardy"
1995
The Marshal
Rossiter
Episode: "The Ballad of Lucas Burke"
1995
Walker Texas Ranger
Sgt. Perez
Episode: "Case Closed"
1995-2000
NYPD Blue
Raoul / Rico
2 episodes
1995-2000
The Eddie Files
Johnny
16 episodes
1997
The X Files
Eladio Buente
Episode: "El Mundo Gira"
1997
Cracker: Mind Over Murder
MacCormick
Episode: "'Tis Pity She's a Whore"
1997
413 Hope St.
Rico
Episode: "Lost Boys and Gothic Girls"
1998
Star Trek: Deep Space Nine
Vargas
Episode: "The Siege of AR-558"
1998
The Practice
Miguel Moreno
Episode: "Truth and Consequences"
1999
Seven Days
Rodriguez
Episode: "Daddy's Girl"
2000
Strange World
Rinaldo Molina
Episode: "Man Plus"
2000
Seven Days
Teo Millar
Episode: "The Cuban Missile"
2000
Harsh Realm
Sgt. Escalante
2 episodes
2002
Robbery Homicide Division
Jesus "Termite" Rosales
Episode: "City of Strivers"
2002
Boomtown
Ruben
Episode: "Crash"
2002-2003
The Division
Roland / Ray Sanchez
3 episodes
2003-2011
CSI: Miami
Martin Medesto / Marcos Trejo
2 episodes
2003
24
Rouse
2 episodes
2003-2008
CSI: Crime Scene Investigation
Miguel Durado / Donald Balboa
2 episodes
2003-2006
Nip/Tuck
Alejandro Perez
2 episodes
2005-2012
The Closer
Detective Julio Sanchez
105 episodes
2007-2008
My Name is Earl
Paco
5 episodes
2007
Day Break
Luis Torres
2 episodes
2008
Ylse
Jesse
2008-2009
Breaking Bad
Tuco Salamanca
4 episodes
2011
Los Americans
Memo
7 episodes
2012
White Collar
Enrico Morales
Episode: "Most Wanted"
2012-2018
Major Crimes
Detective Julio Sanchez
105 episodes
2013
Lauren (Webseries)
Martinez
3 episodes
2015-2016
Better Call Saul
Tuco Salamanca
3 episodes
2016
The Eric Andre Show
Himself
Episode: "Raymond Cruz; Amber Rose"
2017
Mayans MC
Che "Padre" Romero
2017 Pilot
2018
Get Shorty
Swayze
2 Episodes
[ Source: Wikipedia ]