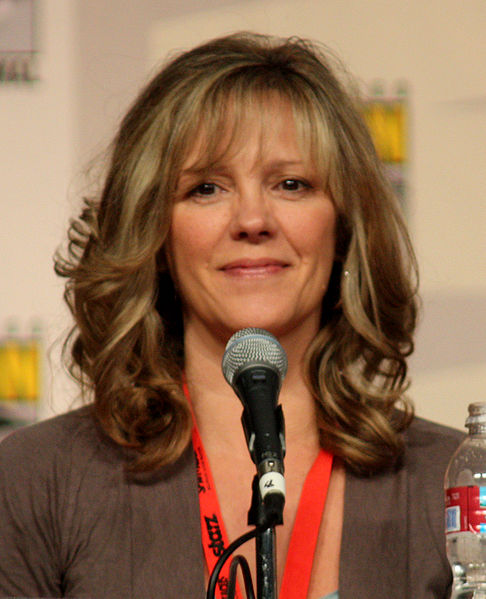 Wendy Schaal
Birth name:
Wendy K. Schaal
Born:
July 2, 1954
Age:
68
Birthplace:
Chicago, Illinois, U.S.
Popularity:

Please login to contact Wendy Schaal...
Biography
Wendy K. Schaal (born July 2, 1954) is an American actress and voice-over artist best known for her work in Joe Dante films such as Innerspace, The 'Burbs and Small Soldiers. Since 2005, she has primarily worked in cartoon voice acting, most notably voicing Francine Smith in the animated comedy American Dad!
Schaal was born in Chicago, Illinois, the daughter of Lois (née Treacy) and actor
Richard Schaal
(1928-2014).[1] She is the former stepdaughter of actress
Valerie Harper
.[2]
Schaal was married to Stephen M. Schwartz on September 4, 1977, but divorced in October 1987. They have two sons named Adam and Victor.[3]
Read more...
Filmography
Film
| Year | Title | Role | Notes |
| --- | --- | --- | --- |
| 1976 | Bound for Glory | Mary Jo Guthrie | |
| 1978 | Record City | Lorraine | |
| 1984 | Where the Boys Are '84 | Sandra Roxbury | |
| 1985 | Creature | Beth Sladen | |
| 1987 | Munchies | Marge Mavalle | |
| 1987 | Innerspace | Wendy | |
| 1987 | Batteries Not Included | Pamela | |
| 1989 | The 'Burbs | Bonnie Rumsfield | |
| 1994 | My Girl 2 | Emily Pommeroy | |
| 1998 | Small Soldiers | Marion Fimple | |
| 2001 | Holiday in the Sun | Jill | |
| 2006 | Loving Annabelle | Senator Tillman | |
Television
| Year | Title | Role | Notes |
| --- | --- | --- | --- |
| 1976 | Welcome Back, Kotter | Girl in Hallway | Episode: "Sadie Hawkins Day" |
| 1976 | Rhoda | Jan | Recurring role (2 episodes) |
| 1977 | Fish | Peggy Dunnagan | Episode: "Fish's Job" |
| 1979 | Family | Sarah | Episode: "Malicious Mischief" |
| 1979 | Little House on the Prairie | Christie Norton | Episode: "Annabelle" |
| 1980-1981 | It's a Living | Vicki Allen | Main cast (13 episodes) |
| 1981-1982 | Fantasy Island | Julie | Main cast (19 episodes) |
| 1982 | Strike Force | Mandy | Episode: "Chinatown" |
| 1982 | Happy Days | Lorraine | Episode: "Since I Don't Have You" |
| 1982-83 | The Love Boat | Elaine Hamilton / Milicent Finley | 2 episodes |
| 1983 | AfterMASH | Bonnie Hornback | Recurring role (5 episodes) |
| 1984 | Fatal Vision | Colette MacDonald | Miniseries |
| 1984 | Cover Up | Rebecca | Episode: "Midnight Highway" |
| 1985 | Knight Rider | Jamie Downs | Episode: "The Nineteenth Hole" |
| 1985 | Finder of Lost Loves | Emma Tate | Episode: "Connections" |
| 1985 | The A-Team | Karen | Episode: "Lease with an Option to Die" |
| 1986 | MacGyver | Karen Blake | Episode: "Deathlock" |
| 1986 | Airwolf | Marilyn Kelsy | Episode: "Hawke's Run" |
| 1986 | Amazing Stories | Sheena | Episode: "Boo!" |
| 1987 | Gung Ho | Kelly | Episode: "Love Me Tender" |
| 1987 | Duet | Electra | Episode: "Satin Doll" |
| 1987 | My Two Dads | Christine | Episode: "Sex, Judge, and Rock & Roll" |
| 1988 | Full House | Vivian | Episode: "Sisterly Love" |
| 1988 | Night Court | Diane | Episode: "Harry and the Tramp" |
| 1989 | Nearly Departed | Liz Dooley | Main cast (6 episodes) |
| 1989 | Dear John | Lisa | Episode: "Sisters" |
| 1990-1991 | Good Grief | Debbie Lapidus | Main cast (13 episodes) |
| 1992 | Northern Exposure | Tammy Tambo | Episode: "My Mother, My Sister" |
| 1993 | Red Shoe Diaries | 'Lilac' Boss | Episode: "Hotline" |
| 1994 | Runaway Daughters | Mrs. Mildred Cahn | Television film |
| 1995 | Murder, She Wrote | Zuleika Brown | Episodes: "Nan's Ghost: Parts 1 & 2" |
| 1995 | Hope and Gloria | Nurse Nancy | Episode: "Money You Should Mention" |
| 1995 | The John Larroquette Show | Brenda | Episode: "An Odd Cup of Tea" |
| 1997 | Friends | Jeannine | Episode: "The One with All the Jealousy" |
| 1997 | Star Trek: Voyager | Charlene | Episode: "Real Life" |
| 1997 | Fired Up | Susan | Episode: "Are We Not Friends?" |
| 1998 | Beyond Belief: Fact or Fiction | Mom | Episode: "The Woods" |
| 2000 | The X-Files | Martha Crittendon | Episode: "Chimera" |
| 2001 | Boston Public | Mrs. Callie Webb | Episode: "Chapter 15" |
| 2001 | The Huntress | Helena Barsamian | Episode: "Undercover" |
| 2001 | Six Feet Under | Vicki Dimas | Recurring role (3 episodes) |
| 2002 | Providence | Nancy Neiman | Episode: "Limbo" |
| 2002 | Boomtown | Darlene Beechem | Episode: "The Freak" |
| 2005-present | American Dad! | Francine Smith (voice) | Main cast (229 episodes) |
| 2013-2017 | Family Guy | Francine Smith (voice) | Episodes: "Bigfat", "The Peter Principal" |
[ Source: Wikipedia ]