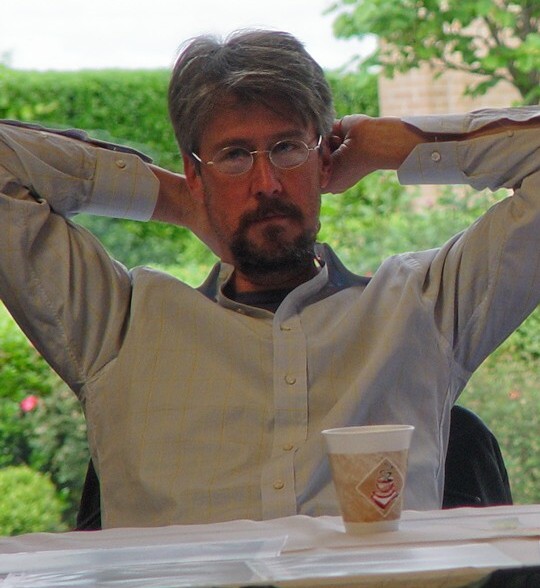 Alan Ruck
Birth name:
Alan Douglas Ruck
Born:
July 1, 1956
Age:
66
Birthplace:
Cleveland, Ohio, United States
Popularity:

Please login to contact Alan Ruck...
Biography
Alan Douglas Ruck (born July 1, 1956) is an American actor. He played Cameron Frye, Ferris Bueller's hypochondriac best friend in John Hughes' Ferris Bueller's Day Off (1986), and Stuart Bondek, the lecherous, power-hungry member of the mayor's staff in the ABC sitcom Spin City. His other notable films include Bad Boys (1983), Three Fugitives (1989), Young Guns II (1990), Speed (1994), Twister (1996), and Kickin' It Old Skool (2007). In 2016, he co-starred with Geena Davis in an updated Fox TV adaptation of William Peter Blatty's best-selling novel The Exorcist.
Ruck was born in Cleveland, Ohio, to a schoolteacher mother and a father who worked for a pharmaceutical company.[1] He attended Parma Senior High School located in Parma, Ohio, and graduated from the University of Illinois with a B.F.A. in drama in 1979.[2] He recalled:
After school, I went up to Chicago, because I didn't really know anybody in New York or Los Angeles, and I knew people who were doing plays in Chicago. So I went up there, and I knocked around a little bit. And I guess about a year after I was out of school, I got my first job.
Ruck made his Broadway debut in 1985 in Neil Simon's Biloxi Blues with Matthew Broderick. Early on, Ruck was a prominent stage actor at many theaters around the country, including Wisdom Bridge Theatre in Chicago. In his initial foray into film acting, Ruck appeared in Class and Hard Knocks as well as some television films.[2]
Read more...
Career
Ruck's first film role was in the 1983 drama film Bad Boys, where he played Carl Brennan, Sean Penn's friend in the film. The same year he played Roger Jackson in Class, with his role as Cameron Frye, Ferris Bueller's hypochondriac best friend in John Hughes' Ferris Bueller's Day Off coming three years later. One of his other film roles was in the 1987 film Three for the Road.
Ruck later appeared in the 1989 comedy film Three Fugitives. Following that, he played a significant role as Hendry William French in Young Guns II, the 1990 sequel to Young Guns. He also played Captain John Harriman of the USS Enterprise-B in the 1994 film, Star Trek Generations, a role which he has reprised along with Generations co-star Walter Koenig and other Trek alumni in the fan film Of Gods and Men.[3] Alan also played an annoying tourist named Doug Stephens on an ill-fated bus in the blockbuster Speed. Another supporting role was of the eccentric storm chaser Robert 'Rabbit' Nurick in the 1996 disaster film Twister.[4]
From 1990 to 1991, Ruck starred as Chicago ad man Charlie Davis, in the ABC series Going Places. ABC canceled the series after one season (22 episodes). He appeared in the series Daddy's Girls in 1994, which was canceled after three episodes. From 1996 to 2002, Alan played Stuart Bondek in the sitcom Spin City alongside Michael J. Fox and later, Charlie Sheen. In 2005, he played Leo Bloom in the Broadway version of Mel Brooks' The Producers, a role also played by his Ferris Bueller co-star, Matthew Broderick.
Ruck was then cast in the pilot of the Tim Minear-created Fox Network series Drive, but did not appear in the actual series. He also starred in one episode of the Comedy Central sitcom Stella as Richard, a man looking for work. He later starred in the season two Scrubs episode "My Lucky Day" as a patient, and played reporter Steve Jacobson on the ESPN miniseries The Bronx Is Burning.
In 1998, Ruck guest starred in the fifth episode of the HBO miniseries From the Earth to the Moon as the NASA engineer Tom Dolan.
In 2006, Ruck guest starred in a single episode of Stargate Atlantis called "The Real World" and, in 2007, as unscrupulous property developer Albert Bunford in an episode of Medium.
In the 2007 comedy Kickin' It Old Skool, he appears as Dr. Frye, a possible connection to Cameron Frye; he even mentions still trying to pay off an old Ferrari, a reference to Cameron totaling his dad's Ferrari in Ferris Bueller's Day Off.
Ruck played the part of a ghost of a family man in the 2008 film Ghost Town starring Ricky Gervais. In 2009, he had a minor role as a married man named Frank in an episode of Cougar Town. In his role, he has problems with his marriage due to a crush he had long ago on Jules, played by Courteney Cox.
Ruck also has a small role in the 2008 M. Night Shyamalan film, The Happening. He recently played the role of Dean Bowman in the college fraternity drama, Greek. He appeared in a guest role as a manic geologist in an episode of Eureka. Additionally, he plays Mr. Cooverman in the film I Love You, Beth Cooper. In 2009, Ruck filmed the medical drama Extraordinary Measures[5][6] in Portland, Oregon, with star Harrison Ford.
Ruck then appeared as a bank robber in a season three episode of the USA Network series Psych, and as a lawyer in season five of the ABC series Boston Legal. He recently guest starred as Martin, a magazine reporter, on an episode of Ruby & the Rockits entitled "We Are Family?".
In 2010, Ruck was cast as a lead character in the NBC mystery-drama, Persons Unknown. He also guest-starred on the television show Fringe as a scientist turned criminal, in the NCIS: Los Angeles season two episode "Borderline", and guest-starred as ex-money laundering accountant turned dentist, on an episode of Justified entitled "Long in the Tooth". He also appeared in the Grey's Anatomy season five episode "In The Midnight Hour".
In 2012, Ruck was cast in the ABC Family series Bunheads as the husband to Sutton Foster's character, Michelle. In 2013, he appeared in NCIS, guest-starring in the season 11 episode, "Gut Check".
In autumn 2016, Ruck began a 10-episode run as Henry Rance, the husband (who has suffered mild brain damage in a vaguely-explained accident) of Angela Rance (Geena Davis), better known as the all-grown-up Regan MacNeil, the tortured girl (played by Linda Blair) who is possessed by a demon in the 1973 hit film The Exorcist. This Fox TV adaptation is "inspired by" the 1971 William Peter Blatty best-selling novel. In this update, the demon that tortured Regan/Angela as a girl did not die as it did at the end of the feature film, and it now inhabits one of Angela and Henry's daughters. Once again, they must turn to exorcism-practicing priests (Alfonso Herrera, Ben Daniels) for help. Regan/Angela's mother, Chris MacNeil (played by recurring guest star Sharon Gless and Ellen Burstyn in the feature film), is welcomed by the rest of the family but utterly scorned by her own daughter.
Personal life
| | |
| --- | --- |
| | This section of a biography of a living person needs additional citations for verification. Please help by adding reliable sources. Contentious material about living persons that is unsourced or poorly sourced must be removed immediately, especially if potentially libelous or harmful. |
Ruck married Claudia Stefany in 1984, and had two children with her—a daughter, Emma, and a son, Sam. They divorced in 2005. He married actress Mireille Enos on January 4, 2008. They met in 2005 while co-starring in the Broadway revival of Absurd Person Singular. Mireille gave birth to their daughter Vesper in 2010. On February 12, 2014, the couple announced their second child was on the way and their son Larkin was born in July 2014.[7]
Filmography
Film
| Year | Title | Role | Notes |
| --- | --- | --- | --- |
| 1983 | Bad Boys | Carl Brennan | |
| 1983 | Class | Roger Jackson | |
| 1986 | Ferris Bueller's Day Off | Cameron Frye | |
| 1987 | Three for the Road | T.S. | |
| 1988 | Shooter | Stork O'Connor | |
| 1989 | Bloodhounds of Broadway | John Wangle | |
| 1989 | Three Fugitives | Inspector Tener | |
| 1990 | Young Guns II | Hendry William French | |
| 1994 | Star Trek Generations | John Harriman | |
| 1994 | Speed | Doug Stephens | |
| 1995 | Born to Be Wild | Dan Woodley | |
| 1996 | Twister | Robert "Rabbit" Nurick | |
| 1998 | Walking to the Waterline | Duane Hopwood | |
| 1998 | The Ransom of Red Chief | Ambrose Dorset | |
| 2003 | Cheaper by the Dozen | Bill Shenk | |
| 2007 | Kickin' It Old Skool | Dr. Frye | |
| 2008 | Ghost Town | Ghost Dad | |
| 2008 | Eavesdrop | Casper | |
| 2008 | The Happening | School Principal | |
| 2008 | InAlienable | Dr. Proway | |
| 2008 | Star Trek: Of Gods and Men | John Harriman | |
| 2009 | I Love You, Beth Cooper | Mr. Cooverman | |
| 2009 | Don't You Forget About Me | Himself | |
| 2010 | Extraordinary Measures | Pete Sutphen | |
| 2012 | Goats | Dr. Eldridge | |
| 2012 | Shanghai Calling | Marcus Groff | |
| 2016 | Carnage Park | Sheriff Wyatt Moss | |
| 2016 | Dreamland | Walter | |
| 2017 | War Machine | Pat McKinnon | |
| 2018 | Gringo | Jerry | |
| 2018 | Sierra Burgess Is a Loser | Mr. Burgess | |
| 2019 | Captive State | Rittenhouse | Post-production |
Television
| Year | Title | Role | Notes |
| --- | --- | --- | --- |
| 1984 | Hard Knox | Frankie Tyrone | Television film |
| 1989 | The Famous Teddy Z | Sheldon Samms | Episode: "Teddy Sells the House" |
| 1990-1991 | Going Places | Charlie Davis | 19 episodes |
| 1993 | Picket Fences | Patrick Gatwood | Episode: "Unlawful Entries" |
| 1994 | Daddy's Girls | Lenny | 3 episodes |
| 1995 | Muscle | Dr. Marshall Jones | 13 episodes |
| 1995-1996 | Mad About You | Lance Brockwell | 4 episodes |
| 1996 | The Outer Limits | Howard Sharp | Episode: "Unnatural Selection" |
| 1996-2002 | Spin City | Stewart Bondek | 140 episodes |
| 1998 | From the Earth to the Moon | Tom Dolan | Episode: "Spider" |
| 1998 | The Ransom of Red Chief | Ambrose Dorset | Television film |
| 2005 | Scrubs | Mr. Bragin | Episode: "My Lucky Day" |
| 2006 | Stargate Atlantis | Dr. Fletcher | Episode: "The Real World" |
| 2007 | Drive | John Ashton | Episode: "Unaired Pilot" |
| 2007 | Medium | Albert Bunford | Episode: "Second Opinion" |
| 2007 | Ghost Whisperer | Steve Sinclair | Episode: "Bad Blood" |
| 2007-2011 | Greek | Dean Bowman | 6 episodes |
| 2008 | Eureka | Dr. Hood | Episode: "Best In Faux" |
| 2008 | Boston Legal | Wayne Davidson | Episode: "Kill, Baby, Kill!" |
| 2008 | Psych | Phil Stubbins | Episode: "Gus Walks Into a Bank" |
| 2009 | Ruby & the Rockits | Martin Wexler | Episode: "We Are Family?" |
| 2010 | Numbers | Arnold Winslow | Episode: "Growin' Up" |
| 2009 | Cougartown | Frank Miller | Episode: "Two Gunslingers" |
| 2010 | CSI: Miami | Dr. Allan Beckham | Episode: "Show Stopper" |
| 2010 | CSI: Crime Scene Investigation | Buddy Mills | Episode: "Unshockable" |
| 2010 | Persons Unknown | Charlie Morse | 13 episodes |
| 2010 | Rules of Engagement | Dr. Greenblatt | Episode: "The Four Pillars" |
| 2010 | Justified | Roland Pike | Episode: "Long in the Tooth" |
| 2010 | NCIS: Los Angeles | Donald Wexling | Episode: "Borderline" |
| 2011 | Fringe | Dr. Krick | Episode: "Os" |
| 2011 | Five | Sam Jarente | Television film |
| 2012-2013 | Bunheads | Hubbell Flowers | 3 episodes |
| 2012 | Ben and Kate | Principal Geoff Feeney | Episode: "Bad Cop/Bad Cop" |
| 2012 | Hawaii Five-0 | Brian Slater | Episode: "Ohuna" |
| 2013 | Burn Notice | Max Lyster | Episode: "Reckoning" |
| 2013 | NCIS | Ward Davis | Episode: "Gut Check" |
| 2013 | Hot in Cleveland | Reverend Lare | Episode: "Magic Diet Candy" |
| 2013 | Zombie Night | Joseph | Television film |
| 2014 | Intelligence | Jonathan Cain | Episode: "Cain and Gabriel" |
| 2015 | Hindsight | Harry Lavigne | Episode: "…Then I'll Know" |
| 2015 | The Whispers | Alex Myers | 4 episodes |
| 2015 | Major Crimes | Special Agent Jerry Shea | Episode: "Hostage to Fortune" |
| 2016 | The Middle | Mr. Kershaw | 2 episodes |
| 2016 | Cooper Barrett's Guide to Surviving Life | Mark Barrett | Episode: "How to Survive Your Parents' Visit" |
| 2016 | The Catch | Gordon Bailey | 2 episodes |
| 2016 | The Exorcist | Henry Rance | 10 episodes |
| 2016 | The Loud House | Lord Tetherby, Cop (voices) | Episode: "Out on a Limo" |
| 2018-present | Succession | Connor Roy | Main cast |
[ Source: Wikipedia ]