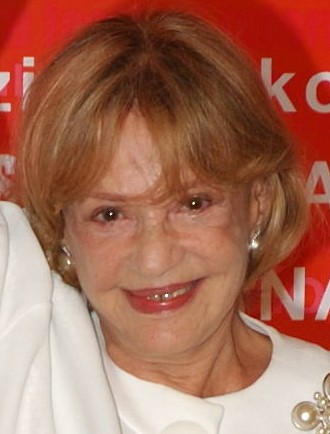 Jeanne Moreau
Born:
January 23, 1928
Age:
95
Birthplace:
Paris, France
Popularity:

Please login to contact Jeanne Moreau...
Biography
Jeanne Moreau (23 January 1928 – 31 July 2017) was a French actress, singer, screenwriter and director. She won the Cannes Film Festival Award for Best Actress for Seven Days... Seven Nights (1960), the BAFTA Award for Best Foreign Actress for Viva Maria! (1965), and the César Award for Best Actress for The Old Lady Who Walked in the Sea (1992). She was also the recipient of several lifetime awards, including a BAFTA Fellowship in 1996, Cannes Golden Palm in 2003 and César Award in 2008.
Moreau made her theatrical debut in 1947, and established herself as one of the leading actresses of the Comédie-Française. She began playing small roles in films in 1949, with impressive performances in the Fernandel vehicle Meurtres? (Three Sinners, 1950) and alongside Jean Gabin as a showgirl/gangster's moll in the film Touchez pas au grisbi (1954). She achieved prominence as the star of Elevator to the Gallows (1958), directed by Louis Malle, and Jules et Jim (1962), directed by François Truffaut. Most prolific during the 1960s, Moreau continued to appear in films into her 80s.
Moreau was born in Paris, the daughter of Katherine (née Buckley), a dancer who performed at the Folies Bergère (d. 1990), and Anatole-Désiré Moreau, a restaurateur (d. 1975).[2][3] Moreau's father was French; her mother was English, a native of Oldham, Lancashire, England[4] and of part Irish descent.[3][5][6] Moreau's father was Catholic and her mother, originally a Protestant, converted to Catholicism upon marriage.[3] When a young girl, "the family moved south to Vichy, spending vacations at the paternal ancestral village of Mazirat, a town of 30 houses in a valley in the Allier. "It was wonderful there", Moreau said. "Every tombstone in the cemetery was for a Moreau". During the World War II, the family was split, and Moreau lived with her mother in Paris. Moreau ultimately lost interest in school at age 16, and after attending a performance of Jean Anouilh's
Antigone
, found her calling as an actor. She later studied at the Conservatoire de Paris. Her parents separated permanently while Moreau was at the conservatory and her mother, "after 24 difficult years in France, returned to England with Jeanne's[1] sister, Michelle."[1] Jeanne Moreau in 1958
Career
In 1947, Moreau made her theatrical debut at the Avignon Festival. She debuted at the Comédie-Française in Ivan Turgenev's A Month in the Country[1] and, by her 20s, was already one of leading actresses in the theatre's troupe.[3] After 1949, she began appearing in films with small parts but continued primarily active in the theatre for several years — a year at the Théâtre National Populaire opposite among others Gérard Philipe and Robert Hirsch, then a breakout two years in dual roles in The Dazzling Hour by Anna Bonacci, then Jean Cocteau's La Machine Infernale and others before another two-year run, this time in Shaw's Pygmalion.[1] From the late 1950s, after appearing in several successful films, she began to work with the emerging generation of French film-makers. Elevator to the Gallows (1958) with first-time director Louis Malle was followed by Malle's The Lovers (Les Amants, 1959).[7]
Moreau with
Juliette Binoche
at the Elysee Biarritz theatre in Paris, 22 October 2009
Moreau went on to work with many of the best known New Wave and avant-garde directors.[3] François Truffaut's New Wave film Jules et Jim (1962), her biggest success internationally, is centerd on her magnetic starring role.[3] She also worked with a number of other notable directors such as Michelangelo Antonioni (La notte and Beyond the Clouds), Orson Welles (The Trial, Chimes at Midnight and The Immortal Story), Luis Buñuel (Diary of a Chambermaid), Elia Kazan (The Last Tycoon), Rainer Werner Fassbinder (Querelle), Wim Wenders (Until the End of the World), Carl Foreman (Champion and The Victors), and Manoel de Oliveira (Gebo et l'Ombre).
In 1983, she was head of the jury at the 33rd Berlin International Film Festival.[8] In 2005, she was awarded with the Stanislavsky Award at the 27th Moscow International Film Festival.[9]
Moreau was also a vocalist. She released several albums and once performed with Frank Sinatra at Carnegie Hall in 1984.[3] In addition to acting, Moreau worked behind the camera as a writer, director and producer.[3] Her accomplishments were the subject of the film Calling the Shots (1988) by Janis Cole and Holly Dale.[citation needed]
Read more...
Personal life
Jeanne Moreau and
Marcello Mastroianni
in 1991
Throughout her life, Moreau maintained friendships with prominent writers such as Jean Cocteau, Jean Genet, Henry Miller and Marguerite Duras, (an interview with Moreau is included in Duras's book Outside: Selected Writings). She formerly was married to Jean-Louis Richard (1949-1964) and then to American film director William Friedkin (1977-1979). Director Tony Richardson left his wife Vanessa Redgrave for her in 1967 but they never married. She also had affairs with directors Louis Malle and François Truffaut, fashion designer Pierre Cardin,[10] jazz trumpeter Miles Davis and Theodoros Roubanis, the Greek actor/playboy.[11]
Moreau was a close friend of Sharon Stone, who presented a 1998 American Academy of Motion Pictures life tribute to Moreau at the Samuel Goldwyn Theater, academy headquarters in Beverly Hills. Orson Welles called her "the greatest actress in the world",[12][4][13] and she remained one of France's most accomplished actresses.
Selected filmography
| | |
| --- | --- |
| | This section does not cite any sources. Please help improve this section by adding citations to reliable sources. Unsourced material may be challenged and removed. |
Actress
Year
Title
Role
Director
1950
Meurtres ? (fr)
Martine Annequin
Richard Pottier
1952
The Man in My Life
Suzanne Dubreuil
Guy Lefranc
1953
Dortoir des grandes
Julie
Henri Decoin
Julietta
Rosie Facibey
Marc Allégret
1954
Touchez pas au grisbi
Josy
Jacques Becker
Les Intrigantes
Mona Rémi
Henri Decoin
La Reine Margot
Margaret of Valois
Jean Dréville
1958
Ascenseur pour l'échafaud
Florence Carala
Louis Malle
The Lovers (Les amants)
Jeanne Tournier
1959
Les liaisons dangereuses
Juliette de Merteuil
Roger Vadim
The 400 Blows
(cameo appearance)
François Truffaut
1960
Dialogue with the Carmelites
Mère Marie de l'Incarnation
Philippe Agostini
Moderato Cantabile
Anne Desbarèdes
Peter Brook
1961
A Woman Is a Woman
(uncredited cameo, discussing Jules et Jim)
Jean-Luc Godard
La Notte
Lidia
Michelangelo Antonioni
1962
The Trial
Miss Burstner
Orson Welles
Jules et Jim
Catherine
François Truffaut
Eva
Eva Olivier
Joseph Losey
1963
Banana Peel (Peau de banane)
Cathy
Marcel Ophüls
The Victors
the French lady
Carl Foreman
The Fire Within (Le feu follet)
Eva
Louis Malle
Bay of Angels
Jacqueline "Jackie" Demaistre
Jacques Demy
1964
Diary of a Chambermaid
Célestine
Luis Buñuel
The Train
Christine
John Frankenheimer
The Yellow Rolls-Royce
Eloise, Marchioness of Frinton
Anthony Asquith
Mata Hari, Agent H21
Mata Hari
Jean-Louis Richard
1965
Viva Maria!
Maria I
Louis Malle
Chimes at Midnight
Doll Tearsheet
Orson Welles
1966
Mademoiselle
"Mademoiselle"
Tony Richardson
1967
The Oldest Profession (episode "Mademoiselle Mimi")
Mimi Guillotine
Philippe de Broca
The Sailor from Gibraltar
Anna
Tony Richardson
1968
The Immortal Story
Virginie Ducrot
Orson Welles
Great Catherine
Catherine
Gordon Flemyng
The Bride Wore Black
Julie Kohler
François Truffaut
1970
The Little Theatre of Jean Renoir
the singer
Jean Renoir
Monte Walsh
Martine Bernard
William A. Fraker
Alex in Wonderland
as herself
Paul Mazursky
1972
Chère Louise
Louise
Philippe de Broca
Nathalie Granger
"the other woman"
Marguerite Duras
1974
Les Valseuses
Jeanne Pirolle
Bertrand Blier
1975
Joanna Francesa
Joanna
Cacá Diegues
Hu-man
Sylvana
Jérôme Laperrousaz
1976
The Last Tycoon
Didi
Elia Kazan
Monsieur Klein
Florence
Joseph Losey
1982
Querelle
Lysiane
Rainer Werner Fassbinder
La Truite
Lou
Joseph Losey
1986
Le Tiroir secret (TV miniseries)
Vivi
(different directors)
1987
The Miracle
Sabine
Jean-Pierre Mocky
1990
Nikita
Amande
Luc Besson
Alberto Express
the Baroness
Arthur Joffé
1991
Anna Karamazoff
the Lady
Rustam Khamdamov
To meteoro vima tou pelargou
the Lady
Theo Angelopoulos
The Old Lady Who Walked in the Sea
Lady M
Laurent Heynemann
Until the End of the World
Edith Farber
Wim Wenders
1992
The Absence
the writer's wife
Peter Handke
1993
A Foreign Field
Angelique
Charles Sturridge
Catherine the Great
Empress Elizabeth Petrovna
Marvin J. Chomsky
Map of the Human Heart
Sister Banville
Vincent Ward
The Summer House
Lili
Waris Hussein
1995
Beyond the Clouds
a Lady
Michelangelo Antonioni and Wim Wenders
1996
The Proprietor
Adrienne Mark
Ismail Merchant
I Love You, I Love You Not
Nana
Billy Hopkins
1997
Witch Way Love
Eglantine
René Manzor
1998
Ever After
Grande Dame
Andy Tennant
1999
Balzac (fr)
Charlotte-Laure de Balzac
Josée Dayan
2000
Les Miserables
Mere Innocente
Josée Dayan
2001
Cet amour-là (fr)
Marguerite Duras
Josée Dayan
2003
Love Actually
Lady at Marseilles Airport (cameo)
Richard Curtis
Les Parents terribles (fr)
Tante Leo
Josée Dayan
2005
Time to Leave
Laura
François Ozon
Les Rois maudits (fr) (TV miniseries)
Mahaut, Countess of Artois
Josée Dayan
2006
Roméo et Juliette
Laurence
Yves Desgagnés
2007
Désengagement
Françoise
Amos Gitai
2009
Face
Jeanne
Ming-liang Tsai
2012
Gebo et l'Ombre
Candidinha
Manoel de Oliveira
2012
Une estonienne à Paris (fr)
Frida
Ilmar Raag
Director
Lumière (1976)
L'Adolescente (1979)
Lillian Gish (1983, TV documentary)
Awards and nominations
| | |
| --- | --- |
| | This section does not cite any sources. Please help improve this section by adding citations to reliable sources. Unsourced material may be challenged and removed. |
Films
| Year | Group | Award | Film | Result |
| --- | --- | --- | --- | --- |
| 2008 | César Awards | Honorary César | Lifetime achievement | Won |
| 2005 | Moscow International Film Festival | Stanislavsky Prize | Lifetime achievement | Won |
| 2003 | Cannes Film Festival | Honorary Golden Palm | Lifetime achievement | Won |
| 2003 | Taormina International Film Festival | Taormina Arte Award | Lifetime achievement | Won |
| 2001 | Pusan International Film Festival | Hand Printing (tribute) | Lifetime achievement | Won |
| 2000 | Berlin International Film Festival | Honorary Golden Berlin Bear | Lifetime achievement | Won |
| 1999 | Hamptons International Film Festival | Distinguished Achievement Award | Lifetime achievement | Won |
| 1999 | Créteil International Women's Film Festival | Homage | Lifetime achievement | Won |
| 1998 | Academy of Motion Picture Arts and Sciences | Tribute | Lifetime achievement | Won |
| 1997 | European Film Awards | Life Achievement Award | Lifetime achievement | Won |
| 1997 | San Sebastián International Film Festival | Donostia Lifetime Achievement Award | Lifetime achievement | Won |
| 1996 | BAFTA Awards | Academy Fellowship | Lifetime achievement | Won |
| 1995 | César Awards | Honorary César | Lifetime achievement | Won |
| 1994 | Women in Film Crystal Award | International Award | Lifetime achievement | Won |
| 1992 | Venice Film Festival | Career Golden Lion | Lifetime achievement | Won |
| 1992 | César Awards | Best Actress | The Old Lady Who Walked in the Sea | Won |
| 1988 | César Awards | Best Actress | Le Miraculé | Nominated |
| 1987 | César Awards | Best Supporting Actress | Le Paltoquet | Nominated |
| 1984 | Razzie Awards | Golden Raspberry Award for Worst Original Song | Querelle - song: "Young and Joyful Bandit" | Nominated |
| 1979 | Berlin International Film Festival | Golden Berlin Bear | L'adolescente | Nominated |
| 1979 | Chicago International Film Festival | Gold Hugo | L'adolescente | Nominated |
| 1976 | Chicago International Film Festival | Gold Hugo | Lumière | Nominated |
| 1976 | Taormina International Film Festival | Golden Charybdis | Lumière | Nominated |
| 1967 | BAFTA Awards | Best Foreign Actress | Viva Maria! | Won |
| 1964 | Karlovy Vary International Film Festival | Best Actress | Diary of a Chambermaid | Won |
| 1963 | BAFTA Awards | Best Foreign Actress | Jules et Jim | Nominated |
| 1962 | Jussi Awards | Diploma of Merit - Foreign Actress | La notte | Won |
| 1961 | Fotogramas de Plata | Best Foreign Performer | Le dialogue des Carmélites | Won |
| 1960 | Cannes Film Festival | Best Actress | Moderato cantabile | Won |
| 1958 | Venice Film Festival | Best Actress | Les amants | Won |
Theater
| Year | Group | Award | Play | Result |
| --- | --- | --- | --- | --- |
| 1988 | Molière Awards | Best Actress | Le Récit de la servante Zerline | Won |
[ Source: Wikipedia ]