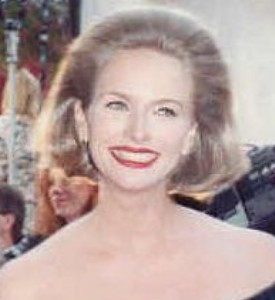 Donna Dixon
Birth name:
Donna Lynn Dixon
Born:
July 20, 1957
Age:
65
Birthplace:
Alexandria, Virginia, U.S.
Popularity:

Please login to contact Donna Dixon...
Biography
Donna Lynn Dixon (born July 20, 1957) is a retired American actress and former beauty queen. After meeting and starring together in the film Doctor Detroit, Dixon has worked in several movies with her husband Dan Aykroyd.
Dixon was born on July 20, 1957, in Alexandria, Virginia to Earl Dixon. Her father owned a nightclub on U.S. 1 called Hillbilly Heaven.[1] In 1975, she graduated from Groveton High School and attended the George Washington University but dropped out. Dixon began her career as a model and was named Miss Virginia USA, in 1976, and Miss Washington D.C. World, in 1977. She co-starred with
Tom Hanks
in the early 1980s situation comedy
Bosom Buddies
, playing the role of Sonny Lumet.
Months after they worked together in the film Doctor Detroit (1983), Dixon and actor Dan Aykroyd married. They later starred together in the films Twilight Zone: The Movie (1983) (though they did not share any scenes), Spies Like Us (1985) and The Couch Trip (1988). Dixon and Aykroyd have three daughters. She retired from acting in 1997.
Read more...
Filmography
Bosom Buddies (1980-1982)
Doctor Detroit (1983)
Twilight Zone: The Movie (1983)
Spies Like Us (1985)
The Couch Trip (1988)
Lucky Stiff (1988)
Speed Zone (also known as Cannonball Run III) (1989)
Wayne's World (1992)
Exit to Eden (1994)
The Nanny (1995)
[ Source: Wikipedia ]