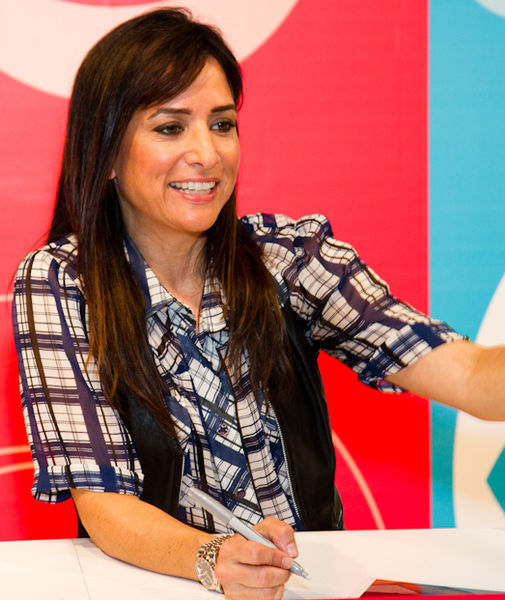 Pamela Segall
Born:
July 9, 1966
Age:
56
Birthplace:
Albany, New York, U.S.[
citation needed


Popularity:

Please login to contact Pamela Segall...
Biography
Pamela Fionna Adlon (née Segall; born July 9, 1966) is an American actress, voice actress, screenwriter, producer, and director.[1] She voiced Bobby Hill on the animated comedy series King of the Hill (1997-2010), for which she won a Primetime Emmy Award. She voiced Ashley Spinelli on the animated comedy series Recess (1997-2003), and the title character from the Pajama Sam video game series. Adlon is also known for her role as Dolores in the musical film Grease 2 (1982), and for her roles on the comedy-drama series Californication (2007-2014) and Louie (2010-2015), on which she was also a writer and producer.[2] Her work on Louie garnered her four Primetime Emmy Award nominations.
Adlon stars as Sam Fox on the FX comedy-drama series Better Things since 2016, which she also co-created, writes, produces and directs. The series won a Peabody Award, and she has been nominated twice for a Primetime Emmy Award for Outstanding Lead Actress in a Comedy Series.[3]
Adlon was born in Albany, New York. She is the daughter of Marina L. and Donald Maxwell "Don" Segall (1933-1994), who was a television comedy writer-producer, and author of comic books and science fiction pulp novels.[4][5][6] Her father produced
The Dave Garroway Show,
which became
AM New York,
and then
The Today Show.
He was a page at NBC with Gil Cates, and wrote erotic fiction under various pseudonyms, including Troy Conway.[6] Adlon's father was from Boston, Massachusetts, and her mother is English. Her father was born to a Jewish family, and her mother, originally an Episcopalian, converted to Judaism.[6][7] Adlon has said that her parents met at the USO in Paris.[1]
As a child, Adlon lived in the Carnegie House building at 100 West 57th Street.[8][9] She has said that she and her family lived bi-coastally, moving between Los Angeles and New York because her father was a journeyman writer and producer for TV. She started performing at age nine; one of her father's friends had a radio studio, so she would do voice-over work there. While in Los Angeles, she did TV and film acting work.[1] She attended Sarah Lawrence College for a semester.[6] After moving to Laurel Canyon, Los Angeles, she shared a house with Anna Gunn.[10]
Read more...
Career
Adlon said voice-overs saved her career. As successful as her child-actress years had been, she struggled to find parts in her 20s.[4]
Adlon's best known role is playing Bobby Hill on the animated TV show King of the Hill, for which she won an Emmy Award for Outstanding Voice-Over Performance in 2002.[11] Though she is mostly known for voicing young boys, Adlon has voiced two girl characters (both of which have boylike qualities): Margaret "Moose" Pearson in Pepper Ann and Ashley Spinelli in Recess.
Notable live-action roles include Girl Joey in the 1984 teen film Bad Manners, Kelly Affinado on The Facts of Life, Marcy Runkle on Showtime's Californication, and Pamela on FX's Louie (she is also a consulting producer for the show).[12]
Adlon was nominated for an Annie Award for her role as Otto Osworth on Cartoon Network's Time Squad. In 2006-07, she played the voice of Andy in Cartoon Network's Squirrel Boy animated series and co-starred with Louis C.K. as his wife in the short-lived HBO sitcom Lucky Louie. She also stars as the friend of Louie (a fictional character based on himself, Louis C.K.) in his FX single-camera show, Louie. She is in episodes of seasons 1, 2, 4, and 5.[13] For the 5th season, she received a Primetime Emmy Award nomination for Outstanding Guest Actress in a Comedy Series.[14]
Adlon voiced Pajama Sam in the video games Pajama Sam: No Need to Hide When It's Dark Outside, Pajama Sam 2: Thunder and Lightning Aren't So Frightening, Pajama Sam 3: You Are What You Eat from Your Head to Your Feet, and Pajama Sam's Games to Play on Any Day.
In 2015, FX gave a pilot order for Better Things, which is a comedy created by and starring Adlon. She plays an actress raising three daughters. The pilot was written by Adlon and Louis C.K. who also directed it.[15] It was picked up to a 10-episode series on August 7, 2015.[16][17] The show, which premiered on September 8, 2016, is semi-autobiographical.[18] Adlon received an Emmy nomination for Outstanding Lead Actress in a Comedy Series for Better Things.[19]
As of December 2016, she is providing the voice of Halley Wolowitz on The Big Bang Theory.
Adlon was represented by manager Dave Becky until November 2017, when she fired him following his involvement in the Louis C.K. sexual harassment scandal.[20]
Personal life
In 1996, Adlon married Felix O. Adlon, the son of German director Percy Adlon. They divorced in 2010 and he subsequently moved to Germany.[6] They have three daughters who are also actresses: Odessa Adlon, Gideon Adlon, and Rocky Adlon, to whom Adlon has said she is a single parent.[1]
Adlon splits her time between Manhattan, New York and Los Angeles, California.[8]
Filmography
Film
Title
Year
Role
Notes
Grease 2
1982
Dolores Rebchuck
Bad Manners
1984
Girl Joey
Willy/Milly
1986
Willy/Milly Niceman
Say Anything...
1989
Rebecca
Kiki's Delivery Service
Ket
Voice
English dub - Disney version
After Midnight
Cheryl
Segment: "Allison's Story"
The Gate II: Trespassers
1990
Liz
The Adventures of Ford Fairlane
Pussycat
FernGully: The Last Rainforest
1992
Fairy #2
Voice
Bed of Roses
1996
Kim
Sgt. Bilko
Sgt. Raquel Barbella
Father Frost
Marphuska
Two Guys Talkin' About Girls
Tracy
Direct-to-video
Plump Fiction
1997
Vallory Cox
Princess Mononoke
Rice Seller, Iron Town Woman, additional voices
Voice
English dub
Eat Your Heart Out
Samantha
Some Girl
1998
Jenn
Waiting for Woody
Voice
Short film
Dirk and Betty
2000
Daisy
Vampire Hunter D: Bloodlust
Leila
Voice
Gen¹³
Additional voices
Voice
Direct-to-video
Recess: School's Out
2001
Ashley Spinelli
Voice
The Trumpet of the Swan
A.G. Skinner
Voice
Net Worth
The Animatrix
2003
Jue, Manabu
Voice
Segments: "Final Flight of the Osiris" & "Beyond"
Brother Bear
Additional voices
Voice
Teacher's Pet
2004
Trevor, Taylor, Tyler
Voice
Lucky 13
2005
Tinker Bell
2008
Vidia
Voice
Tinker Bell and the Lost Treasure
2009
Vidia
Voice
Uncredited
Tinker Bell and the Great Fairy Rescue
2010
Vidia
Voice
Conception
2011
Tay
Secret of the Wings
2012
Vidia
Voice
Dino Time
Ernie Fitzpatrick
Voice
9 Full Moons
2013
Rachel Stevens
I Know That Voice
Herself
Documentary
Pixie Hollow Bake Off
Vidia
Voice
Short film
The Pirate Fairy
2014
Vidia
Voice
Tinker Bell and the Legend of the NeverBeast
Vidia
Voice
First Girl I Loved
2016
Sharon
Best Fiends: Boot Camp[21]
2017
Hank
Voice
Short film
Best Fiends: Visit Minutia[22]
I Love You, Daddy
Maggie
Bumblebee
2018
Charlie's Mother
Film
Best Fiends: Fort of Hard Knocks[23]
Bandit Slug
Voice
Short film
Television
Title
Year
Role
Notes
The Facts of Life
1983-84
Kelly Affinado
Night Court
1984
Andy, Stella
Episode: "Bull Gets a Kid"
E/R
1984-85
Jenny Sheinfeld
The Redd Foxx Show
1986
Toni Rutledge
Wiseguy
1988
Tanya Medley
Star Trek: The Next Generation
1989
Oji
Episode: "Who Watches The Watchers"
21 Jump Street
Dori the Psychic
Down the Shore
1992
Miranda
Rugrats
1992-2002
Dean, Sticky, Wiseguy, Young Drew Pickles
Voice
Jungle Cubs
1996-1998
Baloo
Voice
Quack Pack
1996
Dewey
Voice
Bobby's World
1996-98
Derek Generic
Voice
Recess
1997-2001
Ashley Spinelli
Voice
Pepper Ann
1997-2000
Moose Pearson, Sean, additional voices
Voice
King of the Hill
1997-2009
Bobby Hill, Clark Peters, Chane Wassonasong
Voice
101 Dalmatians: The Series
1997-98
Lucky
Voice; 42 episodes
The Big Guy and Rusty the Boy Robot
1999-2003
Rusty
Voice
Teacher's Pet
2000
Tyler, Tayler, Trevor
Voice
The Wild Thornberrys
2001
Tano
Voice
Episode: "Cheetahs Never Prosper"
The Oblongs
Milo Francis Oblong, Jared Klimer, The Debbies
Voice
Time Squad
2001-03
Otto Osworth
Voice
Teamo Supremo
2002-04
Scooter Lad
Voice
Jakers! The Adventures of Piggley Winks
2003
Hector MacBadger
Voice
What's New, Scooby-Doo?
2003
Billy Blather/Janey
Voice
Episode: "High-Tech House of the Future"
All Grown Up!
2003-07
Sean Butler
Voice
Bratz
2005
Roberta
Voice
Danger Rangers
2005-06
Carl, Martin
Voices
Lilo & Stitch: The Series
2006
Ashley Spinelli
Voice
Episode: "Lax: Experiment #285"
Lucky Louie
Kim
Squirrel Boy
2006-07
Andy Johnson
Voice
El Tigre: The Adventures of Manny Rivera
2007
Voice
Boston Legal
2007-08
Attorney Emma Path
Californication
2007-14
Marcy Runkle
WordGirl
Eileen, aka The Birthday Girl
Voice
The Drinky Crow Show
2008-09
Mademoiselle DeBoursay, Claire, additional voices
Voice
Monk
2009
Sarah Longson
Episode: "Mr. Monk On Wheels"
True Jackson, VP
2010
Babs
Episode: "Little Buddies"
Ben 10: Alien Force
Kevin's Mom
Voice
Episode: "Vendetta"
Pound Puppies
2010-13
Gwen, various characters
Voice
Phineas and Ferb
Melanie
Voice
Zevo-3
2010-11
Angel
Voice
Louie
2010-11
2014-15
Pamela
Also writer and producer
The Mighty B!
2011
Murdock
Episode: Gorilla's in the Misdt
Love Bites
Colleen Rouscher
Pilot episode
Mongo Wrestling Alliance
Acid Alice Kleberkuh
Voice
Eric Kaplan's Sketch World
Various characters
Voice
The Problem Solverz
Sweetie Creamie, Danny
Voice
Beavis and Butt-Head
Additional voices
Voice
Unsupervised
One-Eyed Donnie
Voice
Episode: "Field of Dreams... and Dogs"
Kung Fu Panda: Legends of Awesomeness
Fang
Voice
Episode: "Challenge Day"
ThunderCats
2012
Pumyra, additional voices
Voice
Parenthood
Marlyse
Bob's Burgers
2012-16
Olsen Benner, Kristi, Teenage Girl #1
Voice
Out There
2013
Joanie Novak, Henrietta Miller
Voice
Uncle Grandpa
Mary
Voice
Episode: "Driver's Test"
Jake and the Never Land Pirates
2013-present
Vidia
Voice
Sofia the First
2014
Rosey
Voice
Rake
Glenn Shepard
TripTank
2014-16
Donnie, Wanda, Tina, additional voices
Voice
Stone Quackers
2015
Binky, Mean Cop, Hawk
Voice
Teen Titans Go!
Rose Wilson
Voice
Episodes: "Cool School" and "Operation: Dude Rescue"
Penn Zero: Part-Time Hero
Drab Lieutenant
Voice
Episode: "It's a Colorful Life"
Playing House
Pam
Episode: "Celebrate Me Scones"
Guardians of the Galaxy
Ma Raccoon, Sis Raccoon
Voice
Episode: "We Are Family"
Adventure Time
2015-16
Gunther
Voice
Mr. Pickles
2016
Mary
Voice
Sanjay and Craig
Chido
Voice
Milo Murphy's Law
Brigette Murphy
Voice
Better Things
2016-present
Sam
Also creator
The Loud House
2016-present
Tabby
Voice
The Big Bang Theory
2016-17
Halley
Voice
Lego Star Wars: The Freemaker Adventures
2017
Elan / Ymojin
Voice
Episode: "The Lost Crysals of Qalydon"
Jeff & Some Aliens
Various characters (voice)
Voice
Episode: "Jeff & Some Love Simulations"
Video games
| Title | Year | Role | Notes |
| --- | --- | --- | --- |
| Pajama Sam series | 1996-2003 | Pajama Sam | Voice |
| Fallout | 1997 | Nicole | Voice |
| Grim Fandango | 1998 | Carla, Pugsy | Voice |
| Escape from Monkey Island | 2000 | Dainty Lady Figurehead | Voice |
| Run Like Hell | 2002 | Jinx | Voice |
| LeapFrog series | 2002-03 | Leap | Voice for the 2002 Phonics Program Series and 2003's Fiesta in the House/Town books |
| Final Fantasy X-2 | 2003 | Shinra | Voice |
| Chicken Little | 2005 | Abby Mallard | Voice; replacing Joan Cusack |
| Lightning Returns: Final Fantasy XIII | 2013 | Additional voices | Voice |
Awards and nominations
Peabody Awards
| Year | Nominated work | Category | Result | Ref(s) |
| --- | --- | --- | --- | --- |
| 2016 | Better Things | Area of Excellence | Won | [24] |
Primetime Emmy Awards
Year
Nominated work
Category
Result
Ref(s)
2002
King of the Hill
Outstanding Voice-Over Performance
Won
[25]
2013
Louie
Outstanding Writing for a Comedy Series
Nominated
2014
Outstanding Comedy Series
Nominated
2015
Nominated
Outstanding Guest Actress in a Comedy Series
Nominated
2017
Better Things
Outstanding Lead Actress in a Comedy Series
Nominated
2018
Nominated
Writers Guild of America Awards
Year
Nominated work
Category
Result
Ref(s)
2012
Louie
Best Comedy Series
Nominated
[26]
2013
Won
2015
Won
2017
Better Things
Best New Series
Nominated
[ Source: Wikipedia ]