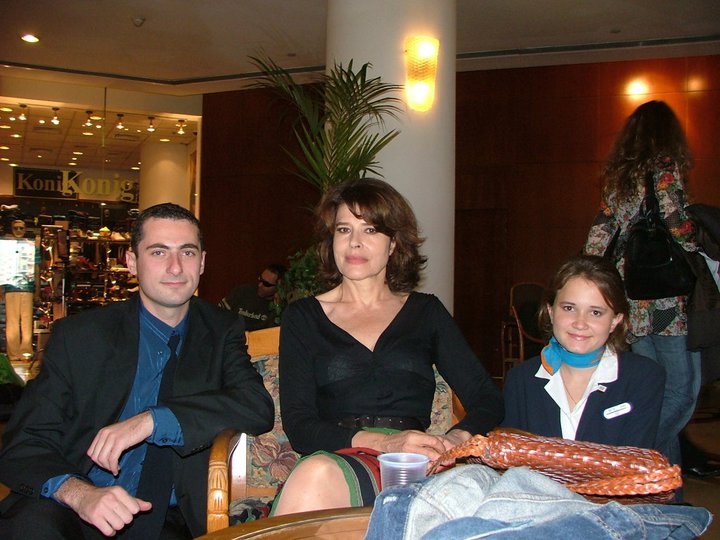 Fanny Ardant
Birth name:
Fanny Marguerite Judith Ardant
Born:
March 22, 1949
Age:
74
Birthplace:
Saumur, Maine-et-Loire, France
Popularity:

Please login to contact Fanny Ardant...
Biography
Fanny Marguerite Judith Ardant (born 22 March 1949) is a French actress. She has appeared in more than eighty motion pictures since 1976. Ardant won the César Award for Best Actress in 1997 for her performance in Pédale douce.
Ardant was born in Saumur Maine-et-Loire, France, to a military attaché father.[1] She grew up in Monaco until age 17 when she moved to Aix-en-Provence to study at the Institut d'études politiques d'Aix-en-Provence. In her early twenties her interest turned to acting and in 1974 she made her first appearance on stage.
Ardant has three daughters. Daughter Lumir, from a relationship with French actor Dominique Leverd, was born in 1975. She and partner François Truffaut, together from 1981 until his death in 1984, had daughter Joséphine in 1983. Daughter Baladine, from a relationship with Italian film producer and cinematographer Fabio Conversi, was born in 1990.
Read more...
Career
Fanny Ardant at the press conference of
Shock Waves - Diary of My Mind
at Berlinale 2018
By the early 1980s she was a major motion picture star, gaining international recognition for her role opposite Gérard Depardieu in La Femme d'à côté (The Woman Next Door).[2] The film, directed by François Truffaut, brought Ardant her first César Award nomination for best actress in 1982 and in 1984 she was nominated again for Vivement dimanche!. Eventually she became Truffaut's companion, giving birth to their daughter, Joséphine Truffaut, on 28 September 1983. Initially, her youthful beauty brought popularity but over time her sophistication and acting skills have made her one of France's most admired actresses.[3] She proved her versatility, playing a comedic role in Pédale douce for which she won the 1997 César Award for Best Actress.
Fluent in English and Italian, Ardant has starred in several Hollywood and British films. Her most recent English-language film was the Franco Zeffirelli production Callas Forever, in which she portrayed opera diva Maria Callas. It opened the 14th Annual Palm Springs International Film Festival on 9 January 2003. In 2003, Ardant received the Stanislavsky Award at the 25th Moscow International Film Festival (for the outstanding achievement in the career of acting and devotion to the principles of Stanislavsky's school).[4]
In 2009, she became a director and screenwriter, with Cendres et sang (Ashes and Blood). She also took part in a rare performance of Sardou's La Haine on 19 July 2009 at the Festival de Radio France et Montpellier Languedoc Roussillon, with Gérard Depardieu, the concert broadcast on France Musique.[5]
In 2010, she directed a short feature, Absent Chimeras (Chimères absentes in French), in which she also stars. She made this short film in order to raise public awareness to the plight of Romani people in Europe, a cause she personally defends.[6]
In 2011, she starred in the music video for Elle me dit, the first French single by Lebanese singer Mika, and appeared in the play based on Joan Didion's 2005 novel The Year of Magical Thinking in the Théâtre de l'Atelier, Paris.
In 2013, she made a cameo appearance as herself in The Great Beauty.[7]
In 2018 Ardant starred in the Swiss drama film Shock Waves - Diary of My Mind by Ursula Meier. It was screened in the Panorama section at the 68th Berlin International Film Festival.
Controversy
Ardant once expressed admiration for Renato Curcio, ex-leader of the militant Red Brigades (Brigate Rosse), saying that it was good of him to adhere to his principles. She later discovered that it would be difficult to attend a film festival in Venice, as her declaration had created much scandal in Italy.[8] The Governor of Veneto said that he would prefer that Ardant not visit his region. She then pleaded for forgiveness from victims of terrorism.[9][10]
Selected filmography
Fanny Ardant, 2005 Cannes Film Festival
Year
Title
Role
1979
The Dogs
1980
Les Uns et les Autres
Véronique
1981
The Woman Next Door
Mathilde Bauchard
1982
Life Is a Bed of Roses
Livia Ceraskier
Confidentially Yours
Barbara Becker
1983
Un amour de Swann
Duchesse de Guermantes
Benvenuta
Benvenuta
1984
L'Amour à mort
Judith Martignac
1986
Mélo
Christiane Levesque
1987
The Family
Adriana
1988
Love and Fear
Velia
1989
Australia
Jeanne Gauthier
1992
Afraid of the Dark
Miriam
1994
Colonel Chabert
Countess Ferraud
A Hundred and One Nights
the star who works at night
1995
Beyond the Clouds
Patricia
Sabrina
Irene
1996
Désiré
Odette
Pédale douce
Evelyne, called Eva
Ridicule
Madame de Blayac
1998
Elizabeth
Mary of Guise
Le Dîner
Flora
1999
Augustin, King of Kung-Fu
as herself
Le fils du Français
Anne
2000
Le Libertin
Madame Therbouche
2001
8 Women
Pierrette
Callas Forever
Maria Callas
Don't Tempt Me
Marina D'Angelo
2003
Nathalie...
Catherine
2006
Paris, je t'aime
Fanny
2007
Roman de Gare
Judith Ralitzer
Il Divo
the wife of the French ambassador
2008
Hello Goodbye
Gisèle
The Secrets
Anouk
2009
Ashes and Blood
(Director)
Face
the producer/ Queen Hérodias
2011
Interno Giorno
Maria Toricello
Raspoutine
empress Alexandra Feodorovna
2013
Bright Days Ahead
Caroline
The Great Beauty
cameo appearance as herself
Cadences obstinées
(Director)
2014
Casanova Variations
Lucrecia
2015
Chic!
Alicia Ricosi
2017
Lola Pater[11]
Lola
2018
Shock Waves - Diary of My Mind
Awards
César Awards
| Year | Group | Award | Film | Result |
| --- | --- | --- | --- | --- |
| 1997 | César Award | Best Actress | Pédale douce | Won |
| Year | Group | Award | Film | Result |
| --- | --- | --- | --- | --- |
| 1982 | César Award | Best Actress | The Woman Next Door (La Femme d'à côté) | Nominated |
| 1984 | César Award | Best Actress | Confidentially Yours (Vivement dimanche !) | Nominated |
| 2002 | César Award | Best Actress | 8 Women (Huit Femmes) | Nominated |
Molière Awards
| Year | Group | Award | Film | Result |
| --- | --- | --- | --- | --- |
| 1993 | Molière Award | Best Actress | L'Aide-mémoire (fr) | Nominated |
| 1997 | Molière Award | Best Actress | Master Class | Nominated |
[ Source: Wikipedia ]