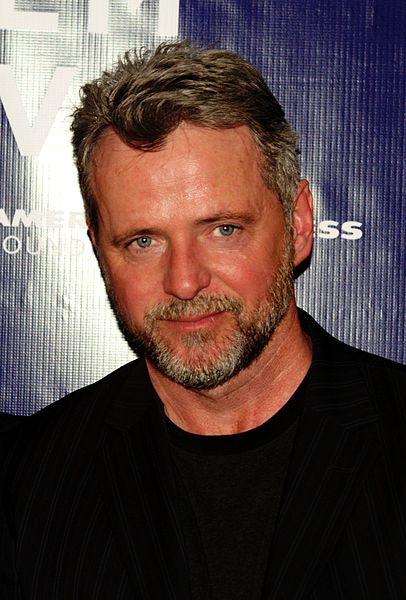 Aidan Quinn
Born:
March 8, 1959
Age:
64
Birthplace:
Rockford, Illinois, U.S.
Popularity:

Please login to contact Aidan Quinn...
Biography
Aidan Quinn (born March 8, 1959) is an Irish-American actor, who made his film debut in Reckless (1984). He has starred in over 40 feature films, including Desperately Seeking Susan (1985), The Mission (1986), Stakeout (1987), Avalon (1990), Benny & Joon (1993), Legends of the Fall (1994), Frankenstein (1994), Blink (1994), Michael Collins (1996), Practical Magic (1998), Song for a Raggy Boy (2003), and Unknown (2011).
Quinn has received two Primetime Emmy Award nominations for his work in An Early Frost (1985) and Bury My Heart at Wounded Knee (2007). He currently plays Captain Thomas "Tommy" Gregson in the CBS television series Elementary.
Quinn was born in Chicago, Illinois, to Irish Catholic parents.[1][2] He was raised in Chicago and Rockford, Illinois, as well as in Dublin and Birr, County Offaly, Ireland. His mother, Teresa, was a homemaker, but also worked as a bookkeeper and in the travel business, and his father, Michael Quinn, was a professor of English literature.[3][4] He has three brothers and a sister. His older brother, Declan Quinn, is a noted cinematographer, while his younger sister, Marian, is an actress, director and writer.[5] Though a roofer by trade, Quinn received his start in the Chicago theatre at nineteen. He trained at the Piven Theatre Workshop.[6][7]
Read more...
Career
His first significant film role was in Reckless, followed by a breakthrough role in Desperately Seeking Susan as the character "Dez" (the love interest of the character played by Rosanna Arquette). Quinn next starred in the controversial television film An Early Frost, about a young gay lawyer dying of AIDS (it was broadcast on NBC on November 11, 1985, and co-starred Gena Rowlands, Ben Gazzara and Sylvia Sidney). He received his first Emmy Award nomination for the role which allowed him to gain recognition in Hollywood. He made a short impressive contribution as Robert De Niro's brother in The Mission. He played escaped convict Richard "Stick" Montgomery in the action comedy Stakeout opposite Richard Dreyfuss and Emilio Estevez.
In 1983, Quinn lost the role of Jesus Christ when Paramount Pictures dropped the distribution rights to the Martin Scorsese movie The Last Temptation of Christ. When Universal Pictures picked up the film, the role went to Willem Dafoe. In the meantime, Quinn starred as protagonist in the film Crusoe, finished in 1989.
During the 1990s, he appeared in Legends of the Fall, Benny & Joon, The Handmaid's Tale, Haunted and Practical Magic. He also starred in Michael Collins, Song for a Raggy Boy, This Is My Father, and Evelyn. He played a small cameo as the captain of a doomed Arctic vessel in the Francis Ford Coppola-produced adaptation of Frankenstein.
In 2000, Quinn portrayed Paul McCartney in the VH1 television drama, Two of Us.
Quinn appeared in the 2005 movie The Exonerated a true story about people on death row who had been freed in which Quinn played Kerry Max Cook.
Quinn played the main character on the NBC drama The Book of Daniel, in 2006. The show was canceled after the first three weeks of its run, and its last five episodes never aired. In 2007, Quinn received his second Emmy nomination for the television movie Bury My Heart at Wounded Knee.
In 2010, he played a cameo role as William Rainsferd in the French-made film Sarah's Key, set during World War II.
He starred as "Dermot" opposite Taylor Schilling (Abby) in the Canadian-Irish drama film Stay (2013).
Quinn currently co-stars in the CBS Television series Elementary.
Personal life
In 1987, Quinn married his Stakeout co-star, Elizabeth Bracco (sister of actress Lorraine Bracco). They have two daughters: Mia (b. 1998) and Ava Eileen (b. 1989), who has autism.[8][9] Ava appeared as the baby "David" in Avalon,[10] and Mia played a ghost in The Eclipse.[11] Former residents of Englewood, New Jersey, Quinn and his family now live in Palisades, Rockland County, New York[12] and Marbletown in the Catskills / Woodstock region of Ulster County, New York.[13][14]
As an avid sports fan, Quinn supports the Chicago Cubs, the Green Bay Packers, Michael Jordan, Rory McIlroy, and Roger Federer.[15]
Philanthropy
Quinn has participated in charity golf events for the East Lake Foundation, a community redevelopment program,[16] and Samuel L. Jackson's "One for the Boys" campaign about testicular cancer awareness.[17] In 2010, Quinn attended a premiere benefit screening of A Shine of Rainbows for the International Children's Media Center (ICMC) and The American Ireland Fund (AIF).[18] In 1991, he read a segment from Franz Kafka's The Metamorphosis as part of MTV's "Books: Feed Your Head" literacy promotion PSAs.[19]
Quinn spoke at the 2003 "Night of Too Many Stars" gala benefiting The Autism Coalition.[20] He was an honorary board member of the National Alliance for Autism Research (NAAR), which merged with Autism Speaks.[21][22]
Filmography
Film
Year
Title
Role
Notes
1984
Reckless
Johnny Rourke
1985
Desperately Seeking Susan
Dez
1986
The Mission
Felipe Mendoza
1987
Stakeout
Richard 'Stick' Montgomery
1989
Crusoe
Crusoe
1990
The Handmaid's Tale
Nick
The Lemon Sisters
Frankie McGuinness
Avalon
Jules Kaye
1991
At Play in the Fields of the Lord
Martin Quarrier
1992
The Playboys
Tom Casey
1993
Benny & Joon
Benjamin 'Benny' Pearl
1994
Blink
Det. John Hallstrom
Frankenstein
Cpt. Robert Walton
Legends of the Fall
Alfred Ludlow
1995
The Stars Fell on Henrietta
Don Day
Haunted
Prof. David Ash
Lumière and Company
Short film: "John Boorman"
1996
Looking for Richard
Richmond
Michael Collins
Harry Boland
1997
Commandments
Seth Warner
The Assignment
Lt. Cmdr. Annibal Ramirez / Carlos
1998
This Is My Father
Kieran O'Day
Also Executive Producer;
Nominated - Irish Film and Television Award
Practical Magic
Officer Gary Hallet
Nominated - Blockbuster Entertainment Award
1999
In Dreams
Paul Cooper
Music of the Heart
Brian Turner
2000
Songcatcher
Tom Bledsoe
Sundance Film Festival - Special Jury Prize (shared with cast)
2002
Stolen Summer
Joe O'Malley
Production chronicled in Project Greenlight
Evelyn
Nick Barron
2003
Song for a Raggy Boy
William Franklin
Nominated - IFTA Award
2004
Bobby Jones: Stroke of Genius
Harry Vardon
Shadow of Fear
Detective Scofield
Return to Sender
Frank Nitzche
Alternate title: Convicted;
Nominated - IFTA Award
Proud
Commodore Alfred Lind
2005
Nine Lives
Henry
Nominated - Gotham Award (shared with cast)
2007
Dark Matter
Prof. Jacob Reiser
32A
Frank Brennan
2008
Wild Child
Gerry Moore
2009
A Shine of Rainbows
Alec
The Eclipse
Nicholas Holden
IFTA Award
Handsome Harry
Prof. Porter
2010
Flipped
Richard Baker
Festival of Lights
Adem
Jonah Hex
President Ulysses S. Grant
Sarah's Key
William Rainsferd
Across the Line: The Exodus of Charlie Wright
Charlie Wright
The 5th Quarter
Steven Abbate
The Pilgrims: The Journey to a New World for Autism
Himself
2011
Unknown
Martin B.
The Stand Up
Sandy Hardwick
The Greening of Whitney Brown
Henry Brown
Muide Éire
Himself
Alternate title: We Are Ireland
2012
If I Were You
Derek
Allegiance
Lieutenant Colonel Owens
Alternate title: Recalled
2013
The Last Keepers
John Carver
Rushlights
Cameron Brogden
Stay
Dermot Fay
2014
Journey to Sundance
Himself
2018
The Gettysburg Address
Theodore Parker
Voice
Television
Year
Title
Role
Notes
1985
An Early Frost
Michael Pierson
NBC TV film;
Nominated - Primetime Emmy Award
1987
All My Sons
Chris Keller
PBS TV film, presented in American Playhouse
1989
Perfect Witness
Sam Paxton
HBO TV film
1991
Lies of the Twins
James / Jonathan McEwan
USA TV film
1992
A Private Matter
Bob Finkbine
HBO TV film;
Nominated - CableACE Award
1994
Ken Burns' Baseball
Himself / Various
PBS miniseries;
2 episodes
1995
The Irish in America
Narrator
A&E Biography TV film
Out of Ireland: The Story of Irish Emigration to America
Narrator
TV film
1997
Forbidden Territory: Stanley's Search for Livingstone
Henry Morton Stanley
ABC TV film
2000
The Prince and the Pauper
Miles Hendon
Hallmark TV film
Two of Us
Paul McCartney
VH1 TV film
The Young Messiah
Narrator
RTÉ TV film;
Alternate title: The Messiah XXI
2001
Night Visions
Jeremy Bell
Ep. 1.1: "The Passenger List"
Project Greenlight
Himself
The making of Season 1 winner, Stolen Summer;
5 episodes
2003
Benedict Arnold: A Question of Honor
Gen. Benedict Arnold V
A&E TV film
Freedom: A History of US
Mob Member / Philadelphia Press Editorial
PBS miniseries;
2 episodes
2004
See You in My Dreams
Joe F. Brown
CBS TV film
Plainsong
Tom Guthrie
CBS TV film
Cavedweller
Clint Windsor
Showtime TV film;
Nominated - Independent Spirit Award
Miracle Run
Douglas Thomas
LMN TV film
2004-05
Third Watch
Lt. / Captain John Miller
5 episodes
(Season 6)
2005
The Exonerated
Kerry Max Cook
CourtTV film
Empire Falls
David Roby
HBO miniseries;
2 episodes
Mayday
John Berry
CBS TV film
2006
The Book of Daniel
Daniel Webster
Lead role;
8 episodes
All*Star Cup
Himself (Team USA)
Celebrity golf event in Wales
(Series 2)
2007
Bury My Heart at Wounded Knee
Henry L. Dawes
HBO TV film;
Nominated - Primetime Emmy Award, OFTA Award, Satellite Award
Law & Order: Special Victims Unit
Ben Nicholson
Ep. 9.4: "Savant"
2008
Canterbury's Law
Matthew 'Matt' Furey
Main cast;
5 episodes
The Prince of Motor City
Charlie Hamilton
ABC drama pilot
2010
White Collar
Prof. George Oswald
Ep. 2.3: "Copycat Caffrey"
2011
Weeds
Foster 'Chuck' Klein
4 episodes
(Season 7)
Prime Suspect
Lt. Kevin Sweeney
Main cast;
13 episodes
2012
The Horses of McBride
Matt Davidson
CTV film
2012-present
Elementary
Captain Thomas 'Tommy' Gregson
Main cast;
96 episodes
2014
From Tee to Green: The Story of Irish Golf
Narrator
Setanta Sports miniseries;
3 episodes
Theatre
Year
Production
Role
Venue / Notes
1979
The Man in 605
Jerry Green
Performance Community Theater, Chicago;
Produced and directed by Byrne Piven at the Piven Theatre Workshop
Scheherazade
Chicago, IL
The Irish Hebrew Lesson
Chicago, IL;
Written by Wolf Mankowitz
1984
Fool for Love
Eddie
Douglas Fairbanks Theater, NY
1985
Hamlet
Prince Hamlet
Wisdom Bridge Theatre, IL;
Directed by Robert Falls
1985-1986
A Lie of the Mind
Frankie
Promenade Theatre, NY
1988
A Streetcar Named Desire
Stanley Kowalski
Broadway - Circle in the Square Theatre, NY;
Theatre World Award recipient
2003
The Exonerated
Kerry Max Cook
45 Bleecker Theater, Bleecker Street, NY;
Curran Theatre, San Francisco, CA
2004
Trumbo: Red, White and Blacklisted
Dalton Trumbo
Westside Theatre (Downstairs), NY
2005
The Exonerated
Kerry Max Cook
Queen's Hall, Edinburgh Festival Fringe
2006
Riverside Studios, West End of London;
Dublin Theatre Festival
2008
Conversations in Tusculum
Brutus
The Public Theater, NY
Awards and nominations
Year
Award
Work
Result
1986
Primetime Emmy Award for Outstanding Lead Actor in a Miniseries or Special
An Early Frost
Nominated
1988
Theatre World Award
A Streetcar Named Desire
Won
1993
CableACE Award for Supporting Actor in a Movie or Miniseries
A Private Matter
Nominated
1999
Irish Film and Television Award for Best Actor in a Male Role
This Is My Father
Nominated
Blockbuster Entertainment Award for Favorite Actor - Comedy / Romance
Practical Magic
Nominated
2000
Sundance Film Festival - Special Jury Prize For Ensemble Cast (shared with cast)
Songcatcher
Won
2003
Irish Film & Television Award (IFTA) for Best Actor in a Film - Public Vote
N/A
Nominated
Irish Film & Television Award (IFTA) for Best Actor in a Film - Jury Award
Song for a Raggy Boy
Nominated
2005
Irish Film & Television Award (IFTA) for Best Actor in a Feature Film
Return to Sender (aka Convicted)
Nominated
Independent Spirit Award for Best Supporting Male
Cavedweller
Nominated
Gotham Award for Best Ensemble Cast (shared with cast)
Nine Lives
Nominated
2007
Primetime Emmy Award for Outstanding Supporting Actor in a Miniseries or Movie
Bury My Heart at Wounded Knee
Nominated
Online Film & Television Association (OFTA) Award for Best Supporting Actor in a Motion Picture or Miniseries
Nominated
Satellite Award for Best Actor in a Miniseries or a Motion Picture Made for Television
Nominated
2010
Irish Film & Television Award (IFTA) for Best Actor in a Supporting Role - Film
The Eclipse
Won
Charities
Aidan Quinn supports the following charitable cause: Autism.
[ Source: Wikipedia ]