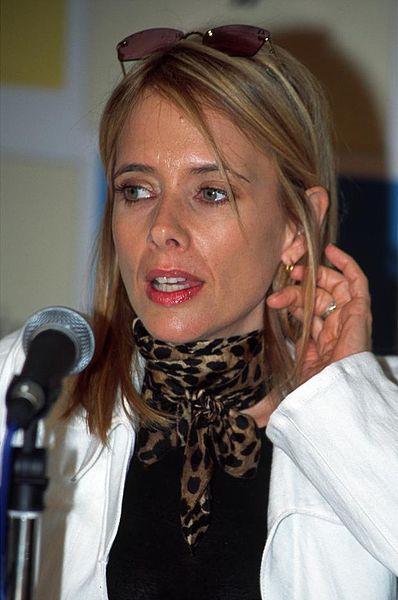 Rosanna Arquette
Birth name:
Rosanna Lisa Arquette
Born:
August 10, 1959
Age:
64
Birthplace:
New York City, U.S.
Popularity:

Please login to contact Rosanna Arquette...
Biography
Rosanna Lisa Arquette (/roʊˈsɑːnə/ roh-SAH-nə; born August 10, 1959) is an American actress, film director, and film producer. She was nominated for an Emmy Award for her performance in the 1982 TV film The Executioner's Song, and won the BAFTA Award for Best Actress in a Supporting Role for the 1985 film Desperately Seeking Susan. Her other film roles include After Hours (1985), The Big Blue (1988), Pulp Fiction (1994) and Crash (1996). She also directed the 2002 documentary Searching for Debra Winger, and starred from 2006 to 2007 on the ABC sitcom What About Brian?
Arquette was born in New York City, the daughter of Brenda Olivia "Mardi" (
née
Nowak; 1939-1997), an actress, poet, theater operator, activist, acting teacher, and therapist, and
Lewis Arquette
, a film actor, screenwriter, and producer.[1] Her paternal grandfather was comedian
Cliff Arquette
. Her mother was Jewish, from a family that emigrated from Poland and Russia.[2][3][4][5][6] Her father, whose family's surname was originally "Arcouet", was of part French Canadian descent.[7] Her father was a convert from Catholicism to Islam; through him, Arquette is distantly related to explorer Meriwether Lewis.[8][6][9] Her siblings, Richmond, Patricia, Alexis, and David, all became actors as well.
Read more...
Career
Arquette has appeared in both television and screen films. In 1982, she earned an Emmy Award nomination for the TV film The Executioner's Song. However, she was unhappy with the film's nude scene, remarking in an interview that the idea of the general public seeing her naked made her feel uncomfortable and exploited, and that most of the offers she'd received since demanded that she similarly expose herself.[10] Arquette's first starring role was in John Sayles's 1983 film, Baby It's You, a highly regarded[11] but little seen[12] film. She starred in Desperately Seeking Susan (1985) alongside pop singer Madonna, for which she won a British Academy Film Awards (BAFTA) for her "supporting" role despite her clearly being the lead. Madonna was breaking out at the time and though many feel that while Arquette's performance was central to the movie's success, Madonna made the movie into a mainstream hit. She had negotiated a deal where she would provide a song for the movie. "Into The Groove" became a huge hit for Madonna as did the movie itself. In an interview at the time, Arquette said "The two questions I hate the most are 'What was it like working with Madonna?' and 'Are you the Rosanna in the song "Rosanna"?'" Following the commercial and critical success of Lawrence Kasdan's Silverado in 1985, and the failure of both After Hours and 8 Million Ways to Die, she quit Hollywood to work in Europe, acting in Luc Besson's The Big Blue (1988).
In 1989, director Martin Scorsese offered her a part in New York Stories. Other movies of note are Pulp Fiction and the David Cronenberg film Crash and the Australian film Wendy Cracked a Walnut (1990) (also known as …Almost). In 1990, Arquette appeared on the cover and in a nude pictorial in Playboy's September issue, although she claimed it was without her prior knowledge or consent.[13]
In recent years, Arquette has expanded into directing, including the documentaries Searching for Debra Winger (2002) and All We Are Saying (2005); she also produced both projects.
Arquette appeared in the short running What About Brian as Nicole Varsi and on Showtime's The L Word as Cherie Jaffe.[citation needed] She also guest starred on Malcolm in the Middle as a healer named Anita who takes Malcolm's virginity. Bryan Cranston, one of her former co-stars from Amazon Women on the Moon, also played Malcolm's dad Hal.
In 2009, she joined Fit Parent Magazine, founded by Craig Knight, as Editor at Large.[14] Arquette stars in the French thriller The Divide, directed by Xavier Gens.[15]
Personal life
Arquette dated Toto keyboardist Steve Porcaro in the 1980s. The song "Rosanna" was partly based on her.[16] She was romantically involved with Peter Gabriel for several years; his song "In Your Eyes" is said to be inspired by her.[17][18]
In August 2013, Arquette married her fourth husband, investment banker Todd Morgan, following a two-year engagement.[19] Her previous marriages, to director Tony Greco, film composer James Newton Howard, and restaurateur John Sidel, all ended in divorce.[19] She has one daughter, Zoe Bleu, with Sidel.[19]
Philanthropy
In 2010, Rosanna Arquette became Goodwill Ambassador for The Womanity Foundation.[20]
Filmography
Film
| Year | Title | Role | Notes |
| --- | --- | --- | --- |
| 1979 | More American Graffiti | Girl in Commune | |
| 1980 | Gorp | Judy | |
| 1981 | S.O.B. | Babs | |
| 1982 | The Executioner's Song | Nicole Baker | |
| 1983 | Baby It's You | Jill Rosen | |
| 1985 | The Aviator | Tillie Hansen | |
| 1985 | Desperately Seeking Susan | Roberta Glass / 'Susan' | |
| 1985 | Silverado | Hannah | |
| 1985 | After Hours | Marcy Franklin | |
| 1986 | 8 Million Ways to Die | Sarah | |
| 1986 | Nobody's Fool | Cassie | |
| 1987 | Amazon Women on the Moon | Karen | Segment: "Two I.D.'s" |
| 1988 | The Big Blue | Johana Baker | |
| 1989 | New York Stories | Paulette | Segment: "Life Lessons" |
| 1989 | Black Rainbow | Martha Travis | |
| 1990 | Wendy Cracked A Walnut | Wendy | Re-titled ...Almost |
| 1991 | Flight of the Intruder | Callie Joy | |
| 1991 | The Linguini Incident | Lucy | |
| 1992 | Fathers & Sons | Miss Athena | |
| 1993 | Nowhere to Run | Clydie Anderson | |
| 1994 | Pulp Fiction | Jody | |
| 1994 | La Cité de la peur | Rosanna Arquette | |
| 1995 | Search and Destroy | Lauren Mirkheim | |
| 1996 | Crash | Gabrielle | |
| 1997 | Do Me A Favor | Alex Langley | |
| 1997 | Gone Fishin' | Rita | |
| 1997 | Deceiver | Mrs. Kennesaw | |
| 1998 | Buffalo '66 | Wendy Balsam | |
| 1998 | Hope Floats | Connie Phillips | Uncredited |
| 1998 | Hell's Kitchen | Liz McNeary | |
| 1998 | I'm Losing You | Rachel Krohn | |
| 1998 | Fait Accompli | Jezzebelle | |
| 1999 | Sugar Town | Eva | |
| 2000 | The Whole Nine Yards | Sophie Oseransky | |
| 2001 | Things Behind the Sun | Pete | |
| 2001 | Joe Dirt | Charlene the Gator Farmer | Uncredited |
| 2001 | Big Bad Love | Velma | |
| 2001 | Good Advice | Cathy Sherman | |
| 2001 | Diary of a Sex Addict | Grace Horn | Video |
| 2004 | Dead Cool | Deirdre | |
| 2005 | My Suicidal Sweetheart | Vera | AKA, Crazy for Love |
| 2005 | Kids in America | Abby Pratt | |
| 2006 | I-See-You.Com | Lydia Ann Layton | |
| 2007 | Battle for Terra | Professor Lina (voice) | |
| 2008 | Ball Don't Lie | Francine | |
| 2008 | Nick Nolte: No Exit | Herself | Documentary |
| 2009 | Repo Chick | Lola | |
| 2009 | American Pie Presents: The Book of Love | Madeline Shearson | |
| 2010 | Inhale | Dr. Rubin | |
| 2011 | Convincing Clooney | JC | |
| 2011 | The Divide | Marilyn | |
| 2011 | Exodus Fall | Marilyn Minor | |
| 2011 | Peace, Love & Misunderstanding | Darcy | |
| 2012 | Hardflip | Bethany Jones | |
| 2014 | Draft Day | Angie | |
| 2014 | Asthma | Gus' Mother | |
| 2015 | Larry Gaye: Renegade Male Flight Attendant | TV Anchorwoman | |
| 2015 | Kill Your Friends | Barbara | |
| 2016 | Frank & Lola | Patricia | |
| 2016 | Lovesong | Eleanor | |
| 2017 | Maya Dardel | Leonora | Won—Indie Star Award at the American Film Festival.[21] |
| 2018 | Billionaire Boys Club | Sydney's Mom | |
| 2018 | The Etruscan Smile | Claudia | Post-production |
| 2018 | Octavio Is Dead! | Joan | Post-production |
| TBA | Lost Transmissions | | Post-production |
Television
Year
Title
Role
Notes
1978
The Dark Secret of Harvest Home
Kate Constantine
TV miniseries
1978
What Really Happened to the Class of '65?
Nancy
Episode: "Mr. Potential"
1978
Zuma Beach
Beverly
Television film
1978
James at 16
Karen Waller
Episode: "An Hour Before Midnight"
1978
ABC Afterschool Special
Charlie Meredith
Episode: "Mom and Dad Can't Hear Me"
1979
Eight Is Enough
Lori West
Episode: "Best of Friends"
1979-1980
Shirley
Debra Miller
Main role (13 episodes)
1981
Here's Boomer
Ginny
Episode: "Good Looking"
1982
The Executioner's Song
Nicole Baker
TV film
1982
Johnny Belinda
Belinda McAdam
TV film
1983
Insight
Jo
Episode: "Butterfly"
1984
The Parade
Tilda Kirby
TV film
1986
Saturday Night Live
Host
Recorded October 25, 1986, broadcast two weeks later. With musical guest Ric Ocasek.
1988
Promised a Miracle
Lucky Parker
1990
Separation
Sarah Weiss
TV film
1991
Son of the Morning Star
Libby Custer
TV film
1993
The Wrong Man
Missy Mills
TV film
1994
Nowhere to Hide
Sarah Blake
TV film
1996
Homicide: Life on the Street
Caroline Widmer
Episode: "The Heart of a Saturday Night"
1997
Gun
Lilly Difideli
Episode: "Columbus Day"
1998
I Know What You Did
Stacey Keane
TV film
1999
The '60s
Hippie mother
TV miniseries
Uncredited
1999
Switched at Birth
Linda Wells
TV film
Also known as Mistaken Identity
2000
Poison
Dana Lazlo
TV film
Also known as Tease
2001
The Huntress
Arlene Potts
Episode: "Black Widow"
2002
Going to California
Helen
Episode: "Home Games"
2003
The Practice
Brenda Miller
Episode: "Character Evidence"
2003
Will & Grace
Julie
Episodes: "Fagmalion Part 1: Gay It Forward", "Women and Children First"
2004
Summerland
Ronnie
Episode: "Skipping School"
2004
The L Word
Cherie Jaffe
Episodes: "Luck, Next Time", "Liberally", "Limb from Limb"
2005
Law & Order: Criminal Intent
Kay Connelly
Episode: "Sex Club"
2005
Malcolm in the Middle
Anita
Episode: "Burning Man"
2005
Grey's Anatomy
Constance Ferguson
Episode: "Owner of a Lonely Heart"
2006
The L Word
Cherie Jaffe
Episode: "Lifeline"
2006-2007
What About Brian
Nicole Varzi
Main role (24 episodes)
2007
The L Word
Cherie Jaffe
Episode: "Legend in the Making"
2008
Dirt
Mia
Episode: "And the Winner Is"
2008
Medium
Michelle Todd
Episode: "Lady Killer"
2008
Lipstick Jungle
Tina Atwood
Episode: "Let the Games Begin"
2009
Northern Lights
Charlene Galligan
TV film
2009
Eastwick
Greta Noa
Episodes: "Paint and Pleasure", "Tasers and Mind Erasers"
2010
Private Practice
Corinne
Episodes: "Shotgun", "'Til Death Do Us Part"
2012
Royal Pains
Louise 'Lou' Hunter
Episodes: "Something Fishy This Way Comes", "Sand Legs"
2013
Girls
Petula
Episode: "Video Games"
2013-2014
Ray Donovan
Linda
Episodes: "Bridget", "Fite Nite", "Yo Soy Capitan", "S U C K", "Irish Spring", "The Captain"
2014
Law & Order: Special Victims Unit
Alexa Pierson
Episode: "Wednesday's Child"
2015
CSI: Cyber
Trish McCarthy
Episode: "Selfie 2.0"
2018
Sideswiped
Mary Maple
Main role (8 episodes)
Web
| Year | Title | Role | Notes |
| --- | --- | --- | --- |
| 2010 | Sweety | Mrs. Summers | 2 episodes |
Awards and nominations
Year
Award
Category
Production
Result
1983
Primetime Emmy
Outstanding Lead Actress in a Limited Series or a Special

The Executioner's Song

Nominated
1984
Boston Society of Film Critics Awards
Best Actress

Baby It's You

Won
1986
BAFTA Awards
Best Actress in a Supporting Role

Desperately Seeking Susan

Won
Golden Globe
Best Performance by an Actress in a Motion Picture - Comedy or Musical
Nominated
Independent Spirit Awards
Best Female Lead

After Hours

Nominated
1987
BAFTA Awards
Best Actress in a Supporting Role
Nominated
1989
Sitges - Catalan International Film Festival
Best Actress

Black Rainbow

Won
1990
Australian Film Institute
Best Actress in a Lead Role

Wendy Cracked a Walnut

Nominated
Fantasporto
International Fantasy Film Award

Black Rainbow

Won
1991
Mystfest
Best Actress
Won
1994
Awards Circuit Community Awards
Best Cast Ensemble [22]

Pulp Fiction

Won
1997
Online Film & Television Association
Best Guest Actress in a Drama Series

Gun

Nominated
2000
Teen Choice Awards
Film - Choice Hissy Fit

The Whole Nine Yards

Nominated
The Stinkers Bad Movie Awards
Worst Supporting Actress
Nominated
2007
Fantasporto
Special Career Award
N/A
Won
LA Femme International Film Festival
Pioneer Award
N/A
Nominated
[ Source: Wikipedia ]