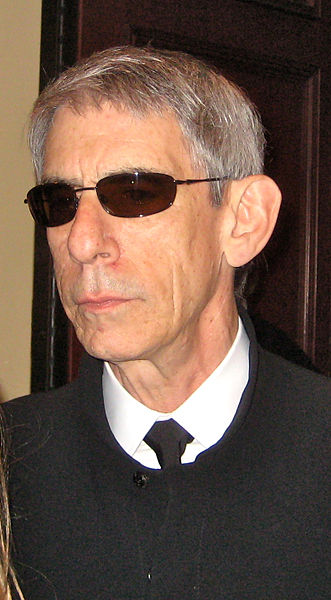 Richard Belzer
Born:
August 4, 1944
Age:
78
Popularity:

Please login to contact Richard Belzer...
Biography
Richard Jay Belzer (born August 4, 1944)[1] is an American stand-up comedian, author,[2] and actor. He is best known for his role as BPD Detective, NYPD Detective/Sergeant and DA Investigator John Munch,[3] whom he has portrayed as a regular cast member on the NBC police drama series Homicide: Life on the Street[4] and Law & Order: Special Victims Unit,[3] as well as in guest appearances on a number of other series. He portrayed the character for 23 years from 1993 to 2016.
Belzer was born in Bridgeport, Connecticut, the son of Frances and Charles Belzer, a tobacco and candy retailer.[1] He grew up in a Jewish[5] family. He described his mother as frequently physically abusive, and declared that his comedy career began when trying to make his mother laugh in order to distract her from abusing him and his brother.[6] After graduating from Fairfield Warde High School, Belzer worked as a reporter for the
Bridgeport Post.
Belzer attended Dean College, which was then known as Dean Junior College, in Franklin, Massachusetts, but was expelled.[7] He worked at a variety of jobs, including sales and as a census taker.
Read more...
Career
Stand-up
After his first divorce, Belzer relocated to New York City, moved in with singer Shelley Ackerman, and began working as a stand-up comic at Pips, The Improv, and Catch a Rising Star. He participated in the Channel One comedy group that satirized television and became the basis for the cult movie The Groove Tube, in which Belzer played the costar of the ersatz TV show "The Dealers."[8]
Belzer was the audience warm-up comedian for Saturday Night Live[9] and made three guest appearances on the show between 1975 and 1980.[10] He also opened for musician Warren Zevon during his tour supporting the release of his album Excitable Boy.[citation needed]
Film
In the late 1970s and early 1980s, Belzer became an occasional film actor. He is noted for small roles in Fame, Café Flesh, Night Shift, and Scarface. He appeared in the music videos for the Mike + The Mechanics song "Taken In" and for the Pat Benatar song "Le Bel Age", as well as the Kansas video "Can't Cry Anymore". He appeared in A Very Brady Sequel as an LAPD detective.
Radio
In addition to his film career, Belzer was a featured player on the National Lampoon Radio Hour with co-stars John Belushi, Chevy Chase, Bill Murray, Gilda Radner, and Harold Ramis, a half-hour comedy program aired on 600 plus U.S. stations from 1973 to 1975.[11] Several of his sketches were released on National Lampoon albums, drawn from the Radio Hour, including several bits in which he portrayed a pithy call-in talk show host named "Dick Ballentine".
In the late 1970s, he co-hosted Brink & Belzer on 660AM WNBC radio in New York City.[12] He has been a frequent guest on The Howard Stern Show.
Following the departure of Randi Rhodes from Air America Radio, Belzer guest-hosted the afternoon program on the network.[13]
Television
In the 1990s, Belzer appeared frequently on television. He was a regular on The Flash as a news anchor and reporter. In several episodes of Lois & Clark: The New Adventures of Superman, he played Inspector William Henderson.
He followed that with starring roles on the Baltimore-based Homicide: Life on the Street (1993-99) and the New York-based Law & Order: Special Victims Unit (1999-2013), portraying police detective John Munch in both series.[4] Barry Levinson, executive director of Homicide, said Belzer was a "lousy actor" in audition when he read lines from the script for "Gone for Goode", the first episode in the series.[14] Levinson asked Belzer to take time to reread and practice the material, then read it again. At his second reading, Levinson said Belzer was "still terrible", but that the actor eventually found confidence in his performance.[15]
In addition, Belzer has played Munch in episodes on seven other series and in a sketch on one talk show, making Munch the only fictional character to appear on eleven different television shows played by a single actor[citation needed]. These shows were on six different networks:
Homicide: Life on the Street (NBC)
Law & Order (NBC)
The X-Files (Fox)
The Beat (UPN)
Law & Order: Trial by Jury (NBC)

Belzer's appearance on Trial by Jury, which aired April 15, 2005, made him the third actor ever to play the same character in six different prime time TV series. The other two actors are John Ratzenberger and George Wendt, who played Cliff Clavin and Norm Peterson, respectively, in Cheers (1982-93); St. Elsewhere (1985); The Tortellis (1987); Wings (1990); The Simpsons (1994); and Frasier (2002).

Arrested Development (Fox)
The Wire (HBO)
30 Rock[4] (NBC)

The characters are watching a Law & Order: Special Victims Unit episode; a scene shot for 30 Rock

Law & Order: Special Victims Unit (NBC)
Jimmy Kimmel Live! (ABC)
Unbreakable Kimmy Schmidt (Netflix), in which he played a John Munch-like character on a fictional Law & Order spinoff.[16][17]
In March 2016, executive producer Warren Leight announced Belzer would return to reprise the role in a May 2016 episode of Law & Order: Special Victims Unit, titled "Fashionable Crimes".[18]
Belzer portrayed Det. Munch for 22 consecutive seasons on Homicide (7 seasons) and Law & Order: SVU (15 seasons), which exceeded the previous primetime live-action record of twenty consecutive seasons held by James Arness (who portrayed Marshal Matt Dillon on Gunsmoke from 1955 to 1975) and Kelsey Grammer (as Dr. Frasier Crane on Cheers and Frasier from 1984 to 2004).
Belzer appeared in several of Comedy Central's televised broadcasts of Friars Club roasts. On June 9, 2001, Belzer himself was honored by the New York Friars Club and the Toyota Comedy Festival as the honoree of the first-ever roast open to the public. Comedians and friends on the dais included Roastmaster Paul Shaffer; Christopher Walken; Danny Aiello; Barry Levinson; Robert Klein; Bill Maher; SVU costars Mariska Hargitay, Christopher Meloni, Ice-T, and Dann Florek; and Law & Order's Jerry Orbach. At the December 1, 2002, roast of Chevy Chase, Belzer said, "The only time Chevy Chase has a funny bone in his body is when I fuck him in the ass." [19]
Belzer voiced the character of Loogie for most of the episode of South Park titled "The Tooth Fairy Tats 2000".[citation needed] He and Brian Doyle-Murray were featured in the tenth-season premiere of Sesame Street.[citation needed]
Author
Belzer believes there was a conspiracy to assassinate President John F. Kennedy[20] and has written four books discussing conspiracy theories: UFOs, JFK, and Elvis: Conspiracies You Don't Have to Be Crazy to Believe; Dead Wrong: Straight Facts on the Country's Most Controversial Cover-Ups; Hit List: An In-Depth Investigation into the Mysterious Deaths of Witnesses to the JFK Assassination; and Someone Is Hiding Something: What Happened to Malaysia Airlines Flight 370?[21] Dead Wrong and Hit List were written with journalist David Wayne and reached The New York Times Best Seller list.[21] Someone Is Hiding Something was also written with David Wayne as well as radio talk show host George Noory. Belzer's long-time character, John Munch, also is a believer in conspiracy theories, including the JFK assassination.
Personal life
Belzer's first two marriages were to Gail Susan Ross (1966-72)[22] and boutique manager Dalia Danoch (1976 - c. 1978),[22] both of which ended in divorce. In 1981 in Los Angeles he met 31-year-old Harlee McBride, a divorcee with two daughters,[23] Bree Benton and Jessica.[24] McBride, who had been seen in Playboy magazine four years earlier in that year's sex-in-cinema feature, in conjunction with Young Lady Chatterley,[25] was appearing in TV commercials for Ford motors and acting in free theater, when she met Belzer at the suggestion of a friend.[23] The two married in 1985.[22]
Belzer survived testicular cancer in 1983.[23] His HBO special and comedy CD Another Lone Nut pokes fun at this medical incident as well as his status as a well-known conspiracy theorist.
On March 27, 1985, days prior to the inaugural WrestleMania, Belzer requested on his cable TV talk show Hot Properties that Hulk Hogan demonstrate one of his signature wrestling moves. After being asked by Belzer several times, Hogan put Belzer in a front chin-lock, which caused Belzer to pass out.[26] When Hogan released him, Belzer hit his head on the floor, sustaining a laceration to the scalp that required a brief hospitalization.[27] Belzer sued Hogan for $5 million and settled out of court. On October 20, 2006, on Bubba the Love Sponge, it was claimed[by whom?] (with Hogan in the studio) that the settlement totaled $5 million, half from Hogan and half from wrestling promoter Vince McMahon. During his June 23, 2008, appearance on Sirius Satellite Radio's The Howard Stern Show, Belzer suggested that the settlement amount was closer to $400,000.[28][not in citation given] He used the incident in his HBO special Another Lone Nut in his stand-up routine.
Belzer's older brother, Leonard Belzer (age 73) committed suicide in the early morning hours of July 30, 2014, by jumping from the roof of the New York City luxury apartment building in which he had resided.[6] Belzer's father had also committed suicide in 1968.
Belzer is a cousin of actor Henry Winkler.[29]
Filmography
Year
Film
Role
Notes
1974
The Groove Tube
Rodriguez
Leo Batfish
The President
The Hooker
Independent film
1980
Fame
M.C.
1982
Café Flesh
Loud-mouthed audience member
1982
Author! Author!
Seth Shapiro
1982
Night Shift
Pig
1983
Scarface
M.C. at Babylon Club
1986
America
Gypsy Beam
aka Moonbeam
1986
Charlie Barnett's Terms of Enrollment
Man Reading Paper
1987
Flicks
Stoner (segment 'New Adventures of the Great Galaxy')
1988
The Wrong Guys
Richard 'Belz' Belzer
1988
Freeway
Dr. David Lazarus
1989
The Big Picture
Video Show Host
1989
Fletch Lives
Phil
1990
The Bonfire of the Vanities
Television Producer
1991
The Flash II: Revenge of the Trickster
Joe Kline
1991
Missing Pieces
Baldesari
1991
Off and Running
Milt Zoloth
1992
Flash III: Deadly Nightshade
Joe Kline
1993
Mad Dog and Glory
M.C./Comic
1993
Dangerous Game
Himself
1994
North
Barker
1994
The Puppet Masters
Jarvis
1995
Not of this Earth
Jeremy Pallin
1996
Girl 6
Caller #4 - Beach
1996
A Very Brady Sequel
LAPD Detective
1996
Get on the Bus
Rick
1998
The Bar Channel
1998
Species II
U.S. President
1999
Jump
Jerry
2006
Copy That
Richard
2007
BelzerVizion
Richard Belzer
also executive producer
2009
Polish Bar
Hershel
2010
Santorini Blue
Richard
also executive producer
Television
Year
Film
Role
Notes
1975-80
Saturday Night Live
Juror
Chevy Chase
Himself
Museum Visitor
Season 1 episode 1
Season 2 episode 27
Season 3 episode 61
Season 5 episode 106 (uncredited)
1978
Sesame Street
Man in Row Boat #1
Episode: "(#10.1)"
1985
Moonlighting
Leonard
Episode: "Twas the Episode Before Christmas"
1986
Miami Vice
Captain Hook
Episode: "Trust Fund Pirates"
1989
Tattingers
Episode: "Ex-Appeal"
aka Nick & Hillary
1990-91
The Flash
Joe Kline
10 episodes
1991
Monsters
Buzz Hunkle
Episode: "Werewolf of Hollywood"
1992
Human Target
Greene
Episode: "Pilot"
1993-99
Homicide: Life on the Street
Det. John Munch
122 episodes, regular cast
1994
Lois & Clark: The New Adventures of Superman
Inspector William Henderson
Episode: "All Shook Up"
Episode: "Witness"
Episode: "Foundling"
Episode: "The House of Luthor"
1994
Nurses
Jesse Wilner
Episode: "Fly the Friendly Skies"
1994
Bandit Bandit
Big Bob
TV film
1994
Hart to Hart: Crimes of the Hart
Det. Frank Giordano
TV film
1995
Prince for a Day
Bernie Silver
TV film
aka The Prince and the Pizza Boy
1995
The Invaders
Randy Stein
TV film
1996
Deadly Pursuits
Mariano
TV film
1996-2000
Law & Order
Det. John Munch
Episode: "Charm City"
Episode: "Baby, It's You"
Episode: "Sideshow"
Episode: "Entitled"
1997
The X-Files
Det. John Munch
Episode: "Unusual Suspects"
1997
Richard Belzer: Another Lone Nut
Himself
HBO comedy special
1997-98
E! True Hollywood Story
Himself
Episode: "Gilda Radner"
Episode: "John Belushi"
1998
Elmopalooza
Himself
1999-2016
Law & Order: Special Victims Unit
Det./Sgt. John Munch
325 episodes, regular cast
2000
Homicide: The Movie
Det. John Munch
TV film based on the television series
2000
The Beat
Det. John Munch
Episode: "They Say It's Your Birthday"
2000
South Park
Loogie
Voice
Episode: "The Tooth Fairy Tats 2000"
2000
3rd Rock from the Sun
Himself
Episode: "Dick'll Take Manhattan: Part 1"
2005
Law & Order: Trial by Jury
Det. John Munch
Episode: "Skeleton"
This is a crossover sequel to the episode "Tombstone" from season 15 of the series Law & Order.
2006
Arrested Development
Himself/Det. John Munch
Episode: "S.O.B.s" (uncredited as himself)
Episode: "Exit Strategy"
2008
The Wire
Sgt. John Munch
Episode: "Took"
2009
Jimmy Kimmel Live!
Sgt. John Munch
Episode dated October 7, 2009
2009
Comedy Central Roast of Joan Rivers
Himself
2013
America Declassified
Himself
Season 1 episode 1
2015
Unbreakable Kimmy Schmidt
A John Munch-like character[16][17]
One episode: "Kimmy Goes to the Doctor!"
Books
UFOs, JFK, and Elvis: Conspiracies You Don't Have to be Crazy to Believe, ISBN 0-345-42918-4
How to Be a Stand-Up Comic, ISBN 0-394-56239-9
I Am Not a Cop!, ISBN 1-4165-7066-7
I Am Not a Psychic!, ISBN 1-4165-7089-6
Dead Wrong: Straight Facts on the Country's Most Controversial Cover-Ups, ISBN 1-6160-8673-4
Hit List: An In-Depth Investigation into the Mysterious Deaths of Witnesses to the JFK Assassination, ISBN 978-1620878071
Someone Is Hiding Something: What Happened to Malaysia Airlines Flight 370?, ISBN 978-1632207289
[ Source: Wikipedia ]