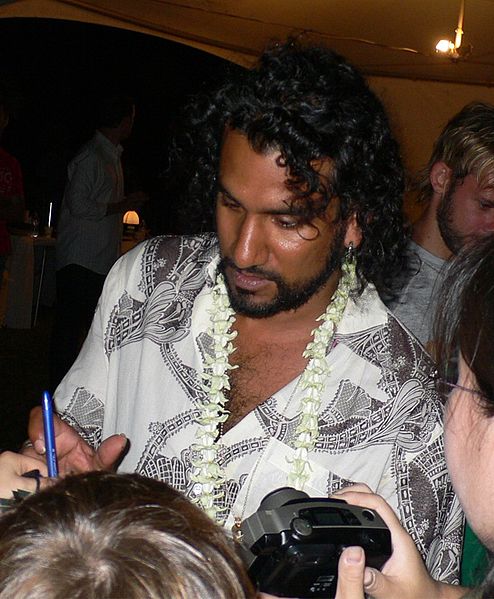 Naveen Andrews
Birth name:
Naveen William Sidney Andrews
Born:
January 17, 1969
Age:
54
Birthplace:
Lambeth, London, England
Popularity:

Please login to contact Naveen Andrews...
Biography
Naveen William Sidney Andrews (born 17 January 1969) is a British actor. He is known for numerous roles, such as Sayid Jarrah in the television series Lost, Kip Singh in the film The English Patient and Sanjay in the 2002 remake of Rollerball. For his role on Lost, Andrews was nominated for a Golden Globe in 2006, a Primetime Emmy Award in 2005 and received the Screen Actors Guild Award for Outstanding Performance by an Ensemble in a Drama Series in 2006.
Andrews was born in Lambeth, London to Nirmala, a psychologist, and Stanley Andrews, a businessman,[1] both Malayali Nasrani immigrants from Kerala, India.[2] He was brought up in Wandsworth in the Methodist denomination of Christianity.[3] Andrews described his upbringing as "very repressive".[3] At the age of 16, while at Emanuel School, he fell in love with his then-30-year-old mathematics teacher, Geraldine Feakins, whom he moved in with to escape his abusive home; their son, Jaisal, was born seven years later, in 1992. Andrews was shunned by his parents after this and they died before a reconciliation. He has stated that he forgives them now.[4]
Read more...
Career
Andrews auditioned for drama school and was accepted at London's Guildhall School of Music and Drama with Ewan McGregor and David Thewlis. His studies paid off when he won a role in Hanif Kureshi's film, London Kills Me (1991). Andrews starred in the 1993 BBC miniseries Buddha of Suburbia. He portrayed "Kip Singh" in The English Patient (1996) and Sayid in the popular television series Lost (2004). In 2006, he was voted one of People magazine's World's Most Beautiful People.[5] He starred in Kama Sutra: A Tale of Love (1996), Mighty Joe Young (1998) and Bride and Prejudice (2004). He recently starred as Jafar in the American fantasy drama Once Upon a Time in Wonderland. In 2014, he provided the voice of Sabal in the video game Far Cry 4. From 2015 to 2017, he starred in the series Sense8 (created by The Wachowskis and J. Michael Straczynski) as Jonas for its two season run. Beginning in 2018, he is co-starring as ex-CIA agent Julian in the series Instinct, starring Alan Cumming and Bojana Novakovic.
Personal life
Andrews was in a relationship with schoolteacher Geraldine Feakins from 1985 to 1991. They fell in love while Andrews was aged 16. He moved into her home in order to escape an abusive household. His parents shunned him following this and they died without reconciling with their son. Naveen had a son, Jaisal Andrews, in 1992 with Feakins.[6] He was later in a relationship with actress Barbara Hershey in Los Angeles, starting in 1998. The couple separated briefly in 2005 and, during that time, Andrews had a son with Czech-French actress Elena Eustache. He and Hershey later reconciled;[7] however, in May 2010, they announced that they had separated six months earlier.[8][9] He has been involved in an ongoing custody dispute with Eustache over their son, and on 7 January 2009, Andrews was granted sole legal and physical custody of the child.[10]
Andrews has spoken about his alcoholism and his two-year addiction to heroin in the mid-'90s. He has described an incident in which he collapsed on set and was treated by the emergency services.[11]
He plays guitar and sings, while tap-dancing to his own tune as a hobby.[12] He became a naturalised U.S. citizen on 27 May 2010.[13]
Filmography
Film
| Year | Title | Role | Notes |
| --- | --- | --- | --- |
| 1991 | London Kills Me | Bike | |
| 1992 | Wild West[14] | Zaf | |
| 1992 | Double Vision | Jimmy | |
| 1996 | Kama Sutra: A Tale of Love | Raj Singh | |
| 1996 | The English Patient | Kip Singh | Nominated—Screen Actors Guild Award for Outstanding Performance by a Cast in a Motion Picture |
| 1997 | True Love and Chaos | Hanif | |
| 1998 | Bombay Boys | Krishna | |
| 1998 | Mighty Joe Young | Pindi | |
| 1999 | Drowning on Dry Land | Darshan | |
| 2000 | A Question of Faith | William | |
| 2002 | Rollerball | Sanjay | |
| 2003 | Easy | John Kalicharan | |
| 2004 | Bride & Prejudice | Balraj | |
| 2006 | Provoked: A True Story | Deepak Ahluwalia | |
| 2007 | Grindhouse | Abby | Segment: Planet Terror |
| 2007 | The Brave One | David Kirmani | |
| 2008 | Animals | Vic | |
| 2012 | Creature of the Black Lagoon | Dr. David Raya | |
| 2013 | Diana | Dr. Hasnat Khan | |
Television
Year
Title
Role
Notes
1993
The Buddha of Suburbia
Karim Amir
4 episodes
1996
The Peacock Spring
Ravi Battacharya
Television movie
1998
My Own Country
Dr. Abraham Verghese
Television movie
2000
The Chippendales Murder
Steve Banerjee
Television movie
2001
The Beast
Tamir Naipaul
Episode: "The Price"
2003
Future Tense
Miles Gupta
Unsold TV pilot
2004-2010
Lost
Sayid Jarrah
98 episodes
Screen Actors Guild Award for Outstanding Performance by an Ensemble in a Drama Series
Nominated—Golden Globe Award for Best Supporting Actor - Series, Miniseries or Television Film
Nominated—Golden Nymph Award for Outstanding Actor - Drama Series
Nominated—Primetime Emmy Award for Outstanding Supporting Actor in a Drama Series
2006
The Ten Commandments
Menerith
Television movie
2010
Law & Order: Special Victims Unit
Detective Ash Ramsey
Episode: "Shadow"
2012
Sinbad
Lord Akbari
7 episodes
2013-2014
Once Upon a Time in Wonderland
Jafar
13 episodes
2015-2017
Sense8
Jonas Maliki
11 episodes
2018
Instinct
Julian Cousins
Video games
| Year | Title | Role | Notes |
| --- | --- | --- | --- |
| 2014 | Far Cry 4 | Sabal | Voice actor |
[ Source: Wikipedia ]