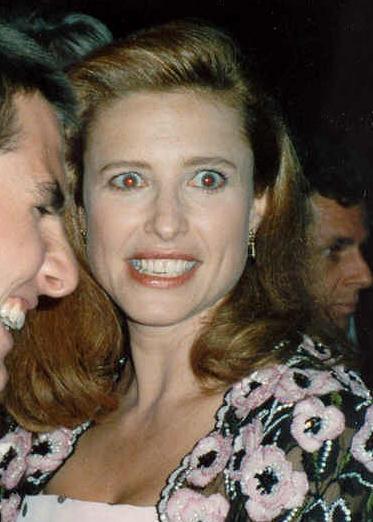 Mimi Rogers
Born:
January 27, 1956
Age:
67
Birthplace:
Coral Gables, Florida, U.S.
Popularity:

Please login to contact Mimi Rogers...
Biography
Miriam "Mimi" Rogers (née Spickler; born January 27, 1956) is an American film and television actress, producer and competitive poker player. Her notable film roles include Gung Ho (1986), Someone to Watch Over Me (1987), and Desperate Hours (1990). She garnered the greatest acclaim of her career for her role in the religious drama, The Rapture (1991), with critic Robin Wood declaring that she "gave one of the greatest performances in the history of the Hollywood cinema."[1] Rogers has since appeared in Reflections on a Crime (1994), The Mirror Has Two Faces (1996), Austin Powers: International Man of Mystery (1997), Lost in Space (1998), Ginger Snaps (2000), The Door in the Floor (2004), and For a Good Time, Call... (2012). Her extensive work in television includes Paper Dolls (1984), Weapons of Mass Distraction (1997), The Loop (2006-2007), and recurring roles on The X-Files (1998-1999), Two and a Half Men (2011-2015), Wilfred (2014) and Mad Men (2015).
Rogers was born Miriam Spickler at General Hospital in Coral Gables, Florida. Her father is Philip C. Spickler, a civil engineer.[2][3] Her mother, Kathy Talent, was a former dance and drama major.[2] Rogers' father was Jewish and her mother Episcopalian.[4] Her father had become involved with Scientology before she was born, and the organization was part of her upbringing.[4][5]
The family lived in Virginia, Arizona, Michigan, and England, before settling in Los Angeles. Rogers attended accelerated schools and graduated from high school at age 14. In place of college, she formulated her own program of study and became involved in community theater and writing.[2] Rogers later worked in a hospital for incapacitated patients outside Palo Alto, California, and for six years she was a part-time social worker, involved in substance-abuse counseling.[2]
At the beginning of their acting careers, Rogers and Kirstie Alley lived together.[6]
Read more...
Career
Acting
After her first marriage break-up, Rogers moved to Los Angeles to embark on an acting career. She studied acting with Milton Katselas for nine months and then sought an agent.[7] She screen tested for the lead role in Body Heat that eventually went to Kathleen Turner.[8] Her earlier roles included television appearances in Hill Street Blues (1981) as a love interest for officer Andy Renko (Charles Haid), and in Magnum, P.I. (1982). In 1982, Rogers starred in the made-for-TV-movie Hear No Evil as Meg.[9][10][11] Between 1983-84, she worked extensively in television as a series regular on The Rousters and as supermodel Blair Harper-Fenton in Paper Dolls. In 1986, she starred alongside Michael Keaton in Gung Ho.
In 1986 Rogers auditioned for the female lead in Fatal Attraction that went to Glenn Close.[8] However, Rogers got her breakthrough role when she was cast opposite Tom Berenger in Someone to Watch Over Me (1987). Rogers played Claire Gregory, a socialite who is protected after she witnesses a murder. In 1989, she starred in The Mighty Quinn. In 1990, she appeared in Desperate Hours.
In 1991, Rogers starred as the protagonist in The Rapture about a woman who converts from a swinger to a born-again Christian after learning that a true Rapture is upon the world. She received an Independent Spirit Award for Best Female Lead nomination for her role in the film.[12] Slant Magazine praised her "spectacular performance, which seems in part inspired by the physical splendors and feral glances of Bette Davis or Barbara Stanwyck."[13]
In 1993 Rogers posed nude for the March 1993 edition of Playboy magazine, and also appeared on that issue's cover.[14] She later explained "Playboy had been after me for years, and finally I agreed to pose when they gave me complete approval over the shoot. It was done in a tasteful way, and since I knew that I wanted to have children soon, I thought it might be nice to have a permanent record of my body in its prime."[15]
In 1994, Rogers starred as a woman on death row in the prison thriller Reflections on a Crime and received the Best Actress prize for the film at the Seattle International Film Festival.[16]New York Magazine praised Rogers' "typically terrific performance" in the film.[17]
Rogers later joined an ensemble cast in the critically acclaimed comedy-drama Trees Lounge (1996). She also had a supporting role alongside Barbra Streisand and Lauren Bacall in The Mirror Has Two Faces (1996). Her next film was the beginning of what would become a major franchise, when she appeared as Mrs. Kensington in Austin Powers: International Man of Mystery (1997).
In 1998, she co-starred in Lost in Space. A year later, she co-produced and co-starred in the Holocaust drama The Devil's Arithmetic. Together with her fellow producers, Rogers received a Daytime Emmy Award nomination for Outstanding Children's Special for the film. Between 1998 and 1999, Rogers also had a recurring role on The X-Files playing Diana Fowley for seven episodes. In 2000, she starred in the critically acclaimed Canadian horror film Ginger Snaps. She was also a series regular on the short-lived ABC series The Geena Davis Show (2000-01).[citation needed]
Rogers later made television appearances in Dawson's Creek (2003) as the mother of Jen Lindley (Michelle Williams) and in Las Vegas (2003). She also appears in the comedy sequel Dumb and Dumberer: When Harry Met Lloyd (2003). In 2004, she starred alongside Jeff Bridges and Kim Basinger in the drama The Door in the Floor. Between 2006 and 2007, Rogers was a series regular on the Fox comedy The Loop playing Meryl. In 2010, Rogers had a guest voice role on King of the Hill and served as a producer on Unstoppable.[18]
In 2010, she performed at the Geffen Playhouse in Love, Loss, and What I Wore.[19] In 2011, she was cast in the recurring role of Robin Schmidt, a primatologist and Ashton Kutcher's mother on Two and a Half Men.[20] Rogers resumed the role in the season 10 premiere episode.[21] In 2012, she made a guest appearance on The Client List. Recent film projects include For a Good Time, Call... (2012) and, alongside Meryl Streep, in Hope Springs (2012).
In March 2012, she was cast alongside Chad Michael Murray in the ABC pilot Scruples, as Harriet, a "powerful and vindictive magazine editor".[22]
Poker
Having played poker as a teenager, Rogers took up competitive poker in 2003 and finished in the money in her first major tournament at the World Poker Tour's 240 player Shooting Stars' main event No-Limit Texas hold 'em tournament in San Jose, California, on March 4, 2004. She is on the board of directors of the World Poker Tour. In July 2006, she finished in the money (33rd place) at the $1000 Ladies' No-Limit Hold 'em World Series of Poker event.[23]
Personal life
Rogers with
Tom Cruise
at the 1989 Academy Awards
She has been married three times. She married James Rogers in 1976, adopting his surname. They divorced in 1980.[24] On May 9, 1987 she married actor Tom Cruise in a New York City ceremony. The marriage broke down at the end of 1989 and a divorce was finalized in February 1990.[25] In January 1990 the couple released a joint statement; "While there have been very positive aspects to our marriage, there were some issues which could not be resolved even after working on them for a period of time,".[26] It was Rogers who introduced Cruise to Scientology.[27]
In an interview with Playboy in 1993, Rogers discussed her split from Cruise and likened her ex-husband to a "monk" when discussing intimacy issues.[15] Rogers later retracted the comments and claimed she had been misinterpreted.[28][15]
In 1990, Rogers began living with Chris Ciaffa. They have two children.[29] The couple married in 2003.[citation needed]
Rogers has made campaign contributions to the Democratic Party.[30][31]
Scientology
Rogers' father became interested in Dianetics in 1952[32] and later became a prominent Mission Holder with the Church of Scientology and friend of founder, L. Ron Hubbard.[15] Rogers also reportedly became a highly trained auditor with the church. Prior to her acting career, she opened a "field auditing" practice, the Enhancement Center, with her first husband, Jim Rogers.[33] She was a church auditor for Sonny Bono.[34] Tom Cruise was also a client before being directed towards a Celebrity Centre.[33]
In an interview given to the Los Angeles Times in 1991, she spoke about Scientology; "that philosophy was simply part of my upbringing. And, I think it was an excellent system of belief to grow up with because Scientology offers an extremely pragmatic method for taking spiritual concerns and breaking them down into everyday applications."[4]
Rogers has left the Church of Scientology, having been described in media reports as a "former" member of the church.[35][24][15]
Cruise biographer Andrew Morton alleged that Rogers' father had been declared a Suppressive Person after leaving the church in the early 1980s during a cull of Mission Holders.[36]
A 2012 article in Vanity Fair alleged that Rogers held an unfavorable view of the church's controversial leader, David Miscavige.[37] In Going Clear: Scientology, Hollywood, and the Prison of Belief, published in 2013, author Lawrence Wright alleged that Miscavige had pushed Rogers from her marriage with Tom Cruise so the latter could pursue Nicole Kidman.[38]
Filmography
Television
Year
Film
Role
Notes
1981
Hill Street Blues
Sandra Pauley
2 episodes
Quincy, M.E.
Corrina Girard
2 episodes
1982
Magnum, P.I.
Margo Perina
Episode: "Italian Ice"
Divorce Wars: A Love Story
Belinda Wittiker
TV movie
Hear No Evil
Meg
TV movie
1983
Hart to Hart
Robin Wall
Episode: "Hartstruck"
1983-1984
The Rousters
Ellen Slade
13 episodes
1984
Paper Dolls
Blair Fenton-Harper
13 episodes
1985
Embassy
Nancy Russell
TV movie
1987
Disneyland
Charlotte
Episode: "You Ruined My Life"
1989
Hider in the House
Julie Dreyer
TV movie
1991
Fourth Story
Valerie McCoughlin
TV movie
Wedlock
Tracy Rigg
TV movie
1991-1992
Dream On
Julia Montana
3 episodes
1992
Tales from the Crypt
Helen
Episode: "Beauty Rest"
Ladykiller
Michael Madison
TV movie
The Larry Sanders Show
Mimi Rogers
2 episodes
1993
Bloodlines: Murder in the Family
Melody Woodman
TV movie
A Kiss to Die For
Ali Broussard
TV movie
1995
Full Body Massage
Nina
TV movie
1996
Partners
Melissa
Episode: "Your Baby-sitter?"
In the Blink of an Eye
Sonia Jacobs
TV movie
1997
Weapons of Mass Distraction
Ariel Powers
TV movie
Nomination - Satellite Award for Best Performance by an Actress in a Supporting Role in a Mini-Series or Motion Picture Made for Television
Tricks
Jackie
TV movie
1998
Virtual Obsession
Karen Messenger
TV movie
1998-1999
The X-Files
Agent Diana Fowley
7 episodes
1999
The Devil's Arithmetic
Leonore Stern
Also producer
Nomination - Daytime Emmy Award for Outstanding Children's Special
Little White Lies
Ellie
Seven Girlfriends
Julian
1999-2000
It's Like, You Know...
Deidre Swayze
2 episodes
2000
Common Ground
McPherson
TV movie
2000-2001
The Geena Davis Show
Hillary
22 episodes
2002
Charms for the Easy Life
Sophia
TV movie
What's New, Scooby-Doo?
Maura Ravenmane
Episode: "She Sees Sea Monsters by the Sea Shore"; Voice
2003
Dawson's Creek
Helen Lindley
Episode: "Goodbye, Yellow Brick Road"
Cave In
Pat Bogen
TV movie
Las Vegas
Sandra Adlman
Episode: "Luck Be a Lady"
2004
Hope & Faith
Annie Hannigan
Episode: "Madam President"
2005
Stone Cold
Rita Fiore
TV movie
Selling Innocence
Abby Sampson
TV movie
2006
The Stranger Game
Joanna Otis
TV movie
2006-2007
The Loop
Meryl
17 episodes
2008
Storm Cell
April Saunders
TV movie
My Boys
Maggie/Mike's date
2 episodes
2009
Falling Up
Meredith
TV movie
2010
Order of Chaos
Mrs. Craig
TV movie
Sins of the Mother
Lois
TV movie
King of the Hill
Katie
Episode: "Bill Gathers Moss"
Neighbors from Hell
Lorelai Killbride
Episode: "Country Club Hell"
2011
CollegeHumor Originals
Bionic Woman
"Superhero Auditions: Callbacks", "Superhero Auditions: Bionic Woman"
2011-2015
Two and a Half Men
Robin Schmidt
Recurring role; 6 episodes
2012
The Client List
Valerie Dawson
Episode: "The Rub of Sugarland"
Scruples
Harriet Toppington
Pilot drama based on Scruples
2014
Wilfred
Catherine Newman
Recurring role; 3 episodes
Cleaners
Isabelle Walker
6 episodes
2015
Bosch
Honey Chandler
3 episodes
NCIS
Joanna Teague
3 episodes
Mad Men
Pima
Episode: "New Business"
2015, 2016
Ash vs Evil Dead
Suzy Maxwell
2 episodes
2017
Blue Bloods
Trudy Slaughter
Episode: "Brushed Off"
Film
Year
Film
Role
Notes
1983
Blue Skies Again
Liz
1986
Gung Ho
Audrey
1987
Street Smart
Alison Parker
Someone to Watch Over Me
Claire Gregory
1989
The Mighty Quinn
Hadley Elgin
1990
Dimenticare Palermo
Carrie
Desperate Hours
Nora Cornell
1991
The Doors
Magazine Photographer
The Rapture
Sharon
Nomination - Independent Spirit Award for Best Female Lead
1992
White Sands
Molly Dolezal
Cameo
Dark Horse
Dr. Susan Hadley
Shooting Elizabeth
Elizabeth Pigeon
1994
Monkey Trouble
Amy
Bulletproof Heart
Fiona
Reflections on a Crime
Regina
Seattle International Film Festival Award for Best Actress
1995
The Beast
Martha
Short
Far from Home: The Adventures of Yellow Dog
Katherine McCormick
1996
Trees Lounge
Patty
The Mirror Has Two Faces
Claire
1997
Austin Powers: International Man of Mystery
Mrs. Marie Kensington
The Christmas List
Melody Parris
1998
Lost in Space
Dr. Maureen Robinson
2000
Ginger Snaps
Pamela Fitzgerald
The Upgrade
The Yuppie
Short
Cruel Intentions 2
Tiffany Merteuil
2003
Dumb and Dumberer: When Harry Met Lloyd
Mrs. Dunne
2004
The Gunman
Eve Richards
Seeing Other People
Elise
The Door in the Floor
Evelyn Vaughn
2005
Dancing in Twilight
April
2006
Penny Dreadful
Orianna Volkes
Big Nothing
Mrs. Smalls
2009
Frozen Kiss
Gayle
2010
Abandoned
Victoria Markham
2011
Lucky
Ms. Brand
Balls to the Wall
Mrs. Matthews
2012
For a Good Time, Call...
Adele
Hope Springs
Carol
2014
Mall
The Surface
Kim
2015
Weepah Way for Now
Lynn
The Wedding Ringer
Lois Palmer
Captive
Kim Rogers
This Isn't Funny
Elaine Anderson
2018
Public Affairs
Judith Baines
TBD
What Still Remains
Judith
In post-production
Charities
Mimi Rogers supports the following charitable cause: Environment.
[ Source: Wikipedia ]