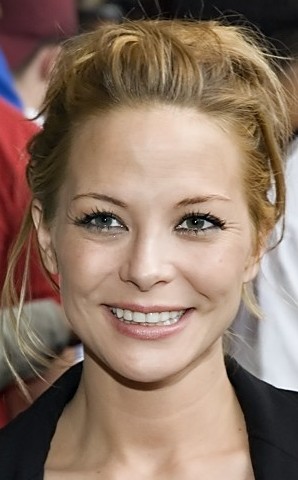 Jordan Ladd
Birth name:
Jordan Elizabeth Ladd
Born:
January 14, 1975
Age:
48
Birthplace:
Los Angeles, California, U.S.
Popularity:

Please login to contact Jordan Ladd...
Biography
Jordan Elizabeth Ladd (born January 14, 1975) is an American actress. She is known as a scream queen, having appeared in several horror films. She began taking small film roles before landing her first high-profile role in Never Been Kissed (1999). Since then, Ladd has portrayed supporting as well as lead roles in films, including Cabin Fever (2002), Club Dread (2004), and Death Proof (2007). She has also earned acclaim for her lead role in the horror film Grace (2009).
Ladd was born in Hollywood, California, the daughter of
Charlie's Angels
star
Cheryl Ladd
(née Stoppelmoor) and
David Ladd
, a producer and former actor. Her parents divorced in 1980. Her paternal grandfather was actor
Alan Ladd
,[1] and her paternal grandmother was Sue Carol (née Evelyn Lederer), a Hollywood talent agent and actress. She has a stepsister, Lindsay Russell, an aspiring actress. She graduated from high school in 1993. She then attended Southern Methodist University in Dallas, Texas.[2]
Read more...
Career
At the age of two, Ladd began appearing in commercials. Her first commercial was for Polaroid. She began acting in film and television while in school, working with her mother in films such as The Girl Who Came Between Them (1990) and Broken Promises: Taking Emily Back (1993). After graduating high school, she took up acting professionally.
In 1994, she guest appeared in the NBC series Saved by the Bell: The New Class episode "The Return of Screech", and followed that appearance with a role opposite Alyssa Milano in the horror-thriller feature Embrace of the Vampire. She was going to play the role of Amy Blue in the teen drama film The Doom Generation (1995), until her mother vetoed her playing the role at the last minute. She was replaced by Rose McGowan, who would later appear with her in Death Proof (2007). She spent the majority of the 1990s appearing in a variety of independent films, including Inside Out, Nowhere, Stand-ins, and Taking the Plunge. In 1999, she landed her first high-profile role as a popular teenager who tortures Drew Barrymore's character in the teen comedy Never Been Kissed, during its filming, Barrymore - who also produced the film - asked Ladd if she would like to appear in her film adaptation of Charlie's Angels (2000), but Ladd turned it down.[3]
She appeared in The Specials (2000), a comedy about a group of superheroes on their day off; in the film she played a neurotic named Nightbird. That year, she had the starring role as an actress who vying for an Academy Award in E! first original film Best Actress. Ladd established herself as an independent film actress, appearing in Boys Life 3 and David Lynch's short film Darkened Room.[3] She starred as the lead role in Eli Roth's 2002 horror film Cabin Fever, which was a moderate success at the box office. In 2004, she won the role of Penelope in the horror film Club Dread, and starred in the direct-to-video horror Madhouse. Ladd appeared opposite Anna Faris, Ryan Reynolds, and Justin Long in the independent romantic comedy Waiting..., which opened in the U.S. on October 7, 2005.
After a small role in the film Inland Empire (2006), she was cast as Shanna in Quentin Tarantino's Death Proof, a segment of the film Grindhouse.[4] She won acclaim for her performance as the character Madeline Matheson in the horror film Grace. It was screened at the 2009 Sundance Film Festival.[5] In 2010, she starred as Cynthia in Wishing Well, a made-for-television film about a journalist from New York City who gets sent to a small town in Illinois to report on a legendary wishing well.[6]
In 2016, she appeared in the thriller Brentwood Strangler opposite Australian actor Adam J. Yeend and Annika Marks.[7]
Personal life
She married her longtime boyfriend, documentary film editor Conor O'Neill, in 2001.[2] The couple divorced in July 2005.[8]
Filmography
Television
| Year | Title | Role | Notes |
| --- | --- | --- | --- |
| 1978 | Charlie's Angels | Young Kris Monroe in flashbacks | Episode: "Angel on my Mind" |
| 1990 | The Girl Who Came Between Them | Waitress | Movie |
| 1993 | Broken Promises: Taking Emily Back | Waitress | Movie |
| 1994 | Love Street | Bordello Player | Episode: "Bordello" |
| 1994 | Saved by the Bell: The New Class | Debbie | Episode: "The Return of Screech" |
| 1997 | Weapons of Mass Distraction | Letitia | Movie |
| 1997 | Total Security | Fiona Richards | Episode: "One Wedding and a Funeral" |
| 1998 | Every Mother's Worst Fear | Martha Hoagland | Movie |
| 2000 | Best Actress | Amber Lyons | Movie |
| 2000 | The Deadly Look of Love | Janet Flanders | Movie |
| 2001 | Six Feet Under | Ginnie | Episode: "An Open Book" |
| 2005-07 | Robot Chicken | Various characters | 5 episodes |
| 2007 | It Was One Of Us | Avis Monroe | Movie |
| 2009 | The Wishing Well | Cynthia Tamerline | Movie |
| 2015 | Scary Endings | Grace | 'Voyeur' Season 1 ep 2 |
| 2017 | Stage Fright | | |
Film
| Year | Title | Role | Notes |
| --- | --- | --- | --- |
| 1994 | Embrace of the Vampire | Eliza | |
| 1997 | Inside Out | Summer | |
| 1997 | Nowhere | Alyssa | |
| 1997 | Stand-ins | Monica-Bette Davis | |
| 1999 | Taking the Plunge | | |
| 1999 | Never Been Kissed | Gibby Zerefski | |
| 2000 | The Specials | Nightbird/Shelly | |
| 2000 | Boys Life 3 | Summer | Short film |
| 2001 | Puzzled | Skye | |
| 2002 | Crazy Little Thing | Dana | Also known as The Perfect You |
| 2002 | Darkened Room | Girl 1 | |
| 2002 | Cabin Fever | Karen | |
| 2004 | Club Dread | Penelope | Also known as Broken Lizard's Club Dread |
| 2004 | Junked | Nikki | |
| 2004 | Madhouse | Sara | Direct-to-video |
| 2004 | Dog Gone Love | Arianna | Direct-to-video |
| 2005 | Waiting... | Danielle | |
| 2006 | Inland Empire | Terri | |
| 2007 | Hostel: Part II | Stephanie | |
| 2007 | Grindhouse | Shanna | "Death Proof" segment |
| 2009 | Grace | Madeline Matheson | |
| 2011 | The Last Best Place | Wendy | |
| 2012 | Awaken | Rachel Arai | |
| 2012 | Murder on the 13th Floor | Ariana Braxton | |
| 2012 | Air Collision | Lindsay Bates | Direct-to-video |
| 2016 | Brentwood Strangler | Maggie | Multiple 2016 Film Festivals |
| 2017 | Blue Line | Lindsay Walters | |
| 2017 | The Untold Story | Rebecca | post-production |
[ Source: Wikipedia ]