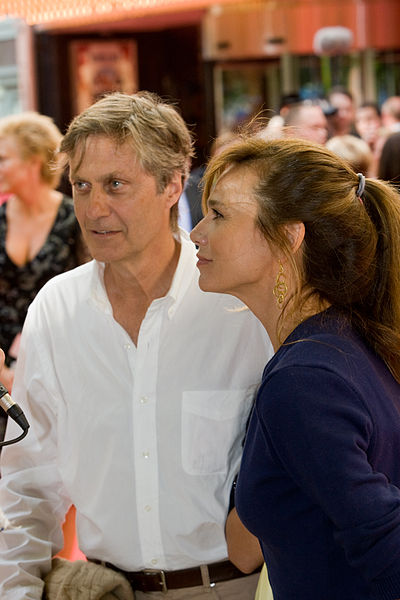 Lena Olin
Birth name:
Lena Maria Jonna Olin
Born:
March 22, 1955
Age:
68
Birthplace:
Stockholm, Sweden
Popularity:

Please login to contact Lena Olin...
Biography
Lena Maria Jonna Olin (born 22 March 1955) is a Swedish actress. She has been nominated for several acting awards, including a Golden Globe for The Unbearable Lightness of Being (1988) and an Academy Award for Enemies, A Love Story (1989). Other well-known films in which she has appeared include Chocolat (2000), directed by her husband Lasse Hallström, Queen of the Damned (2002), Casanova (2005) and The Reader (2008). Olin was also a main cast member in the second season (and a recurring guest star in later seasons) of the television series Alias. Olin starred in the Swedish sitcom Welcome to Sweden.[citation needed]
Olin, the youngest of three children, was born in Stockholm, Sweden. An older brother died of cancer in 1960, 10 years old. She is the daughter of actress Britta Holmberg and director Stig Olin.[1] She studied acting at Sweden's National Academy of Dramatic Art.[
citation needed
]
In October 1974, at age 19, Olin was crowned Miss Scandinavia 1974 in Helsinki, Finland.[2]
Read more...
Film career
Olin worked both as a substitute teacher and as a hospital nurse before becoming an actress. Olin performed for over a decade with Sweden's Royal Dramatic Theatre-ensemble (1980-1994) in classic plays by William Shakespeare and August Strindberg, and appeared in smaller roles of several Swedish films directed by Bergman and in productions of Swedish Television's TV-Theatre Company.[3]
Ingmar Bergman cast Olin in Face to Face (1976). Later,[when?] she acted at the national stage in Stockholm in several productions directed by Bergman, and with Bergman's production of King Lear (in which Olin played Cordelia) she toured the world—Paris, Berlin, New York, Copenhagen, Moscow and Oslo, among others. Critically acclaimed stage performances by Olin at Sweden's Royal Dramatic Theatre included the leading part as The Daughter in A Dream Play by Strindberg, Margarita in the stage adaption of The Master and Margarita by Mikhail Bulgakov, Carlo Goldoni's The Servant of Two Masters, Ann in Edward Bond's Summer, Titania in A Midsummer Night's Dream by Shakespeare, Ben Jonson's The Alchemist, the title role in Ingmar Bergman's rendition of Strindberg's Miss Julie, and her neurotic Charlotte in the contemporary drama Nattvarden (The Last Supper) by Lars Norén.[citation needed]
In 1980, Olin was one of the earliest winners of the Ingmar Bergman Award,[4] initiated in 1978 by the director himself, who was also one of the two judges.[5]
Olin's international debut in a lead role on film was in Bergman's After the Rehearsal (1984). Two years earlier, she had appeared in a small role in the same director's Fanny and Alexander. In 1988, Olin starred with Daniel Day-Lewis in her first major part in an English speaking and internationally produced film, The Unbearable Lightness of Being, followed by Sydney Pollack's Havana (1990), Roman Polanski's The Ninth Gate (1999), and many others.[citation needed]
In 1989, Olin earned an Academy Award nomination for Best Supporting Actress for her work in Enemies: A Love Story, in which she portrayed the survivor of a German Nazi camp. In 1994 Olin starred in Romeo Is Bleeding and played what is perhaps her most extreme character to date; the outrageous hit woman Mona Demarkov—still one of the actress's most popular portrayals on film.[citation needed]
Olin and director Lasse Hallström collaborated on the film Chocolat (2000), which received five Academy Award nominations, and on Casanova (2005).[6][7]
Alias
Olin and husband Lasse Hallström in 2008.
From 2002 to 2006, Olin appeared opposite Jennifer Garner in her first American television role, starting on the second season of the successful television series Alias as Irina Derevko. For her work on the series, Olin received an Emmy Award nomination for Outstanding Supporting Actress in 2003.[8]
Olin received good reviews for her part in Alias—particularly her chemistry with Victor Garber, who played her former husband and sometime-enemy Jack Bristow—and was rumored to have been offered a salary in excess of US$100,000 per episode to remain part of the cast.[citation needed] She left the show after her first and only season; this was, however, to spend more time with her family in New York.[citation needed]
In May 2005, Olin returned to Alias for a two-episode appearance at the end of the show's fourth season, and subsequently appeared again in the fifth season, initially in a cameo in December 2005, and then following a four-month hiatus she appeared again in April 2006, and for the finale on 22 May 2006.[citation needed]
Recent projects
In 2005, Olin returned to Sweden for a brief period of filming and starred in a supporting role in Danish director Simon Staho's film Bang Bang Orangutang (with a punk music soundtrack by, among others, The Clash and Iggy Pop).[citation needed]
In 2008, Olin had a small but significant role in the Oscar-nominated film The Reader (2008), playing a Jewish survivor of the Auschwitz death march in a trial in the 1960s and the woman's daughter twenty years later.[9][10]
Lena Olin starred in the US-Polish independent drama film Maya Dardel in the year 2017.[11][12]
An upcoming[when?] project is said to be Daughter of the Queen of Sheba (which is to be directed by Hallström).[clarification needed][citation needed]
Personal life
Olin and husband Lasse Hallström in 2013.
From the mid 1970s through the end of the 1980s, Olin was for many years the partner of Swedish actor and Royal Dramatic Theatre colleague Örjan Ramberg. They had a son, Auguste Rahmberg (born 1986). The relationship ended in the late 1980s.[citation needed]
In 1992, Olin met film director Lasse Hallström in Sweden.[citation needed] Two years later, in 1994, they married in Hedvig Eleonora Church in Stockholm. They have a daughter, Tora (born 1995). Olin lives in Bedford, New York with her husband and children.[citation needed]
Filmography
Film
Year
Title
Role
Notes
1976
Face to Face
Shop Assistant
1977
Friaren som inte ville gifta sig
Gypsy Woman
TV movie
1977
Taboo
Girl (uncredited)
1978
The Adventures of Picasso
Dolores
1980
Love
Lena
1982
Som ni behagar
TV movie
1982
Gräsänklingar
Nina
1982
Fanny and Alexander
Rosa (The Ekdahl house)
(by Ingmar Bergman)
1983
After the Rehearsal
Anna Egerman (older)
TV movie
1985
Wallenberg: A Hero's Story
Marta
TV movie
1986
Glasmästarna
Lady with Dog
TV movie
1986
Flight North
Karin
1986
A Matter of Life and Death
Nadja Melander
1987
Komedianter
Ann
TV movie
1988
The Unbearable Lightness of Being
Sabina
Nominated—Golden Globe Award for Best Supporting Actress
Nominated—National Society of Film Critics Award for Best Supporting Actress
1988
Friends
Sue
1989
S/Y Glädjen
Annika Larsson
1989
Enemies, A Love Story
Masha
New York Film Critics Circle Award for Best Supporting Actress
Nominated—Academy Award for Best Supporting Actress
Nominated—National Society of Film Critics Award for Best Supporting Actress
1990
Hebriana
Lena
TV movie
1990
Havana
Bobby Duran
1993
Romeo Is Bleeding
Mona Demarkov
Nominated—Chicago Film Critics Association Award for Best Supporting Actress
1993
Mr. Jones
Dr. Elizabeth Bowen
1995
The Night and the Moment
The Marquise
1996
Night Falls on Manhattan
Peggy Lindstrom
1998
Polish Wedding
Jadzia
1998
Hamilton
Tessie
1999
Mystery Men
Dr. Anabel Leek
1999
The Ninth Gate
Liana Telfer
(by Roman Polanski)
2000
Chocolat
Josephine Muscat
Nominated—BAFTA Award for Best Actress in a Supporting Role
Nominated—European Film Award for Best Actress
Nominated—Screen Actors Guild Award for Outstanding Performance by a Cast in a Motion Picture
2001
Ignition
Judge Faith Mattis
2002
Queen of the Damned
Maharet
2002
Darkness
Maria
2003
The United States of Leland
Marybeth Fitzgerald
2003
Hollywood Homicide
Ruby
2005
Casanova
Andrea
2005
Bang Bang Orangutang
Nina
2007
Awake
Lilith Beresford
2008
The Reader
Rose Mather / Ilana Mather
2010
Remember Me
Diane Hirsch
2012
The Hypnotist
Simone Bark
2013
The Devil You Know
Kathryn Vale
2013
Night Train to Lisbon
Older Estefânia
2017
Maya Dardel
Maya Dardel
Won—Best Actress award at the Prague Independent Film Festival.[13][14]
2018
The Artist's Wife[15]
Claire Smythson
Post-production
Television
Year
Title
Role
Notes
2001
Hamilton
Tessie
2002-2006
Alias
Irina Derevko
27 episodes
Nominated—Primetime Emmy Award for Outstanding Supporting Actress in a Drama Series (2003)
Nominated—Satellite Award for Best Supporting Actress - Television Series (2003, 2004)
2010
Law & Order: Special Victims Unit
Ingrid Block
Episode: "Confidential"
2014—2015
Welcome to Sweden
Viveka Börjesson
20 episodes
2016
Vinyl
Mrs. Fineman
3 episodes
2017
Riviera
Irina Atman
Main role
2017
Mindhunter
Annaliese Stilman
[ Source: Wikipedia ]