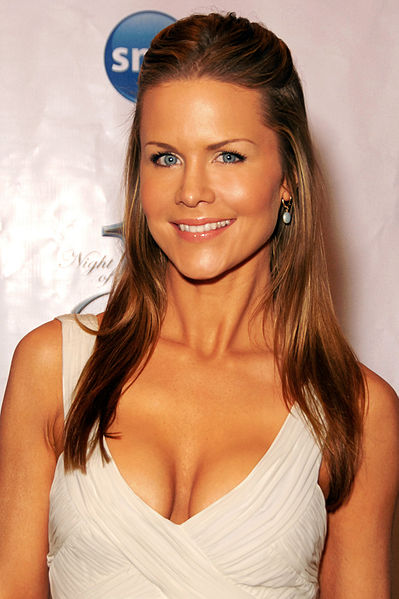 Josie Davis
Birth name:
Josie Rebecca Davis
Born:
January 16, 1973
Age:
50
Birthplace:
Los Angeles, California, U.S.
Popularity:

Please login to contact Josie Davis...
Biography
Josie Rebecca Davis (born January 16, 1973) is an American actress, best known for her role as Sarah Powell in the television sitcom Charles in Charge from 1987 to 1990.
Davis began her career acting in commercials at the age of three years. She played Sarah Powell on
Charles in Charge
for four seasons. Sarah Powell was a quiet, bookish character, and after
Charles in Charge
wrapped, Davis had a difficult time shedding that image and getting people to forget the character she created and to see her as pretty.
Beginning as a teenager, Davis studied acting with the Brooklyn-born Paul E. Richards—Lee Strasberg's "right-hand man" at the Actors Studio in the 1950s. At 24, she auditioned and became a member of Actors Studio. At the time, the judges were Martin Landau, Mark Rydell, and Shelley Winters. Josie was one of only two performers selected to join that year.
Davis was cast as Camille Desmond on Beverly Hills, 90210 in 2000. She then was cast in the other Aaron Spelling show, Titans opposite Victoria Principal and Yasmine Bleeth.
Her other television credits include working opposite Clifton Collins Jr. on Fear Itself, with David Spade on Rules of Engagement, with James Woods on Shark, Ghost Whisperer, a Christmas episode of Two and a Half Men, NCIS, CSI: Miami, Burn Notice, Chuck, Bones, and a recurring role opposite Skeet Ulrich and Gary Sinise on CSI: NY.
Read more...
Films
After Titans came to an end, Davis left TV to pursue film work. She acted in films, including the Nicolas Cage-directed Sonny, opposite James Franco and Scott Caan, The Trouble with Romance with Kip Pardue, and Kalamazoo? with Mayim Bialik, among other indies.
She was also the lead actress in the television movie The Perfect Assistant, which premiered on Lifetime on January 2, 2008.
She also did thrillers The Perfect Student with Natasha Henstridge, Seduced by Lies with Lochlyn Munro and Marc Menard, Past Obsession with Lochlyn Munro and comedy Stealing Roses with John Heard and Cindy Williams. Davis not only is an actress, but has ventured into producing and is also a screenwriter.
Filmography
Year
Title
Role
Notes
2017
Locked In
Ann Marie
TV Movie for Lifetime
2017
Secrets of My Stepdaughter
Cindy Kent
TV Movie for Lifetime
2016
Backstabbed
Paulette Bolton
TV Movie for Lifetime
2015
The Garden
Anna
Accidental Obsession
Heather
TV Movie for Lifetime
2013
Notes from Dad
April Sutton
TV Movie for Hallmark
Dirty Teacher
Molly Matson
TV Movie for Lifetime
Past Obsessions
Shane Walsh
TV Movie (aired on Lifetime)
2012
Mantervention
TSA Supervisor
The Perfect Student
Tara
TV Movie (aired on Lifetime)
2011
Stealing Roses
Sally
2010
Seduced by Lies
Laurie Colton
TV Movie for Lifetime
The Ascent
Emily Wilks
The Cursed
Mrs. Jimmy Muldoon
2009
The Trouble with Romance
Karen
2008
Twilight
Lucy/Nikki
Short
McBride: Requiem
Ava Fletcher
TV Movie for Hallmark
The Perfect Assistant
Rachel Partson
TV Movie for Lifetime
2007
Chasing Tchaikovsky
Josette
Tranced
Annie Bodie
In The Land Of Merry Misfits
Gwendlyn
Premiere on Tribeca Film Festival
Carolina Moon
Faith Lavelle
TV Movie for Lifetime
2006
Kalamazoo?
Carol Cavanaugh
Be My Baby
Linda
2005
Blind Injustice
Detective Susan Tyrell
TV Movie for Lifetime
2003
Lotto
Stacey
Short
2002
Sonny
Gretchen
L.A. Law: The Movie
Chloe Carpenter
TV Movie
Psychic Murders
Serafina Dalton
2001
Slammed
Shane Masters
1997
Badge of Fear
Officer Samantha Edwards
1995
Beach House
Sorority Sister
TV filmography
Year
TV Show
Episode
Role
Date
2012
Hollywood Heights
Eddie Feels at Home
Daphne Miller
August 16, 2012
The Double Date
August 9, 2012
The Paparazzi Photo
August 6, 2012
The House Party
August 3, 2012
Melissa's Birthday
July 25, 2012
Eddie & Chloe Meet Oz
July 24, 2012
The Music Video Rehearsal
July 17, 2012
The Songwriting Contest
July 13, 2012
Loren Gets Lost
July 12, 2012
The Announcement
July 11, 2012
2011
Breakout Kings
One For Money
Kate Lavin
May 1, 2011
2010
Chuck
Chuck Versus First Class
Serena
January 24, 2010
2009
CSI: NY
Manhattanhenge
Calliope Eckhart
November 25, 2009
Cuckoo's Nest
November 18, 2009
Bones
The Beautiful Day in the Neighborhood
Paula Lindbergh
October 8, 2009
CSI: NY
Lat 40°47′N/Long 73°58′W
Calliope Eckhart
October 7, 2009
Burn Notice
Shot in the Dark
April Luna
July 23, 2009
2008
Fear Itself
Family Man
Kathy Mahoney
June 19, 2008
Rules of Engagement
Optimal Male
Clarissa
April 28, 2008
2007
Shark
No Holds Barred
Kelly Abbott
October 28, 2007
Ghost Whisperer
The Cradle Will Rock
Sally Jenkins
February 16, 2007
2005
Two and a Half Men
Santa's Village of the Damned
Sandy
December 19, 2005
Eve
The Lyin', the Witch and the Wardrobe
Melanie Van Lowe
October 13, 2005
Living with Fran
Sweet Sixteen Again with Fran
Laurie Dean
September 30, 2005
2004
NCIS
Reveille
Marta
May 25, 2004
CSI: Miami
Money for Nothing
Mary Donlan
March 1, 2004
In the Game
Pilot
Brandee
2003
The Division
Oh Mother, Who Art Thou?
Anna Marks
January 12, 2003
2002
Philly
Thanks for the Mammaries
Lili Alexander
April 23, 2002
2000
Titans
13 episodes
Laurie Williams
October 4, 2000 - December 18, 2000
Beverly Hills 90210
I'm Happy for You… Really
Camille Desmond
May 10, 2000
And Don't Forget to Give Me Back My Black T-Shirt
April 19, 2000
The Easter Bunny
April 5, 2000
Spring Fever
March 22, 2000
Ever Heard the One About the Exploding Father?
March 15, 2000
I Will Be Your Father Figure
March 8, 2000
Eddie Waitkus
March 1, 2000
Doc Martin
February 16, 2000
The Final Proof
February 9, 2000
Fertile Ground
January 26, 2000
1999
Profiler
Las Brisas
Anne Lofton
May 15, 1999
L.A. Heat
In Harm's Way
Wendy
May 10, 1999
Mortal Kombat: Conquest
The Serpent and the Ice
Peron
February 26, 1999
Nash Bridges
Superstition
Ursula
February 12, 1999
The Love Boat: The Next Wave
The Love Floats: St. Valentine's Day Massacre
February 12, 1999
1998
Baywatch
The Edge
Liz Brooks
December 14, 1998
Arliss
Behind Every Great Client...
Baseball Wife
August 9, 1998
Beverly Hills 90210
Crimes and Misdemeanors
Madeline
February 4, 1998
1996
The Young and the Restless
Grace Turner #1
1996-1997
High Tide
Code Name: Scorpion
Tina Chapman
March 9, 1996
1994
Silk Stalkings
Head'N'Tail
Luanna Baskin
September 20, 1994
Dead at 21
Hotel California
Earth
August 24, 1994
1992
Silk Stalkings
Love-15
Alex
November 15, 1992
1987
Charles in Charge
104 episodes
Sarah Powell
January 3, 1987 - November 10, 1990
[ Source: Wikipedia ]