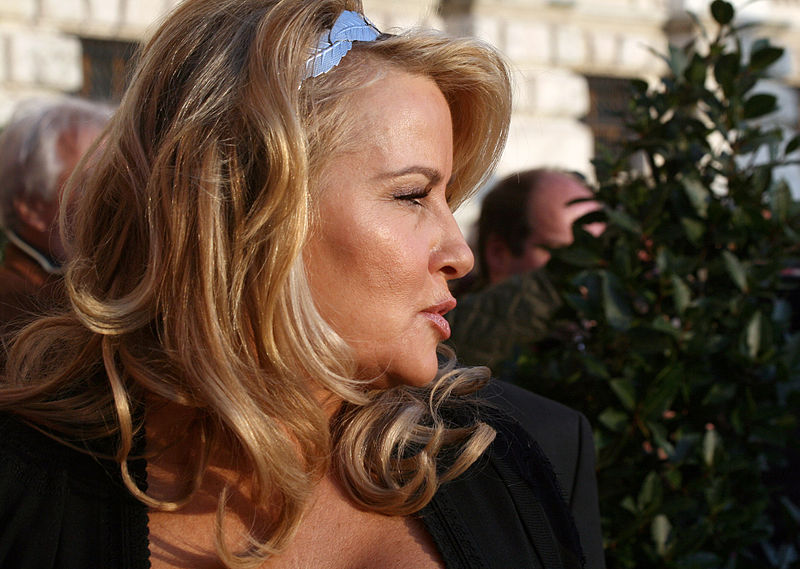 Jennifer Coolidge
Birth name:
Jennifer Audrey Coolidge
Born:
August 28, 1961
Age:
60
Birthplace:
Boston, Massachusetts, U.S.
Popularity:

Please login to contact Jennifer Coolidge...
Biography
Jennifer Audrey Coolidge (born August 28, 1961) is an American actress, comedian and activist. She is best known for playing Stifler's Mom in the American Pie films, Sophie in the CBS sitcom 2 Broke Girls, Bobbie in the sitcom Joey, Paulette in Legally Blonde (2001) and its sequel and Hilary Duff's character's evil stepmother in A Cinderella Story (2004). She is also a regular actor in Christopher Guest's mockumentary films. Coolidge is an alumna of The Groundlings, an improv and sketch comedy troupe based in Los Angeles.[2]
Coolidge was born in Boston, Massachusetts, to Gretchen (née Knauff) and Paul Constant Coolidge, a plastics manufacturer.[3] She was raised in Norwell, Massachusetts, and is one of four children, with a brother, Andrew, and two sisters, Elizabeth and Susannah. Coolidge attended Norwell High School, the Cambridge School of Weston, Emerson College in Boston and the American Academy of Dramatic Arts in New York City.[4]
Read more...
Career
Coolidge is known for her supporting roles in several comedy movies and guest roles on television.[5] She made her first appearance on TV in the Seinfeld episode "The Masseuse". Before gaining recognition, she received small roles, appearing in such films as A Bucket of Blood, Plump Fiction, and A Night at the Roxbury. She also voiced Luanne's beauty school teacher Miss Kremzer in a recurring role on King of the Hill.
In 1999, Coolidge got her big break playing Jeanine Stifler, or "Stifler's mom" in American Pie. The film was a box-office hit and took in a gross worldwide revenue of $235,483,004.[6][7] In 2001, she reprised her role in American Pie 2. Later in that same year, she had a supporting role in Legally Blonde as Paulette Bonafonté the manicurist. Legally Blonde was a box-office hit, grossing US$96 million domestically.[8] The film's box-office success led to her reprising the role in its 2003 sequel, Legally Blonde 2: Red, White & Blonde, but the movie was not as financially successful as the first film and generated mostly negative reviews.[9] In 2003, she again played Jeanine Stifler in American Wedding.
In 2003, she played the protagonist's agent Luise in Testosterone filmed in Argentina starring David Sutcliffe as Dean Seagrave and Antonio Sabato Jr as Pablo.
In 2004, she had a supporting role in the romantic comedy A Cinderella Story playing Hilary Duff's character's vain, self-absorbed stepmother. The film went on to become a moderate box office hit despite negative critical reviews.[10][11]
Coolidge in 2005
Coolidge nearly received the role of Lynette Scavo on Desperate Housewives, but it eventually went to Felicity Huffman.[12] From 2004 to 2006, Coolidge had a role in the NBC comedy series Joey as Joey's oversexed agent Roberta "Bobbie" Morganstern. During its second season, she went from a recurring character to a more prominent role, appearing in 37 out of 46 episodes in the series. NBC officially canceled the series in May 2006 citing low ratings.[13][14] She originally starred in an episode of Friends in its final season as Amanda, a tactless and uninhibited wannabe whom Phoebe and Monica try to shake off. Prior to her Friends appearance she was a regular on She TV, a very short-lived sketch comedy that also featured Nick Bakay, Elon Gold, Simbi Khali, and Linda Kash. She also has appeared on According to Jim, playing Jim's sister and in an episode of Sex and the City, and on Frasier as Frederica, Martin Crane's new physical therapist. Coolidge also appeared in the kiddie comedy Slappy and the Stinkers, and as the voice of Aunt Fanny in the animated feature Robots. The film was accompanied by an original short animated film based on Robots, titled Aunt Fanny's Tour of Booty; in which she reprised her role.[15][16]
In late 2005, Coolidge was invited to join the Academy of Motion Picture Arts and Sciences.[17] In 2006, she guest starred on an episode of Top Chef, and played as Adam Sandler's wife's friend, Janine, in the comedy film Click. From 2000 to 2006 she played comic parts in the improv mockumentaries Best in Show, A Mighty Wind, and For Your Consideration, all directed by Christopher Guest.[18]
She appeared in the 2006 film Date Movie as a spoof of Barbra Streisand's Meet the Fockers character. The film received unfavorable critic reviews and Rotten Tomatoes ranked the film 77th in the 100 worst reviewed films of the 2000s, with a rating of 6%.[19] However, Variety did praise Coolidge for providing a few bright moments with a spot-on spoof of Barbra Streisand, but was otherwise unimpressed describing the film as "padded and repetitious".[20]
Epic Movie, released in 2007 and made by the same people behind Date Movie, was the first movie in which she received a starring role. In the film she played the "White Bitch" (the White Witch) of Gnarnia (Narnia), a lampoon of the Disney and Walden Media film The Chronicles of Narnia: the Lion, the Witch and the Wardrobe. A. O. Scott of The New York Times called the film "irreverent and also appreciative, dragging its satiric prey down to the lowest pop-cultural denominator" and added, "The humor is coarse and occasionally funny. The archly bombastic score . . . is the only thing you might call witty. But happily, Jennifer Coolidge and Fred Willard show up . . . to add some easy, demented class."[21]
During 2007, Coolidge appeared on Thank God You're Here and The Closer, on TNT. In 2008, she guest starred on The Secret Life of the American Teenager as a call girl.[5] In the second season, she was a frequently recurring character, now playing the fiance of Ben's dad and future stepmother of Ben. She also starred in the 2008 Lifetime Television film Living Proof. Coolidge appeared in the 2008 film Soul Men as Rosalee.[22][23]
In 2009, Coolidge took a dramatic role in Bad Lieutenant: Port of Call New Orleans as Genevieve McDonagh. The film premiered on September 9, 2009 at the 66th Venice International Film Festival, and It opened in general release in the United States on November 20, 2009.[24] Also In 2009, she starred alongside Heather Graham and Amber Heard in ExTerminators, a black comedy about a set of women who form their own "silent revolution", wreaking havoc on the abusive men in their lives.
In 2010, Coolidge appeared in another film starring Hilary Duff titled Beauty & the Briefcase, an ABC Family television film produced by Image Entertainment that originally aired on April 18, 2010.[25] It was based on the novel Diary of a Working Girl by Daniella Brodsky.[26] The film was released on DVD and Blu-ray in the US on February 8, 2011.[27]
Coolidge at the American Reunion premiere in Paris, March 2012
It was reported in October 2008 that Universal Pictures was planning to produce a third theatrically released sequel to American Pie.[28] In April 2010, the film entered pre-production, and in May 2011, Coolidge signed on to reprise her role of Stifler's Mom.[29] American Reunion opened in North America on April 6, 2012.
In June 2011, Coolidge curated a Blake Nelson Boyd art show in New Orleans.[30] In the same month Coolidge began to do standup comedy. She hosted the "Women in Film" at the Beverly Hills Hotel. It went over so well, that she decided to take an act on the road. Coolidge ended up doing shows all over the country and the world for two years, Scotland included.[31] Coolidge told Australian radio show The Kyle & Jackie O Show that she would be touring Australia as part of her Yours for the Night stand-up tour.[32]
In October 2011, Coolidge began a recurring role in the CBS sitcom 2 Broke Girls as Sophie Kaczynski, a Polish neighbor of the two lead characters.[33] She was promoted to main cast up until the shows cancellation in 2017.[34]
During 2013, additional voice cast members were announced for B.O.O.: Bureau of Otherworldly Operations, including Coolidge as Carol Sue, a transitions-relations officer.[35] Film distributor 20th Century Fox set November 6, 2015 for the film's release date (which was moved a few months later up to September 25),[36] In 2014, Los Angeles Times reported that the film had been delayed again, with no replacement release date set.[37] It was reported the film's concept has gone back to development.[38] Also in 2013, Coolidge and actress Megan Mullally joined the cast of Alexander and the Terrible, Horrible, No Good, Very Bad Day; Coolidge playing Ms. Suggs, the driving instructor.[39] The film was released in North America on October 10, 2014.
The next year, she had a voice role in Hell and Back, and had a cameo in Alvin and the Chipmunks: The Road Chip.[40]
In 2017, Coolidge lent her voice to portray Mary Meh in The Emoji Movie.[41]
Personal life
Interior scenes from The Beguiled were filmed in Coolidge's New Orleans home.[42][43][44][45][46][47]
Her charitable work has included a history of supporting AIDS assistance[48] and animal rights.[49]
Filmography
Film
Year
Title
Role
Notes
1995
Not of this Earth
Nurse
1995
A Bucket of Blood
Stupid girl
1995
Love and Happiness
Jeringir
1997
Plump Fiction
Sister Sister
1997
Trial and Error
Jacqueline "Jackie" Turreau
1998
Slappy and the Stinkers
Harriet
1998
A Night at the Roxbury
Hottie police officer
1998
Brown's Requiem
Helen
1999
Austin Powers: The Spy Who Shagged Me
Woman at football game
1999
American Pie
Jeanine Stifler
2000
The Broken Hearts Club: A Romantic Comedy
Betty
2000
Best in Show
Sherri Ann Cabot
2001
Down to Earth
Mrs. Belinda Wellington
2001
Legally Blonde
Paulette Bonafonté
2001
Pootie Tang
Ireenie
2001
American Pie 2
Jeanine Stifler
Uncredited Cameo
2001
Zoolander
American designer
2003
A Mighty Wind
Amber Cole
Florida Film Critics Circle Award for Best Ensemble Cast
Nominated - Gold Derby Award for Ensemble Cast
Nominated - Phoenix Film Critics Society Award for Best Ensemble Acting
2003
As Virgins Fall
Janice Denver
2003
Carolina
Aunt Marilyn
2003
Legally Blonde 2: Red, White & Blonde
Paulette Bonafonté Parcelle
2003
American Wedding
Jeanine Stifler
2003
Testosterone
Louise
2004
A Cinderella Story
Fiona Montgomery
Teen Choice Award for Choice Movie Sleazebag
2004
Lemony Snicket's A Series of Unfortunate Events
White-Faced Woman #1
2005
Robots
Aunt Fanny (voice)
2006
Date Movie
Roz Fockyerdoder
Nominated - The Stinkers Bad Movie Award for Most Annoying Fake Accent: Female
2006
American Dreamz
Martha Kendoo
2006
Click
Janine
2006
For Your Consideration
Whitney Taylor Brown
Nominated - Gotham Award for Best Ensemble Performance
2007
Epic Movie
The White Bitch of Gnarnia
2008
Dr. Dolittle: Tail to the Chief
Daisy (voice)
Direct-to-DVD
2008
Foreign Exchange
Principal Lonnatini
2008
Igor
Jaclyn/Heidi (voice)
2008
Soul Men
Rosalee
2009
ExTerminators
Stella
2009
A Good Funeral
Helen
2009
Bad Lieutenant: Port of Call New Orleans
Genevieve McDonagh
2009
Gentlemen Broncos
Judith Purvis
2010
The Jack of Spades
Monica
2011
Mangus!
Cookie Richardson
2012
American Reunion
Jeanine Stifler
2013
Austenland
Miss Elizabeth Charming
2014
Alexander and the Terrible, Horrible, No Good, Very Bad Day
Ms. Joan Suggs
2015
Hell and Back
Durmessa (voice)
2015
Alvin and the Chipmunks: The Road Chip
Mrs. Johanne Price
Cameo[40]
2016
Mascots
Jolene Lumpkin
2017
The Emoji Movie
Mary Meh (voice)
Television
Year
Title
Role
Notes
1993
Seinfeld
Jodi
Episode: "The Masseuse"
1994
She TV
Various
1995
The Monroes
Marcia Kelly
Episode: "Educating Billy"
1996
Saturday Night Special
Various
1997-1999
King of the Hill
Miss June Kremzer (voice)
4 episodes
1998
Alright Already
Rhonda
Episode: "Again with the Hockey Player: Part 1"
1998
Rude Awakening
Sue
2 episodes
1998
Men in White
N/A
Television film
1999
Ladies Man
Helen
Episode: "Neutered Jimmy"
2001
The Andy Dick Show
Nancy Bunting
Episode: "Kid Krist"
2001
Frasier
Frederica
Episode: "Forgotten But Not Gone"
2001
Sketch Pad
The Groundlings
2002
Do Over
Gwen Brody
Episode: "Cold War"
2002
Women vs. Men
Shelly
Television film
2003-2004
According to Jim
Roxanne
3 episodes
2003
Sex and the City
Victoria
Episode: "The Perfect Present"
2003
Friends
Amanda Buffamonteezi
Episode: "The One with Ross's Tan"
2004
Game Over
Ramona (voice)
Episode: "Into the Woods"
2004
MADtv
Herself/Ivanka
Season 9, episode 23
2004-2006
Joey
Roberta "Bobbie" Morganstern
Main cast; 46 episodes
2004
Father of the Pride
Tracy (voice)
Episode: "And the Revolution Continues"
2004
As Told by Ginger
Nikki Laporte (voice)
Episode: "The Wedding Frame"
2005
Hopeless Pictures
Traci (voice)
3 episodes
2006
Comic Relief 2006
"Fur"
Stand-up comedy benefit concert in the wake of Hurricane Katrina
2007-2009
Nip/Tuck
Candy Richards/CoCo
3 episodes
2008-2009
Yin Yang Yo!
Coop's mother (voice)
4 episodes
2008
The Closer
Angie Serabian
Episode: "Dial M for Provenza"
2008-2012
The Secret Life of the American Teenager
Betty
35 episodes
2008
Rick & Steve: The Happiest Gay Couple in All the World
Fannie Mae (voice)
Episode: "Mom Fight"
2008
Living Proof
Tish
Television film
2009
Kath & Kim
Lenore
Episode: "Celebrity"
2009
Party Down
Bobbie St. Brown
2 episodes
2010
2012
The Life & Times of Tim
Various voices
3 episodes
2010
Beauty & the Briefcase
Felisa McCollin
Television film
2010-2013
Hero Factory
Daniella Capricorn
5 episodes
2011-2014
Fish Hooks
Ms. Lynne Lips (voice)
Recurring
2012
The Game
Marissa
Episode: "Skeletons"
2012
Napoleon Dynamite
Mrs. Jane Moser (voice)
2 episodes
2012-2017
2 Broke Girls
Sophie Kachinsky
Recurring (season 1); main cast (season 2-6) 122 episodes
2012-2016
Gravity Falls
"Lazy" Susan Wentworth (voice)
Recurring
Nominated - Behind the Voice Actors Award for Best Female Vocal Performances in a Television Series in a Supporting Role — Comedy/Musical (2013)
2015
Glee
Whitney S. Pierce
Recurring (season 6)
2015
Inside Amy Schumer
Cleopatricia Sherman
Episode: "Babies and Bustiers"
2015
TripTank
Mom (voice)
Episode: "Steve's Family"
2017
American Dad!
Caroline (voice)
Episode: "A Whole Slotta Love"
2018
The Loud House
Myrtle (voice)
Episode: "Insta-gran"
Stage
Year
Title
Role
Venue
Notes
2001-2002
The Women
Edith Potter
American Airlines Theatre
77 performances
2010
Elling
Reidun Nordsletten / Gunn / Poet / Johanne
Ethel Barrymore Theatre
9 performances
Nominated - Drama Desk Award for Outstanding Featured Actress in a Play
In popular culture
Due to her role in Legally Blonde, Coolidge's voice is the subject of a popular impression of the actress, phrases often said when impersonating her include; "You look like the fourth of July!" and "Makes me wanna hot dog reel bad....". The most famous example of this impression would be Ariana Grande's impression of her on The Tonight Show Starring Jimmy Fallon in May 2018. Coolidge has reacted positively to Grande's impression on Instagram saying; "I'm always so impressed when someone can do a great impression of me but @arianagrande is so good on @fallontonight, I'm afraid she is going to introduce me to myself! ❤️
[ Source: Wikipedia ]