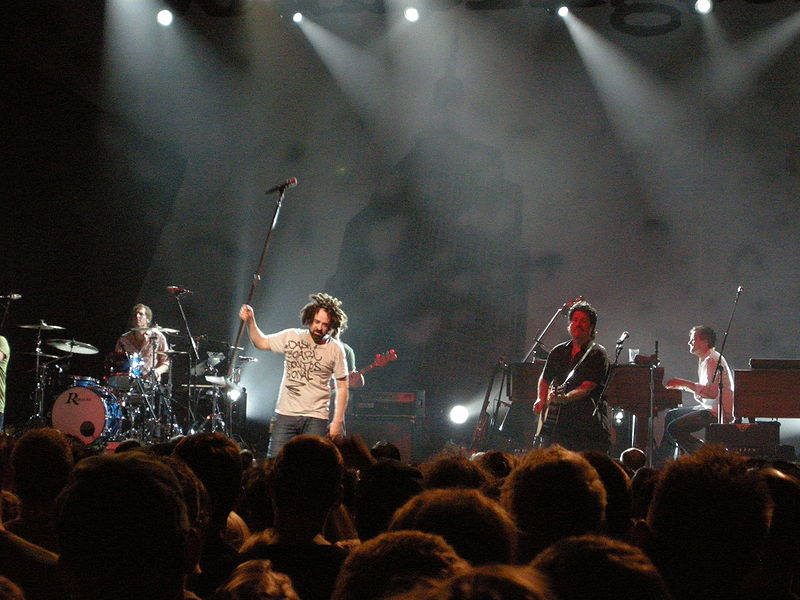 Counting Crows
Born:
August 1, 1964
Age:
58
Popularity:

Please login to contact Counting Crows...
Biography
Counting Crows is an American rock band from Berkeley, California, formed in 1991.[1] The band consists of Adam Duritz (lead vocals, piano), David Bryson (guitar), Charlie Gillingham (keyboards, piano, accordion), Dan Vickrey (lead guitar), David Immerglück (lead guitar, pedal steel, mandolin, bass guitar), Jim Bogios (drums, percussion) and Millard Powers (bass guitar, piano, guitar).
Counting Crows gained popularity following the release of its debut album, August and Everything After (1993), which featured the hit single "Mr. Jones". They have sold more than 20 million albums worldwide and received a 2004 Academy Award nomination for their song "Accidentally in Love", which was included in the film Shrek 2.[2][3][4]
The band's influences include Van Morrison, R.E.M., Bob Dylan, and The Band.[5][6][7][8]
Singer Adam Duritz and guitarist David Bryson began playing San Francisco coffeehouses together, performing under the name Counting Crows. The name was taken from
One for Sorrow
, a British divination nursery rhyme about the superstitious counting of magpies, a member of the crow family. Duritz heard the rhyme in the film
Signs of Life
, which starred his close friend, actress
Mary-Louise Parker
.[9][10] Developing a following in the Bay Area and deciding to expand the band, Duritz and Bryson kept the name as they added new members.
The most common modern version of the rhyme:
One for sorrow,
Two for joy,
Three for a girl,
Four for a boy,
Five for silver,
Six for gold,
Seven for a secret never to be told.
The rhyme is featured in the third verse of the song "A Murder of One" on the band's début album August and Everything After.
Read more...
History
1990s
1991-92: Formation and early years
Adam Duritz, former member of the San Francisco Bay Area band The Himalayans, and producer/guitarist David Bryson formed Counting Crows in San Francisco in 1991.[11] They began as an acoustic duo, playing gigs in and around Berkeley and San Francisco. Another friend, guitarist David Immerglück, played with them from time to time, though he was not an official member of the group, and experimented with other musicians in the area. As the emerging band recorded some demos, and as other musicians joined the duo to make a full band, Immerglück recorded with the band on some of the songs for their first album. He declined joining the band at the time, because of his membership in two other locally popular bands, Monks of Doom and Camper Van Beethoven.[12] By 1993, the band had grown to a stable lineup of Duritz as vocalist, occasional pianist, and primary songwriter, Bryson on guitar, Matt Malley playing bass guitar, Charlie Gillingham on keyboards, and Steve Bowman as drummer, and the band was a regular in the Bay Area scene. The same year, the band signed to Geffen Records. On January 16, 1993,[13] the band, still relatively unknown, filled in for Van Morrison at the Rock & Roll Hall of Fame ceremony, and was introduced by an enthusiastic Robbie Robertson.[6] At the ceremony, they played a cover of Van Morrison's "Caravan".[14]
Before signing to Geffen, the band recorded demo versions of a number of songs, known as the 'Flying Demos'. These later surfaced among the Counting Crows fanbase. Tracks include "Rain King", "Omaha", "Anna Begins", "Einstein on the Beach (For an Eggman)", "Shallow Days", "Love and Addiction", "Mr. Jones", "Round Here", "40 Years", "Margery Dreams of Horses", "Bulldog", "Lightning", and "We're Only Love".[15] Some songs from the tape later resurfaced (in reworked versions) on the band's debut album August and Everything After.
Discography
Main article: Counting Crows discography
Studio albums
August and Everything After (1993)
Recovering the Satellites (1996)
This Desert Life (1999)
Hard Candy (2002)
Saturday Nights & Sunday Mornings (2008)
Underwater Sunshine (or What We Did on Our Summer Vacation) (2012)
Somewhere Under Wonderland (2014)
[ Source: Wikipedia ]