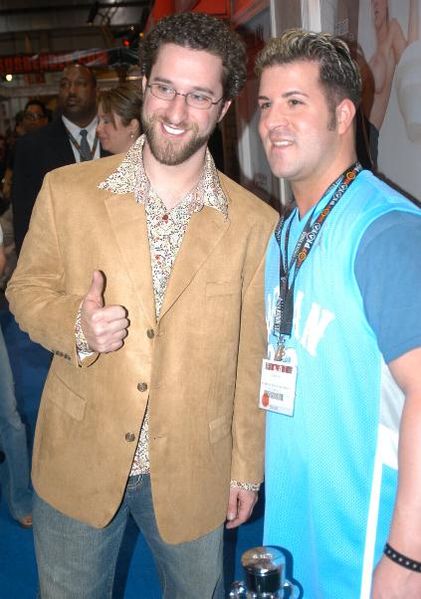 Dustin Diamond
Birth name:
Dustin Neil Diamond
Born:
January 7, 1977
Age:
46
Birthplace:
San Jose, California, U.S.
Popularity:

Please login to contact Dustin Diamond...
Biography
Dustin Neil Diamond (born January 7, 1977)[1] is an American actor, musician, director, and stand-up comedian widely known for his role as Samuel "Screech" Powers in the television shows Saved by the Bell; Good Morning, Miss Bliss; Saved by the Bell: The College Years; and Saved by the Bell: The New Class.
Diamond was born to a Jewish family[2] on January 7, 1977, in San Jose, California.[3] His father taught digital electronics for a computer-processing firm and his mother was a computer operator for Pacific Bell.[4]
He attended Zion Lutheran School.[5]
Read more...
Career
Diamond began acting as a child. He became known for playing the nerdy and lovable Samuel "Screech" Powers on the television show Saved by the Bell, a role he played for close to thirteen years from its beginning as Good Morning, Miss Bliss (1988-89) through its final incarnation, Saved by the Bell: The New Class (1994-2000). Continuing the series into college, Saved by the Bell: The College Years shows most of the cast transplanted into not only the same college, but also the same college dormitory, where Screech continued his typical misadventures. The College Years was canceled after one season. Diamond returned to Bayside High as Principal Belding's assistant in The New Class episodes, remaining with the show until its cancellation.
Sex tape
In 2006, Diamond directed and released his own sex tape, Screeched - Saved by the Smell.[6][7][8] However, Diamond stated in an interview on "Where Are They Now?" of the Oprah Winfrey Network that he was not actually in the sex tape; rather, a "stunt double" had his likeness added onto it.[9]
Appearances after Saved by the Bell
Diamond began doing stand up comedy after the end of Saved by the Bell, and has toured on and off ever since. He has also been featured on a number of game and reality shows including The Weakest Link, and Celebrity Boxing 2. Diamond has also made several cameo appearances in films, including appearances in Dickie Roberts: Former Child Star in 2003 and in Made in 2001. In 2009, he also played the part of "Alumnus Guy #1" in American Pie Presents: The Book of Love. In 2010, he had a supporting role in the sports comedy Tetherball: The Movie. In it, Diamond plays the Foul Mouths' down-on-his-luck coach. In 2014 Diamond played Bernardo, the castle guard, in the partially animated science fiction comedy Hamlet A.D.D..[10]
In 2007 Diamond was a cast member of the fifth season of Celebrity Fit Club. During his run on the show, he came into conflict with former American Idol finalist Kimberley Locke, country singer Cledus T. Judd, rapper Da Brat, the program's host, Ant, and the program's trainer, former USMC sergeant Harvey Walden IV. Tensions between Diamond and the rest of the celebrities culminated in an open confrontation during which Diamond initially challenged Ant to "physical combat" and subsequently issued the challenge to Harvey Walden after Walden defended Ant.[11]
Diamond appeared as a contestant on Hulk Hogan's Celebrity Championship Wrestling, broadcast on CMT. A huge fan and supporter of professional wrestling, Diamond was previously involved with Memphis Championship Wrestling in March and April 2000. He has had many wrestling involvements since then as a referee, manager and even a tag team partner.[citation needed]
Behind the Bell
In 2009, Diamond published an inside story of the show's cast and crew, from his point of view, titled Behind the Bell.[12] The book paints an unflattering portrait of many of Diamond's colleagues and their alleged, sordid backstage behavior; some of these claims have been refuted by Diamond's colleagues and questioned by critics.[13] Diamond also alleges, in the book, that he has had sex with 2,000 women, one of them NBC's VP of children's programming, Linda Mancuso, who was 18 years his senior.[14][15] Diamond's former co-stars were highly critical of the book and Mark-Paul Gosselaar stated that his own experiences with the show were positive and did not see where any of the book's negative claims actually occurred on set.
Diamond later commented on the book's content in a December 2013 appearance on a "Where Are They Now" segment on the OWN Network in which he stated that the book was ghost written by an author who simply interviewed him and compiled the book from his answers. He claimed that many parts of the book, such as allegations of teen sex and drug use, were fabricated from very minor statements he made during the interviews, such as his remark, "Yeah, there were a bunch of kids on set with hormones so...what do you think?"[16]
Other work
He is also a musician and formed an alternative metal band called Salty The Pocketknife. Diamond played bass and wrote much of the music as well. Shortly after recording their first album, the band split up due to internal disagreements.[17] Diamond has also appeared on truTV's The Smoking Gun Presents: World's Dumbest... as a commentator.
He appeared as a host at the 12th annual Gathering of the Juggalos.[18]
In August 2013, Diamond became a housemate on the twelfth series of Celebrity Big Brother. He became the fourth housemate to be evicted on Day 16.
Personal life
Diamond currently resides in Port Washington, Wisconsin.[19] He married longtime girlfriend Jennifer Misner in 2009, though the two have since separated.[20][21]
On December 26, 2014, Diamond was arrested in Ozaukee County, Wisconsin, for possession of a switchblade knife, which he was alleged to have pulled during a bar altercation in which a man was stabbed.[22][23][24][25] Amanda Schutz, his fiancée, also faced a charge of disorderly conduct in relation to the incident,[26] was found guilty and fined $500.[27] On May 29, 2015, Diamond was convicted of two misdemeanors, carrying a concealed weapon and disorderly conduct. He was cleared of the most serious charge, recklessly endangering public safety.[28] On June 25, 2015, Diamond was sentenced to four months in prison.[29] He served three months and was released on probation. Diamond's probation agent determined that he had violated the terms of his probation, and he was arrested in May 2016.[30]
Filmography
Year
Title
Role
Other notes
1987
The Price of Life
Young Stiles
American Playhouse
Young Stiles
TV, 1 episode
It's a Living
Young Sonny
TV, 1 episode
Yogi's Great Escape
Chubby Kid (Voice)
TV, 1 episode
1988
Purple People Eater
Big Z
1988-1989
Good Morning, Miss Bliss
Samuel "Screech" Powers
TV, 13 episodes
1989
She's Out of Control
Beach boy
1989-1990
The Wonder Years
Joey Harris / Joey Lapman
TV, 2 episodes
1989-1993
Saved by the Bell
Samuel "Screech" Powers
TV, 82 episodes
1990
The Munsters Today
Rob
TV, 1 episode
1992
Saved by the Bell: Hawaiian Style
Samuel "Screech" Powers
1993
Getting By
Tommy
TV, 2 episodes
1993-1994
Saved by the Bell: The College Years
Samuel "Screech" Powers
TV, 18 episodes
1994
Saved by the Bell: Wedding in Las Vegas
Samuel "Screech" Powers
Credited as Dusty Diamond
1994-2000
Saved by the Bell: The New Class
Samuel "Screech" Powers
TV, 67 episodes
2000
Longshot
Waiter
2001
Made
Himself
2002
Jane White Is Sick & Twisted
Simone
Big Fat Liar
Himself
The Rerun Show
Doctor
TV, 1 episode
Star Dates
himself
TV 1 episode
2003
Pauly Shore Is Dead
Himself
Dickie Roberts: Former Child Star
Himself
2004
Tom Goes to the Mayor
Himself (End Credits)
2005
Duck Dodgers
Xainius the Eternal
TV, 1 episode
13th Grade
Corey
2006
Screeched: Saved by the Smell[6][7]
Himself (also directed)
2007
Celebrity Fit Club
Himself
2008
Our Feature Presentation
Mr. Renolds
2009
Porndogs: The Adventures of Sadie
Buster (voice)[31]
2009
American Pie Presents: The Book of Love
Alumnus Guy #1
2010
Big Money Rustlas
Man in Outhouse
2011
Tetherball: The Movie
Coach McAger
2013
A Dog for Christmas
Fred
Post-production
Captured Hearts
Oliver Jaffe
Filming
Scavenger Killers
Agent Dewayne
Filming
College Fright Night
Professor Donnely
Pre-production
Celebrity Big Brother
Himself
Series 12 housemate
Celebrity Big Brother's Bit on the Side
Himself
Housemate
2014
Hamlet A.D.D.
Bernardo
2016
Joker's Wild
Raynard
2017
Your Pretty Face is Going to Hell
Himself
[ Source: Wikipedia ]