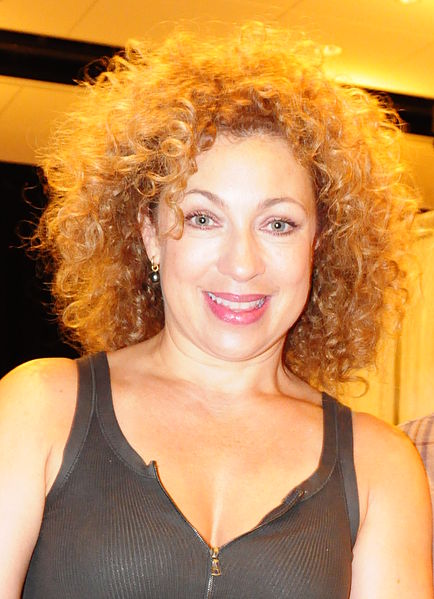 Alex Kingston
Birth name:
Alexandra Elizabeth Kingston
Born:
March 11, 1963
Age:
60
Birthplace:
Epsom, Surrey, England
Popularity:

Please login to contact Alex Kingston...
Biography
Alexandra Elizabeth Kingston[1] (born 11 March 1963)[1] is a British actress, who trained at the Royal Academy of Dramatic Art in London. Active from the early 1980s, Kingston became noted for her television work in both Britain and America in the 1990s, including her portrayal of the title role in the British miniseries The Fortunes and Misfortunes of Moll Flanders (1996) and her regular role as Dr. Elizabeth Corday in the NBC medical drama ER (1997-2004).
Later credits include the recurring role of River Song in the BBC science fiction series Doctor Who (2008-2015), Mrs. Bennet in the ITV1 period-drama fantasy Lost in Austen (2008) and Dinah Lance in The CW's Superhero fiction drama series Arrow (2013-2016).
Kingston was born and brought up in Epsom, Surrey, to Anthony Kingston, an English butcher and his German wife, Margarethe (née Renneisen).[2][3] Kingston's paternal great-great-grandmother was Jewish, an ancestry Kingston explored on the series
Who Do You Think You Are?
[4][5] Kingston's uncle, her mother's younger brother, is actor Walter Renneisen.[6] Her younger sisters are Susie, who is mentally and physically disabled as a result of being deprived of oxygen at birth, and Nicola, a former actress who appeared in the 1996 British TV production of
The Fortunes and Misfortunes of Moll Flanders
, in which Kingston starred.
Kingston was inspired to pursue acting by one of her teachers at Rosebery School for Girls. Kingston auditioned and performed in the Surrey County Youth Theatre production of Tom Jones as Mrs Fitzpatrick, alongside Sean Pertwee as Captain Fitzpatrick and Thwackum played by Tom Davison. She later completed a three-year programme at the Royal Academy of Dramatic Art and went on to join the Royal Shakespeare Company.
Read more...
Career
Kingston has appeared in a number of British-produced television dramas, including Grange Hill, Crocodile Shoes, The Fortunes and Misfortunes of Moll Flanders, The Knock and various guest roles on The Bill.
Kingston's film credits include The Cook, the Thief, His Wife & Her Lover (1989), A Pin for the Butterfly (1994), The Infiltrator (1995), Croupier (1998), Essex Boys (2000), Boudica (Warrior Queen in the USA) (2003) in which she played the eponymous Boudica, Sweet Land (2005) and Crashing (2007).
In September 1997, Kingston gained North American television fame after being cast on the long-running medical drama ER. Her first appearance was in the premiere of the fourth season, the award-winning live episode "Ambush", as British surgeon Elizabeth Corday. Kingston played this role for just over seven seasons, leaving in October 2004 with the season 11 episode, "Fear", after her contract was not renewed. Kingston, who was 41 at the time, criticized the move as ageism, stating that "apparently, I, according to the producers and the writers, am part of the old fogies who are no longer interesting."[7]
In spring 2009, Kingston returned to ER during its 15th and final season for two episodes, "Dream Runner" and the two-hour series finale, "And in the End...".
In November 2005, Kingston guest-starred in the long-running mystery drama Without a Trace in the season 4 episode, "Viuda Negra". The episode was directed by Kingston's former ER castmate Paul McCrane. She played Lucy Costin, a wealthy vacationer from the U.S. whose husband is kidnapped by a Mexican street gang during their honeymoon.
In 2006, Kingston starred as Nurse Ratched, opposite Christian Slater as Randle Patrick McMurphy, in the Garrick Theatre's West End production of One Flew Over the Cuckoo's Nest.[8] Kingston revealed that she auditioned for role of Lynette Scavo on ABC's Desperate Housewives, but was turned away for being too curvy.[9]In a 2006 interview, she admitted to considering and nearly attempting suicide after her separation from her husband Ralph Fiennes.[10]
In 2008, Kingston guest-starred in the fourth series of the long-running science fiction television programme Doctor Who in the two-part story "Silence in the Library"/"Forest of the Dead" as River Song. She reprised the role in fifteen episodes in 2010, 2011, 2012, 2013 and 2015. Kingston says she thought her role was simply a one-off, but was delighted that she would be a returning character.[11] Kingston returned as the character in the 2015 Christmas special, "The Husbands of River Song". It was her first appearance alongside Peter Capaldi's Twelfth Doctor.[12]
In September 2008, Kingston took the part of Mrs. Bennet in ITV's acclaimed four-part production Lost in Austen which is based on Jane Austen's Pride and Prejudice. In October that same year, Kingston appeared in the police procedural drama CSI: Crime Scene Investigation in the season 9 episode, "Art Imitates Life" as Patricia Alwick, a psychiatrist and grief counsellor who helps the team cope with the recent death of CSI member Warrick Brown.
In February 2009, Kingston portrayed Miranda Pond, a defence attorney in two episodes of the legal drama Law & Order: Special Victims Unit. This guest spot reunited Kingston with her former castmate from ER, Mariska Hargitay. In June, Kingston starred as the lead character Ellie Lagden, one of four former convicts in the BBC One drama series Hope Springs until its cancellation in July. In September that year, she had a recurring role in FlashForward, playing Inspector Fiona Banks.
In 2010, Kingston returned to Law & Order: Special Victims Unit in the season 12 episode, "Trophy", which reunited Kingston with her former ER castmate Maria Bello.
In 2011, Kingston was a cast member on British supernatural series Marchlands, portraying Helen Maynard.[13] She also guest-starred in the Grey's Anatomy spin-off Private Practice as Marla Tompkins, a psychiatrist who writes book reviews for newspapers.[14] Kingston appeared in Friedrich Schiller's Luise Miller at the Donmar Warehouse in London.
In early 2013, Kingston appeared in Arrow, playing Professor Dinah Lance, the mother of Laurel and Sara Lance.[15]
In July 2013 Kingston played Lady Macbeth opposite Kenneth Branagh in Macbeth at Manchester International Festival. Her performance was broadcast to cinemas on 20 July as part of National Theatre Live.[16] She reprised the performance with Branagh at the Park Avenue Armory in June 2014. It was her New York stage debut.[17]
In September 2014, Kingston starred as Ruth Hattersley, an analyst working for the Missing Persons Bureau on the ITV mini-series drama Chasing Shadows.[18]
Personal life
Kingston met English actor Ralph Fiennes while they were both students at the Royal Academy of Dramatic Art. They were together for ten years before marrying in 1993. In 1995, Fiennes began an affair with his Hamlet co-star, Francesca Annis, and left Kingston the following year; they were divorced in 1997.[19][20]
At the end of 1998,[19] Kingston married German writer and freelance journalist Florian Haertel, having met the previous year on a blind date arranged by friends;[21] they have a daughter together, Salome Violetta Haertel, born 28 March 2001.[22] Kingston and Haertel separated in 2010.[23][24] Kingston married television producer Jonathan Stamp in a ceremony in Rome on 18 July 2015.[25]
Kingston lives in the United States.[26]
Kingston appeared on the BBC genealogy series Who Do You Think You Are? in September 2012, investigating the lives of her great-grandfather Will Keevil and her four-times great-grandmother, Elizabeth Braham.
Filmography
Year
Film
Role
Notes
1980
The Wildcats of St. Trinian's
Schoolgirl
Uncredited
Grange Hill
Jill Harcourt
TV series (3 episodes)
1987
A Killing on the Exchange
Ellen
TV mini-series (2 episodes)
1988
The Bill
Various
TV series (4 episodes: 1988-1995)
1989
Hannay
Kirsten Larssen
TV series (1 episode: "The Terrors of the Earth")
The Play on One
Daniella
TV series (1 episode: "These Foolish Things")
The Cook, the Thief, His Wife & Her Lover
Adela
1992
Covington Cross
Helen
TV series (1 episode: "Cedric Hits the Road")
1993
Foreign Affairs
Actress
TV film
Soldier Soldier
Ursula Kröhling
TV series (1 episode: "Camouflage")
1994
Woman of the Wolf
Woman
Voice only, TV film
A Pin for the Butterfly
Crocodile Shoes
Caroline Carrison
TV series (5 episodes)
1995
Carrington
Frances Partidge
The Infiltrator
Anna
1996
The Knock
Katherine Roberts
TV series (13 episodes)
The Fortunes and Misfortunes of Moll Flanders
Moll Flanders
TV serial (4 episodes)
Saint-Ex
Chic Party Guest
1997
Weapons of Mass Distraction
Verity Graham
TV film
1997-2004, 2009
ER
Dr. Elizabeth Corday
TV series (Series regular: 160 episodes)
1998
Croupier
Jani de Villiers
1999
This Space Between Us
Peternelle
2000
Essex Boys
Lisa Locke
2003
Boudica
Boudica
Warrior Queen in the U.S.A.
2005
The Poseidon Adventure
Suzanne Harrison
TV film
Sweet Land
Brownie
Without a Trace
Lucy Costin
TV series (1 episode: "Viuda Negra")
2006
Alpha Dog
Tiffany Hartunian
2007
Crashing
Diane Freed
2008
Freezing
Serena Wilson
TV series (1 episode: "Episode No. 1.3")
Lost in Austen
Mrs. Bennett
TV mini-series (4 episodes)
CSI: Crime Scene Investigation
Dr. Patricia Alwick
TV series (1 episode: "Art Imitates Life")
2008, 2010-2013, 2015
Doctor Who
River Song
TV series (15 episodes; Series 4, Series 5-7, 2015 Christmas Special[12])
2009
Sordid Things
Eve Manchester
Hope Springs
Ellie Lagden
TV series: Lead role (8 episodes)
FlashForward
Inspector Fiona Banks
TV series (3 episodes)
2009-2010
Law & Order: Special Victims Unit
Miranda Pond
TV series (4 episodes)
2010
Ben Hur
Ruth
TV series (2 episodes)
Callers
Sheila
2011
Like Crazy
Jackie
Private Practice
Marla Thomkins
TV series (2 episodes)
Marchlands
Helen Maynard
TV series (5 episodes)
Teaching awards 2011
As herself
2012
Upstairs Downstairs
Dr Blanche Mottershead
TV series (6 episodes)
Doctor Who: The Eternity Clock
River Song (voice)
Video game
Who Do You Think You Are?
Herself
TV series, season 9 episode 6: Alex Kingston
2013
NCIS
Miranda Pennebaker
TV series, season 10 episode 8: "Gone"
2013-2016
Arrow
Dinah Lance
TV series (7 episodes)
2014
Chasing Shadows[27]
Ruth Hattersley
TV mini-series (4 episodes)
2015
American Odyssey[28]
Jennifer
TV series (2 episodes)
2016
Blue Bloods
Commander Sloane Thompson
TV series (1 episode) Season 6, Episode 17 - "Friends in Need"
Happily Ever After
Ria
Shoot the Messenger
Mary Foster
TV series (8 episodes)
Crushed
Molly Belgrand
TV film
Transformers: Rescue Bots
Quickshadow (voice)
TV series (5 episodes)
Gilmore Girls: A Year in the Life
Naomi Shropshire
TV series (2 episodes)
2017
Penn Zero: Part-Time Hero
Vlurgen (voice)
TV series (1 episode)
TBA
Bukowski[29]
Katharina Bukowski
2018
A Discovery of Witches
Sarah Bishop
TV series (8 episodes)
Awards and nominations
| Year | Award | For | Win |
| --- | --- | --- | --- |
| 1997 | BAFTA TV Award | Best Actress in The Fortunes and Misfortunes of Moll Flanders | Nominated |
| 1998 | Screen Actors Guild Award | Outstanding Performance by an Ensemble in a Drama Series in ER | Won |
| 1999 | Screen Actors Guild Award | Outstanding Performance by an Ensemble in a Drama Series in ER | Won |
| 2000 | Screen Actors Guild Awards | Outstanding Performance by an Ensemble in a Drama Series in ER | Nominated |
| 2001 | Screen Actors Guild Awards | Outstanding Performance by an Ensemble in a Drama Series in ER | Nominated |
| 2008 | Doctor Who Magazine Award | Best Guest Actress | Won |
| 2009 | TV Land Icon Award | ER | Won |
| 2010 | Doctor Who Magazine Award | Best Supporting Actress | Won |
| 2012 | SFX | Best Actress for Doctor Who | Won |
| 2013 | Anglophenia's Fan Favorites Women's Tournament | Woman of the Year (2013) | Won |
| 2016 | Saturn Awards | Best Guest Star on Television - "The Husbands of River Song" | Nominated |
[ Source: Wikipedia ]