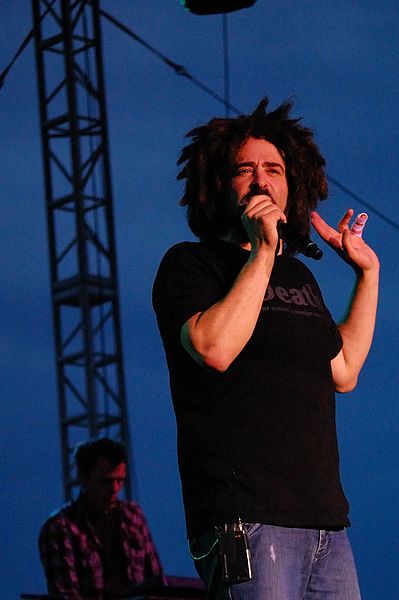 Adam Duritz
Born:
August 1, 1964
Age:
58
Popularity:

Please login to contact Adam Duritz...
Biography
Adam Fredric Duritz (born August 1, 1964) is an American musician, songwriter, record producer, and film producer. He is best known for his role as the frontman for the rock band Counting Crows, of which he is a founding member and principal composer.
Duritz has recorded solo material of his own and has collaborated with other musical acts. He has branched out as the owner of at least two record labels, acting as his own artists and repertoire (A&R) man.[not verified in body] His work scoring music for film has been recognized by the music industry, notably with an award for co-writing the song "Accidentally in Love" for the movie Shrek 2 from BMI.
Duritz's lyrics have been described as "morose" and "tortured"[2] and as "wordy introspection"[3] and his vocals "expressive."[2]
Before gaining fame, Duritz sang (and later wrote songs) for a few San Francisco Bay Area bands. These included Mod-L Society and Sordid Humor, a college rock band. While Duritz was not a member of Sordid Humor, he had been tapped to provide vocals on one track, alongside future bandmate David Immerglück (nicknamed "Immer") as a session musician on bass guitar. Producing the album was
David Bryson
, and Durtiz would end up befriending both.
In 1990, Duritz joined with Bryson in forming the band Katz Korner and The Himalayans. In The Himalayans, Duritz's songwriting talents were beginning to gain recognition from the other musicians and the original version of the song "Round Here" was written at that time. A year later, while The Himalayans recorded a demo tape for a major record label, Duritz and Bryson independently submitted another demo tape of just the two of them singing stripped-down musical selections, and calling themselves Counting Crows. After both tapes were listened to, Duritz and Bryson's tape was selected, and they were asked to record the song for what would be their debut album. August and Everything After was the result, containing "Round Here".[4] After they performed as the music guest on Saturday Night Live, their single "Mr. Jones" jumped 40 spots in the charts.
Duritz has collaborated with The Wallflowers (led by Jakob Dylan) on the album Bringing Down the Horse on the track "6th Avenue Heartache"; with Ryan Adams on Gold and the song "Butterfly in Reverse" from Hard Candy; with Peter Stuart on Propeller and Daisy; with Live on V;[5] and with Dashboard Confessional on the track "So Long, So Long" from Dusk and Summer.[6] He also collaborated with Nanci Griffith on "Going Back to Georgia" and "Talk To Me While I'm Listening" from Griffith's 1994 Album Flyer.
Duritz also contributed the songs "Spin Around," "You Don't See Me," and "You're a Star" to the Josie and the Pussycats soundtrack that was performed by the film's fictional title band. Along with bandmates Vickrey, Bryson, and Immerglück, Duritz co-wrote the song "Accidentally in Love" for the soundtrack of the movie Shrek 2, winning them each an award from BMI.[7][better source needed]
Duritz was also a judge for the 10th annual AIM Independent Music Awards to support independent artists' careers.[8]
Read more...
Record labels
In 1997, Adam Duritz co-founded E Pluribus Unum, an independent label in which he retained ownership.[citation needed] Before the label was purchased by Interscope Records in 2000, Duritz had signed Joe 90, Gigolo Aunts, and Neilson Hubbard—all of whom he had taken on the road to open for Counting Crows.
In November 2006, Duritz began production on the Chicago pop punk band Blacktop Mourning's debut record, under the name "The Devil and Bunny Show," alongside an album by Counting Crows guitarist David Immerglück. On January 15, 2007, Duritz announced that he was launching the boutique record label Tyrannosaurus Records, of which he would be sole owner,[citation needed] with debut artists on the label including Notar and Blacktop Mourning. The label also re-released the only album by Duritz's former band, The Himalayans. As of 2015[update], the label was defunct.[9]
Film career
In addition to his musical pursuits, Duritz was executive producer for the film The Locusts.[10][11] He appeared in the 2007 mockumentary film Farce of the Penguins.[12] Adam teamed with the Broken Lizard comedy troupe in 2009 as Executive Producer for the film Freeloaders (2011).[13][better source needed] The film revolves around "five guys and a girl who live in the lap of luxury in a rock star's mansion. But their sweet situation is threatened when the rock star decides to sell the home. The friends will do whatever it takes to maintain their rock and roll lifestyle, as hilarity and shenanigans ensue."[14] Written by Dan Rosen and Dave Gibbs, the film stars Clifton Collins Jr., Olivia Munn, Jane Seymour and Dave Foley as well as a multitude of stars making brief cameos throughout.
Personal life
Duritz attended the prestigious Taft School, and graduated from the Head-Royce School in Oakland, California. Duritz has Russian Jewish ancestry.[15]
In 1995, Duritz dated Jennifer Aniston.[16] He has also dated Courteney Cox,[16] Monica Potter, Samantha Mathis, and Winona Ryder.
In 2008, Duritz revealed he has grappled with a dissociative mental-health issue.[17]
In October 2009, Duritz was reported to be dating Shameless actress Emmy Rossum, with whom he had toured during the summer of 2009. Rossum and Duritz broke up in September 2010.[18] Duritz was reported to be unmarried as of August 2014[update].[19]
[ Source: Wikipedia ]