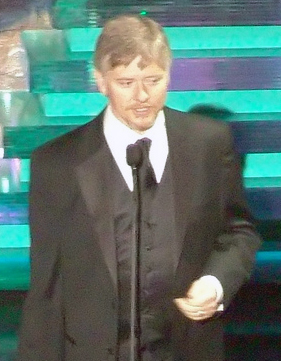 Dave Foley
Born:
January 4, 1963
Age:
60
Popularity:

Please login to contact Dave Foley...
Biography
David Scott Foley (born January 4, 1963) is a Canadian actor, voice actor, stand-up comedian, director, producer, and writer. He is known as a co-founder of the comedy group The Kids in the Hall, responsible for their eponymous sketch show and the feature-length film Brain Candy. He played Dave Nelson in the sitcom NewsRadio, voiced Flik in A Bug's Life, and hosted the game show Celebrity Poker Showdown.
Read more...
Early life
Foley was born in Etobicoke, Ontario, Canada, the son of Mary, a homemaker, and Michael, a steamfitter.
Career
Acting and stand-up comedy
After dropping out of high school, Foley pursued standup comedy for about a year in the Toronto Second City Training Centre, where he began taking improv classes and met Kevin McDonald, who gave him a job as an usher at a local art house movie theatre. He played Lewis Allen in the miniseries Anne of Avonlea. Foley, McDonald, Bruce McCulloch, Mark McKinney and Scott Thompson formed The Kids in the Hall, which debuted on television from 1988 to 1995. Foley played some characters, including Hecubus, one of the Sizzler sisters, the A. T. & Love boss, Bruno Puntz Jones, Mr. Heavyfoot, Jocelyn and Lex. Initially involved with Kids in the Hall: Brain Candy, he left the troupe in the middle of the writing, dissatisfied with the internal strife and the quality of the script, and joined the NewsRadio cast instead. As he had not signed any contract with the studio, Foley agreed to sign a deal which would allow the rest of the troupe to get paid for the script, though he was convinced that it would never be shot. When it was greenlit, Foley did the film because he was contractually obligated. He is the only member of the group who is uncredited as a writer. Foley rejoined the troupe in 2000 and has been an integral part of their various reformations. He appeared in the Kids in the Hall 2010 reunion project Death Comes to Town. Paul Simms, creator of NewsRadio, happened to be a huge fan of Foley's work and wrote the role of Dave Nelson specifically for him. Much of his character on the show was based on his own personality quirks, including his coffee addiction and his love of the sitcom Green Acres.
Foley was recently reunited with NewsRadio writer Joe Furey when he recorded the special featurette Working with Joe Furey, an add-on to Furey's comedy Love and Support. Foley released his stand-up special, Relatively Well in January 2013, distributed by Showtime. In the comedy-thriller The Wrong Guy, Foley played Nelson Hibbert, an office worker who finds his boss murdered, mistakenly believes he will be blamed for the crime and runs off as a fugitive. In 2001, he played the boss of 'N Sync singer Lance Bass in the film On the Line. Foley hosted the CBC Christmas Special, The True Meaning of Christmas Specials, in which he, a Mexican Elvis impersonator, Elvis Stojko and Dick Dale travel to Canada in search of the true meaning of Christmas specials. He portrayed Jack McFarland's boyfriend Stuart Lamarack on Will & Grace in its 2003-2004 season. In 2004, Foley became host of Celebrity Poker Showdown on Bravo. In 2007, he appeared nude in Uwe Boll's film adaptation of the controversial PC game Postal and became the judge for the US version of Thank God You're Here. He portrayed a middle management employee who happens to be a vampire in the undead office comedy Netherbeast Incorporated (2007) and voiced the disgruntled elf Wayne in the holiday special series, Prep & Landing. He also guest-starred in the 2007 special, Bob & Doug McKenzie's Two-Four Anniversary. He played a high school principal in It's Always Sunny in Philadelphia. In 2011, he appeared in How I Met Your Mother as Marshall's possible future boss, Mr. Bloom. From 2011 to 2012, Foley played Jerry Dunham, the boss of Andrew Carlson (David Hornsby) in the short-lived CBS sitcom How to Be a Gentleman. In 2012 and 2013, Foley played Dr. Fulton, Brick's (Atticus Shaffer) school therapist in The Middle, where in "Life Skills", he refers to Brick's classmates as "the kids in the hall", after an awkward pause and glance by both characters and mentioning that their behavior is similar to those of comedy sketches from The Kids in the Hall. In February 2013, Foley played Detective Bob in the TV Land sitcom, Hot in Cleveland, starred in the third season of Robson Arms on CTV and also starred CTV's new sitcom Spun Out in 2014. Foley also starred in ABC's Dr. Ken.
Web series
In 2009, Foley was hired by 49 North Inc./Fuel Industries, a multi-national branded content and entertainment company, to star in a web series titled, The Sensible Traveler with Bobby Fargo with six episodes that are written by TV writer Stephen Hibbert and directed by a number of people, including Leslie Iwerks and Chris Roach. To date, the series is one of 49 North Inc./Fuel Industries' most successful web series at well over 20,000 hits since the beginning of 2010. No word has yet been released as to a second season being filmed.
Music video appearances
In 1993, Foley appeared along with Mark McKinney and Kevin McDonald in the music video for the Vancouver band Odds. In the video for "Heterosexual Man", the three comedians played stereotypical macho jocks in the audience of a small bar where Odds are playing until Foley inexplicably turns into a woman. In 2008, he appeared in Hollerado's original music video for their song 'Americanarama' where he portrayed a sexual promiscuous boss and underwear model, in the band's parody to American Apparel. He also appeared in another of the band's music videos for the song 'Desire 126'. In 2010, Foley appeared in a music video for the Los Angeles band Black Robot. The song is a cover of the JJ Cale classic "Cocaine". The video was released on May 5, 2010 exclusively on top rated gaming website IGN.com and was filmed at the legendary burlesque club Jumbo's Clown Room. Foley starred in Neva Dinova's video for the song "Yellow Datsun" from their album Hate Yourself Change released on Side Cho Records. In 2012, Foley starred in Off!'s music video for their song Borrow and Bomb, playing a "professional educator" by the name of Dale Antwerp who hosts a public access talk show entitled Teen Talk. He appeared in another Off! video in 2014 for their song "Red White and Black", playing the role of a Fascist dictator.
Voice acting
Foley voiced various characters in animated films, television series and video games, such as Flik in A Bug's Life (as well as reprising for a cameo of the character during the epilogue of Cars), Yes Man in Fallout: New Vegas, Terry Perry in Monsters University, Agent Rick in Pound Puppies, Chris in Dan vs. and Wayne in the Prep & Landing series.
Personal life
Foley married Tabatha Southey on December 31, 1991, and divorced her in 1997. They have two children, Edmund (born 1991) and Basil (born 1995). On August 1, 2002, Foley married Crissy Guerrero and they divorced in 2008. They have a daughter, Alina (born 2003), who is also a child actress.
In 2011, Foley stated that as a result of having been judicially mandated to pay Southey some $17,700 per month, or "literally 400 per cent of income" in child support, if he returns to Canada he will be arrested.
He has since remarried Guerrero.
Filmography
Film

| Year | Title | Role | Notes |
| --- | --- | --- | --- |
| 1986 | High Stakes | Bo Baker | |
| 1987 | Three Men and a Baby | Grocery Store Clerk | |
| 1994 | It's Pat | Chris | |
| 1996 | Kids in the Hall: Brain Candy | Marv / Psychiatrist / New guy / Raymond Hurdicure | |
| 1997 | The Wrong Guy | Nelson Hibbert | Also writer |
| 1997 | Hacks | Neal | |
| 1998 | A Bug's Life | Flik (voice) | |
| 1999 | Blast from the Past | Troy | |
| 1999 | South Park: Bigger, Longer & Uncut | The Baldwin brothers (voice) | |
| 1999 | Dick | Bob Haldeman | |
| 1999 | Toy Story 2 | Flik (voice) | Cameo in the outtakes. |
| 2001 | Monkeybone | Herb | |
| 2001 | On the Line | Higgins | |
| 2002 | Run Ronnie Run | Network Executive #1 | |
| 2002 | Swindle | Michael Barnes | |
| 2002 | Stark Raving Mad | Roy | |
| 2003 | Grind | Tour Manager | |
| 2004 | Employee of the Month | Eric | |
| 2004 | Ham & Cheese | Tom Brennemen | |
| 2004 | Intern Academy | Dr. Denton Whiteside | |
| 2004 | Childstar | Philip Templeman | |
| 2005 | Sky High | Jonathan Boy / All-American Boy | |
| 2006 | Cars | Flik Car (voice) | |
| 2007 | California Dreaming | Stu Gainor | |
| 2007 | Netherbeast Incorporated | Henry Welby | |
| 2007 | Postal | Uncle Dave | |
| 2009 | Suck | Jeff | |
| 2010 | Vampires Suck | Principal Smith | |
| 2011 | Monster Brawl | Buzz Chambers | |
| 2012 | Last Call | Mr. Nunley | |
| 2013 | Monsters University | Terry (voice) | |
| 2014 | Party Central | Terry (voice) | |
| 2018 | Benjamin | Mitch | Post-production |
| 2018 | Second Act | Felix Herman | Filming |
Television

| Year | Title | Role | Notes |
| --- | --- | --- | --- |
| 1987 | Anne of Green Gables: The Sequel | Lewis Allen | Miniseries |
| 1987 | American Playhouse | Welsh Rabbit / Old Ironsides / Smith | Episode: "The Prodigious Hickey" |
| 1988-95 | The Kids in the Hall | Various characters / Jaques | 102 episodes |
| 1995-99 | NewsRadio | Dave Nelson | 97 episodes |
| 1996 | Mr. Show with Bob and David | Todd | Episode: "Operation Hell on Earth" |
| 1998 | From the Earth to the Moon | Alan Bean | Episode: "That's All There Is" |
| 2001 | Becker | Owen | Episode: "Hanging with Jake" |
| 2002 | The Tick | Francis | Episode: "Arthur, Interrupted" |
| 2002 | Just Shoot Me! | Jay | Episode: "Blind Ambition" |
| 2003 | The Toronto Show | Various | Episode: "#1.1" |
| 2003 | Odd Job Jack | Gary Gerbil | Episode: "The Wheel Is Not Enough" |
| 2003 | The King of Queens | Psychiatrist | Episode: "Jung Frankenstein" |
| 2003 | What's New, Scooby-Doo? | Laslow Oswald (voice) | Episode: "High-Tech House of Horrors" |
| 2003 | Lilo & Stitch: The Series | Priest (voice) | Episode: "Fibber: Experiment 032" |
| 2003 | Grounded for Life | Derek Purcell | Episode: "Baby Come Back" |
| 2004 | Will & Grace | Stuart Lamarack | 5 episodes |
| 2004 | I'm with Her | Principal Harris | Episode: "Friends in Low Places" |
| 2004 | Prom Queen: The Marc Hall Story | Mr. Warrick | Television film |
| 2005 | Las Vegas | Mertens | Episode: "Letters, Lawyers and Loose Women" |
| 2005 | Father of the Pride | Kelsey Grammer's Cat (voice) | Episode: "Stage Fright" |
| 2005 | Hot Properties | Ted Begley Jr. | Episode: "The Return of the Ring" |
| 2006 | Lovespring International | Timothy Entsweiler | Episode: "The Loser Club" |
| 2006 | Tom Goes to the Mayor | Dr. Dave Foley | Episode: "Glass Eyes" |
| 2006; 2007 | Scrubs | Dr. Lester Hedrick | 2 episodes |
| 2007 | The Batman | Francis Grey (voice) | Episode: "Seconds" |
| 2007 | Slacker Cats | Cult cat | |
| 2007 | Little Mosque on the Prairie | U.S. Consulate Clerk | Episode: "No Fly List" |
| 2007-09 | The New Adventures of Old Christine | Tom | 3 episodes |
| 2008 | Carpoolers | Mr. Latero | Episode: "Take Your Daughter to Work Day" |
| 2008 | In Plain Sight | Horst Vanderhof | Episode: "Trojan Horst" |
| 2008 | Robson Arms | Chuck Hoskins | 5 episodes |
| 2008 | Brothers & Sisters | Paul | Episode: "Going Once... Going Twice" |
| 2008 | Stargate: Atlantis | Malcolm Tunney | Episode: "Brain Storm" |
| 2009 | True Jackson, VP | Ted Begley, Jr. | Episode: "Company Retreat" |
| 2009-11 | Prep & Landing shorts | Wayne (voice) | Television short |
| 2010 | Less Than Kind | Dr. Raymond Sheasgreen | Episode: "Third Death's a Charm" |
| 2010 | The Kids in the Hall: Death Comes to Town | Marilyn Bowman / Levon Blanchard / Doc Porterhouse / Bingo Lady | Miniseries |
| 2010 | The Soup | Grownup Pageant Princess | Episode dated August 6 |
| 2010 | Leverage | Eben Dooley Jr. | Episode: "The Ho Ho Ho Job" |
| 2010; 2013 | It's Always Sunny in Philadelphia | Principal MacIntyre | 3 episodes |
| 2010; 2013-15 | Hot in Cleveland | Bob / Dr. Moore | 19 episodes |
| 2011 | Desperate Housewives | Monroe Carter | Episode: "Flashback" |
| 2011 | How I Met Your Mother | Mr. Bloom | Episode: "Challenge Accepted" |
| 2011 | Friends with Benefits | Keith | Episode: "The Benefit of Forgetting" |
| 2011 | Pound Puppies | Agent Rick (voice) | Episode: "Homeward Pound" |
| 2011 | Eureka | Dr. Plotkin | Episode: "One Giant Leap" |
| 2011 | Nick Swardson's Pretend Time | Captain Rudd | Episode: "The Mis-Education of Garry Gaga" |
| 2011-12 | How to Be a Gentleman | Jerry | 9 episodes |
| 2011-13 | Dan Vs. | Chris (voice) | Main role |
| 2012 | Unsupervised | Darren (voice) | Episode: "Rich Girl" |
| 2012-16 | The Middle | Dr. Fulton | 6 episodes |
| 2013 | Robot Chicken | Flik / Space Invader / Allan Sherwood (voices) | Episode: "Choked on a Bottle Cap" |
| 2013 | Newsreaders | Donny Hayflack | Episode: "31-Up" |
| 2013 | Maron | Himself | Episode: "Internet Troll" |
| 2013 | Veep | Osmo Häkkinen | Episode: "Helsinki" |
| 2013 | The Goodwin Games | Mr. Quilty | Episode: "Hamletta" |
| 2013 | We Are Men | Carter's Dad | Episode: "Pilot" |
| 2013; 2016 | Comedy Bang! Bang! | The Bomber / King Arthur | 2 episodes |
| 2013 | Dads | Ben | Episode: "Dad Abuse" |
| 2014 | Justified | Canadian Gangster | Episode: "A Murder of Crowes" |
| 2014 | Mr. Pickles | Scientist | Episode: "The Lair" |
| 2014-15 | Spun Out | Dave Lyons | 26 episodes |
| 2015 | The Odd Couple | Roy | 4 episodes |
| 2015-present | Harvey Beaks | Moff /Spa Patron #1 / Bear Guy / Elderly Man (voices) | 11 episodes |
| 2015-17 | Dr. Ken | Pat Hein | Main role |
| 2016-17 | Bajillion Dollar Propertie$ | Xavier King | 2 episodes |
Video games

| Year | Title | Role |
| --- | --- | --- |
| 1998 | A Bug's Life | Flik |
| 2010 | Fallout: New Vegas | Yes Man |
Radio/Podcast

| Year | Title | Role | Notes |
| --- | --- | --- | --- |
| 2017 | Kevin Pollak's Chat Show | Himself/Guest | Podcast |
[ Source: Wikipedia ]