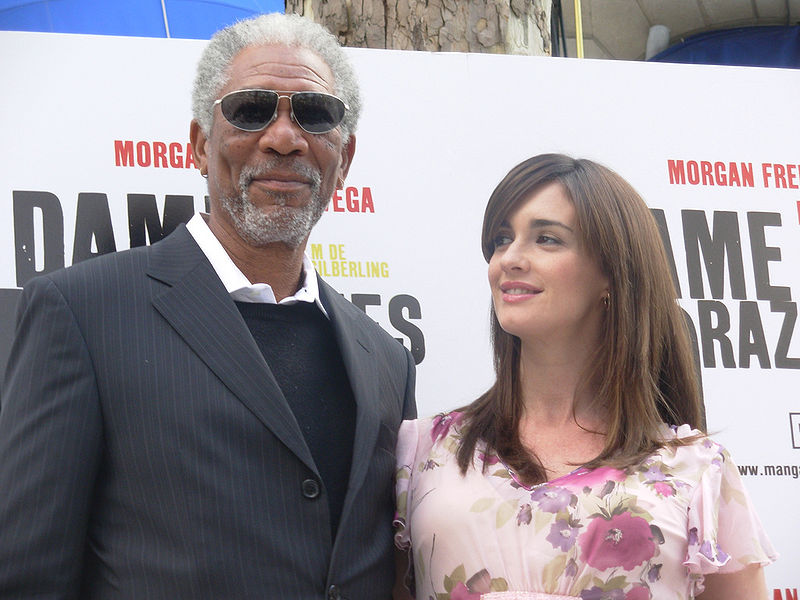 Paz Vega
Born:
January 2, 1976
Age:
47
Birthplace:
Seville, Andalusia, Spain
Popularity:

Please login to contact Paz Vega...
Biography
Paz Vega (born 2 January 1976), is a Spanish actress.
Vega was born in Seville, Spain, in 1976 to a housewife mother and a father who was a former bullfighter.[1] Vega's younger sister has performed as a flamenco dancer.[2] Vega has described her family as "traditional" and Catholic.[1] She took her stage name from her grandmother. Vega decided to become an actress after attending a performance of Federico García Lorca's play,
La casa de Bernarda Alba
, when she was 16.[3]
After completing compulsory education at 16, Vega was accepted at the Centro Andaluz de Teatro stage school.[4] She studied there for two years and took another two years studying journalism.[5] She next moved to Madrid to seek her future.[6]
Read more...
Screen career
Vega at the
10 Items or Less
premiere in Madrid with co-star
Morgan Freeman
.
Vega made her television debut in the Spanish TV series, Menudo es mi padre, which starred rumba singer El Fary. She appeared in two other series in 1997—Más que amigos and teen drama Compañeros.
In 1999 she made her film debut in Zapping. The same year she also had a minor role in the David Menkes movie I Will Survive (Sobreviviré), alongside Emma Suárez, Juan Diego Botto and a cameo by Boy George.
Vega found success in 1999's TV series 7 Vidas. The series was billed as a Spanish Friends and became one of the country's best-loved domestic sitcoms. Vega played Laura, a perky Andalusian girl who had come to stay with David, who had recently come out of a coma. The series was broadcast on Telecinco and finished on 12 April 2006, albeit without Vega.
In 2001, she starred in Julio Médem's film Sex and Lucia, which brought her to the attention of a larger audience. She appeared in the 2004 James L. Brooks American film Spanglish opposite Adam Sandler. In 2006, she co-starred with American actor Morgan Freeman in the independent film 10 Items or Less, directed by Brad Silberling. In 2008, she co-starred with Gabriel Macht, Samuel L. Jackson, and Scarlett Johansson in The Spirit. In 2011, Vega had a role in Michele Placido's film Vallanzasca -The Angels of Evil.
Vega also works as a model; she is signed to 1/One Management in New York City. On May 2011, Vega replaced Penélope Cruz as the face for L'Oreal Spain.[7]
In 2018 she appeared in the third season of MasterChef Celebrity.[8]
Personal life
Vega and her Venezuelan husband, Orson Salazar, had their first child, son Orson, on 2 May 2007.[9] Her second child, daughter Ava, was born on 17 July 2009.[10] Their third child, son Lenon, was born on 13 August 2010.[11]
Filmography
Year
Film
Role
Notes and Awards
1997
Más allá del jardín
1998
Perdón, perdón
María
1999
Zapping
Elvira
Sobreviviré
Azafata
2000
Nadie conoce a nadie
Ariadna
El chico en la puerta (short film)
2001
Lucía y el sexo
Lucía
Mine Alone
Angela
2002
Hable con ella
Amparo
El otro lado de la cama
Sonia
Novo
Isabelle
2003
Carmen
Carmen
2004
Di que sí
Estrella Cuevas
Spanglish
Flor Moreno
2006
10 Items or Less
Scarlet
Los Borgia
Caterina Sforza
Fade to Black
Lea Padovani
2007
Theresa: The Body of Christ
Santa Teresa de Jesús
The Lark Farm
Nunik
2008
The Human Contract
Michael
The Spirit
Plaster of Paris
2009
Not Forgotten
Amaya
The Six Wives of Henry Lefay
Veronica
Triage
Elena Morales
Burning Palms
Blanca Juarez
Wanted: Weapons of Fate
Araña[12]
video game
2010
Angel of Evil
Antonella D'Agostino
Castro's Daughter
Alina Fernandez
2011
The Flower of Evil
Antonella D'Agostino
Cat Run
Catalina "Cat" Rona
2012
Madagascar 3: Europe's Most Wanted
the Andalusian Triplets (Esmeralda, Esperanza and Ernestina)
Voice
Mary of Nazareth
Mary Magdalene
2013
I'm So Excited
Alba
Demon Inside
Marta
2014
Grace of Monaco
Maria Callas
Não Pare na Pista - A Melhor História de Paulo Coelho
Luiza
Kill the Messenger
Coral Baca
La ignorancia de la sangre
Consuelo
2015-
Big Time in Hollywood, FL
Isabella Delgado
2015
Beautiful & Twisted
Narcy Novack
2016
All Roads Lead to Rome
Post-production
2016
The OA
Renata
TV
2017
Acts of Vengeance
Alma
2018
The Jesuit
2019
Rambo V: Last Blood
Carmen Delgado
Awards and nominations
Premios Goya
2001, Best actress in a leading role, Sólo mía, NOMINATION
2001, Best breakthrough actress performance, Lucía y el sexo, WON
Premios Unión de Actores
2001, Unión de Actores Award best actress|Best actress in a leading role, Sólo mía, NOMINATION
2001, Premio Unión de Actores best breakthrough actress performance|Best breakthrough actress performance, Lucía y el sexo, NOMINATION
Anexo

Fotogramas de Plata|Fotogramas de Plata
2003, Best actress, Carmen, NOMINATION
2002, Best actress, El otro lado de la cama, NOMINATION
2001, Best actress, Lucía y el sexo and Sólo mía, NOMINATION
European Awards
2003, Viewers award best actress, Carmen, Nomination
Cannes Festival
2001, Trofeo Chopard best breakthrough performance, Lucía y el sexo, WON
Imagen Foundation
2004, Best actress, Spanglish, WON
Phoenix Film Critics Society
2004, Best breakthrough performance, Spanglish, WON
Círculo de Escritores Cinematográficos
2001, Best actress, Sólo mía, WON
Sant Jordi Awards
2001, Best Spanish Act, Lucía y el sexo and Sólo mía, WON
Ondas Award
2001, Best actress, Lucía y el sexo, WON
[ Source: Wikipedia ]