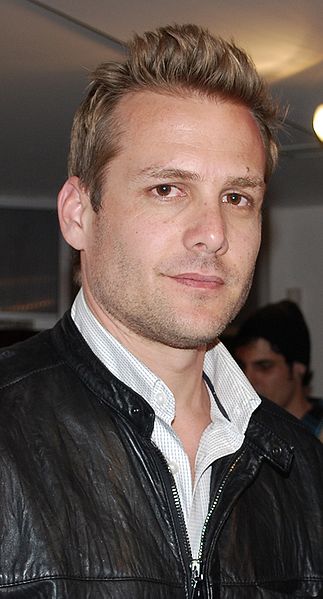 Gabriel Macht
Born:
January 22, 1972
Age:
51
Birthplace:
The Bronx, New York, U.S.
Popularity:

Please login to contact Gabriel Macht...
Biography
Gabriel Macht (born January 22, 1972) is an American actor and film producer. Macht is known for playing The Spirit in the eponymous 2008 film adaptation, and for his role as Harvey Specter on the USA Network series Suits.
Macht was born in
The Bronx
, New York, to Jewish parents.[1] He is the son of Suzanne Victoria Pulier, a museum curator and archivist, and actor
Stephen Macht
. He has three siblings, Jesse, a musician (who appeared on
The Next Great American Band
), Ari Serbin, and Julie. Macht was raised in California from the age of five. After graduating from Beverly Hills High School, he attended Carnegie Mellon College of Fine Arts, where he graduated in 1994.[2] During his time at Carnegie Mellon, he became a member of Delta Upsilon fraternity.[3]
Read more...
Career
Macht was nominated for the Best Young Motion Picture Actor Award after playing his first role at age eight in the film Why Would I Lie? under the stage name Gabriel Swann.[4]
He has appeared in many film and television roles including A Love Song for Bobby Long, The Good Shepherd, Because I Said So, The Recruit, and Archangel. For the 2001 film Behind Enemy Lines, Macht spent a week at sea filming on the flight deck, corridors, and hangar bay #3 of the USS Carl Vinson. Macht played the title role in Frank Miller's 2008 adaptation of Will Eisner's comic creation The Spirit. Although the film was a failure upon theatrical release, the film and Macht himself both gained a cult following.[5][6]
In July 2010, it was announced that Macht had signed on to star in the new USA Network drama Suits, which was originally known under the working title A Legal Mind.[7] The show has been a success for Gabriel and USA Network, and was renewed for an eighth season that started in July 2018.[8] Although not listed in the credits on the official USA Network page, Macht's name along with co-star Patrick J. Adams' name appeared as "co-producers" during the end credits of each episode during season 3.[9]
Personal life
Macht married Australian-born actress Jacinda Barrett in 2004.[10] The couple's first child, a girl, Satine Anais Geraldine Macht, was born August 20, 2007 in Los Angeles.[11] They had a second child, a son named Luca, on February 26, 2014.[12][13]
Macht has been the best friend of his Suits co-star Sarah Rafferty for over 20 years, ever since they met in 1993 at the Williamstown Theatre Festival.[14]
Macht is a vegetarian and practices green living.[15]
Filmography
Macht in June 2004.
Year
Title
Role
Other notes
1980
Why Would I Lie?
Jorge
Credited as Gabriel Swann
Nominated—Young Artist Awards for Best Young Motion Picture Actor
1998
The Object of My Affection
Steve Casillo
The Adventures of Sebastian Cole
Troy
1999
Simply Irresistible
Charlie
2000
The Bookie's Lament
Mickey
101 Ways (The Things a Girl Will Do to Keep Her Volvo)
Dirk
2001
American Outlaws
Frank James
Behind Enemy Lines
Naval Aviator Lt. Jeremy Stackhouse
2002
Bad Company
Officer Seale
2003
The Recruit
Zack
Grand Theft Parsons
Gram Parsons
2004
A Love Song for Bobby Long
Lawson Pines
2006
The Good Shepherd
John Russell Jr.
Berlin International Film Festival for Outstanding Artistic Contribution
2007
Because I Said So
Johnny Dresden
2008
The Spirit
Denny Colt/The Spirit
2009
Middle Men
Buck Dolby
Whiteout
Robert Pryce
One Way to Valhalla
Bo Durant
2010
Love & Other Drugs
Trey Hannigan
2011
S.W.A.T.: Firefight
Paul Cutler
Direct-to-video
A Bag of Hammers
Wyatt
2013
Breaking at the Edge
Detective Williams
Television
Year
Title
Role
Notes
1991
Beverly Hills, 90210
Tal Weaver
Episode: "Leading from the Heart"
1995
Follow the River
Johnny Draper
TV movie
1997
Spin City
The Naked Guy
Episode: "Snowbound"
1998
Sex and the City
Barkley
Episode: "Models and Mortals"
1999
Wasteland
Luke
Episode: "Best Laid Plans"
2000
The Audrey Hepburn Story
William Holden
TV movie
The Others
Dr. Mark Gabriel
Main role, 13 episodes
2005
Numb3rs
Don Eppes
Episode: "Unaired Pilot"
Archangel
R.J. O'Brian
Miniseries
2011-present
Suits
Harvey Specter
Lead role, also producer
[ Source: Wikipedia ]