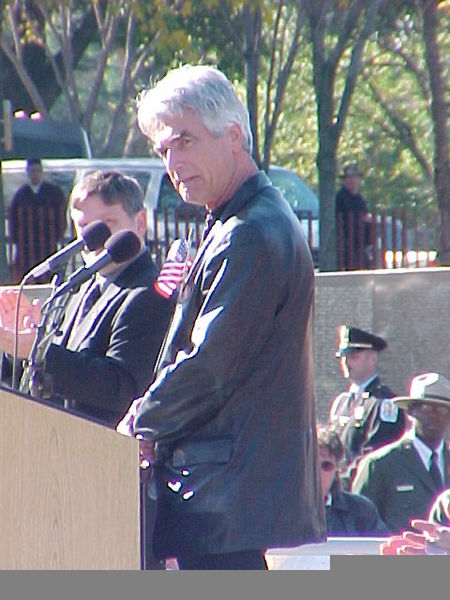 Sam Elliott
Birth name:
Samuel Pack Elliott
Born:
August 9, 1944
Age:
78
Birthplace:
Sacramento, California, U.S.
Popularity:

Please login to contact Sam Elliott...
Biography
Samuel Pack Elliott (born August 9, 1944) is an American actor. His lanky physique, thick moustache, deep and resonant voice, and Western drawl have led to frequent roles as cowboys and ranchers.[1] His credits include playing Wade Garrett in Road House (1989), The Stranger in The Big Lebowski (1998), Gar in Mask (1985), General John Buford in Gettysburg (1993), Virgil Earp in Tombstone (1993), Command Sergeant Major Basil L. Plumley in We Were Soldiers (2002), and Marvel Comics characters Thunderbolt Ross in Hulk (2003) and The Caretaker in Ghost Rider (2007). In 2018, Elliot received critical acclaim for his performance as Bobby Maine in the remake of A Star Is Born.
Elliott was born in Sacramento, California,[2] to a mother who was a physical training instructor and a father who worked for the Department of the Interior.[3] He moved to Portland, Oregon, with his family during his teenage years, graduating from David Douglas High School. He attended Clark College in Vancouver, Washington, where he completed a two-year program and was cast as one of the leads in
Guys and Dolls
. The Vancouver
Columbian
newspaper suggested that Elliott should be a professional actor. Soon after, Elliott declared he was going to Hollywood to become a star.
Elliott is a member of the Sigma Alpha Epsilon fraternity at California State University, Los Angeles. He worked in construction while studying acting and served in the California Air National Guard's 163rd Airlift Wing, based on the Channel Islands.[4] He also lived for a short time in Princeton, West Virginia.[5] He has said that he has heritage from the West, specifically the state of Texas, with a relative who was in the Battle of the Alamo.[1]
Read more...
Career
Elliot at the 2018 Toronto International Film Festival.
Acting
Elliott began his career as a character actor; his appearance, voice, and bearing were well-suited to Westerns. In 1969, he earned his first television credit as Dan Kenyon in Judd for the Defense in the episode "The Crystal Maze".[6]
That same year he appeared in the show Lancer in the episode "Death Bait", playing Renslo. Also in this episode was Tom Selleck, his future co-star in a number of TV Western movies, who was making his acting debut. Selleck played Dobie. The two had no scenes together. In 1979, the two actors played brothers in the popular adaptation of Louis L'amour's The Sacketts. Elliot played the oldest brother in the made-for-TV miniseries. [7] [8] Elliot and Selleck teamed again in 1982 in The Shadow Riders, another Louis L'amor adaption.[9]
One of his early roles was as a card player in Butch Cassidy and the Sundance Kid (1969). In the 1970-1971 television season, Elliott starred as Doug Robert for 13 episodes in the hit series Mission: Impossible. In 1976-77, he played the lead character Sam Damon in the miniseries Once an Eagle.
He played Tom Keating in the mini-series Aspen in 1977. He had the starring role as Rick Carlson in the summer sleeper hit Lifeguard (1976). He later played a wife killer in the miniseries Murder in Texas (1981) with his future wife Katherine Ross.[10], and starred with Cheryl Ladd in A Death in California (1985).[11]
Elliott's breakthrough came with his supporting role in Mask (1985). He has made guest appearances on shows such as Felony Squad, Gunsmoke, Lancer, and Hawaii Five-O, and has been featured in many TV movies, including Prancer (1989) and Buffalo Girls (1995), in which he played Wild Bill Hickok.
In 1986, he starred in TV movie Gone to Texas, based on a biography of Sam Houston. The role allowed him to play Houston as both fighter and a man who grew into a skillful political leader; the film depicted his disgrace as governor of Tennessee, his return to his Cherokee Nation friends, and his pivotal role in the liberation of Texas from Mexico in 1836. Elliott played Wade Garrett in Road House (1989) and Virgil Earp in Tombstone (1993). In 1991, Elliott and his wife Katharine Ross starred in the adaptation of the Louis L'Amour novel Conagher (1991).[12]
In 1998, Elliot was named the grand marshal of the Calgary Stampede parade and rode in the procession before an estimated 300,000 spectators.[13] He co-starred in We Were Soldiers, an adaptation of We Were Soldiers Once… And Young. He portrayed Basil L. Plumley.
He portrayed General John Buford in the 1993 film Gettysburg. Elliott played The Stranger, a character narrating the story of The Big Lebowski (1998). He played General Thunderbolt Ross in the 2003 film Hulk. In 2005, he appeared in Thank You for Smoking as a former Marlboro Man advertisement cowboy who has developed lung cancer.
In 2007, Elliott joined the comic book adaptation Ghost Rider. He played the character Carter Slade.
The same year, Elliott appeared in The Golden Compass as the character Lee Scoresby. The film is based on Northern Lights in Philip Pullman's trilogy His Dark Materials. Also appearing in the film are Nicole Kidman, Christopher Lee and Daniel Craig.
In 2009, Elliott had a small role in Up In The Air in which he portrayed the chief pilot of American Airlines. He has appeared three times on Parks and Recreation as Ron Dunn, the Eagleton equivalent of Ron Swanson; Dunn is a hippie, compared to Swanson's staunch survivalist and Libertarian personality. He had a supporting role in the film The Company You Keep and played a college football coach in 2014's Draft Day.
In 2015, Elliott played Karl in Paul Weitz's film Grandma,[14] appeared in the romance I'll See You in My Dreams, and had a role in the independent film Digging for Fire.[15] In 2015, he won the Critics' Choice Television Award for best guest performer in a drama for his role in the FX Network's show Justified.[15]
In 2015, Elliot appeared in the Netflix series The Ranch.[16] He also had a recurring role as Phil Millstein in the second season of Grace and Frankie.
In 2017, Elliott appeared in The Man Who Killed Hitler and Then the Bigfoot.[17]
Voice acting
Elliott has performed voice-over narration for various commercials. He has lent his voice to campaigns for Dodge, IBM, Kinney Drugs, Union Pacific, and, most notably, the American Beef Council, succeeding Robert Mitchum in the latter. Since late 2007, Elliott has done voice-overs for Coors beer, bringing his deep, rich voice and "western" appeal to the brand brewed in Colorado. In 2010, Ram Trucks hired Elliott to do the voice-over for their Ram Heavy Duty truck commercial; he has been voicing their commercials since. Starting in 2008, he has voiced Smokey Bear, and shares the mascot's birth date (August 9, 1944). For animated films, Elliott lent his voice to Ben the Cow in Barnyard, Buster (a.k.a. Chupadogra) in Marmaduke, and Butch in The Good Dinosaur. He also narrated the Pittsburgh Steelers and Green Bay Packers team introductions to Super Bowl XLV, played at Cowboys Stadium in Arlington, Texas at the conclusion of the 2010 NFL season for NFL on Fox.
Personal life
Elliott married actress Katharine Ross in 1984. Ross starred in Butch Cassidy and the Sundance Kid, in which Elliott had a very small role (though no scenes with Ross) in 1969, but the two did not meet again and begin dating until 1978, when they both starred in The Legacy. They have a daughter, Cleo Rose Elliott (born September 17, 1984),[18][19] who is now a musician in Malibu, California.[20][21] Ross and Elliott live on their ranch in Malibu.[19]
Filmography
Film
Year
Title
Role
Notes
1967
The Way West
Missouri Townsman (uncredited)
1969
Butch Cassidy and the Sundance Kid
Card Player #2
1970
The Games
Richie Robinson
1972
Frogs
Pickett Smith
1972
Molly and Lawless John
Johnny Lawler
1975
I Will Fight No More Forever
Captain Wood
1976
Lifeguard
Rick Carlson
1978
The Legacy
Pete Danner
1982
The Shadow Riders
Dal Traven
1985
Mask
Gar
1986
Gone to Texas
Sam Houston
1986
The Blue Lightning
Harry Wingate
1987
The Quick and the Dead
Con Vallian
1987
Fatal Beauty
Mike Marshak
1988
Shakedown
Richie Marks
Also titled Blue Jean Cop
1989
Road House
Wade Garrett
1989
Prancer
John Riggs
1990
Sibling Rivalry
Charles Turner Jr.
1991
Rush
Larry Dodd
1993
Tombstone
Virgil Earp
1993
Gettysburg
Brigadier General John Buford
1995
The Final Cut
John Pierce
1995
The Desperate Trail
Bill Speakes
1996
Dog Watch
Charlie Falon
1996
Adventures of Mowgli
Kaa
English voice
1998
The Big Lebowski
The Stranger
1998
The Hi-Lo Country
Jim Ed Love
1999
You Know My Name
Bill Tilghman
2000
The Contender
Kermit Newman
2001
Pretty When You Cry
Detective Lukas Black
2002
We Were Soldiers
Sergeant Major Basil L. Plumley
2003
Hulk
General Thaddeus Ross
2003
Off the Map
Charley Groden
2005
Thank You for Smoking
Lorne Lutch
2006
Barnyard
Ben
Voice only
2006
The Alibi
The Mormon
Also titled Lies and Alibis
2007
Ghost Rider
The Caretaker / Carter Slade / Phantom Rider
2007
The Golden Compass
Lee Scoresby
2009
Did You Hear About the Morgans?
Clay Wheeler
2009
Up in the Air
Maynard Finch
COFCA Award for Best Ensemble
Nominated—Critics' Choice Movie Award for Best Acting Ensemble
Nominated—WAFCA Award for Best Ensemble
Nominated—DFCS Award for Best Ensemble
2010
Marmaduke
Chupadogra
Voice only
2011
The Big Bang
Simon Kestral
2012
The Company You Keep
Mac McLeod
2014
Draft Day
Coach Moore
2015
I'll See You in My Dreams
Bill
2015
Grandma
Karl
Nominated—CFCA Award for Best Supporting Actor
2015
The Good Dinosaur
Butch
Voice only
2017
Rock Dog
Fleetwood Yak
Voice only
2017
The Hero
Lee Hayden
2018
The Man Who Killed Hitler and Then the Bigfoot[22]
Calvin Barr
2018
A Star Is Born
Bobby Maine
2018
The Gettysburg Address
Ward Hill Lamon
Voice only; Post-production
Television
Year
Title
Role
Notes
1968-1969
Felony Squad
Numerous
3 episodes
1969
Land of the Giants
Martin Reed
Episode: "Six Hours to Live"
1969
The F.B.I.
SAC Kendall Lisbon
Episode: "The Prey"
1969
Judd, for the Defense
Dan Kenyon
Episode: "The Crystal Maze"
1969-1970
Lancer
Renslo / Canopus / Cowboy
3 episodes
1970
The Challenge
Bryant
Television film
1970-1971
Mission: Impossible
Dr. Douglas Robert (Lang)
13 episodes
1971
Assault on the Wayne
Ensign William 'Bill' Sandover
TV movie
1972
Gunsmoke
Cory Soames
Episode: "The Wedding"
1972
The Mod Squad
Rick Price
Episode: "Good Times Are Just Memories"
1972
Molly and Lawless John
Johnny Lawler
TV movie
1973
Blue Knight, The
Detective Charlie Bronski
TV movie
1973
Mannix
Bill Saunders
Episode: "Little Girl Lost"
1973
Hawkins
Luther Wilkes
Episode: "Die Die, Darling"
1974
Doc Elliot
Lee Barrows
Episode: "A Time to Live"
1974
Hawaii Five-O
Jack Houston
Episode: "The Two-Faced Corpse"
1974
Evel Knievel
Evel Knievel
TV movie
1974
The Manhunter
Will Gantry
Episode: "The Ma Gantry Gang"
1974
The Streets of San Francisco
Ken Johnson
Episode: "The Hard Breed"
1975
Police Woman
Michael Gregory
Episode: "Farewell, Mary Jane"
1976-1977
Once an Eagle
Sam Damon
7 episodes (miniseries)
1977
Aspen
Tom Keating
TV movie
1979
The Sacketts
Tell Sackett
TV movie
1980
Wild Times
Hugh Cardiff
2 episodes
1981
Murder in Texas
Dr. John Hill
TV movie
1982
The Shadow Riders
Dal Traven
TV movie
1983
The Yellow Rose
Chance McKenzie
22 episodes
1983
Travis McGee
Travis McGee
TV movie
1985
A Death in California
D. Jordan Williams
2 episodes (miniseries)
1986
Gone to Texas
Sam Houston
TV movie. Also titled "Houston: The Legend of Texas"
1987
The Quick and the Dead
Con Vallian
TV movie
1988
The World's Greatest Stunts: A Tribute to Hollywood Stuntmen
Himself
Documentary
1991
Conagher
Conn Conagher
Nominated—Golden Globe Award for Best Actor - Miniseries or Television Film
He also produced and helped co-write the script.
1993
Fugitive Nights: Danger in the Desert
Lyn Cutter
TV movie
1993
The Making of "Gettysburg"
Himself/"Brig. Gen. John Buford, Federal"
Documentary (On the making of the film Gettysburg)
1995
The Ranger, the Cook and a Hole in the Sky
Bill Bell
TV movie
1995
Buffalo Girls
Wild Bill Hickok
TV movie
Nominated—Primetime Emmy Award for Outstanding Supporting Actor in a Miniseries or a Movie
Nominated—Golden Globe Award for Best Supporting Actor - Series, Miniseries or Television Film
1995
Blue River
Henry Howland
TV movie
1995
The Way West
Voice
Documentary
1996
Woman Undone
Ross Bishop
TV movie
1997
Rough Riders
Capt. Bucky O'Neill
TV movie
1997
Big Guns Talk: The Story of the Western
Himself
Documentary
1998
Texarkana
N/A
TV movie
1999
You Know My Name
Bill Tilghman
TV movie
2000
Fail Safe
Congressman Raskob
TV movie
2001
The Contender: The Making of a Political Thriller
Himself
Documentary (short)
2002
We Were Soldiers: Getting It Right
Himself/Sgt. Maj. Basil Plumley
Documentary (short)
2002
The Making of "Tombstone"
Himself/"Virgil Earp"
Documentary (short)
2003
Hulk: The Lowdown
Co-Host
Documentary
2004
Anatomy of a Scene
Himself
Documentary; episode: "Off the Map"
2006
Avenger
Calvin Dexter
TV movie
2010
November Christmas
Jess Sanford
TV movie
2012
Robot Chicken
White Wine Narrator/Commander Waspax/Reporter
Voice role
Episode: "Hurtled from a Helicopter into a Speeding Train"
Nominated—Primetime Emmy Award for Outstanding Voice-Over Performance (for White Wine Narrator role)
2013-2015
Parks and Recreation
Ron Dunn
3 episodes
2015
Justified
Avery Markham
12 episodes
Critics' Choice Television Award for Best Guest Performer in a Drama Series
2016-present
The Ranch
Beau Bennett
Main role
50 episodes
2016
American Dad!
Big John Tanner
Episode: "Kiss Kiss Cam Cam"
Voice role
2016
Grace and Frankie
Phil Milstein
4 episodes
[ Source: Wikipedia ]