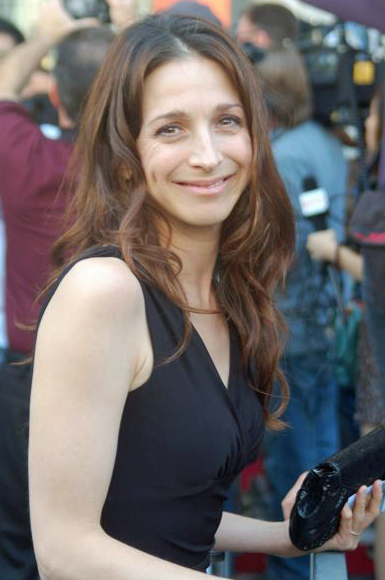 Marin Hinkle
Birth name:
Marin Elizabeth Hinkle
Born:
March 23, 1966
Age:
57
Birthplace:
Dar es Salaam, Tanzania
Popularity:

Please login to contact Marin Hinkle...
Biography
Marin Elizabeth Hinkle (born March 23, 1966) is an American actress. Among several television and movie roles, she is best known for playing Judith Harper-Melnick on the CBS sitcom Two and a Half Men as well as Judy Brooks on the ABC television drama Once and Again.
Hinkle was born in Dar es Salaam, Tanzania,[1] the daughter of Margaret R. (Polga) Hinkle, a Justice of the Superior Court of Massachusetts, and Rodney Hinkle, a college dean and teacher who met while serving in the Peace Corps.[2][3] Her family moved to Boston, Massachusetts, when she was four months old. Two years later, her brother Mark was born. After graduating from Newton South High School, she attended Brown University and New York University's Graduate Acting Program at the Tisch School of the Arts, graduating in 1991.[4]
She originally planned to be a professional ballerina, but after an ankle injury permanently ended the possibilities at the age of 16, she decided to take up acting.[citation needed]
Hinkle played Juliet in Romeo and Juliet opposite Jean Stapleton playing the Nurse at the Shakespeare Theatre Company in Washington DC from January 25 to March 13, 1994 at the Lansburgh Theatre in Washington DC.[5] On Broadway Marin Hinkle played Kuroko and was understudy for Miranda in The Tempest from November 1, 1995 to December 31, 1995 at the Broadhurst Theatre. She played Sandra Markowitz in A Thousand Clowns from July 14, 1996 to August 10, 1996 at the Criterion Center Stage Right. She also played Chrysothemis in Electra from December 3, 1998 to March 21, 1999 at the Ethel Barrymore Theatre.[6] Hinkle started her TV career on the soap opera Another World. She also portrayed Judy Brooks on ABC's drama series Once and Again from 1999 to 2002.[1] Hinkle starred on the CBS sitcom Two and a Half Men with Charlie Sheen, Jon Cryer, Angus T. Jones and later Ashton Kutcher as Alan's (Cryer) neurotic ex-wife, Judith.[1] Despite being a main cast member, she rarely made appearances after the show's eighth season. She was quietly phased out of the series, and her last appearances as a regular were in the ninth season of the series. She made only one appearance each in the last three seasons, though she was still credited as a regular. This may have been due to commitments to her new role as Samantha Bowers in the NBC drama series Deception with Tate Donovan, Victor Garber and Katherine LaNasa.[7]
Hinkle has had several roles in films such as I'm Not Rappaport, Frequency, The Next Big Thing, I Am Sam, and Dark Blue.[1] She has also performed on the stage in 2005 as Miss Julie, opposite Reg Rogers, in the 1888 play of that name by August Strindberg (Rattlestick Playwrights Theatre, New York) (see New Yorker, 30 May 2005). Hinkle has also appeared in the thriller genre, starring in the 2008 thrillers Quarantine and The Haunting of Molly Hartley. She has made several guest appearances on different shows such as Spin City, Law & Order: SVU, Without a Trace, ER, House, and twice as different characters on Law & Order.
Read more...
Filmography
Film
| Year | Title | Role | Notes |
| --- | --- | --- | --- |
| 1994 | Angie | Young Joanne | |
| 1996 | Milk & Money | Carla | |
| 1996 | Breathing Room | Larissa | |
| 1996 | I'm Not Rappaport | Hannah | |
| 1998 | Chocolate for Breakfast | Amy | |
| 1998 | Show & Tell | Pea | |
| 2000 | Killing Cinderella | Karen | |
| 2000 | Frequency | Sissy Clark | |
| 2000 | Sam the Man | Shelly | |
| 2001 | Final | Sherry | |
| 2001 | The Next Big Thing | Shari Lampkin | |
| 2001 | I Am Sam | Patricia | |
| 2002 | The Year That Trembled | Helen Kerrigan | |
| 2002 | Dark Blue | Deena Schultz | |
| 2005 | Who's the Top? | Alixe | Short film |
| 2006 | Friends with Money | Maya | |
| 2007 | The Ex | Karen | |
| 2007 | Cough Drop | Rebecca Dewey | Short film |
| 2007 | Turn the River | Ellen | |
| 2007 | Rails & Ties | Renee | |
| 2008 | What Just Happened | Vanity Fair Coordinator | |
| 2008 | Quarantine | Kathy | |
| 2008 | The Haunting of Molly Hartley | Jane Hartley | |
| 2008 | John's Hand | Cynthia | Short film |
| 2009 | Imagine That | Ms. Davis | |
| 2009 | Weather Girl | Jane | |
| 2012 | My Eleventh | | |
| 2013 | Butterflies of Bill Baker | Emma | |
| 2013 | Geography Club | Barbara Land | |
| 2014 | Cowgirls 'n Angels: Dakota's Summer | Clara | |
| 2017 | Jumanji: Welcome to the Jungle | Spencer's Mom | |
Television
| Year | Title | Role | Notes |
| --- | --- | --- | --- |
| 1995 | Another World | Alison Van Rohan | Episode #1.7922 |
| 1997 | Spin City | Carolyn | Episode: "Mayor Over Miami" |
| 1998 | Law & Order | Leslie Russo | Episode: "Grief" |
| 1999-2002 | Once and Again | Judy Brooks | 58 episodes |
| 2000 | Law & Order | Debbie Mason | Episode: "Stiff" |
| 2001 | WW3 | Judy Rosenberg | Television film |
| 2002 | Without a Trace | ADA Angela Buckman | Episode: "Snatch Back" |
| 2003-15 | Two and a Half Men | Judith Harper-Melnick | 83 episodes |
| 2004 | ER | Kathy | Episode: "Impulse Control" |
| 2005 | House | Naomi Randolph | Episode: "Babies & Bathwater" |
| 2005 | Law & Order: Special Victims Unit | Janice Whitlock | Episode: "Raw" |
| 2005 | Fielder's Choice | Holly | Television film |
| 2006 | The Book of Daniel | Nancy | Episode: "Revelations" |
| 2006 | In Justice | Jane McDermott | Episode: "Brothers and Sisters" |
| 2007-11 | Brothers & Sisters | Courtney McCallister | 3 episodes |
| 2007-08 | The Sarah Silverman Program | Rose Silverman | 3 episodes |
| 2008 | My Own Worst Enemy | Elizabeth Q | Episode: "Henry and the Terrible... Day" |
| 2009 | Private Practice | Beverly | Episode: "Wait and See" |
| 2009 | Law & Order | Attorney Novelle | Episode: "Reality Bites" |
| 2010 | Law & Order: Criminal Intent | Moira Boyle | Episode: "Broad Channel" |
| 2010 | Army Wives | Suzanne | Episode: "Mud, Sweat & Tears" |
| 2012 | Don't Trust the B---- in Apartment 23 | Karen | 2 episodes |
| 2013 | Deception | Samantha Bowers | 11 episodes |
| 2013 | Missing at 17 | Callie | Television film |
| 2014-15 | Madam Secretary | Isabelle Barnes | 8 episodes |
| 2014 | The Affair | Therapist | Episode: "7" |
| 2014-15 | Red Band Society | Caroline Chota | 2 episodes |
| 2016 | Castle | Dr. Rebecca Ellins | Episode: "Dead Again" |
| 2016-17 | Speechless | Dr. Miller | 12 episodes |
| 2017 | Homeland | Christine Lonas | 3 episodes |
| 2017-present | The Marvelous Mrs. Maisel | Rose Weissman | 8 episodes |
[ Source: Wikipedia ]