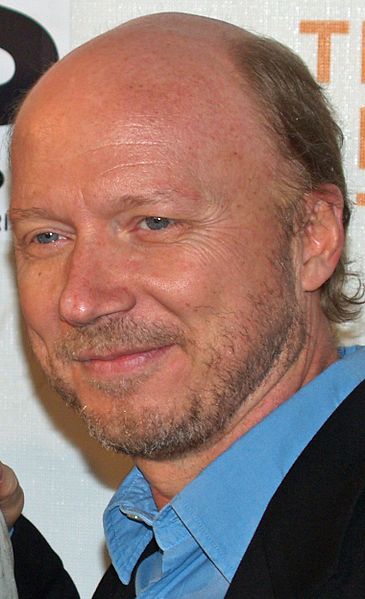 Paul Haggis
Birth name:
Paul Edward Haggis
Born:
March 10, 1953
Age:
70
Birthplace:
London, Ontario, Canada
Popularity:

Please login to contact Paul Haggis...
Biography
Paul Edward Haggis (born March 10, 1953) is a Canadian screenwriter, film producer, and director of film and television. He is best known as screenwriter and producer for consecutive Best Picture Oscar winners: Million Dollar Baby (2004) and Crash (2005), the latter of which he also directed. Haggis also co-wrote the war film Flags of Our Fathers (2006) and the James Bond films Casino Royale (2006) and Quantum of Solace (2008). He is the creator of the television series Due South (1994-1999) and co-creator of Walker, Texas Ranger (1993-2001), among others. Haggis is a two-time Academy Award winner, two-time Emmy Award winner, and seven-time Gemini Award winner.
Paul Edward Haggis was born in London, Ontario,[1] the son of Mary Yvonne (
née
Metcalf) and Ted Haggis, an Olympic sprinter.[2] He was raised as a Catholic,[3] but considered himself an atheist in early adulthood. The Gallery Theatre in London was owned by his parents, and Haggis gained experience in the field through work at the theatre.[4]
Haggis attended St. Thomas More Elementary School,[5] and after being inspired by Alfred Hitchcock and Jean-Luc Godard, proceeded to study art at H. B. Beal Secondary School.[1] After viewing Michelangelo Antonioni's 1966 film Blowup, he traveled to England with the intent of becoming a fashion photographer.[1] Haggis later returned to Canada to pursue studies in cinematography at Fanshawe College.[1] In 1975, Haggis moved to Los Angeles, California, to begin a career in writing in the entertainment industry.[1][4]
Read more...
Career
Haggis began to work as a writer for television programs, including The Love Boat, One Day at a Time, Diff'rent Strokes, and The Facts of Life.[4] With The Facts of Life, Haggis also gained his first credit as producer.[4] During the 1980s and 1990s, Haggis wrote for television series including thirtysomething, The Tracey Ullman Show, FM, Due South, L.A. Law, and EZ Streets.[4] He helped to create the television series Walker, Texas Ranger; Family Law; and Due South.[4] Haggis served as executive producer of the series Michael Hayes and Family Law.[4]
Haggis at the 2007 Toronto International Film Festival
He gained recognition in the film industry for his work on the 2004 film Million Dollar Baby, which Allmovie described as a "serious milestone" for the writer/producer, and as "his first high-profile foray into feature film".[4] Haggis had read two stories written by Jerry Boyd, a boxing trainer who wrote under the name of F.X. Toole.[4]
Haggis later acquired the rights to the stories, and developed them into the screenplay for Million Dollar Baby. Clint Eastwood portrayed the lead character in the film.[4] Eastwood also directed the film, and used the screenplay written by Haggis.[4] Million Dollar Baby received four Academy Awards including the Academy Award for Best Picture.[4]
After Million Dollar Baby, Haggis worked on the 2004 film Crash.[4] Haggis came up with the story for the film on his own, and then wrote and directed the film, which allowed him greater control over his work.[4] Crash was his first experience as director of a major feature film.[4] Highly positive upon release, critical reception of Crash has since polarized, although Roger Ebert called it the best film of 2005.[4]
Crash received Academy Award nominations for Best Picture and Best Director, in addition to four other Academy Award nominations.[4] Haggis received two Academy Awards for the film: Best Picture (as its producer), and Best Writing for his work on the screenplay.[4] With Million Dollar Baby and then Crash, Haggis became the first individual to have written Best Picture Oscar-winners in two consecutive years.[6]
Haggis said that he wrote Crash to "bust liberals", arguing that his fellow liberals were not honest with themselves about the nature of race and racism because they believed that most racial problems had already been resolved in American society.[7]
Personal life
Haggis lives in Santa Monica, California.[8] He has three daughters from his first marriage to Diana Gettas and one son from his second marriage to Deborah Rennard.[9]
Haggis founded the non-profit organization Artists for Peace and Justice to assist impoverished youth in Haiti.[10][11] In an interview with Dan Rather, Haggis mentions that he is an atheist.[12]
Sexual misconduct allegations
On January 5, 2018, Haggis was accused of sexual misconduct including multiple rapes. He is facing a civil lawsuit over these allegations.[13][14][15][16][17] Haggis has denied the allegations, claiming one of the accusers attempted to extort him for $9 million. Fellow Scientology defectors Leah Remini and Mike Rinder have also defended him, suggesting that the Church of Scientology may be involved, an assertion both the accusers and the Church itself deny.[18]
Public break from the Church of Scientology
After maintaining active membership in the Church of Scientology for 35 years, Haggis left the organization in October 2009.[19][20][21][22] He was motivated to leave Scientology in reaction to statements made by the San Diego branch of the Church of Scientology in support of Proposition 8, the ballot initiative which banned same-sex marriage in California.[21]
Haggis wrote to Thomas Davis, the Church's spokesman, and requested that he denounce these statements; when Davis remained silent, Haggis responded that "Silence is consent, Tommy. I refuse to consent."[21][22][23] Haggis went on to list other grievances against Scientology, including its policy of disconnection, and the smearing of its ex-members through the leaking of their personal details.[21][22]
The Observer commented on defections of Haggis and actor Jason Beghe from Scientology, "The decision of Beghe and Haggis to quit Scientology appears to have caused the movement its greatest recent PR difficulties, not least because of its dependence on Hollywood figures as both a source of revenue for its most expensive courses and an advertisement for the religion."[24]
In an interview with Movieline, Haggis was asked about similarities between his film The Next Three Days and his departure from the Scientology organization; Haggis responded, "I think one's life always parallels art and art parallels life."[25] In February 2011, The New Yorker published a 25,000-word story, "The Apostate", by Lawrence Wright, detailing Haggis's allegations about the Church of Scientology. The article ended by quoting Haggis: "I was in a cult for thirty-four years. Everyone else could see it. I don't know why I couldn't."[9] Haggis was interviewed as part of a group of ex-Scientologists for the 2015 movie Going Clear: Scientology and the Prison of Belief.
Filmography
Film
Year
Film
Role
Notes
1993
Red Hot
Screenwriter, Director[26]
2004
Million Dollar Baby
Screenwriter, Producer[26]
Crash
Story, Screenwriter, Director, Producer[26]
2006
The Last Kiss
Screenwriter (adaptation)[26]
Flags of Our Fathers
Screenwriter[26]
Letters from Iwo Jima
Screenwriter, Executive Producer[26]
Casino Royale
Screenwriter (adaptation)[26]
2007
In the Valley of Elah
Screenwriter (adaptation), Director, Producer[26]
2008
Quantum of Solace
Screenwriter[26]
2009
Terminator Salvation
Writer (rewrite)[26]
2010
The Next Three Days
Screenwriter, Director[27]
2013
Third Person
Screenwriter, Director[28]
2016
Gold
Executive Producer[29]
Television
| Year | Title | Role | Notes |
| --- | --- | --- | --- |
| 1987 | Return of the Shaggy Dog | Screenwriter[26] | |
| 1987-1988 | thirtysomething | Supervising producer, Writer, Director | |
| 1990 | City | Creator | |
| 1993-2001 | Walker, Texas Ranger | Co-creator | |
| 1994-1999 | Due South | Creator, Executive Producer, Screenwriter, Unit Director[26] | |
| 1996-1997 | EZ Streets | Creator, Executive producer | |
| 1997 | Walker, Texas Ranger: Sons of Thunder | Creator, Director[26] | |
| 1999-2002 | Family Law | Co-creator, Executive producer | |
| 2007 | The Black Donnellys | Creator | |
| 2015 | Show Me a Hero | Director, Executive producer | |
Video games
| Year | Game | Role | Notes |
| --- | --- | --- | --- |
| 2011 | Call of Duty: Modern Warfare 3 | Co-writer | |
Awards and nominations
Haggis has been nominated for dozens of awards.[30]
Year
Award
Work
Category
Result
1985
Humanitas Prize
CBS Storybreak: "Zucchini"
Children's Animation Category
Nominated
1988
Emmy Award
thirtysomething
Outstanding Drama Series
Won
Outstanding Writing for a Drama Series: Business as Usual
Won
Humanitas Prize
thirtysomething
60 Minute Category
Won
1989
Writers Guild of America Award
thirtysomething
Episodic Drama
Nominated
1995
Gemini Award
Due South
Best Dramatic Series
Won
Due South: Pilot (#1.0)
Best TV Movie
Won
Due South
Best Writing in a Dramatic Series
Won
Due South: Pilot (#1.0)
Best Writing in a Dramatic Program or Mini-Series
Nominated
1996
Gemini Award
Due South
Canada's Choice Award
Won
Due South
Best Dramatic Series
Won
Due South: "Hawk and a Handsaw"
Best Writing in a Dramatic Series
Won
Due South: "The Gift of the Wheelman"
Best Writing in a Dramatic Series
Won
1997
Viewers for Quality Television Award
EZ Streets
Founder's Award
Won
2001
Writers Guild of America Award
Contributions to industry
Valentine Davies Award
Won
2005
Academy Award
Million Dollar Baby
Best Motion Picture of the Year
Won
Best Writing, Adapted Screenplay
Nominated[31]
Writers Guild of America Award
Best Adapted Screenplay
Nominated[31]
American Screenwriters Association
Discover Screenwriting Award
Won
Black Movie Award
Crash
Outstanding Motion Picture
Won
Deauville American Film Festival
Crash
Grand Special Prize
Won
European Film Award
Crash
Screen International Award
Nominated
Hollywood Film Festival
Directing work
Breakthrough Directing
Won
Las Vegas Film Critics Society Award
Crash
Best Screenplay
Won
Online Film Critics Society Award
Million Dollar Baby
Best Screenplay, Adapted
Nominated
San Francisco International Film Festival
Screenwriting work
Kanbar Award
Won
Satellite Award
Million Dollar Baby
Best Screenplay, Adapted
Won
Crash
Outstanding Screenplay, Original
Nominated
Southeastern Film Critics Association Award
Crash
Best Screenplay, Original
Won
USC Scripter Award
Million Dollar Baby
USC Scripter Award
Won
Washington DC Area Film Critics Association Award
Crash
Best Screenplay - Original
Won
2006
Academy Award
Crash
Best Motion Picture of the Year
Won[31]
Best Writing, Original Screenplay
Won[31]
Best Achievement in Directing
Nominated[31]
Golden Globe Award
Crash
Best Screenplay - Motion Picture
Nominated
Writers Guild of America Award
Crash
Best Original Screenplay
Won[31]
Directors Guild of America Award
Crash
Outstanding Directorial Achievement in Motion Pictures
Nominated[31]
BAFTA Award
Crash
Best Screenplay - Original
Won[31]
David Lean Award for Direction
Nominated
Austin Film Critics Award
Crash
Best Director
Won
Broadcast Film Critics Association Award
Crash
Best Writer
Won
Crash
Best Director
Nominated
Chicago Film Critics Association Award
Crash
Best Screenplay
Won
David di Donatello
Crash
Best Foreign Film
Won
Edgar Award
Crash
Best Motion Picture Screenplay
Nominated
Humanitas Prize
Crash
Feature Film Category
Won
Independent Spirit Award
Crash
Best First Feature
Won
London Critics Circle Film Award
Crash
Screenwriter of the Year
Won
Crash
Director of the Year
Nominated
Online Film Critics Society Award
Crash
Best Breakthrough Filmmaker
Won
Crash
Best Screenplay, Original
Nominated
Producers Guild of America Award
Crash
Motion Picture Producer of the Year Award
Nominated
Robert Award
Crash
Best American Film
Nominated
Satellite Award
Flags of Our Fathers
Best Screenplay, Adapted
Nominated
2007
Academy Award
Letters from Iwo Jima
Best Writing, Original Screenplay
Nominated[31]
BAFTA Award
Casino Royale
Alexander Korda Award for Best British Film
Nominated[31]
Best Screenplay - Adapted
Nominated
Saturn Award
Casino Royale
Best Writing
Nominated
Edgar Award
Casino Royale
Best Motion Picture Screenplay
Nominated
Venice Film Festival
In the Valley of Elah
SIGNIS Award
Won
In the Valley of Elah
Golden Lion
Nominated
2008
David di Donatello
In the Valley of Elah
Best Foreign Film
Nominated
2015
Directors Guild of America Awards
Show Me a Hero
Outstanding Directing - Miniseries or Television Film
Nominated[32]
[ Source: Wikipedia ]