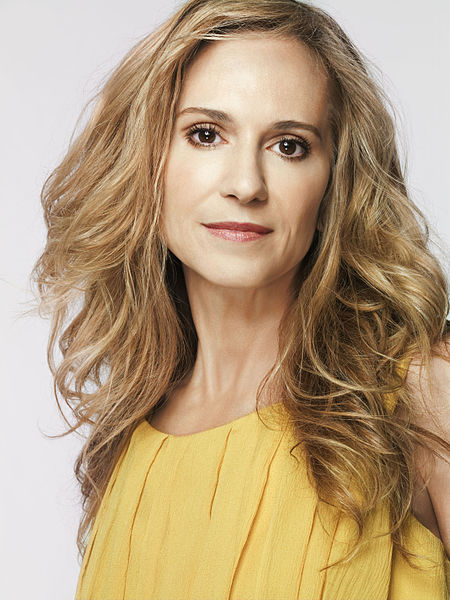 Holly Hunter
Born:
March 20, 1958
Age:
65
Birthplace:
Conyers, Georgia, U.S.
Popularity:

Please login to contact Holly Hunter...
Biography
Holly Hunter (born March 20, 1958) is an American actress and producer. For her performance as Ada McGrath in the 1993 drama film The Piano, she won the Academy Award, BAFTA Award, Golden Globe Award, and Cannes Film Festival Award for Best Actress. She was also nominated for the Academy Award for Best Actress for Broadcast News (1987), and the Academy Award for Best Supporting Actress for The Firm (1993) and Thirteen (2003).
A seven-time Emmy Award nominee, Hunter won Emmys for Roe vs. Wade (1989) and The Positively True Adventures of the Alleged Texas Cheerleader-Murdering Mom (1993). She also starred in the TNT drama series Saving Grace (2007-10). Her other film roles include Raising Arizona (1987), Always (1989), Copycat (1995), Crash (1996), O Brother, Where Art Thou? (2000), The Incredibles (2004), its sequel Incredibles 2 (2018), Batman v Superman: Dawn of Justice (2016), and The Big Sick (2017), which earned her a Screen Actors Guild Award nomination for Outstanding Performance by a Female Actor in a Supporting Role.
Hunter was born in Conyers, Georgia, the daughter of Opal Marguerite (née Catledge), a housewife, and Charles Edwin Hunter, a farmer and sporting-goods manufacturer's representative.[1] Hunter earned a degree in drama from Carnegie Mellon University in Pittsburgh, and for a while performed in the theatre scene there, playing ingenue roles at City Theatre, then named the City Players.[2]
She eventually moved to New York City and roomed with fellow actress Frances McDormand. Hunter, in 2008, described living in The Bronx "at the end of the D train, just off 205th Street, on Bainbridge Avenue and Hull Avenue. It was very Irish, and then you could go just a few blocks away and hit major Italian."[3] A chance encounter with playwright Beth Henley, when the two were trapped alone in an elevator, led to Hunter's being cast in Henley's plays Crimes of the Heart (succeeding Mary Beth Hurt on Broadway), and Off-Broadway's The Miss Firecracker Contest. "It was like the beginning of 1982. It was on 49th Street between Broadway and Eighth ... on the south side of the street," Hunter recalled in an interview. " 10 minutes; not long. We actually had a nice conversation. It was just the two of us."[3]
Read more...
Stage and film
Hunter at the 2010 Metropolitan Opera opening night of
Das Rheingold
Hunter made her film debut in the 1981 horror movie The Burning. After moving to Los Angeles in 1982, Hunter appeared in TV movies before being cast in a supporting role in 1984's Swing Shift. That year, she had her first collaboration with the writing-directing-producing team of brothers Ethan Coen and Joel Coen, in Blood Simple, making an uncredited appearance as a voice on an answering-machine recording. More film and television work followed until 1987, when thanks to a starring role in the Coens' Raising Arizona and her Academy Award-nominated turn in Broadcast News, Hunter became a critically acclaimed star. She went on to the screen adaptation of Henley's Miss Firecracker; Steven Spielberg's Always, a romantic drama with Richard Dreyfuss; and the made-for-TV 1989 docudrama about the Supreme Court case Roe v. Wade.
Following her second collaboration with Dreyfuss, in Once Around, Hunter garnered critical attention for her work in two 1993 films, resulting in her being nominated for two Academy Awards the same year: Hunter's performance in The Firm won her a nomination as Best Supporting Actress, while her portrayal of a mute Scottish woman entangled in an adulterous affair with Harvey Keitel in Jane Campion's The Piano won her the Best Actress award.
Hunter went on to star in the comedy-drama Home for the Holidays and the thriller Copycat, both in 1995. She also appeared in David Cronenberg's Crash and as a sardonic angel in A Life Less Ordinary. The following year, she played a recently divorced New Yorker in Richard LaGravenese's Living Out Loud; starring alongside Danny DeVito, Queen Latifah, and Martin Donovan. Hunter rounded out the 1990s with a minor role in the independent drama Jesus' Son and as a housekeeper torn between a grieving widower and his son in Kiefer Sutherland's drama Woman Wanted.
Following a supporting role in the Coens' O Brother, Where Art Thou?, Hunter took top billing in the same year's television movie Harlan County War, an account of labor struggles among Kentucky coal-mine workers. Hunter would continue her small screen streak with a role in When Billie Beat Bobby, playing tennis pro Billie Jean King in the fact-based story of King's famed exhibition match with Bobby Riggs; and as narrator of Eco Challenge New Zealand before returning to film work with a minor role in the 2002 drama Moonlight Mile.
The following year found Hunter in the redemption drama Levity. Also in 2003, Hunter had the role of a mother named Melanie Freeland, whose daughter is troubled and going through the perils of being a teenager in the film Thirteen. The film was critically acclaimed along with Hunter and her co-stars and earned her nominations for the Academy Award and Golden Globe Award for Best Supporting Actress.
In 2004, Hunter starred alongside Brittany Murphy in the romantic satire Little Black Book, and provided the voice for Helen Parr (also known as Elastigirl) in the acclaimed computer-animated superhero film, The Incredibles. Hunter has also voiced Elastigirl in the Disney Infinity video game series, and reprised the role for the film's sequel, Incredibles 2 in 2018. In 2005, Hunter starred alongside Robin Williams in the black comedy-drama The Big White.
Hunter became an executive producer, and helped develop a starring vehicle for herself with the TNT cable-network drama Saving Grace, which premiered in July 2007. For her acting, she received a Golden Globe Award nomination, two Screen Actors Guild Award nominations, and an Emmy Award nomination. On May 30, 2008, Hunter received a star on the Hollywood Walk of Fame. In 2009, she was awarded the Women in Film Lucy Award.[4] In 2016, Hunter played Senator Finch in Batman v Superman: Dawn of Justice.[5][6] Hunter's likeness was used to portray Senator Finch in the Batman v Superman: Dawn of Justice tie-in prequel comics, released by Dr. Pepper on February 3, 2016.
Personal life
Hunter is unable to hear with her left ear due to a childhood case of the mumps. The condition sometimes leads to complications at work. Some scenes have to be altered from the script for her to use her right ear.[7]
Hunter was married to Janusz Kamiński, cinematographer of Schindler's List and Saving Private Ryan[8] from 1995 until 2001.
Hunter has been in a relationship with British actor Gordon MacDonald since 2001. The couple met in San Jose Repertory Theatre's production of playwright Marina Carr's By the Bog of Cats, in which she played a woman abandoned by her lover of 14 years, played by MacDonald.[9] In January 2006, Hunter's publicist announced that Hunter had given birth to the couple's twin boys[9] Claude and Press.[10]
Hunter identifies as an agnostic atheist.[11]
Filmography
Film
Year
Title
Role
Director
Notes
1981
The Burning
Sophie
Tony Maylam
1984
Swing Shift
Jeannie
Jonathan Demme
1984
Blood Simple
Helene Trend
Joel Coen
Ethan Coen
Voice / Uncredited
1987
Raising Arizona
Edwina "Ed" McDunnough
Joel Coen
Ethan Coen
1987
End of the Line
Charlotte Haney
Jay Russell
1987
Broadcast News
Jane Craig
James L. Brooks
1989
Miss Firecracker
Carnelle Scott
Thomas Schlamme
1989
Animal Behavior
Coral Grable
Jenny Bowen & Kjehl Rasmussen
1989
Always
Dorinda Durston
Steven Spielberg
1991
Once Around
Renata Bella
Lasse Hallström
1993
The Piano
Ada McGrath
Jane Campion
Academy Award for Best Actress
1993
The Firm
Tammy Hemphill
Sydney Pollack
1995
Copycat
M.J. Monahan
Jon Amiel
1995
Home for the Holidays
Claudia Larson
Jodie Foster
1996
Crash
Helen Remington
David Cronenberg
1997
A Life Less Ordinary
O'Reilly
Danny Boyle
1998
Living Out Loud
Judith Moore
Richard LaGravenese
1999
Jesus' Son
Mira
Alison Maclean
1999
Woman Wanted
Emma Riley
Kiefer Sutherland
2000
Timecode
Renee Fishbine
Mike Figgis
2000
O Brother, Where Art Thou?
Penny Wharvey McGill
Joel Coen
Ethan Coen
2001
Festival in Cannes
Herself
Henry Jaglom
2002
Moonlight Mile
Mona Camp
Brad Silberling
2003
Levity
Adele Easley
Ed Solomon
2003
Thirteen
Melanie Freeland
Catherine Hardwicke
Also executive producer
2004
Little Black Book
Barb Campbell-Dunn
Nick Hurran
2004
The Incredibles
Helen Parr / Elastigirl
Brad Bird
Voice
2005
Nine Lives
Sonia
Rodrigo García
2005
The Big White
Margaret Barnell
Mark Mylod
2011
Portraits in Dramatic Time
Herself
David Michalek & Paul Warner
2012
Won't Back Down
Evelyn Riske
Daniel Barnz
2012
Jackie
Jackie
Antoinette Beumer
2013
Paradise
Mrs. Mannerhelm
Diablo Cody
2014
Manglehorn
Dawn
David Gordon Green
2016
Batman v Superman: Dawn of Justice
Senator Finch
Zack Snyder
2016
Strange Weather
Darcy Baylor
Katherine Dieckmann
2017
Breakable You
Eleanor Weller
Andrew Wagner
2017
The Big Sick
Beth Gardner
Michael Showalter
2017
Song to Song
Miranda
Terrence Malick
2018
Incredibles 2
Helen Parr / Elastigirl
Brad Bird
Voice
Television
Year
Title
Role
Notes
1983
Svengali
Leslie
TV movie
An Uncommon Love
Karen
TV movie
1984
With Intent to Kill
Wynn Nolen
TV movie
1987
A Gathering of Old Men
Candy Marshall
TV movie
1989
Roe vs. Wade
Ellen Russell/Jane Doe
TV movie
1992
Crazy in Love
Georgie Symonds
TV movie
1993
The Positively True Adventures of the Alleged Texas Cheerleader-Murdering Mom
Wanda Holloway
TV movie
2000
Harlan County War
Ruby Kincaid
TV movie
Things You Can Tell Just by Looking at Her
Rebecca Weyman
Segment: "Fantasies About Rebecca"
2001
When Billie Beat Bobby
Billie Jean King
TV movie; also executive producer
2007-2010
Saving Grace
Grace Hanadarko
46 episodes; also executive producer
2013
Top of the Lake
GJ
Miniseries; 6 episodes
2013
Bonnie & Clyde
Emma Parker
Miniseries; 2 episodes
2018
Here and Now
Audrey Bayer
Series lead
Video games
Year
Title
Role
2004
The Incredibles
Helen Parr / Elastigirl (archive footage)
2013
Disney Infinity
Helen Parr / Elastigirl
2014
Disney Infinity: Marvel Super Heroes
2015
Disney Infinity 3.0[12]
Awards and nominations
In 2016, Hunter was awarded an Honorary Doctorate degree by her alma mater, Carnegie Mellon University.[13]
For film
Year
Award
Category
Nominated work
Result
1987
Boston Society of Film Critics Award
Best Actress

Broadcast News

Won
National Board of Review Awards
Best Actress
Won
New York Film Critics Circle Award
Best Actress
Won
Silver Bear Award
Best Actress
Won
Academy Award
Best Actress
Nominated
American Comedy Award
Funniest Actress in a Motion Picture
Nominated
Golden Globe Award
Best Actress - Motion Picture Musical or Comedy
Nominated
Los Angeles Film Critics Association Award
Best Actress
Nominated
National Society of Film Critics Award
Best Actress
Nominated
1993
Academy Award
Best Actress

The Piano

Won
Australian Film Institute Award
Best Actress in a Leading Role
Won
BAFTA Award
Best Actress in a Leading Role
Won
Boston Society of Film Critics Award
Best Actress
Won
Cannes Film Festival
Best Actress
Won
Chicago Film Critics Association Award
Best Actress
Won
Dallas-Fort Worth Film Critics Association Award
Best Actress
Won
Golden Globe Award
Best Actress - Motion Picture Drama
Won
London Film Critics Circle Award
Actress of the Year
Won
Los Angeles Film Critics Association Award
Best Actress
Won
National Board of Review Awards
Best Actress
Won
National Society of Film Critics Award
Best Actress
Won
New York Film Critics Circle Award
Best Actress
Won
Southeastern Film Critics Association Award
Best Actress
Won
David di Donatello Awards
Best Foreign Actress
Nominated
Academy Award
Best Supporting Actress

The Firm

Nominated
BAFTA Award
Best Actress in a Supporting Role
Nominated
1998
American Comedy Award
Funniest Actress in a Motion Picture

Living Out Loud

Nominated
Chicago Film Critics Association Award
Best Actress
Nominated
Satellite Award
Best Actress - Motion Picture Musical or Comedy
Nominated
2000
Best Supporting Actress - Motion Picture

O Brother, Where Art Thou?

Nominated
2003
Academy Award
Best Supporting Actress

Thirteen

Nominated
BAFTA Award
Best Actress in a Supporting Role
Nominated
Broadcast Film Critics Association Award
Best Supporting Actress
Nominated
Bronze Leopard Award
Best Actress
Won
Chicago Film Critics Association Award
Best Supporting Actress
Nominated
Dallas-Fort Worth Film Critics Association Award
Best Supporting Actress
Nominated
Golden Globe Award
Best Supporting Actress - Motion Picture
Nominated
International Cinephile Society Award
Best Supporting Actress
Won
Las Vegas Film Critics Society Award
Best Supporting Actress
Won
London Film Critics Circle Award
Actress of the Year
Nominated
Online Film Critics Society Award
Best Supporting Actress
Nominated
Phoenix Film Critics Society Award
Best Supporting Actress
Nominated
Prism Award
Best Performance in a Theatrical Feature Film
Nominated
Satellite Award
Best Supporting Actress - Motion Picture
Nominated
Screen Actors Guild Award
Outstanding Performance by a Female Actor in a Supporting Role
Nominated
Southeastern Film Critics Association Award
Best Supporting Actress
Nominated
Washington D.C. Area Film Critics Association Award
Best Supporting Actress
Nominated
2005
MTV Movie Award
Best On-Screen Team

The Incredibles

Nominated
Bronze Leopard Award
Best Actress

Nine Lives

Won
Gotham Awards
Best Cast
Nominated
2017
Chicago Film Critics Association Award
Best Supporting Actress

The Big Sick

Nominated
Critics' Choice Award
Best Supporting Actress
Nominated
Detroit Film Critics Society Award
Best Supporting Actress
Nominated
Hollywood Film Award
Hollywood Comedy Ensemble Award
Won
Houston Film Critics Society Award
Best Supporting Actress
Nominated
Independent Spirit Award
Best Supporting Female
Nominated
International Online Cinema Award
Best Supporting Actress
Won
San Diego Film Critics Society Award
Best Supporting Actress
Nominated
San Francisco Film Critics Circle Award
Best Supporting Actress
Nominated
Satellite Award
Best Supporting Actress - Motion Picture
Nominated
Screen Actors Guild Award
Outstanding Performance by a Female Actor in a Supporting Role
Nominated
Outstanding Performance by a Cast in a Motion Picture
Nominated
Seattle Film Critics Society Award
Best Supporting Actress
Nominated
Washington D.C. Area Film Critics Association Award
Best Supporting Actress
Nominated
For television
Year
Award
Category
Nominated work
Result
1989
Golden Globe Award
Best Actress - Miniseries or Television Film

Roe vs. Wade

Nominated
Primetime Emmy Award
Outstanding Lead Actress in a Limited Series or Movie
Won
1993
Golden Globe Award
Best Actress - Miniseries or Television Film

The Positively True Adventures of the Alleged Texas Cheerleader-Murdering Mom

Nominated
CableACE Award
Best Actress in a Movie or Miniseries
Won
Primetime Emmy Award
Outstanding Lead Actress in a Limited Series or Movie
Won
2000
Golden Globe Award
Best Actress - Miniseries or Television Film

Harlan County War

Nominated
Primetime Emmy Award
Outstanding Lead Actress in a Limited Series or Movie
Nominated
Satellite Award
Best Actress - Miniseries or Television Film
Nominated
Primetime Emmy Award
Outstanding Supporting Actress in a Limited Series or Movie

Things You Can Tell Just by Looking at Her

Nominated
2001
Primetime Emmy Award
Outstanding Lead Actress in a Limited Series or Movie

When Billie Beat Bobby

Nominated
2007
Golden Globe Award
Best Actress - Television Series Drama

Saving Grace

Nominated
Gracie Allen Award
Outstanding Actress — Drama Series
Won
Screen Actors Guild Award
Outstanding Performance by a Female Actor in a Drama Series
Nominated
2008
Primetime Emmy Award
Outstanding Lead Actress in a Drama Series
Nominated
Screen Actors Guild Award
Outstanding Performance by a Female Actor in a Drama Series
Nominated
Saturn Award
Best Actress on Television
Nominated
Prism Award
Best Performance in a Drama Series Episode
Nominated
Satellite Award
Best Actress - Television Series Drama
Nominated
2009
Primetime Emmy Award
Outstanding Lead Actress in a Drama Series
Nominated
Screen Actors Guild Award
Outstanding Performance by a Female Actor in a Drama Series
Nominated
People's Choice Award
Favorite TV Drama Diva
Nominated
2013
Screen Actors Guild Award
Outstanding Performance by a Female Actor in a Miniseries or Television Movie

Top of the Lake

Nominated
Equity Award
Most Outstanding Performance by an Ensemble in a Television Movie or Miniseries
Won
[ Source: Wikipedia ]