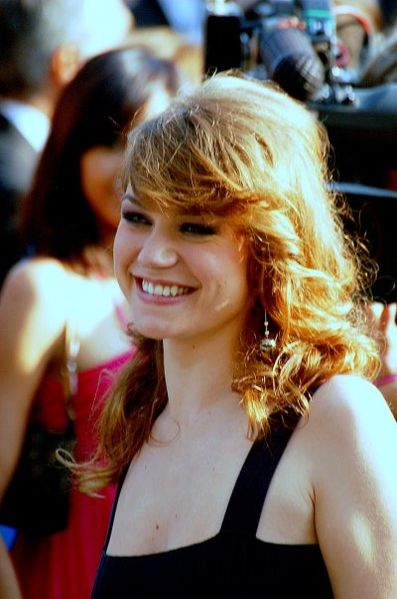 Emilie Dequenne
Born:
August 29, 1981
Age:
41
Birthplace:
Belœil, Hainaut, Belgium
Popularity:

Please login to contact Emilie Dequenne...
Biography
Émilie Dequenne (born 29 August 1981) is a Belgian actress. She received a Cannes Film Festival Award for Best Actress for her debut role in Rosetta (1999). Dequenne's other notable film roles were in Brotherhood of the Wolf (2001), The Very Merry Widows (2003), The Light (2004), Our Children (2012), and Not My Type (2014).
Dequenne won the Best Actress award at the 1999 Cannes Film Festival for her debut film performance in the Palme d'Or-winning film
Rosetta
.[1] Dequenne became more well-known with worldwide audiences following her role in
Brotherhood of the Wolf
, a $29 million-budgeted film that grossed more than $70 million in theaters worldwide.[2] In 2009 she played the lead in André Téchiné's
La Fille du RER
alongside
Catherine Deneuve
. She starred in the French thriller film
The Pack
, which premiered at the 2010 Cannes Film Festival.[3]
In 2012, she won the Un Certain Regard Award for Best Actress award at the 2012 Cannes Film Festival for her role in the film Our Children.[4] The film also scored her a Magritte Award for Best Actress and a nomination for a Satellite Award for Best Actress.[5][6]
Read more...
Filmography
Year
Title
Role
Director
Notes
1999
Rosetta
Rosetta
Dardenne brothers
Cannes Film Festival Award for Best Actress
Chicago Film Critics Association Award for Most Promising Actress
Joseph Plateau Award for Best Belgian Actress
Nominated - César Award for Most Promising Actress
Nominated - European Film Award for Best Actress
2001
Brotherhood of the Wolf
Marianne de Morangias
Christophe Gans
Cabourg Romantic Film Festival - Best New Actress
Yes, But...
Eglantine Laville
Yves Lavandier
Avanca Film Festival - Best Acting
2002
Une femme de ménage
Laura
Claude Berri
Nominated - César Award for Most Promising Actress
Jean Moulin
Lili
Yves Boisset
TV Movie
2003
The Very Merry Widows
Laurence Milcaux
Catherine Corsini
Nominated - Joseph Plateau Award for Best Belgian Actress
2004
The Light
Brigitte
Philippe Lioret
Nominated - César Award for Best Supporting Actress
The Bridge of San Luis Rey
Doña Clara
Mary McGuckian
L'américain
Nelly
Patrick Timsit
Kaamelott
Edern
Alexandre Astier
TV Series (1 Episode)
2005
Les états-Unis d'Albert
Grace Carson
André Forcier
Avant qu'il ne soit trop tard
Aurélia
Laurent Dussaux
La ravisseuse
Charlotte
Antoine Santana
2006
Le Grand Meaulnes
Valentine
Jean-Daniel Verhaeghe
Écoute le temps
Charlotte
Alante Kavaite
Du rouge sur la croix
Cécile Thuillier
Dominique Othenin-Girard
TV Movie
2007
To Each His Own Cinema
The crying woman
Dardenne brothers (2)
La vie d'artiste
Cora
Marc Fitoussi
Confidences
Laurent Dussaux (2)
TV Mini-Series
2008
Rien dans les poches
Judith Miro
Marion Vernoux
TV Movie
Charlotte Corday
Charlotte Corday
Henri Helman
TV Movie
Miroir, mon beau miroir
Marion
Serge Meynard
TV Movie
2009
The Girl on the Train
Jeanne Fabre
André Téchiné
Taormina International Film Festival - Best Acting Performance
J'ai oublié de te dire
Marie
Laurent Vinas-Raymond
Obsession(s)
Sarah Lisbourne
Frédéric Tellier
TV Movie
2010
The Pack
Charlotte Massot
Franck Richard
New York City Horror Film Festival - Best Actress
2011
Mystère au Moulin Rouge
Diane Barraud
Stéphane Kappes
TV Movie
2012
Our Children
Murielle
Joachim Lafosse
Cannes Film Festival - Un Certain Regard - Best Actress
Magritte Award for Best Actress
Palm Springs International Film Festival - Best Actress
Nominated - European Film Award for Best Actress
Nominated - Dublin Film Critics' Circle - Best Actress
Nominated - Globes de Cristal Award for Best Actress
Nominated - Satellite Award for Best Actress - Motion Picture
La traversée
Sarah Arendt
Jérôme Cornuau
2013
Möbius
Sandra
Éric Rochant
2014
Not My Type
Jennifer
Lucas Belvaux
Magritte Award for Best Actress
Cabourg Romantic Film Festival - Best Actress
Nominated - César Award for Best Actress
Nominated - Globes de Cristal Award for Best Actress
Nominated - Lumières Award for Best Actress
Nominated - Trophees Francophones du Cinema - Best Actress
Divin Enfant
Sarah
Olivier Doran
The Missing
Laurence Relaud
Tom Shankland
TV Series (8 Episodes)
2015
Par accident
Angélique
Camille Fontaine
Souviens-toi
Emilie Auclair
Philippe Venault
TV Movie
2016
Trainee Day
Cyrielle
Marc Fitoussi (2)
Accusé
TV Series (1 Episode)
2017
See You Up There
Madeleine Péricourt
Albert Dupontel
This Is Our Land
Pauline Duhez
Lucas Belvaux (2)
Magritte Award for Best Actress
Theater
| Year | Title | Author | Director |
| --- | --- | --- | --- |
| 2003 | Lysistrata | Aristophanes | Natacha Gerritsen |
| 2006 | Miss Julie | August Strindberg | Didier Long |
| 2010 | Mon Tibet | Michel Lengliney | Didier Long (2) |
[ Source: Wikipedia ]