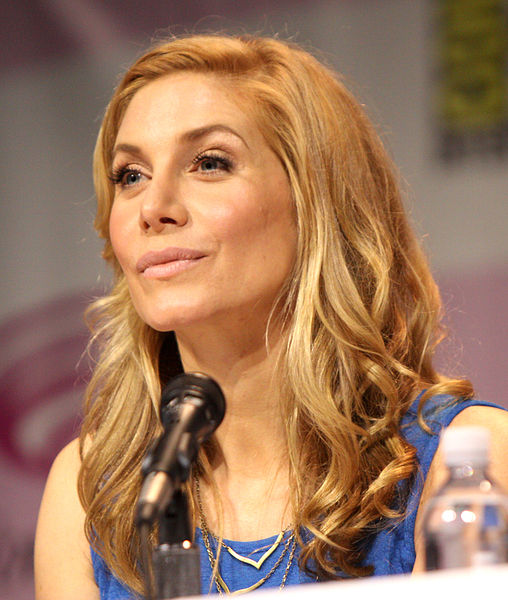 Elizabeth Mitchell
Birth name:
Elizabeth Joanna Robertson
Born:
March 27, 1970
Age:
53
Birthplace:
Los Angeles, California, U.S.
Popularity:

Please login to contact Elizabeth Mitchell...
Biography
Elizabeth Mitchell (born Elizabeth Joanna Robertson: March 27, 1970) is an American actress. She is known for her lead role as Dr. Juliet Burke on the ABC drama mystery series Lost (2006-2010).[1] Mitchell also had lead roles on the television series V (2009-2010), Revolution (2012-14), and Dead of Summer (2016), as well as a recurring role as the Snow Queen on Once Upon a Time (2014). She has starred in such films as Gia (1998), Frequency (2000), The Santa Clause 2 (2002), The Santa Clause 3: The Escape Clause (2006), and The Purge: Election Year (2016).
Mitchell was born in Los Angeles, California.[2] Her stepfather, Joseph Day Mitchell, and mother, Josephine Marian Mitchell (née Jenkins), are lawyers based in Dallas.[3] Mitchell and her mother moved to Dallas, Texas in 1970, where her mother married Joseph Mitchell in 1975.[4] Mitchell graduated from Booker T. Washington High School for the Performing and Visual Arts, a public magnet school. She is the eldest of three sisters, the others being Kristina Helen "Kristie" Mitchell (b. 1978), and Katherine Day "Kate" Mitchell (b. 1981).[5]
She attended Stephens College, graduating in 1996 with a Bachelor of Fine Arts in acting, and then studied at the British American Drama Academy.[6]
Read more...
Career
Mitchell at a Revolution panel, at WonderCon in 2014, with actor
Stephen Collins
Mitchell worked for six years in Dallas Theater Center and a year at Encore Theater.
Mitchell had a recurring role as psychiatrist Dr. Kim Legaspi, the first lesbian lover of Dr. Kerry Weaver (Laura Innes) during the 2000-01 season of TV series ER. She played in the 2000 movie Frequency alongside Dennis Quaid and Jim Caviezel. She also played Angelina Jolie's hairdresser/lover in the movie Gia and had a one-episode role in House M.D. as a patient.
In March 2009, Mitchell was cast in the ABC series V, a remake of the science-fiction television miniseries. Although ABC and Warner Bros. officials told the magazine she was only cast as a guest star, the announcement led to speculation and concern that Mitchell's character would be killed off at the end of Lost's fifth season,[7] which ended on a cliffhanger that left the fate of her character unknown. Mitchell was later named the lead actress on V.[8][9] Mitchell's character was killed off in the premiere of the sixth (and final) season of Lost, but returned for the two-part series finale.
V lasted for one more season, which premiered on January 4, 2011. Mitchell had a guest-starring role on Law & Order: Special Victims Unit in 2011 wherein she played June Frye.[10] Mitchell starred in the film, Answers to Nothing in 2011 as Kate. In 2012, she joined the cast of the series Revolution[11] as Rachel Matheson, replacing actress Andrea Roth, with whom Mitchell had worked for one episode on Lost. The series premiered on September 17, 2012,[12] and ended in May 2014. She then recurred as the Snow Queen on the TV fantasy series Once Upon a Time in late 2014.[13]
Mitchell in Seattle 2008 supporting the Boston Red Sox
In 2016, Mitchell starred as Senator Charlene 'Charlie' Roan in the science-fiction horror film The Purge: Election Year. Also that year, it was announced Mitchell would join the main cast of the Freeform supernatural horror series Dead of Summer. She portrayed the character of Deb Carpenter. The series ended after one season.[14]
Awards and honors
Mitchell has won the Saturn Award for Best Supporting Actress on Television in 2008, among other nominations. For her appearance as Dr. Juliet Burke on the series finale of Lost, Mitchell was nominated for the Primetime Emmy Award for Outstanding Guest Actress in a Drama Series in 2010.
Personal life
Between 1994 and 1999, Mitchell dated actor David Lee Smith and the two lived together in New York City.[15] Whilst filming The Linda McCartney Story in 2000, Mitchell and co-star Gary Bakewell began dating and later became engaged, but the relationship ended in 2002.[16]
Mitchell married improvisation actor Chris Soldevilla in 2004 and the two lived together in Bainbridge Island, Washington, with their son Christopher Joseph (CJ) Soldevilla, who was born in 2005.[17] In 2013, Mitchell and Soldevilla divorced due to irreconcilable differences. In 2014, Mitchell purchased a ranch in Bainbridge Island, Washington.
She shares the same name as actress Elizabeth Banks' birth name, who changed her name to join the Screen Actors Guild because the name Elizabeth Mitchell was already taken.
Filmography
Film
| Year | Title | Role | Notes |
| --- | --- | --- | --- |
| 1998 | Gia | Linda Mitchell | |
| 1999 | Molly | Beverly Trehare | |
| 2000 | Frequency | Julia 'Jules' Sullivan | |
| 2000 | Nurse Betty | Chloe Jensen | |
| 2001 | Hollywood Palms | Blair | |
| 2001 | Double Bang | Dr. Karen Winterman | |
| 2002 | The Santa Clause 2 | Carol Newman / Mrs. Claus | |
| 2006 | Running Scared | Edele Hansel | |
| 2006 | The Santa Clause 3: The Escape Clause | Mrs. Claus / Carol Newman-Calvin | |
| 2011 | Answers to Nothing | Kate[18] | |
| 2016 | The Purge: Election Year | Charlene 'Charlie' Roan | |
| 2019 | The Buried Girl | Katherine | Post-production |
| TBA | Welcome to Pine Grove! | | Filming |
Television
Year
Title
Role
Notes
1993
Dangerous Curves
Bethanny Haines
Guest star
Episode: "Rainbow Serpent"
1994-1995
Loving
Dinah Lee Mayberry Alden McKenzie #2
Guest star; unknown episodes
1996
L.A. Firefighters
Laura Malloy
Recurring role; 6 episodes
1996
The Sentinel
Wendy Hawthorne
Guest star
Episode: "True Crime"
1997
JAG
Lt. Sandra Gilbert
Guest star
Episode: "The Court-Martial of Sandra Gilbert"
1997
Comfort, Texas
Trudy
Unsold TV pilot
1998
Significant Others
Jane Chasen
Recurring role; 6 episodes
1998
Gia
Linda
Television movie
1999-2000
Time of Your Life
Ashley Holloway
Recurring role; 4 episodes
2000
The Linda McCartney Story
Linda McCartney
Television movie
2000-2001
E.R.
Dr. Kim Legaspi
Recurring role; 14 episodes
2001
The Beast
Alice Allenby
Lead Role
6 Episodes
2001
Spin City
Nancy Wheeler
Guest star
Episode: "Fight Club"
2002
Man and Boy
Cyd Mason
Television movie
2003
The Lyon's Den
Ariel Saxon
Recurring role; 7 episodes
2003
Law & Order: Special Victims Unit
Andrea Brown
Guest star
Episode: "Mercy"
2003
CSI: Crime Scene Investigation
Melissa Winters
Guest star
Episode: "One Hit Wonder"
2004
Grammercy Park
Taylor Elliot Quinn
Unsold TV pilot
2004
Everwood
Sara Beck
Guest star
Episode: "Staking Claim"
2004
Boston Legal
Christine Pauley
Guest star; 2 episodes
2004
House
Sister Mary Augustine
Guest star
Episode: "Damned If You Do"
2004
3: The Dale Earnhardt Story
Teresa Earnhardt
Television movie
2006
Haskett's Chance
Ann Haskett
Unsold TV pilot
2006-2010
Lost
Dr. Juliet Burke
Series regular
Saturn Award for Best Supporting Actress on Television
Nominated—Golden Nymph Award for Outstanding Actress in a Drama Series
Nominated—Primetime Emmy Award for Outstanding Guest Actress in a Drama Series
Nominated—Saturn Award for Best Supporting Actress on Television
2009-2011
V
Erica Evans
Lead role
Nominated—Saturn Award for Best Actress on Television
2011
Law & Order: Special Victims Unit
June Frye
Guest star
Episode: "Totem"
2012-2014
Revolution
Rachel Matheson
Lead role
Nominated—Saturn Award for Best Supporting Actress on Television
2013
Prosecuting Casey Anthony
Linda Drane Burdick
Television movie
2013
Kristin's Christmas Past
Barbara Cartwell
Television movie
2014
Once Upon a Time
Ingrid/Snow Queen/Sarah Fisher
Recurring role; 9 episodes
2015
Crossing Lines
Carine Strand
Lead role
2016
Dead of Summer
Deb Carpenter
Lead role
2018
The Expanse
Dr. Annushka "Anna" Volovodov
Recurring role
Web
| Year | Title | Role | Notes |
| --- | --- | --- | --- |
| 2007-2008 | Lost: Missing Pieces | Dr. Juliet Burke | 4 episodes |
Theater
| Year | Title | Role | Notes |
| --- | --- | --- | --- |
| 1992 | Amateurs | Jennifer | |
| 1994 | Red Channels | Shelia Harcourt | |
| 1995 | Three Tall Women | C | |
| 1999 | Absolution | Gordon's Wife | |
| 2008 | A Midsummer Night's Dream | Helena | |
Awards and nominations
Year
Association
Category
Nominated work
Result
2006
Saturn Award
Best Supporting Actress on Television
Lost
Nominated
2007
Monte-Carlo Television Festival
Outstanding Actress in a Drama Series
Nominated
Saturn Award
Best Supporting Actress on Television
Nominated
2008
Monte-Carlo Television Festival
Outstanding Actress in a Drama Series
Nominated
Saturn Award
Best Supporting Actress on Television
Won
2009
Monte-Carlo Television Festival
Outstanding Actress in a Drama Series
Nominated
Saturn Award
Best Supporting Actress on Television
Nominated
2010
Primetime Emmy Award
Outstanding Guest Actress in a Drama Series
Nominated
2011
Saturn Award
Best Actress on Television
V
Nominated
2014
Saturn Award
Best Supporting Actress on Television
Revolution
Nominated
[ Source: Wikipedia ]