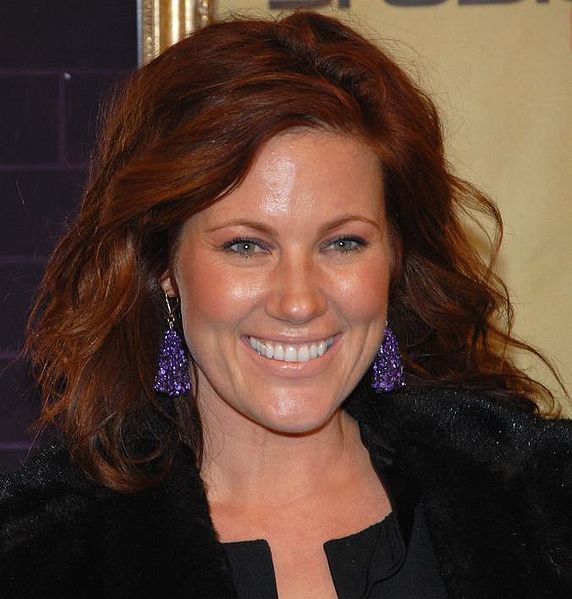 Elisa Donovan
Birth name:
Lisa Adaline Donovan
Born:
February 3, 1971
Age:
52
Birthplace:
Poughkeepsie, New York, U.S.
Popularity:

Please login to contact Elisa Donovan...
Biography
Elisa Donovan (born Lisa Adaline Donovan; February 3, 1971) is an American actress, writer, and producer. She is most recognized as the character Amber from the 1995 film Clueless, in which she starred opposite Alicia Silverstone. She would reprise the role for the 1996-99 TV series of the same name, with Rachel Blanchard taking over Silverstone's role. She also starred in six films in the acclaimed "The Dog Who Saved" saga.
Elisa was born Lisa Adaline Donovan in Poughkeepsie, New York, the daughter of Charlotte and Jack Donovan, who was a business executive.[1] She later changed her first name to "Elisa" when she had to join the stage union, Actor's Equity, because there was already an actress in that union named Lisa Donovan.[
citation needed
] She grew up on Long Island where she was an accomplished gymnast, dancer and equestrian. She began studying acting at age 12. She attended The New School, in New York City, where she studied writing, literature and acting. She moved to Los Angeles in 1994 and got her first sitcom role as Tanya on
Blossom
.[
citation needed
]
Read more...
Career
Donovan's breakthrough role was in the 1995 film Clueless as Amber, Cher's nemesis. Donovan also reprised her role in the television series of the same name. Other notable roles included the film A Night at the Roxbury, Beverly Hills, 90210 as Ginger LaMonica and playing Morgan Cavanaugh on the television sitcom Sabrina, the Teenage Witch. She also played Sharona on Disney Channel's Sonny with a Chance, and has appeared in the films Complacent, The Dog Who Saved Christmas, and its sequel The Dog Who Saved the Holidays. Donovan starred in the web series, The Lake on TheWB.com.[2] Additionally, Donovan played Gayle, an insurance agent in the small town of Maple Grove, in the web series In Gayle We Trust on NBC.com.[3]
Donovan had a role in the film A Golden Christmas, where she played Anna, the sister of the main character and she played the lead role in "The 12 Wishes of Christmas."
In 2006 she played a guest role in the NCIS episode "Dead and Unburied".[4]
She was also featured in 'N Sync's 1999 music video for "Thinking of You (I Drive Myself Crazy)" as the love interest for Joey Fatone.
Personal life
Donovan has been married to her husband Charlie Bigelow since October 20, 2012. They have a daughter named Scarlett Avery Bigelow (born May 8, 2012).
Filmography
Film
| Year | Title | Role | Notes |
| --- | --- | --- | --- |
| 1995 | Café Babel | Lover (she) | Short film |
| 1995 | Clueless | Amber Mariens | |
| 1998 | A Night at the Roxbury | Cambi | |
| 1999 | 15 Minutes | E.D. | Short film |
| 1999 | 10 Things I Hate About You | Jennifer | |
| 1999 | Loving Jezebel | Salli | |
| 1999 | Pop | Nora | |
| 2001 | Rebound Guy | Alexandra | Short film |
| 2001 | Liars Club | Mae | |
| 2002 | Wolves of Wall Street | Annabella Morris | |
| 2004 | A Girl's Guide to Depravity | | Short film |
| 2006 | National Lampoon's TV: The Movie | Suzy Gottlieb | |
| 2006 | Kiss Me Again | Malika | |
| 2006 | Rocker | Martina | |
| 2008 | 15 Minutes of Fame | Red | |
| 2009 | A Golden Christmas | Anna | |
| 2011 | Your Love Never Fails | Laura Connors | Video |
| 2011 | Spooky Buddies | Janice | Video |
| 2012 | Chasing Happiness | Jen | |
| 2012 | Complacent | Jennifer Pulchek | |
| 2012 | MoniKa | Andrea | |
| 2014 | The Dog Who Saved Easter | Belinda Bannister | |
| 2015 | The Dog Who Saved Summer | Belinda Bannister | |
| 2015 | Cardinal X | Mary | Post-production |
| 2018 | The Dog Who Saved America | Belinda Bannister | Pre-production |
Television
| Year | Title | Role | Notes |
| --- | --- | --- | --- |
| 1994 | Blossom | Tanya | "Puppy Love", "Dirty Rotten Scoundrel" |
| 1995 | Renegade | Tina Douglas | "The Ballad of D.B. Cooper" |
| 1995 | Simon | Holly | "Simon Gets Carl a Job" |
| 1995-1996 | Beverly Hills, 90210 | Ginger LaMonica | Recurring role |
| 1996 | Encino Woman | Ivana | TV film |
| 1996-1999 | Clueless | Amber Mariens | Main role |
| 1997 | Justice League of America | Cheryl | TV film |
| 1999 | Oh Baby | Jennifer Xavier | "Sitting on Babies" |
| 1999 | Just Shoot Me! | Amber | "Jack Gets Tough" |
| 2000 | Jack & Jill | Annie | "A Key Exchange", "Starstruck" |
| 2000 | Best Actress | Lori Seefer | TV film |
| 2000-2003 | Sabrina, the Teenage Witch | Morgan Cavanaugh | Main role (55 Episodes) |
| 2001 | Spyder Games | Gail Sanders | "1.43" |
| 2004 | Judging Amy | Shelby Crawford | "Sins of the Father", "Roadhouse Blues" |
| 2004 | Eve's Christmas | Eve Simon | TV film |
| 2006 | NCIS | Rebecca Kemps | "Dead and Unburied" |
| 2007 | Framed for Murder | June Baldwin | TV film |
| 2007 | It Was One of Us | Carson O'Connor | TV film |
| 2008 | Shark Swarm | Brenda | TV film |
| 2008 | Turbo Dates | | "3:10 to Puma" |
| 2009 | Sonny with a Chance | Sharona | "Poll'd Apart" |
| 2009 | The Lake | Leslie | Main role |
| 2009 | The Dog Who Saved Christmas | Belinda Bannister | TV film |
| 2009-2011 | In Gayle We Trust | Gayle Evans | Lead role |
| 2010 | The Dog Who Saved Christmas Vacation | Belinda Bannister | TV film |
| 2011 | The Dog Who Saved Halloween | Belinda Bannister | TV film |
| 2011 | 12 Wishes of Christmas | Laura Lindsey | TV film |
| 2012 | Whole Day Down | Nadine | Recurring role |
| 2012 | The Dog Who Saved the Holidays | Belinda Bannister | TV film |
| 2014 | Melissa & Joey | Darcey | "Catch & Release" |
| 2014 | HOARS (Home Owner Association Regency Supreme) | Julia Roberts | "No Mold, Parasites and Cocaine 244(b-1)" |
[ Source: Wikipedia ]