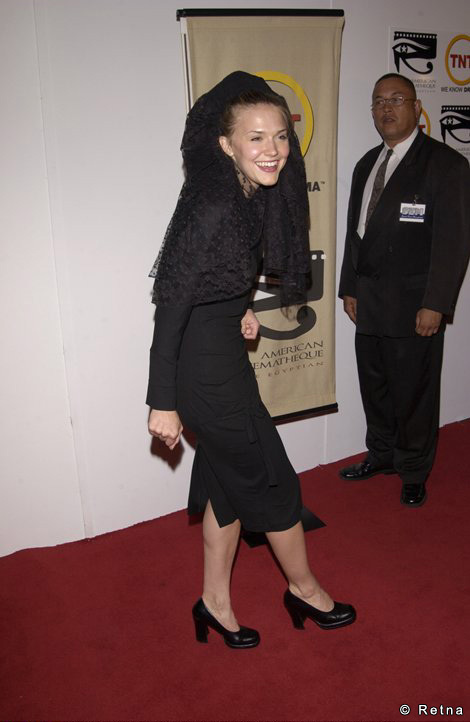 Dominique Swain
Birth name:
Dominique Swain
Born:
August 12, 1980
Age:
42
Birthplace:
Malibu, California, United States
Popularity:

Please login to contact Dominique Swain...
Biography
Dominique Swain (born August 12, 1980) is an American actress and producer. She is best known for her roles as the title character in the 1997 film adaptation of Lolita, and as Sean Archer's daughter, Jamie, in the action-thriller Face/Off (1997). She worked predominantly in independent films throughout the late 90s and early 2000s. Her other credits include Girl (1998), Happy Campers (2001), Tart (2001), Pumpkin (2002), and Alpha Dog (2006). She has since starred in a succession of horror films. In 2002, she appeared in the music video for the Moby song "We Are All Made of Stars".
Swain was born on August 12, 1980 in Malibu, California, the daughter of Cindy (née Fitzgerald) and David Swain, Sr., an electrical engineer.[1] She has two sisters, Chelsea (born 1982/1983) and Alexis (born 1978/1979), and a step-sister and brother from her father's first marriage. Swain grew up in Malibu where she attended Malibu High School, and enjoyed playing sports, making art, and listening to music. Swain excelled at learning, earning straight A's and becoming Valedictorian like her sister before her. Her parents are separated.[2]
Read more...
Career
Swain started her career in Hollywood as a stunt double; she appeared as the double for Macaulay Culkin's younger sister Quinn in Joseph Ruben's The Good Son (1993). In 1995, at the age of 15, she was chosen out of 2,500 girls to play the title role of Dolores "Lolita" Haze in Adrian Lyne's controversial 1997 screen adaptation of Lolita. She was 15 during filming and her performance was praised by critics. She later then played the rebellious teen Jamie Archer in John Woo's Face/Off (1997).[3][4][5] She starred in the 1998 drama film Girl, in which she plays a high-schooler who is determined to lose her virginity. She then played a central role in the 2006 film Alpha Dog.[6] In 2009, Swain appeared in Starz Inside: Sex and the Cinema which discussed the depiction of sex in film.[7] That same year, she was featured in the movie Noble Things, about the country star Jimmy Wayne Collins, which also starred country musician Lee Ann Womack.[8] Swain also starred in the horror/slasher film Fall Down Dead as the main character, Christie Wallace.[9] She starred in Monte Hellman's romance thriller Road to Nowhere in 2010.[10] In 2011, Swain was featured in David Ren's action thriller The Girl from the Naked Eye.[11] She starred in the direct-to-video science fiction film Nazis at the Center of the Earth in 2012.[12] In 2013, Swain starred in Gregory Hatanaka's drama film Blue Dream as Gena Townsend.[13] In 2015 she was in the independent action film Skin Traffik alongside Mickey Rourke, Daryl Hannah, Eric Roberts and Michael Madsen,[14]
Currently, Swain is set to star in the slasher film The 6th Friend.[15]
Campaigning
In 2001, at the age of 21, Swain posed nude for PETA's "I'd Rather Go Naked than Wear Fur" campaign.[16]
Filmography
Film
| Year | Title | Role | Notes |
| --- | --- | --- | --- |
| 1997 | Face/Off | Jamie Archer | |
| 1997 | Lolita | Dolores "Lolita" Haze | |
| 1998 | Girl | Andrea Marr | |
| 2000 | Intern | Jocelyn Bennett | |
| 2000 | The Smokers | Jefferson Roth | |
| 2001 | Happy Campers | Wendy | |
| 2001 | Mean People Suck | Kate | Short film |
| 2001 | Tart | Cat Storm | |
| 2002 | Pumpkin | Jeanine Kryszinsky | |
| 2002 | Dead in the Water | Gloria | |
| 2002 | New Best Friend | Sidney Barrett | |
| 2003 | Plain Dirty | Inez Macbeth | |
| 2003 | As Virgins Fall | Ellen Denver | |
| 2003 | The Job | Emily Robin | |
| 2004 | The Freediver | Maggie | |
| 2004 | Out of Season | Kelly Phillips | |
| 2005 | Devour | Dakota | |
| 2005 | Journeyman | Dominique | |
| 2005 | The Locrian Mode | Jill | Short film |
| 2006 | Alpha Dog | Susan Hartunian | |
| 2006 | All In | Ace | |
| 2007 | Dead Mary | Kim | |
| 2007 | The Pacific and Eddy | Chelsea | |
| 2007 | White Air | Christie | |
| 2007 | Fall Down Dead | Christie Wallace | Also associate producer |
| 2008 | Borders | Ashley | Short film |
| 2008 | Stiletto | Nancy | |
| 2008 | Prairie Fever | Abigail | |
| 2008 | Noble Things | Amber Wades | |
| 2008 | Capers | Mercy | |
| 2009 | Nightfall | Quinn | |
| 2009 | Stuntmen | Mindy Danger | |
| 2010 | Trance | Laura | |
| 2010 | Toxic | Nadia | |
| 2010 | Road to Nowhere | Nathalie Post | |
| 2012 | Private War | LCpl. Roberts | |
| 2012 | The Girl from the Naked Eye | Alissa | |
| 2012 | Nazis at the Center of the Earth | Dr. Paige Morgan | |
| 2013 | Blue Dream | Gena | |
| 2014 | Rock Story | Sammy Carlson | |
| 2014 | Fatal Instinct | Aly | |
| 2014 | Boudoir | Colette | Short film |
| 2014 | 6 Ways to Die | Steph Garcia | |
| 2014 | The Lost Girls | Lucy | |
| 2015 | No Deposit | Girl in Bar | |
| 2015 | A Horse Trail | Sydney | |
| 2015 | The Mourning | The Suited Woman | |
| 2015 | Embers | Woman in the Long Dress | |
| 2016 | State of Desolation | Tina | |
| 2016 | Skin Traffik | Anna Peel | |
| 2016 | Widows | Amanda Brandt | Short film |
| 2016 | Hate Horses | Wendy Lou Perrin | |
| 2017 | Spreading Darkness | Fiona Funari | Completed |
| 2017 | Boone: The Bounty Hunter | Olivia | Post-production |
| 2017 | The 6th Friend | Heather | Post-production |
| 2017 | Battle of the Drones | Alexandra Hayes | Post-production |
| 2018 | Magik | Calysta (voice) | Post-production, also writer |
| 2018 | Holy Masquerade | Maggie | Post-production |
Television
| Year | Title | Role | Notes |
| --- | --- | --- | --- |
| 2004 | The Madam's Family: The Truth About the Canal Street Brothel | Monica | TV movie |
| 2005 | JAG | Lt. Eve Sorrens | 1 episode ("The Sixth Juror") |
| 2006 | Ghost Whisperer | Stacy Chase | 1 episode ("Friendly Neighborhood Ghost") |
| 2006 | Punk'd | Herself | 1 episode |
| 2006 | Totally Awesome | Lori | TV movie |
| 2015 | Fatal Flip | Alex Saunders | TV movie |
| 2015 | Sharkansas Women's Prison Massacre | Honey | TV movie |
| 2016 | The Wrong Roommate | Janice | TV movie |
| 2018 | The Wrong Cruise | Monica | TV movie |
Music videos
| Year | Title | Artist |
| --- | --- | --- |
| 1998 | "Lullaby" | Shawn Mullins |
| 2002 | "We Are All Made of Stars" | Moby |
| 2007 | "Rockstar" | Nickelback |
Awards and nominations
| Year | Ceremony | Category | Work | Result |
| --- | --- | --- | --- | --- |
| 1998 | Saturn Awards | Saturn Award for Best Performance by a Younger Actress | Face/Off | Nominated |
| 1999 | Chicago Film Critics Association Awards | Most Promising Actress | Lolita | Nominated |
| 1999 | MTV Movie Awards | Best Kiss | Lolita | Nominated |
| 1999 | Young Artist Awards | Best Performance in a TV Movie / Pilot / Mini-Series: Leading Young Actress | Lolita | Won |
| 1999 | YoungStar Awards | Best Young Actress in a Mini-Series/Made for TV Film | Lolita | Nominated |
| 2003 | DVD Exclusive Awards | Best Actress | Tart | Nominated |
| 2007 | Silver Lake Film Festival | Best Actress | The Pacific and Eddy | Won |
| 2013 | Downbeach Film Festival | Lifesaver Achievement Award | N/A | Won |
[ Source: Wikipedia ]