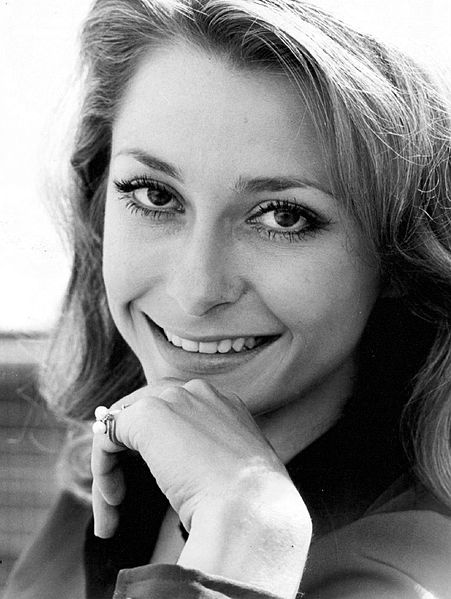 Elizabeth Ashley
Birth name:
Elizabeth Ann Cole
Born:
August 30, 1939
Age:
84
Birthplace:
Ocala, Florida, U.S.
Popularity:

Please login to contact Elizabeth Ashley...
Biography
Elizabeth Ashley (born August 30, 1939) is an American actress of theatre, film, and television.[2] She has been nominated for three Tony Awards, winning once in 1962 for Take Her, She's Mine. Ashley was also nominated for the BAFTA and Golden Globe awards for her performance in The Carpetbaggers (1964), and was nominated for an Emmy Award in 1991 for Evening Shade. Elizabeth was a guest on The Tonight Show with Johnny Carson 24 times.
Ashley was born
Elizabeth Ann Cole
in Ocala, Florida, to Lucille (née Ayer) and Arthur Kingman Cole,[3] a music teacher,[4] and raised in Baton Rouge, Louisiana.
Ashley left Louisiana State University after her freshman year and moved to New York. She studied acting at The Neighborhood Playhouse School of the Theatre there, supporting herself by working as the Jell-O Pudding girl on a television program and as a showroom model.[5]
Read more...
Career
Ashley won a Tony Award for Best Featured Actress in a Play for Take Her, She's Mine, then later starred as Corie in the original Broadway production of Neil Simon's Barefoot in the Park (1963) and, later, as Maggie in a Broadway revival of Tennessee Williams' Cat on a Hot Tin Roof (1974). She received Tony nominations for both performances.[6] She appeared on Broadway as Dr. Livingstone in Agnes of God (1982) and was a replacement in the role of Mattie Fae during the original Broadway run of August: Osage County.[7]
She has been featured in major motion pictures over five decades, including early roles in The Carpetbaggers (1964), Ship of Fools (1965) and The Third Day (1965). Her other film credits include The Marriage of a Young Stockbroker (1971), Rancho Deluxe (1975), Coma (1978), Paternity (1981), Dragnet (1987) and Vampire's Kiss (1989), and she starred as the villain in the controversial film Windows (1980). Her most recent film roles were as Diane Freed in Happiness (1998), and as Marg in the 2007 film The Cake Eaters.
Having earlier appeared with Burt Reynolds in Paternity in 1981 and as a guest star in his television series B.L. Stryker in 1989, Ashley became a cast member of Reynolds' next television series, Evening Shade, from 1990-1994 as Aunt Frieda Evans.[8] In 1991, this role garnered her an Emmy nomination for Outstanding Supporting Actress in a Comedy Series.[9] She was originally supposed to appear in the 1995 movie Mallrats, playing the governor of New Jersey; however, owing to timing issues, the entire sequence was cut and replaced by a new one.[citation needed]
Ashley had the role of Kate in Sandburg's Lincoln, a six-part dramatization that ran on NBC in the mid-1970s.[8]:926 Her other television appearances include the 1987 miniseries The Two Mrs. Grenvilles, and guest roles in Ben Casey; Route 66; Sam Benedict; Stoney Burke; The Six Million Dollar Man; Family; Miami Vice; Caroline in the City; Mission: Impossible; Murder, She Wrote; Dave's World; Law & Order: Special Victims Unit; Touched by an Angel; The Larry Sanders Show; and Homicide: Life on the Street. She was also featured in 14 episodes of the HBO series Treme as Aunt Mimi.[9]
Book
Ashley's autobiography, entitled Actress: Postcards from the Road, was published in a hardcover edition on June 1, 1978 by M. Evans & Co (now part of the Rowman & Littlefield Publishing Group). A paperback publication followed on October 12, 1979 through Fawcett.[10]
Personal life
Three times divorced, Ashley's first and second husbands were actors James Farentino and George Peppard.[11] The latter was her leading man in her first movie, The Carpetbaggers (1964); the couple had a son, Christian (born 1968).[1]
When she was 25 years old, Ashley retired from acting "to make a home for my husband ... realize myself as a woman".[12] She resumed her career four years later.[12]
Filmography
Film
Year
Title
Role
Notes
1964
The Carpetbaggers
Monica Winthrop
1965
Ship of Fools
Jenny Brown
1965
The Third Day
Alexandria Mallory
1971
The Marriage of a Young Stockbroker
Nan
1973
Paperback Hero
Loretta
1974
Golden Needles
Felicity
1975
Rancho Deluxe
Cora Brown
1975
92 in the Shade
Jeannie Carter
1976
The Great Scout & Cathouse Thursday
Nancy Sue
1978
Coma
Mrs. Emerson
1980
Windows
Andrea Glassen
1981
Paternity
Sophia Thatcher
1982
Split Image
Diana Stetson
1987
Dragnet
Jane Kirkpatrick
1988
Vampire's Kiss
Dr. Glaser
1988
Dangerous Curves
Miss Reed
1989
A Man of Passion
Gloria
1996
Shoot the Moon
Mrs. Comstock
1997
Sleeping Together
Mrs. Tuccinini
1998
Happiness
Diane Freed
1999
Just the Ticket
Mrs. Paliski
2000
Labor Pains
Janice
2001
Home Sweet Hoboken
Beth Flowers
2002
Hey Arnold!: The Movie
Mrs. Vitello (voice)
2007
The Cake Eaters
Marg Kaminski
2017
Fry Day
Deirdre
Short
2017
Just Getting Started
Lily
2017
Severance
Francesca
Short, post-production
2018
Oceans 8
Ethel
Television
| Year | Title | Role | Notes |
| --- | --- | --- | --- |
| 1961 | The Defenders | Joyce Harkavy | "The Prowler" |
| 1962 | The Nurses | Barbara Bowers | "The Barbara Bowers Story" |
| 1962 | Ben Casey | Jane Brewster | "And Even Death Shall Die" |
| 1963 | Route 66 | Maria Cardenas | "The Cage Around Maria" |
| 1963 | Sam Benedict | Cindy Messerman | "Season for Vengeance" |
| 1963 | Stoney Burke | Donna Weston | "Tigress by the Tail" |
| 1966 | Run for Your Life | Dina Fuller | "The Grotenberg Mask" |
| 1966 | Hawk | Donna | "H Is for a Dirty Letter" |
| 1969 | The Skirts of Happy Chance | Laddie Turnbow | TV film |
| 1969 | The File on Devlin | Sally Devlin | TV film |
| 1970 | Love, American Style | Penny Dunbar | "Love and the Banned Book" |
| 1970 | The Virginian | Faith Andrews | "The West vs. Colonel MacKenzie" |
| 1970 | Medical Center | Anne Forley | "Brink of Doom" |
| 1971 | Insight | Sally | "The War of the Eggs" |
| 1971 | Harpy | Marian | TV film |
| 1971 | The Face of Fear | Sally Dillman | TV film |
| 1971 | Mission: Impossible | Lois Stoner | "Encounter" |
| 1972 | When Michael Calls | Helen Connelly | TV film |
| 1972 | Second Chance | Ellie Smith | TV film |
| 1972 | Ghost Story | Karen Dover | "At the Cradle Foot" |
| 1972 | The Heist | Diane Craddock | TV film |
| 1972 | Your Money or Your Wife | Laurel Plunkett | TV film |
| 1973 | Mission: Impossible | Andrea | "The Question" |
| 1973 | The Magician | Sally Baker | "Pilot" |
| 1973 | Police Story | Jannette Johnson | "Dangerous Games" |
| 1973 | The Six Million Dollar Man: The Solid Gold Kidnapping | Dr. Erica Bergner | TV film |
| 1974 | Mannix | Karen Winslow | "The Dark Hours" |
| 1974 | Ironside | Laura Keyes | "Close to Your Heart" |
| 1974 | The F.B.I. | Claire | "Diamond Run" |
| 1975 | Lincoln | Kate Chase Sprague | "Sad Figure, Laughing" |
| 1976 | One of My Wives Is Missing | Elizabeth Corban | TV film |
| 1977 | Family | Elizabeth Kraft | "Lovers and Strangers" |
| 1977 | The War Between the Tates | Erica Tate | TV film |
| 1978 | Tom and Joann | Joan Hammil | TV film |
| 1978 | A Fire in the Sky | Sharon Allan | TV film |
| 1983 | Freedom to Speak | Jane Addams / Dorothea Dix | TV miniseries |
| 1983 | Svengali | Eve Swiss | TV film |
| 1984 | He's Fired, She's Hired | Freddie Fox | TV film |
| 1985 | The Love Boat | Nancy Bricker | 2 episodes |
| 1985 | Cagney & Lacey | Michelle Zal | "The Psychic" |
| 1985 | The Hitchhiker | Mrs. Baxter | "Out of the Night" |
| 1986 | Stagecoach | Dallas | TV film |
| 1987 | The Two Mrs. Grenvilles | Babette Van Degan | TV miniseries |
| 1987 | Warm Hearts, Cold Feet | Blanche Webster | TV film |
| 1987 | Miami Vice | D.E.A. Agent Linda Colby | "Knock, Knock... Who's There?" |
| 1988 | Eisenhower and Lutz | Eleanor | "Pride and Prejudice" |
| 1989 | Alfred Hitchcock Presents | Karen Lawson / Kate Lawson | "Mirror Mirror" |
| 1989 | B.L. Stryker | Althea Campbell | "Blues for Buder" |
| 1989 | Hunter | Felicia Green | "A Girl Named Hunter" |
| 1989 | American Playwrights Theater: The One-Acts | Annie Sweeney | "The Rope" |
| 1989 | Murder, She Wrote | Vera Gerakaris | "Truck Stop" |
| 1990 | Blue Bayou | Lolly Fontenot | TV film |
| 1990 | Another World | Emma Frame Ordway | TV series |
| 1990-1994 | Evening Shade | Freida Evans | Main role |
| 1991 | Reason for Living: The Jill Ireland Story | Vicky | TV film |
| 1991 | Love and Curses... And All That Jazz | Emmalina | TV film |
| 1992 | In the Best Interest of the Children | Carla Scott | TV film |
| 1993 | The Larry Sanders Show | Elizabeth Ashley | "Off Camera" |
| 1993 | Harnessing Peacocks | Grandmother | TV film |
| 1994 | In the Heat of the Night | Maybelle Cheseboro | "Maybelle Returns" |
| 1994 | Law & Order | Gwen Young | "Second Opinion" |
| 1995 | The Buccaneers | Mrs. Closson | TV miniseries |
| 1995 | Burke's Law | Mary Burton | "Who Killed the Motor Car Maverick?" |
| 1995 | Women of the House | Elizabeth Ashley | "Women in Film" |
| 1995 | Murder, She Wrote | Emily Broussard Renwyck | "Big Easy Murder" |
| 1995 | Touched by an Angel | Sandy Latham | "Angels on the Air" |
| 1996 | Dave's World | Jeanette | "Double Fault" |
| 1996 | The Big Easy | Larissa Fontaine | "A Dead Man Is Hard to Find" |
| 1996 | All My Children | Madge Sinclair | TV series |
| 1996 | Hey Arnold! | Mrs. Vitello (voice) | "Arnold's Hat/Stoop Kid" |
| 1996-97 | Caroline in the City | Natalie Karinsky | "Caroline and Richard's Mom", "Caroline and the Bad Trip" |
| 1997 | The Ruth Rendell Mysteries | Margaret Lipton | "May and June: Part One" |
| 1998 | Hey Arnold! | Mrs. Vitello (voice) | "Part Time Friends/Biosquare" |
| 1999 | Homicide: Life on the Street | Madeline Pitt | "Truth Will Out" |
| 1999 | Law & Order: Special Victims Unit | Serena Benson | "Payback" |
| 2010-2013 | Treme | Aunt Mimi | Recurring role |
| 2015 | Understudies | Dotty Buggett | TV film |
[ Source: Wikipedia ]