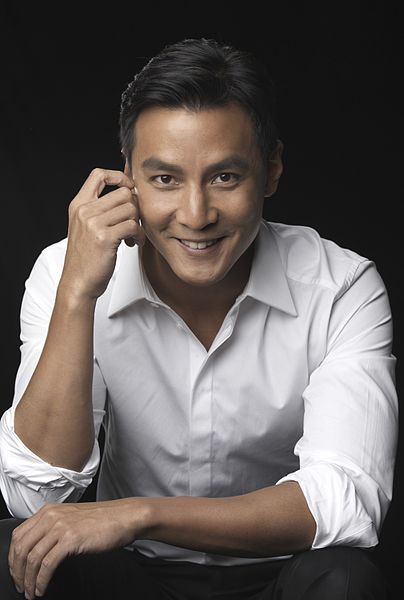 Daniel Wu
Born:
September 30, 1974
Age:
48
Birthplace:
Berkeley, California, United States
Popularity:

Please login to contact Daniel Wu...
Biography
Daniel Wu Yan-Zu (simplified Chinese: 吴彦祖; traditional Chinese: 吳彥祖; pinyin: Wú Yànzǔ; born September 30, 1974) is an American Hong Kong actor, director and producer. He stars in the AMC martial arts drama series Into the Badlands. Since his film debut in 1998, he has been featured in over 60 films.[1] He is known as a "flexible and distinctive" leading actor in the Chinese-language film industry.[2][3]
Wu was born in Berkeley, California, and raised in Orinda, California. His parents, Diana, a college professor, and George Wu, a retired engineer,[4] are natives of Shanghai, China. His father immigrated to the United States after the communist revolution in China in 1949, and met his mother in New York, where she was a student. After marrying, they settled in California.[5] Wu has two older sisters, Greta and Gloria, and an older brother who died when he was two.[4][6]
Wu developed an interest in martial arts when he saw Jet Li in The Shaolin Temple and Donnie Yen in Iron Monkey,[2] and consequently began studying wushu at age 11.[7] His childhood role model was Jackie Chan,[5] a man who now considers Wu "like a son."[8] Wu attended the Head-Royce School in Oakland, California[9] and later majored in architecture at the University of Oregon. While there, he founded the University of Oregon Wushu Club in 1994 and served as the team's first coach.[10] During this time, Wu also took film classes and frequented local theaters, and came to enjoy the works of filmmakers like Akira Kurosawa and Luc Besson, whom he describes as "men of vision."[11]
Following graduation, Wu traveled in 1997 to Hong Kong to witness the handover of Hong Kong, with no intention of taking on a movie career. At the suggestion of his sister, Wu began modeling.[5][12] Four months later, film director Yonfan, after seeing Wu featured in a clothing ad at a railway station, approached Wu about starring in an upcoming movie.[2][13]
Read more...
Career
Despite his inability at the time to speak Hong Kong Cantonese[14] or read Chinese,[15] Wu successfully completed his first movie, Yonfan's Bishonen in 1998. Still today, when he receives a Cantonese script, his assistant reads the entire piece, while he is making notes on the pronunciation. The day after Bishonen wrapped, Wu was offered the leading role in Mabel Cheung's City of Glass (for which Wu was nominated as best new actor at the 18th Hong Kong Film Awards[16]), and later, a supporting part in Young and Dangerous: The Prequel, from Andrew Lau's gangster film series. Around this time, Wu met superstar Jackie Chan at a restaurant opening,[17] and was quickly signed to Chan's JC Group with agent Willie Chan.[13] Wu's breakthrough performance came in 1999 with his role in Benny Chan's Gen-X Cops. He followed this success with roles in a variety of movies including big-budget thriller Purple Storm, art-house production Peony Pavilion, and the extremely successful Love Undercover. In 2001, Wu received criticism from the Hong Kong media for sexual scenes with Suki Kwan in Cop on a Mission, but Wu says that same criticism attracted the attention of directors and the film represented a turning point in the types of roles he chose in the future.[18]
Wu's first experience in film production came with his starring role in Julian Lee's 2003 film, Night Corridor. Due to budgetary constraints, Wu also participated in the search for funding for, and distribution of, the film, and recruited Jun Kung to create the soundtrack.[19] Though Night Corridor dealt with "risky" themes,[12] Wu felt he had less reliance on image than many of his pop-star actor peers,[19] and he was nominated for best actor at Taiwan's 40th Golden Horse Film Awards for his effort.[20] During 2003, Wu also took part as producer and creative director on "MTV's Whatever Things!", a "Jackass"-styled program aired in Asia,[21] also featuring Sam Lee, Josie Ho, Terence Yin, and other celebrities.[22] Also during 2003, Wu took part in a stage production of The Happy Prince at the Edward Lam Dance Theater[23] as part of the Hong Kong Arts Festival, during which he recited a 16-minute monologue in Cantonese, learned entirely from pinyin.[24] In 2005, Wu was nominated as best actor at the 24th Hong Kong Film Awards for his role in Derek Yee's One Nite in Mongkok,[25] and as best supporting actor for New Police Story.[26] At the 41st Golden Horse Film Awards, Wu won the award for best supporting actor for New Police Story.[27] The win came as a surprise to him, because he "didn't think that much" of his performance in the film.[18]
Daniel Wu in 2006
In 2005, Chinese media began to report that Wu had formed a boy band, Alive, with Terence Yin, Andrew Lin, and Conroy Chan.[28] Wu and his bandmates posted information, updates, personal thoughts (including slamming Hong Kong Disneyland, for which they were spokespersons[29]), and the band's music, at their official website.[28][30][31] In 2006, Wu made his writing and directorial debut with The Heavenly Kings, which chronicles Alive's formation and exploits.[32] After the film's release, however, it was revealed that The Heavenly Kings was actually a mockumentary of the Hong Kong pop music industry, and Alive was constructed purely as a vehicle to make the movie; the film's characters represented only 10-15% of their real-life counterparts[33] and much of the footage blurred the line between fiction and reality.[32] Wu admitted his own singing voice "sucked really bad," and the band had their voices digitally enhanced for its music, to prove that "it's easy to fake it."[31] Despite some backlash from the media over being intentionally fed false information in the movie[34] about illegal downloads of the band's music,[33] Wu won the best new director award at the 26th Hong Kong Film Awards, an achievement he called "a group effort."[34]
In November 2015, he began starring as Sunny on the AMC action series Into the Badlands, for which he also serves as executive producer.
In 2016, he portrayed via motion capture and voiced Gul'dan, the central antagonist of the action fantasy film Warcraft, based upon the popular video game series by Blizzard.
Other ventures
In April 2007, Wu re-launched his band's old website, AliveNotDead.com, with Terence Yin and RottenTomatoes.com founders Patrick Lee and Stephen Wang, as a place for filmmakers, musicians, and other artists to collaborate, receive exposure, network, and interact with fans.[35][36] He continues his modeling career as spokesperson for a variety of products such as Seiko[37] and L'Oréal.[38] Wu posed for the charity photography album SuperStars by Leslie Kee,[39] and performed on rapper Jin's song, "HK Superstar."[40] Wu is an investor in Racks MDB Shanghai, which opened in 2008.[41]
Personal life
Wu maintains residences in Hong Kong, Shanghai, and Beijing. He continues to actively train in wushu as well as other martial arts.[31]
On April 6, 2010, Wu married Lisa S. in South Africa.[42] Their daughter, Raven, was born in June 2013.[43]
Filmography
Film
Year
English title
Original title
Role
Notes
1998
Bishonen
美少年之恋
Sam Fai
City of Glass
玻璃之城
Daniel
Credited as Daniel Ng
Young and Dangerous: The Prequel
新古惑仔之少年激鬥篇
Big Head
Credited as Daniel Ng
1999
Gorgeous
玻璃樽
Photographer's assistant
Gen-X Cops
特警新人類
Daniel
Purple Storm
紫雨風暴
Todd Nguyen
2000
2000 AD
公元2000
Benny
Undercover Blues
刑 「殺之法」
Joe Wong
2001
Headlines
頭號人物
Peter Wong
Hit Team
重裝警察
Inspector Chung Chai
Cop on a Mission
知法犯法
Mike
Born Wild
野獸之瞳
Tide Ho
Beijing Rocks
北京樂與路
Michael Wu
Peony Pavilion
遊園驚夢
Xing Zhi-gang
2002
Beauty and the Breast
豐胸秘Cup
Harper
Love Undercover
新紮師妹 
Au Hoi-man
Princess D
想飛 
Joker
Devil Face, Angel Heart
變臉迷情
Long
The Peeping
偷窺無罪
Calvin
Naked Weapon
赤裸特工
Jack Chen
2003
Night Corridor
妖夜迴廊
Sam Yuen/Hung
Also producer
Love Undercover 2: Love Mission
新紮師妹2: 美麗任務
Au Hoi-man
Hidden Track
尋找周杰倫
Police officer
Miss Du Shi Niang
Miss 杜十娘
Ken Li
2004
Magic Kitchen
魔幻厨房
Kevin
Chiseen
黐線
DVD version of
some segments of MTV's Whatever Things
Enter the Phoenix
大佬愛美麗
Georgie Hung
One Nite in Mongkok
旺角黑夜
Lai Fu
Around the World in 80 Days
N/A
Bak Mei
The Twins Effect II
千機變II: 花都大戰
Wei Liao
Beyond Our Ken
公主復仇記
Ken
New Police Story
新警察故事
Joe Kwan
2005
DragonBlade: The Legend of Lang
龍刀奇緣
Hung Lang
Voiceover
House of Fury
精武家庭
Jason
Divergence
三岔口 
Coke
Drink-Drank-Drunk
千杯不醉
Michael
Everlasting Regret
長恨歌
Kang Mingxun
2006
Rob-B-Hood
寶貝計劃
Brokeback Security agent Daniel
McDull, the Alumni
春田花花同學會
Hostage-taker
The Banquet
夜宴
Prince Wu Luan
The Heavenly Kings
四大天王 
Daniel Wu
Also writer, director and producer
2007
Protégé
門徒
Nick
Ming Ming
明明
A D
Blood Brothers
天堂口
Ah Fung
2009
Shinjuku Incident
新宿事件
Jie/Joe
Overheard
竊聽風雲
Max Lam
Like a Dream
如夢
Max
Also associate producer
Jump
跳出去
Doctor
2010
Hot Summer Days
全城熱戀
Sushi master
Triple Tap
鎗王之王
Chong Tze-wai
2011
Don't Go Breaking My Heart
單身男女
Kevin Fong
The Founding of a Party
建黨偉業
Hu Shih
Overheard 2
竊聽風雲2
Joe Szema
Inseparable
形影不離
Li
2012
The Great Magician
大魔術師
Captain Tsai
Cameo
Tai Chi 0
太极
Mad Monk
Also producer
Tai Chi Hero
太極2 英雄崛起
Mad Monk
Also producer
The Man with the Iron Fists
N/A
Poison Dagger
The Last Supper
王的盛宴
Xiang Yu
CZ12
十二生肖
Hospital Doctor
Cameo
2013
Europa Report
N/A
William Xu
Control
控制
Mark
Also producer
2014
That Demon Within
魔警
Dave Wong
Overheard 3
竊聽風雲3
Joe
Don't Go Breaking My Heart 2
單身男女2
Kevin Fong
2015
I Am Somebody
我是路人甲
Go Away Mr. Tumor
滾蛋吧!腫瘤君
2016
Warcraft
N/A
Gul'dan
Sky on Fire
沖天火
Zong Tianbao
2017
Geostorm
N/A
Cheng Long
Wished
反轉人生
Cameo
2018
Tomb Raider
N/A
Lu Ren
Television
| Year | Title | Role | Notes |
| --- | --- | --- | --- |
| 2015-present | Into the Badlands | Sunny | Also executive producer |
| 2016 | Skylanders Academy | King Pen | Voice |
Awards and nominations
Year
Award
Category
Nominated work
Result
1998
18th Hong Kong Film Awards
Best New Performer
City of Glass
Nominated
2003
40th Golden Horse Awards
Best Leading Actor
Night Corridor
Nominated
2004
41st Golden Horse Awards
Best Supporting Actor
New Police Story
Won
2005
24th Hong Kong Film Awards
Best Actor
One Nite in Mongkok
Nominated
Best Supporting Actor
New Police Story
Nominated
Golden Rooster Awards
Best Supporting Actor
Nominated
Golden Bauhinia Awards
Best Actor
One Nite in Mongkok
Nominated
Best Supporting Actor
New Police Story
Nominated
2007
26th Hong Kong Film Awards
Best New Director
The Heavenly Kings
Won
7th Chinese Film Media Awards
Best New Director
Won
Hong Kong Film Critics Society Awards
Best Director
Nominated
Best Screenplay
Nominated
2009
46th Golden Horse Awards
Best Leading Actor
Like A Dream
Nominated
2014
6th Macau International Movie Festival
Best Actor
That Demon Within
Nominated
2015
34th Hong Kong Film Awards
Best Actor
Nominated
[ Source: Wikipedia ]