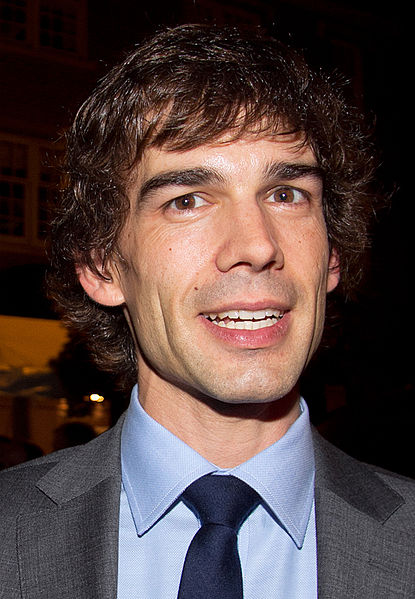 Christopher Gorham
Birth name:
Christopher David Gorham
Born:
August 14, 1974
Age:
48
Birthplace:
Fresno, California, U.S.
Popularity:

Please login to contact Christopher Gorham...
Biography
Christopher David Gorham (born August 14, 1974) is an American actor who is best known for the ABC series Ugly Betty. He has also appeared in such series as Popular, Odyssey 5, Felicity, Jake 2.0, Medical Investigation, Out of Practice, Harper's Island, Covert Affairs, and Once Upon a Time.
Gorham was born in Fresno, California, to David Gorham, a certified public accountant, and Cathryn Gorham, a school nurse. He attended Roosevelt High School and graduated from UCLA with a B.A. in Theater in 1996.[1] While in college he participated in many sports, including martial arts, stage combat, fencing, rollerblading, and ballroom dancing.[2]
Read more...
Career
His first job in the acting business was as an intern on Baywatch (1989). Gorham has appeared in a number of science fiction TV series, ranging from a starring role in Odyssey 5 to the title character in Jake 2.0. He also had roles on Party of Five, Felicity, and Without a Trace. He has also acted in films, including 2001's The Other Side of Heaven co-starring Anne Hathaway.
Gorham played Harrison John in the WB series Popular and Dr. Miles McCabe in the NBC drama Medical Investigation. He played the lead role in the short-lived CBS series Out of Practice. He was also the lead of ABC Family's original movie Relative Chaos.
Three years after Jake 2.0 ended, Gorham had a recurring role as Henry Grubstick in Silvio Horta's new series, Ugly Betty, and played the main love interest for the series' heroine Betty Suarez (played by America Ferrera). He joined the cast full-time for the series' second season. He then left in July 2008, but returned for the Season 3 and then also the Season 4 finale.[3] He starred in the 2009 CBS TV miniseries, Harper's Island, in which characters were killed off every week leading to the eventual reveal of the murderer.
In summer 2010 he was cast as one of the leads in Covert Affairs, playing a blind special ops agent, Auggie Anderson, who leads the main character, a trainee CIA agent played by Piper Perabo, at her new job. The series on the USA cable network received high ratings right from the airing of its pilot episode and was renewed for a fourth season on September 25, 2012.[4] Covert Affairs had a season 5 premiere on June 24, 2014. BuddyTV ranked Gorham No. 5 on its list of "TV's Sexiest Men of 2011".[5]
In 2014 Gorham added another recurring role to his resume, as he joined the cast of Once Upon a Time for a storyline involving the series' character Emma Swan in New York City and her ties to his character.[6]
Personal life
Gorham is married to his former Popular co-star, Anel Lopez Gorham, with whom he has three children: sons Lucas (born c. 2001) and Ethan (born c. 2003), and a daughter named Alondra Cecelia Lopez Gorham (born January 10, 2009).[7]
Filmography
Film
| Year | Title | Role | Notes |
| --- | --- | --- | --- |
| 1997 | Shopping for Fangs | Extra | |
| 1997 | A Life Less Ordinary | Walt | |
| 2000 | Dean Quixote | Real happy fella | |
| 2001 | The Other Side of Heaven | John Groberg | Camie Award[8] |
| 2004 | Spam-ku | Roy | |
| 2010 | My Girlfriend's Boyfriend | Ethan Reed | |
| 2010 | Answer This! | Paul Tarson | |
| 2011 | The Ledge | Chris | |
| 2011 | Somebody's Hero | Dennis Sullivan | Coney Island Film Festival Award for Best Feature |
| 2014 | Justice League: War | Barry Allen / The Flash (voice) | Direct-to-video |
| 2015 | Justice League: Throne of Atlantis | Barry Allen / The Flash (voice) | Direct-to-video |
| 2016 | Justice League vs. Teen Titans | Barry Allen / The Flash (voice) | Direct-to-video |
| 2016 | A Boy Called Po | David Wilson | |
| 2017 | We Love You, Sally Carmichael! | Simon Hayes / Sally Carmichael | Directorial debut[9] |
| 2018 | The Death of Superman | Barry Allen / The Flash (voice) | Direct-to-video |
| 2019 | The Other Side of Heaven II: Fire of Faith[10] | John Groberg | Post-production |
Television
Year
Title
Role
Notes
1997
Spy Game
Daniel / Lucas
Episode: "Nobody Ever Said Growing Up Was Easy"
1997-98
Party of Five
Elliot
4 episodes
1998
Buffy the Vampire Slayer
James Stanley
Episode: "I Only Have Eyes for You"
1998
Vengeance Unlimited
Jason Harrington
Episode: "Noir"
1999
Saved by the Bell: The New Class
Mark Carlson
Episode: "Liz Burns Eric"
1999-2001
Popular
Harrison John
Main role, 43 episodes
2001-02
Felicity
Trevor O'Donnell
8 episodes
2002-03
Odyssey 5
Neil Taggart
Main role, 19 episodes
2003
Boomtown
Gordon Sinclair
Episode: "Monster's Brawl"
2003
CSI: Crime Scene Investigation
Corey
Episode: "Crash and Burn"
2003
Without a Trace
Josh Abrams
Episode: "Victory for Humanity"
2003-04
Jake 2.0
Jake Foley
Lead role, 16 episodes
Nominated - Cinescape Genre Face of the Future Award
2004-05
Medical Investigation
Dr. Miles McCabe
Main role, 20 episodes
2005-06
Out of Practice
Benjamin Barnes
Main role, 22 episodes
2006
Relative Chaos
Dil Gilbert
Television film
2006-10
Ugly Betty
Henry Grubstick
Main role (seasons 1-2), 33 episodes
Nominated - Screen Actors Guild Award for Outstanding Performance by an Ensemble in a Comedy Series[11]
2008
The Batman
William Mallory
Voice role; episode: "The End of the Batman"
2008-09
Harper's Island
Henry Dunn
Main role, 13 episodes
2010-14
Covert Affairs
Auggie Anderson
Main role, 75 episodes
2011
Love Bites
Dale
Episode: "Boys to Men"
2012
Hot in Cleveland
Casey
Episode: "Tangled Web"
2014
Once Upon a Time
Walsh / The Wizard of Oz
3 episodes
2016
Heartbeat
Wyatt
2 episodes
2017
2 Broke Girls
Bobby
Season 6 recurring role[12]
2017
The Magicians
John Gaines
Season 2 recurring role[13]
2018-present
Insatiable
Bob Barnard
Main role
[ Source: Wikipedia ]