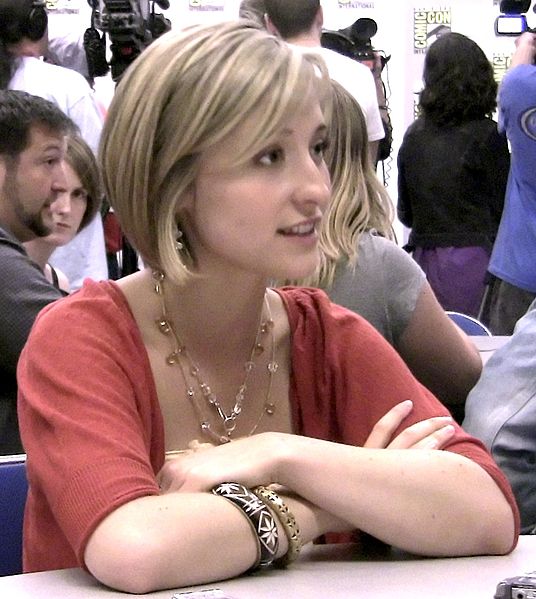 Allison Mack
Birth name:
Allison Christin Mack
Born:
July 29, 1982
Age:
40
Birthplace:
Preetz, West Germany
Popularity:

Please login to contact Allison Mack...
Biography
Allison Christin Mack (born July 29, 1982) is a German-born American actress, known for her roles as Chloe Sullivan on the WB/CW series Smallville and as Amanda on the FX series Wilfred. Mack was arrested in Brooklyn by the FBI on April 20, 2018, on charges of sex trafficking, sex trafficking conspiracy and forced labor conspiracy in relation to her role in the NXIVM organization.
Allison Christin Mack was born on July 29, 1982, in Preetz, West Germany,[1][2][3][4] to Jonathan, an opera singer, and Mindy Mack.[3][4] Her parents were in Germany at the time of her birth because Jonathan was performing there. Mack also has a brother named Shannon and a sister named Robyn.[4]
Read more...
Career
Early work
Mack began her acting career at age four in commercials for "German Chocolate".[5][dead link] She then went into modeling for a short period, because her mother thought she "looked cute in clothes."[citation needed] She began studying at Young Actors Space in Los Angeles at age seven.[2]
Mack's first major television role was an episode of the WB series 7th Heaven, in which she gained attention playing a teenager who cut herself. In 2000, she co-starred in the short-lived series Opposite Sex. She also co-starred opposite her former Smallville castmate Sam Jones III in R. L. Stine's miniseries The Nightmare Room. Her film credits include roles in Eric Stoltz's directorial debut My Horrible Year! as a girl having great difficulties in her life as she turns 16. She was also featured in Camp Nowhere, and in the Disney film Honey, We Shrunk Ourselves.
Smallville (2001-2011)
In October 2001, Mack began starring as Chloe Sullivan, one of Clark Kent's best friends, in the WB/CW hit series, Smallville; Chloe, an original character created solely for the show, was eventually introduced into DC Comics in 2010. Mack earned several awards and nominations for her portrayal of Chloe, including the Teen Choice Award for Best Sidekick in 2006[6] and 2007.[7] She appeared as a series regular for nine seasons, and returned as an intermittent main cast member in the tenth and final season including the two-part series finale. From 2003-2004, Mack's character appeared in her own miniseries titled Smallville: Chloe Chronicles, and in 2006, Smallville: Vengeance Chronicles. In November 2008, Mack made her directorial debut in Smallville season 8 episode 13 titled "Power",[8] which aired January 29, 2009.
In 2006, Mack voiced the sister of the main character in the Warner Bros. CG-animated movie The Ant Bully. That same year, she voiced Clea, a museum curator in an episode of The Batman. Adding to her Superman resume, she lent her voice for Power Girl in the Warner Premiere animated feature, Superman/Batman: Public Enemies, in September 2009.[9] Since May 2009, Mack has been part of a project with the Iris Theatre Company.[10]
After Smallville
In March 2012, Mack was cast in a recurring role in the second season of the FX sitcom Wilfred. She played Amanda, the love interest of Elijah Wood's lead character Ryan. Mack returned to Wilfred for one episode of the fourth and final season.[11] In 2014, Mack guest-starred as a policewoman named Hilary in an episode of the Fox thriller The Following. On March 21, 2015, she tweeted that she would be appearing in American Odyssey as Julia, who befriends Suzanne, the daughter of Anna Friel's lead character Sgt. Odelle Ballard.[12]
Legal issues and association with NXIVM
In 2010, Mack was reported to have been recruited to the Vancouver chapter of the multi-level marketing organization NXIVM, along with her Smallville co-star Kristin Kreuk.[13] In a 2003 article from Forbes, advocates of NXIVM portrayed it as an organization focused on inspirational executive coaching, "like a practical MBA", while detractors accused the founder Keith Raniere of running "a cult-like program aimed at breaking down his subjects psychologically".[attribution needed][14]
Nxivm-Indictment-S-1
The group had a practice of branding their victims, which was first created by Mack[15].
Former NXIVM member Sarah Edmondson stated in a 2017 New York Times exposé and a 2018 A&E special on cults that Mack recruited her into an enclave within Jness, "DOS," and that she had been branded in an initiation ceremony at Mack's house under Mack's supervision.[16]
Mack was arrested in Brooklyn by the FBI on April 20, 2018, on charges of sex trafficking, sex trafficking conspiracy and forced labor conspiracy.[17][18][19] During her arraignment proceedings, prosecutors stated that she had married Nicki Clyne, evidenced by "documents exclusively obtained" by Grindr's media property, Into.[20][21][22][23] According to prosecutors, after she recruited women to join the organization, she used tactics such as blackmail to force them into engaging in sexual activity with Raniere against their wishes and enslaved them to do menial tasks, for which Raniere allegedly paid Mack. Mack is said to be second-in-command of NXIVM after Raniere.[24][25][26]
On April 24, 2018, Mack was released on a $5 million bond and held under house arrest under the custody of her parents in California.[27] She was charged with recruiting women into "DOS" or "The Vow", a sex cult propagated by NXIVM that presented itself as a women's self-help group.[28][29][30][31] If convicted of all charges, Mack and Raniere could each be imprisoned for a minimum of 15 years.[32][33][34] In late May, in an interview after hosting an A&E special on cults including NXIVM, Elizabeth Vargas stated that Mack is negotiating a plea deal.[35]
Investigative reporter Frank Parlato originally broke the story[36] that Allison Mack's initials were branded on women's pubic region ten months prior to her arrest. These initials, if inverted, also bear the initials of NXIVM founder and cultist Keith Raniere.
Filmography
Film

| Year | Title | Role | Notes |
| --- | --- | --- | --- |
| 1989 | Police Academy 6: City Under Siege | Little Girl | |
| 1993 | Night Eyes 3 | Natalie | |
| 1994 | Camp Nowhere | Heather | |
| 1995 | No Dessert, Dad, till You Mow the Lawn | Monica Cochran | |
| 1997 | Honey, We Shrunk Ourselves | Jenny Szalinski | |
| 2006 | The Ant Bully | Tiffany Nickle | Voice only |
| 2008 | Alice & Huck | Alice | Short film |
| 2009 | You | Quincey | |
| 2009 | Superman/Batman: Public Enemies | Power Girl | Voice only |
| 2010 | Frog | Her | Short film |
| 2010 | Purgatory | Woman | Short film |
| 2011 | Marilyn | Marilyn | |
| 2011 | Blink | Producer | Short film |
Television
Year
Title
Role
Notes
1989
I Know My First Name Is Steven
Nettie
TV film
1990
Shangri-La Plaza
Jenny
Episode: "Pilot"
1990
Empty Nest
Gloria
Episode: "There's No Accounting"
1991
Switched at Birth
Normia Twigg
TV film
1991
Living a Lie
Stella
TV film
1992
The Perfect Bride
Little Stephanie
TV film
1992
A Private Matter
Terri Finkbine
TV film
1992
A Message from Holly
Ida
TV film
1993
Evening Shade
Julia
Recurring role, 2 Episodes:

"The Diary of Molly Newton"
"The Dance"

1993
A Mother's Revenge
Wendy Sanders
TV film
1995
Dad, the Angel & Me
Andrea
TV film
1995
Sweet Justice
Jessica
Episode: "Broken Ties"
1996
Stolen Memories: Secrets from the Rose Garden
Katie
TV film
1996
The Care and Handling of Roses
Bess Townsend
TV film
1996
Unlikely Angel
Sarah Bartilson
TV film
1997
Hiller and Diller
Brooke
TV series
1998
7th Heaven
Nicole Jacob
Episode: "Cutters"
1999
Providence
Alicia
Episode: "Good Fellows"
2000
Opposite Sex
Kate Jacobs
Recurring role, 8 episodes
2001
Kate Brasher
Georgia
Episode: "Georgia"
2001
My Horrible Year!
Nicola 'Nik' Faulkner
TV film
2001-2011
Smallville
Chloe Sullivan
Series regular, 204 episodes
2002
The Nightmare Room
Charlotte Scott
Recurring role

Episodes

"Camp Nowhere, Part 1"
"Camp Nowhere, Part 2"

2006
The Batman
Clea

Episode: "The Everywhere Man"
Voice only

2012; 2014
Wilfred
Amanda
Recurring role
2015
The Following
Hilary
Guest Role
2015
American Odyssey
Julia
Guest Role
2017
Lost in Oz
Evelyn
Recurring Role, voice only (season 1)
Web series

| Year | Title | Role | Notes |
| --- | --- | --- | --- |
| 2003-2004 | Smallville: Chloe Chronicles | Chloe Sullivan | 8 episodes |
| 2006 | Smallville: Vengeance Chronicles | Chloe Sullivan | 6 episodes |
| 2010 | Riese | Marlise | 3 episodes |
| 2010 | Dirty Little Secret | Lauren Belle | Voice only |
Director

| Year | Title | Notes |
| --- | --- | --- |
| 2009-2010 | Smallville | Episodes |
Awards and nominations
| Year | Award | Category | Work | Result |
| --- | --- | --- | --- | --- |
| 2002 | Teen Choice Award | Best Sidekick in a TV Series | Smallville | Nominated |
| 2003 | Teen Choice Award | Best Sidekick in a TV Series | Smallville | Nominated |
| 2004 | Teen Choice Award | Best Sidekick in a TV Series | Smallville | Nominated |
| 2005 | Saturn Award | Best Supporting Actress on Television | Smallville | Nominated |
| 2005 | Teen Choice Award | Best Sidekick in a TV Series | Smallville | Nominated |
| 2006 | Teen Choice Award | Best Sidekick in a TV Series | Smallville | Won[6] |
| 2006 | Saturn Award | Best Supporting Actress on Television | Smallville | Nominated |
| 2007 | Teen Choice Award | Best Sidekick in a TV Series | Smallville | Won[7] |
| 2008 | SyFy Genre Award | Best Supporting Actress | Smallville | Won[citation needed] |
| 2009 | Teen Choice Award | Best Sidekick in a TV Series | Smallville | Nominated |
[ Source: Wikipedia ]