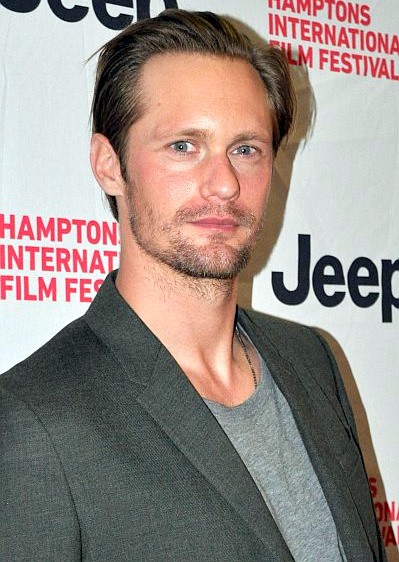 Alexander Skarsgard
Birth name:
Alexander Johan Hjalmar Skarsgård
Born:
August 25, 1976
Age:
45
Birthplace:
Stockholm, Sweden
Popularity:

Please login to contact Alexander Skarsgard...
Biography
Alexander Johan Hjalmar Skarsgård (;[1] born 25 August 1976) is a Swedish actor. He is best known for his roles as vampire Eric Northman on the HBO series True Blood, Meekus in Zoolander, the title character in The Legend of Tarzan, Brad Colbert in the HBO miniseries Generation Kill, and Perry Wright in the HBO miniseries Big Little Lies, for which he won a Primetime Emmy Award for Outstanding Supporting Actor in a Limited Series or Movie, a Screen Actors Guild Award for Outstanding Performance by a Male Actor in a Miniseries or Television Movie, and a Golden Globe Award for Best Supporting Actor - Series, Miniseries, or Television Film.
Alexander Skarsgård was born in Stockholm, Sweden. He is the eldest son of actor Stellan Skarsgård and his first wife, My Skarsgård, a physician.[2] He has five younger siblings: Gustaf, Sam, Bill, Eija and Valter, and two half-brothers from his father's second wife, Megan Everett.[3][4] Gustaf, Bill, and Valter are also actors.[3]
A friend of his father, who was a director, gave Skarsgård his first film role when he was seven years old. He played Kalle Nubb in Åke och hans värld (Åke and His World). In 1989, the lead role in the Swedish television production Hunden som log (The Dog That Smiled) made him famous in Sweden at the age of thirteen. Uncomfortable with being recognized, he quit acting for the next seven years.[5][6][7]
At age 19, he applied to do his national service. He served in the Swedish military for 18 months, in a unit that dealt with anti-sabotage and anti-terrorism in the Stockholm archipelago.[8] After completing his service in 1996 he left Sweden and attended Leeds Beckett University in England for six months. He enrolled to study English but admits he did not study much and "had a blast" instead.[3][6]
After seven years away from acting, he started to consider it again. In 1997, he enrolled in a theater course at Marymount Manhattan College and moved to New York City. He returned to Stockholm after six months, but the time he spent studying theater showed him that he wanted to act.[3][9]
Read more...
Career
Upon his return to Sweden, Skarsgård began picking up acting jobs, working in film, television and theatrical productions.[3] While on vacation in the United States, he auditioned for and landed the role of Meekus in the 2001 film Zoolander.[10] In 2003, his work in Hundtricket-the Movie (The Dog Trick) earned him an Guldbagge Award nomination for Best Supporting Actor. He was named the Sexiest Man in Sweden five times.[5]
He moved to Los Angeles in 2004 but continued to work in Sweden.[11] His break came when he was cast as Sergeant Brad "Iceman" Colbert in the HBO miniseries Generation Kill. An adaptation of journalist Evan Wright's book of the same name, Generation Kill follows the 1st Reconnaissance Battalion of the United States Marine Corps during the early part of the Iraq War. The role of Brad Colbert was the closest to a "lead" in Generation Kill, and director Susanna White and executive producer David Simon at first disagreed about casting Skarsgård. White wanted to cast him but Simon was not convinced he could pull off the American accent. After four auditions in three cities, Skarsgård learned the role was his just 36 hours before he had to board a plane for Namibia where the project was filming. The cast and crew filmed for seven months in the desert, shooting six days a week. Skarsgård worked with a dialect coach to master the American accent.[3][5][12]
Skarsgård at the 2010 Tribeca Film Festival
Just before leaving to shoot Generation Kill, Skarsgård heard about True Blood, a new series HBO was developing based on the Southern Vampire Mysteries series of novels by Charlaine Harris. At first he was unsure about playing a vampire, but when he learned that Alan Ball, creator of the HBO series Six Feet Under and Academy Award winning screenwriter of American Beauty, was behind the project, he sent in an audition tape. The audition was for the role of Bill Compton, which eventually went to Stephen Moyer. Skarsgård was later cast as Eric Northman, a 1000-year-old, Viking vampire sheriff, local bar owner and potential love interest of heroine Sookie Stackhouse in October 2007.[5][13] True Blood launched its seventh and final season in June 2014.
In 2009, Skarsgård appeared in the music video for pop singer Lady Gaga's "Paparazzi".[13] He was the voice of Stefan in the 2009 animated film Metropia, directed by Tarik Saleh.[6] In 2010, Skarsgård portrayed Terje, a gay Norwegian trekking to the North Pole, in the British mockumentary Beyond the Pole.[14]
Suit maker Hickey Freeman chose Skarsgård to model a new look it debuted in 2010. Annie Leibovitz photographed the ad campaign which appeared in The Wall Street Journal Magazine, GQ and Details.[15][16] He covered the September 2010 issue of Rolling Stone with his True Blood co-stars, Anna Paquin and Stephen Moyer.[17]
Skarsgård appeared in two 2011 films. Melancholia,[18] an apocalyptic movie directed by Lars von Trier and starring Kirsten Dunst, Charlotte Gainsbourg and Kiefer Sutherland, premiered at the 2011 Cannes Film Festival.[19][20] Skarsgård appeared in Straw Dogs, a remake of the 1971 film of the same name, as Charlie Venner. The remake's director, Rod Lurie, transferred the small town setting from Cornwall to Mississippi, and described Venner as "an ex-football star gone to seed". The film co-starred James Marsden and Kate Bosworth[8] and was released 16 September 2011.
In 2012, Skarsgård appeared alongside Taylor Kitsch and Rihanna in Peter Berg's Battleship, an adaptation of the Hasbro game.[21] He also starred with Julianne Moore and Steve Coogan in Scott McGehee and David Siegel's film, What Maisie Knew, an adaptation of the Henry James novel of the same name.[22] He was also part of the ensemble cast in Henry Alex Rubin's thriller, Disconnect, playing opposite Paula Patton.[23]
Skarsgård starred alongside Brit Marling and Ellen Page in Zal Batmanglij's 2013 film, The East.[24] Skarsgård starred in the 2016 film The Legend of Tarzan, portraying the title character, opposite Margot Robbie as Jane. To prepare for this role, Skarsgård worked out for 7 months with trainer Magnus Lygdbäck [25] In 2017 he co-starred in HBO's Big Little Lies. For his role as an abusive husband, Skarsgård won the Primetime Emmy Award for Outstanding Supporting Actor in a Limited Series or Movie.[26]
Personal life
Skarsgård is a fan of Swedish football and supports Hammarby IF, a club based in Stockholm, his birth city.[27]
In October 2010, he participated in "Bajen Aid" by donating several items he had autographed and auctioned to raise money for the Hammarby football club.[28]
In July 2011, Skarsgård received an honorary degree from Leeds Beckett University where he was formerly a student.[29]
Skarsgård was the Ambassador for the American team for a Walking With The Wounded fundraising event for wounded soldiers. He trekked to the South Pole against Team UK (Prince Harry, Ambassador) and Team Canada/Australia (The Wire actor Dominic West, Ambassador). A few days into the trek, it was decided that the competition part of the race would be canceled due to hazardous terrain and weather conditions, so the teams combined forces and continued. Alongside Prince Harry, West and several wounded soldiers, he successfully made it to the South Pole on 13 December 2013.[30]
Skarsgård self-identifies as a feminist.[31]
Filmography
Film
Year
Title
Role
Notes
1984
Åke and His World
Kalle Nubb
1989
The Dog That Smiled
Jojjo
1999
Happy End
Bamse Viktorsson
2000
The Dog Trick
Robinson-Micke
The Diver
Ingmar
White Water Fury
Anders
Wings of Glass
Johan
2001
Kites Over Helsinki
Robin Åström
Zoolander
Meekus
2004
Heartbeat
The Pilot
Short film
2005
Double Shift
Nisse
The Last Drop
Lt. Jergen Voller
Om Sara
Kalle Öberg
2006
Never Be Mine
Christopher
Kill Your Darlings
Geert
Score
Micke
Exit
Fabian von Klerking
2007
Järnets änglar
Stefan
2009
Metropia
Stefan (voice)
Beyond the Pole
Terje
2010
Trust Me
Alex
Moomins and the Comet Chase
Moomintroll (voice)
13
Jack
2011
Straw Dogs
Charlie Venner
Melancholia
Michael
2012
Battleship
Commander Stone Hopper
What Maisie Knew
Lincoln
2013
Disconnect
Derek Hull
The East
Benji
2014
The Giver
Jonas' Father
2015
Hidden
Ray
The Diary of a Teenage Girl
Monroe Rutherford
2016
Zoolander 2
Adam
Cameo
War on Everyone
Terry Monroe
The Legend of Tarzan
Tarzan / John Clayton
2018
Mute
Leo Beiler
The Hummingbird Project
Anton Zaleski
Hold the Dark
Vernon Sloane
2019
The Aftermath
Stefan Lubert
Post-production
Flarsky
Post-production
2020
Godzilla vs. Kong
Filming
Television

| Year | Title | Role | Notes |
| --- | --- | --- | --- |
| 1987 | Idag röd | Fred | Television film |
| 1999 | Vita lögner | Marcus Englund | 10 episodes |
| 2000 | D-dag | Lise's Stepson | Television film |
| 2000 | Judith | Ante Lindström | Episode: "Del 2" |
| 2005 | Revelations | Gunnar Eklind | Miniseries |
| 2006 | Cuppen | Micke | Television film |
| 2007 | Golden Brown Eyes | Boogey Knights Singer | 2 episodes |
| 2008 | Generation Kill | Sgt. Brad "Iceman" Colbert | Miniseries; 7 episodes |
| 2008-14 | True Blood | Eric Northman | 76 episodes |
| 2013 | Eastbound & Down | Adult Toby Powers | Episode: "Chapter 29" |
| 2017 | Big Little Lies | Perry Wright | 7 episodes |
| 2018 | Drunk History | James Dunn | Episode: "Heroines" |
| 2018 | The Little Drummer Girl | Joseph (Jose) Becker / Michel | 6 episodes |
As a director

| Year | Title | Notes |
| --- | --- | --- |
| 2003 | To Kill a Child | Co-director with Björne Larson |
Music videos

| Year | Title | Role | Artist(s) |
| --- | --- | --- | --- |
| 2009 | "Paparazzi" | Boyfriend | Lady Gaga |
| 2013 | "Free Your Mind" | Cult Leader | Cut Copy |
Awards and nominations
Year
Award
Work
Category
Result
Ref.
2003
Odense International Film Festival
To Kill a Child
Grand Prix
Won
Odense International Film Festival
Press Award
Won
Guldbagge Awards
Hundtricket - The Movie
Best Supporting Actor
Nominated
2009
Scream Award
True Blood
Best Villain
Won
[32]
Best Television Ensemble
Won
[33]
2010
Screen Actors Guild Awards
Outstanding Performance by an Ensemble in a Drama Series
Nominated
[34]
Saturn Award
Best Supporting Actor in Television
Nominated
NewNowNext Awards
Brink of Fame: Actor
Nominated
Scream Award
Best Television Performance
Nominated
Scream Award
Best Horror Actor
Won
2011
Teen Choice Awards
Choice Vampire
Nominated
Scream Award
Best Horror Actor
Won
Scream Award
Best Ensemble
Won
2012
Robert Award
Melancholia
Best Supporting Actor (Årets mandlige birolle)
Nominated
Fangoria Chainsaw Awards
Straw Dogs
Best Supporting Actor
Nominated
2017
Emmy Awards (Primetime)
Big Little Lies
Outstanding Supporting Actor in a Limited Series or Movie Made for Television
Won
Golden Globe Awards
Best Supporting Actor - Television Series, Television Miniseries or Television Film
Won
[35]
Satellite Awards
Best Supporting Actor - Series, Miniseries or Television Film
Nominated
Critics' Choice Awards
Best Supporting Actor in a TV Movie/Miniseries
Won
Screen Actors Guild Awards
Outstanding Performance by a Male Actor in a Miniseries or Television Movie
Won
Charities
Alexander Skarsgard supports the following charitable cause: Animals.
[ Source: Wikipedia ]