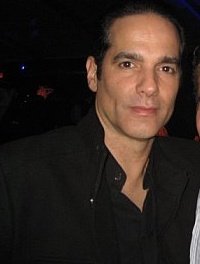 Yul Vazquez
Born:
March 18, 1965
Age:
58
Birthplace:
Cuba
Popularity:

Please login to contact Yul Vazquez...
Biography
Yul Vazquez (born March 18, 1965) is a Cuban-American actor and musician. He is best known for his roles in Runaway Bride (1999), Bad Boys II (2003), War of the Worlds (2005), The A-Team (2010), Captain Phillips (2013), The Infiltrator (2016), and Midnight, Texas (2017). Vazquez used to be the lead guitarist for melodic rock bands Urgent and Diving For Pearls.
Vazquez was born in Cuba on March 18, 1965.[1]
Read more...
Acting career
Vazquez's film projects include Kill the Messenger starring Jeremy Renner and directed by Michael Cuesta, playing The Reverend Emilio Sheehan in the hit NBC series Midnight, Texas, the Dreamworks animated feature B.O.O.: Bureau of Otherworldly Operations with Bill Murray and Seth Rogen; Anesthesia; and The Cobbler, opposite Adam Sandler, Dustin Hoffman and Steve Buscemi. He can also been seen on the small screen on Lifetime's new series The Lottery as Pres. Thomas Westwood.
With over 40 film credits, highlights include roles in six time Oscar nominee Captain Phillips (2013), The A-Team (2010) with Liam Neeson, John Sayles's Amigo, Steven Soderbergh's two-part epic Che (2008), The Take (2008), American Gangster, Music Within (2007), War of the Worlds (2005), Bad Boys II (2003), Traffic and Runaway Bride (1999).
He was a regular for both seasons of the Starz drama Magic City. Set in 1960s Miami, the series centers on the upscale Miramar Playa Hotel amongst the political and organized crime drama of the time. Yul portrays Victor Lazaro, general manager of the Miramar Playa. Additionally, he recurs in three other television series, as Pedro in FX's Louie, as Christian in CBS's Good Wife and as Det. Anthony Nikolich on the HBO television series Treme.
Vazquez is a founding member of the LAByrinth Theater Company and served two terms as co-Artistic Director with Stephen Adly Guirgis and Mimi O'Donnell in New York City. Vazquez starred on Broadway in the Tony nominated Motherf**ker With The Hat opposite Chris Rock. For his portrayal of the eccentric Cousin Julio, he received nominations for a Drama Desk Award, an Outer Critics Circle Award and a Tony Award for "Best Featured Actor in a Play".[2] Additional theater credits include The Last Days of Judas Iscariot (The Public Theater) opposite Sam Rockwell, directed by Philip Seymour Hoffman, Terrence McNally's Stendhal Syndrome, Primary Stages with Isabella Rossellini and Richard Thomas, and The Floating Island Plays (Mark Taper Forum).
Music career
Prior to starting his acting career, Vazquez was the lead guitar player for notable East Coast AOR bands Urgent and Diving For Pearls.[3] Urgent landed a minor hit with their single "Running Back" which reached #79 on the Billboard Hot 100. A second single from their Cast The First Stone debut album, "Love Can Make You Cry", was featured on the Iron Eagle soundtrack. Urgent broke up in 1987 after the lackluster success of their sophomore album, Thinking Out Loud, which contained the single "I Can't Take It No More".
Following the demise of Urgent, Vazquez would join Diving For Pearls whose eponymous debut album was issued by Epic/Sony Music in 1989. Vazquez can be seen in the band's "Gimme Your Good Lovin'" promotional video. The group was dropped by the label before a second album could be completed due to the musical climate changing in the early 1990s as melodic hard rock fell out of favor in the U.S..
In 2009, Vazquez played acoustic guitar with Ian Astbury of The Cult under the name The Soft Revolt appearing at the Bowery Electric in New York City on the opening night of John Patrick Shanley's play "Savage in Limbo", which Astbury was producing. They performed songs by The Cult and Astbury solo material as well as covers by the Rolling Stones, Black Sabbath, Radiohead, among others.[4]
Personal life
Vazquez has been married to actress Linda Larkin since May 18, 2002.[5][6] He is the uncle of actress Vanessa Aspillaga.[citation needed]
Filmography
Year
Title
Role
Notes
1992
The Mambo Kings
Flaco
1992
Tales from the Crypt
Danny Darwin
Episode: "On a Deadman's Chest"
1993
The Untouchables
2 episodes
1993
Night Owl
Tomas
1994
Fresh
Chillie
1995
Nick of Time
Gustino
1995-1998
Seinfeld
Bob The Intimidating Gay Guy
3 episodes
1998
Trinity
Mr. Cupideros
Episode: "In Loco Parentis"
1999
Man of the Century
Brooding Artist
1999
Runaway Bride
Dead Head Gill Chavez
1999
Mondo Picasso
Mondo
Unknown episodes
2000
Traffic
Tigrillo / Obregon Assassin
Won - Screen Actors Guild Award for Best Ensemble Cast in a Motion Picture
2000-2002
Courage the Cowardly Dog
(voice)
26 episodes
2001
Big Apple
Officer Cruz
3 episodes
2001
Sex and the City
Phil
Episode: "The Agony and the Ex-tacy"
2002
Running Time
The Hunter
Short film
2002
The Adventures of Tom Thumb & Thumbelina
Gibson Mouse (voice)
Video
2002
The Sopranos
Reuben 'The Cuban'
Episode: "Christopher"
2003
Keen Eddie
Jonah Rosenthal
2003
Bad Boys II
Detective Mateo Reyes
2005
The F Word
Luis
2005
War of the Worlds
Julio
2006
Grand Theft Auto: Vice City Stories
Armando Mendez (voice)
Video game
2006
Things That Hang from Trees
Juan Lopez
2006
The Ex
Paco
2007
Music Within
Mike Stoltz
2007
Southern Gothic
Hazel Fortune
2007
The Take
Marco Ruiz
2007
Jesus Cooks Me Breakfast
Young Man Jesus
Short film
2007
Anamorph
Jorge "George" Ruiz
2007
The Box
Finn Williams
2007
American Gangster
Det. Alfonso Abruzzo
Nominated - Screen Actors Guild Award for Best Ensemble Cast in a Motion Picture
2008
The Marconi Brothers
Sonny Venice
2008
Che: Part One
Alejandro Ramirez
2008
Che: Part Two
Alejandro Ramirez
2008
Fringe
George
Episode: "The Dreamscape"
2009
The Missing Person
Don Edgar
2009
Grand Theft Auto: The Ballad of Gay Tony
The People of Liberty City
Video game
2010
Seed
Philips
Short film
2010
Beware the Gonzo
Charlie Ronald
2010
The A-Team
General Javier Tuco
2010
Amigo
Padre Hidalgo
Nominated: Best Supporting Actor for the Gawad Urian Award
2010
Lies in Plain Sight
Rafael Reyes
TV Movie
2010
Little Fockers
Junior
2010
F--K
Yul
Short film Actor/Producer
2010-2013
Law & Order: Special Victims Unit
Daniel Hardy / Luis Montero
2 episodes
2011
Salvation Boulevard
Jorge Guzman De Vaca
2011-2012
Louie
Pedro
2 episodes
2012
Father/Son
Father
Short film
2012-2013
Magic City
Victor Lazaro
15 episodes
2012-2013
Treme
Detective Anthony Nikolich
8 episodes
2012-2013
The Good Wife
Cristian Romano
3 episodes
2013
Blood Ties
Fabio DeSoto
2013
Runner, Runner
Delegate Herrera
2013
Captain Phillips
Captain Castellano
2014
Fugly!
Ray
2014
The Cobbler
Marsha
2014
Time Out of Mind
Raoul
2014
Person of Interest
Cyrus Wells
Episode: "Root Path"
2014
Adam Shaw
Detective Sandoval
Actor/Producer
2014
Kill the Messenger
Danilo Blandon
2014
Glass Chin
Roberto Flash
2014
Rob the Mob
Vinny Gorgeous
2014
The Lottery
President Thomas Westwood
10 episodes
Regular role
2014
Take Care
Dr. Gotham Leonard
2014
Sweets
Rick
2015
Anesthesia
Dr. Edward Barnes
2016
The Infiltrator
Javier Ospina
2016
True Memoirs of an International Assassin
Gen. Ruiz
2016
Beast or Raven
Man
Short film
2016
The Phenom
Eddie Soler
2016-present
Divorce
Craig Anders
6 episodes
2017
Midnight, Texas
Rev. Emilio Sheehan
Main role; season 1 (9 episodes)
2017
Last Flag Flying
Col. Willits
2017
Crown Heights
Commissioner Rafello
2018
Gringo
Angel Valverde
2018
The Looming Tower
Jason Sanchez
5 episodes
2018
O.G.
Baxter
2019
I Am the Night
Billis
Discography
Urgent - Cast the First Stone (EMI-Manhattan, 1985)
Various - Iron Eagle OST (Capitol, 1986)
Urgent - Thinking Out Loud (EMI-Manhattan, 1987)
Diving For Pearls - Diving for Pearls (Epic/Sony, 1989)
Diving For Pearls - Texas (2006)
[ Source: Wikipedia ]